A good earphone can make your life easier and a lot of fun. You can use it not only to listen to music but to attend important calls as well without any voice distortion. And while there are a lot of good earphone brands out in the market, Sony just always tend to stand out with its product quality.
If you also swear by Sony products and were planning to buy a Sony earphone, then this guide is for you!
In this article, I will be covering the top 10 Sony earphones that you can buy in India along with a few other important information that will be useful when you go ahead to purchase the earphone.
Types of Earphones
When you first look at the wide range of earphones that are available in the market, it can become slightly overwhelming. So, to give you an idea of what to expect, we are highlighting the different types of earphones that you are likely to choose from.
In-Ear Earphones
One of the most common types of earphones, an in-ear earphone is also known as an earbud and is generally found in two variations. You will find the earbuds that are placed on your ear while they rest comfortably in the ear and those that are pushed into your ear canal. Both of these types have their own set of pros and cons.
The first type can become slightly painful if it doesn't fit perfectly in your ear cavity or if it exerts too much pressure on your ear. On the other hand, the second type of earphones can be uncomfortable if their size is too big or too small.
Also, a lot of people choose the second type because it has a noise-canceling feature but you should be careful while using these as it can be dangerous for commuters.
Also Read : 10 Best Earphones Under Rs 500
On-Ear Earphones
Next, we have the on-ear earphones, also known as headphones, and these are also available in two variations. One you have headphones that press against your ear and the other ones are over-ear headphones that encompass your ear.
The headphones that press against your ears are usually lightweight and cheap while the other ones can have varying weight so you need to try them out before choosing them.
Also Read : 10 Best Earphones Under Rs. 1000
Wireless Earphones
Finally, we have the wireless earphones that come in multiple variations and can be a little on the pricier side. If you like having earbuds then you can purchase wireless earbuds that come with a rechargeable battery.
Generally, these wireless earphones use Bluetooth to connect to your device so that you can listen to music or take the calls and they are extremely useful when you are exercising and cannot hold your phone to listen. However, there is one disadvantage of using this type of earphones, it produces lesser sound quality than the wired earphones.
Also Read : Best Earphones Under Rs. 2000 in India
Headphones Vs Earphones
One of the most common dilemmas that most consumers face today is whether they should purchase an earphone or a headphone. Well, this decision should be based on your needs and your budget.
If you are traveling frequently or into sports then an earphone is a good choice as it is small and portable. So, you can enjoy music wherever you go. On the other hand, headphones make a good choice for serious gamers and music producers. It allows you to enjoy the music and react to all kinds of animation.
Also, if you want to listen to bass then earphone is a better option while a headphone will offer you better mid-range and high range frequencies.
Also Read : Bluetooth Earphones Under Rs. 1000
Most importantly, high-end headphones will be expensive while you can get good earphones at a reasonable price. So, sit down and determine your requirements before you make any purchasing decision.
Best Sony Earphones in India
1. Sony WI-XB400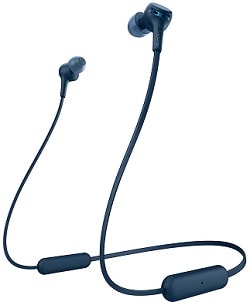 One of the best Sony earphones that offer extra bass while providing voice clarity is the Sony WI-XB400 Wireless Extra Bass in-Ear Headphones.
The flexible and lightweight neckband makes it extremely comfortable to wear the entire day and then roll up to store it in your purse.
With the Bluetooth wireless technology, you can stream songs on your earphones from any paired device and can enjoy a non-stop playback time of 15 hours.
Plus, with the quick charger, you can get 60 minutes of playback with only 10 minutes of charging.
It also features magnetic buds that make it easier to carry and store the earphones without tangling the wires.
You also have the in-built microphone for hands-free calling and easy to operate buttons for adjusting the volume or playing/skipping the tracks.
And since it is voice-assistant compatible, you can make calls, play music, or get directions with a simple click.
Also Read : Wireless Headphones Under INR 2000
---
2. Sony MDR-EX150AP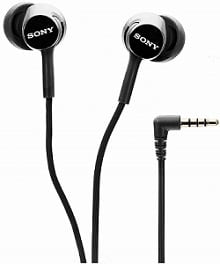 A more affordable earphone by Sony, Sony MDR-EX150AP features an in-line microphone for easy hands-free calling.
This earphone comes with 9 mm neodymium drivers that allow you to enjoy a powerful and balanced sound every time while the comfortable silicone earbuds fit your earbuds perfectly so you can enjoy long listening hours.
It is also lightweight so you can carry it with you wherever you go to enjoy your music on the go.
This earphone also offers a wideband frequency range that will allow you to hear all the songs in extreme detail and tuning.
Plus, the wire manager with this earphone ensures that your earphones don't end up tangling in your bag.
Most importantly, this earphone is compatible with an app, Smart Key, that allows you to configure your mic button to control the tracks and the volume.
Also Read : 10 Best Earphones Under Rs 8000
---
3. Sony MDR-XB55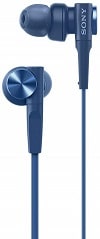 With extra bass technology, Sony MDR-XB55 has been specifically designed for dance music lovers as it allows you to enjoy the deep bass notes in different locations and scenarios.
And the bass booster improves the low-end frequencies via the housing duct while the seal between your ears and the driver unit ensures that the sound stays in.
It also features 12 mm neodymium drivers that produce the powerful, balanced sound in great detail.
Another great thing about this lightweight and portable earphone is that it comes with comfortable silicone earbuds that allow you to listen to music for long hours.
And since the cable is serrated, it is quite durable and not easily tangled as well.
Also Read : 11 Best Wireless Earphones Under Rs. 1000
---
4. Sony SP700N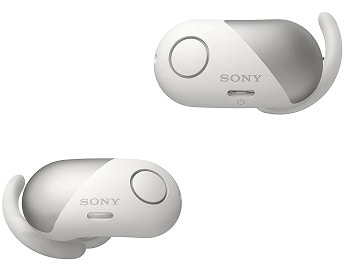 If you are looking for a completely hands-free experience then Sony SP700N wireless earbuds with NFC and Bluetooth technology is the perfect choice for you.
This is one of the most expensive earphones released by Sony but the price is well worth the features that it offers.
This noise-canceling earphone allows you to enjoy the music without any distractions while the ambient sound mode ensures that you are still able to hear the essential sounds.
Another great thing is that it has a splash-proof rating so it is perfect for sports enthusiasts as well. With these lightweight, secure fit earbuds, you can enjoy the extra bass sound for up to 9 hours straight.
So, if you are looking for the best product to use during your workouts then Sony SP700N is the one for you.
Also Read : Wireless Earphones Under Rs. 20,000
---
5. Sony WI-C310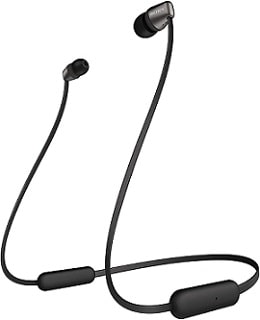 Another great wireless option, Sony WI-C310 allows you to connect to your devices with the help of Bluetooth technology and enjoy interruption-free listening for 15 hours straight.
Plus, with its quick charge feature, you can save a lot of time in charging and can be ready for a 60 minutes playback with just 10 minutes charge.
Since it features a behind-the-neck design, it is more comfortable and convenient to listen to music as well.
This earphone is lightweight, flexible, and portable and includes magnetic buds that make it easy to take with you while traveling too.
And with its 9 mm neodymium drivers, you will love listening to pop hits, jazz concerts, and classical music.
You can even use the multi-function button for hands-free calling and voice assistance service.
Also Read : 10 Best True Wireless Earbuds Under Rs 2000
---
6. Sony MDR-AS210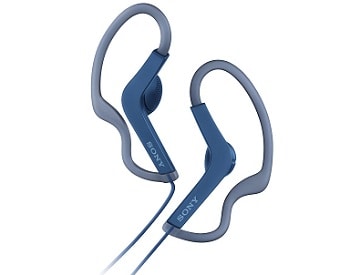 If you are looking for an affordable, secure fit earphone to use during your sports workouts then Sony MDR-AS210 is the ideal choice for you.
This earphone features adjustable hook ear clips so that you can move your body to the music beat.
And with the 13.5 mm driver and 17-22000Hz frequency range, you can enjoy pure and energized sound every time.
This splash-proof earphone features an open and convenient design that allows you to enjoy the natural acoustics while the flexible 1.2 m cord frees up your movement so you can enjoy the workout on the treadmill or outside.
Also Read : 10 Best True Wireless Earbuds under Rs. 10,000
---
7. Sony MDR-EX15AP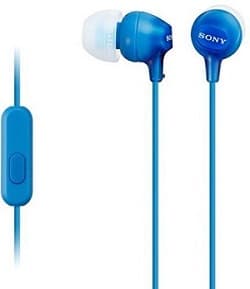 One of the simpler designs, Sony MDR-EX15AP is lightweight and comes with silicone earbuds that are comfortable and stable and are available in 3 different sizes.
With the 9 mm neodymium drivers and a frequency range of 8–22000Hz, you can enjoy the powerful and balanced sound with every detail.
There is also an in-line mic with this earphone that makes it easier to do hands-free calling while the wire manager ensures that you don't have to worry about tangled wires during storage.
And this earphone is quite affordable as well and available in multiple colors.
Also Read : Best Earphones Under Rs. 5,000 in India
---
8. Sony MDR-XB510AS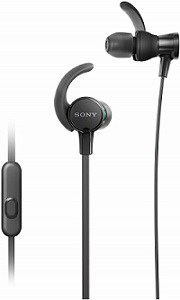 Sony MDR-XB510AS is a waterproof earphone that can weather any climate and can even be washed clean after an intense workout.
While the extra bass sound pushes you further in your workout, the arc supports ensures that your earphones stay secure and you don't end up losing them during the workout.
It is also compatible with the Smart Key app that makes it easier to control the tracks and the volume with a smartphone.
And with the flatwire, you don't have to worry about your earphone wires getting tangled up when you store it in your bag.
Also Read : 10 Best Earphones Under Rs 500
---
9. Sony MDR-AS410AP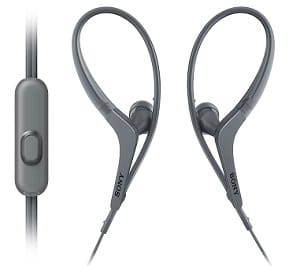 Another great choice for sports workouts, Sony MDR-AS410AP is water-resistant and sweat-proof so you can enjoy the music without worrying about the damage.
The earphone features loop hanger clips that secure the earbuds to your ear while the closed design ensures that you enjoy a resounding sound.
With its different sized silicone earbuds, you can ensure a comfortable and secure fit and the 1.2m long cord makes it easy to enjoy the music while you run on a treadmill too.
Plus, with the 9 mm driver and 5-24000Hz, you can enjoy a pure and detailed music every time.
Also Read : 10 Best True Wireless Earphones Under Rs 5000
---
10. Sony WI-C400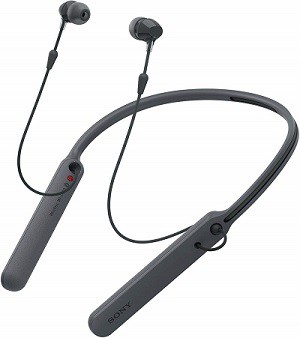 Perfect for regular use, Sony WI-C400 features NFC and Bluetooth technology to connect to your device in just a simple click.
And with its long playback/talk time of 20 hours, your travel plans are perfectly sorted with this earphone.
It also features a neckband that is lightweight and comfortable so, you can wear it the entire day.
Plus, there is a cable adjuster and stopper to keep your wires tangled-free and since the neckband vibrated every time you get a call, you won't ever miss a call.
Also Read : 10 Best Gaming Headphones Under Rs. 5,000
---
Other Popular Brands to Consider
While Sony does produce excellent earphones for the consumers, it is not the only company to do so. So, if you are looking for the best earphones in the market, here are a few other brands to consider as well.
Bose
Bose offers the best craftsmanship in the market and is known for its impressive sound quality. They have been making high-quality headphones and speakers for a while now and always tend to use a robust design with an innovative technology that leaves the customers happy and satisfied.
Sennheiser
Another top brand for buying earphones is Sennheiser that produces a wide range of products that are sturdy, unique looking, and moderately priced. They are generally preferred by the music lovers and have high-end products for all the audiophiles out there too.
JBL
Although JBL is best known for its high-quality speaker systems that are usually used in most concerts around the world, it also produces headphones and earphones that offer the same quality level. Plus, their price range is quite affordable and the earphone and headphone designs are long-lasting too.
Skullcandy
While Skullcandy is a relatively newer company in the earphones industry, it has become quite popular among consumers due to its amazing products. This company is particularly known for its dynamic range of over-ear headphones while being portable and affordable.
Also Read:
7 Best Mi Earphones & Headphones in India
10 Best Gamepads Under Rs. 10,000