Not many are accustomed to the newer technologies being introduced in the water purification products each day.
The companies are stuffing in more and more features to their products for standing out from their rivals, without realizing this also adds to the dilemma that the customers go through.
Having said that, you just need to refer to Top 5 Best RO Water Purifiers To Buy in India 2020 while purchasing a new RO water purifier to make an informed choice.
1) Kent Grand+ 8-Litre Mineral RO + UV Water Purifer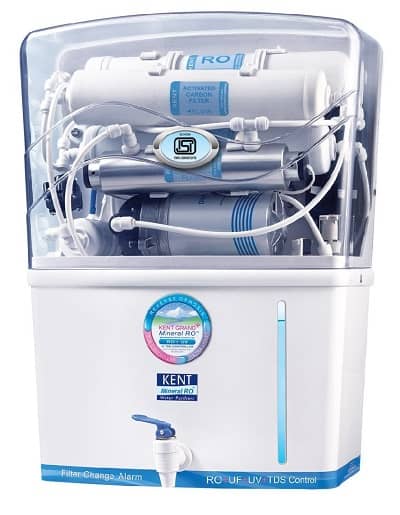 There isn't any water purifier in the country as this Kent Grand+ one. Kent, as a brand is a trusted one and offers an unmatched after sales support.
The water purifier is made out of ABS Food Grade plastic that is not only durable but also ensures that the water remains safe. Water purity is also assured by a number of certificates that the purifier has received.
Its water tank has a storage capacity of 8 litres while its purification rate is 15 litres per hour, and that is more than enough for any typical family.
The purifier is capable purifying your drinking water by RO and UV/UF with TDS controller. All this is done just by consuming 60-watt of power.
The Kent purifier is available through multiple channels and you can get it online too.
Buy Now From : Amazon
2) Livepure Glo 7-Litre RO + UV + Mineralizer Water Purifer
For having potable water without any bacteria and viruses you need to have this Livpure Glo water purifier. It comes with an elegant and sleek design without compromising on the features including its 6-stage advanced purification system.
It has an indicator on the front that tells when the power is on, purification is going on and the tank is full.
Its purification features include sediment filter, carbon, filter cum absorber, UV disinfection column and RO membrane among others.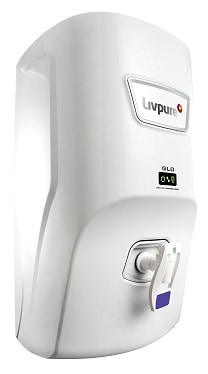 Purification works at up to 1500 TDS level and also has a mineral cartridge, that isn't seen in purifiers of this range.
Its tank can hold about 7 litres of water and the purifier itself weighs just 7 Kg for easy wall mounted installation.
Buy Now From : Amazon
3) HUL Pureit 5-Litre Classic RO + UV Water Purifier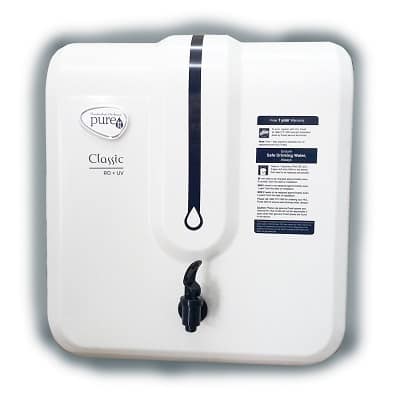 Hindustan Unilever Limited is yet another trusted brand in India and Pureit goes in line with that.
All the water purifiers by Pureit come with an assurance of best product quality and customer support, including this Classic RO + UV purifier.
It is very compact in design will take minimum space in your kitchen. It weighs at just 5.8 Kg and has a storage capacity of 5 litres.
This purifier is designed really well with all the tech in place that includes the RO membrane, UV chamber and a post-RO carbon filter among others for its 6-stage filtration process.
The only thing you need to keep in mind is that this purifier doesn't have any indicator for filter change, unlike many products from Pureit.
Buy Now From : Amazon
4) Kent Ultra UV Water Purifier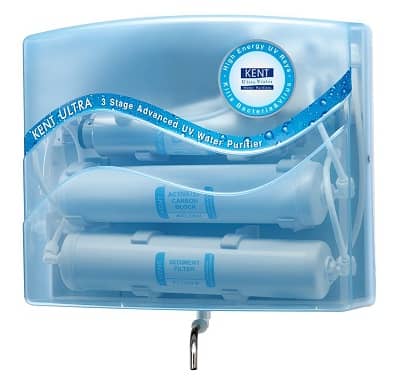 For those on a tight budget, Kent has a really great option for you in the form of this Kent Ultra UV water purifier.
The purifier targets the bacteria and viruses using its 3-stage purification process that involves UV filtration.
It also has a UV alarm that comes into action when the UV lamp stops working ensuring that you never get unsafe drinking water.
Its filtration process includes sediment filter for removing all the large particles like sand and dust and then the water goes through the activated carbon filter that removes all the organic chemicals for enhancing the taste.
After that, the UV lamp takes care of all the microorganisms. Being really compact, it won't take a lot of space in your kitchen while weighing just 4.7 Kg.
Buy Now From : Amazon
5) HUL Pureit Ultima RO + UV Water Purifer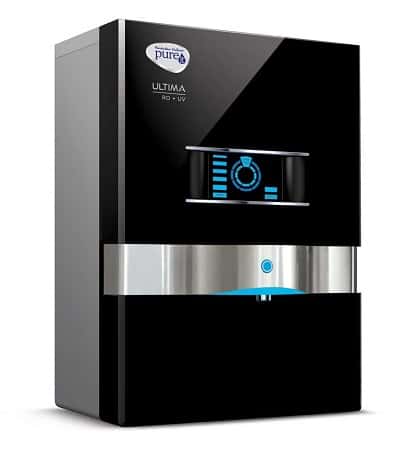 Yet another purifier from HUL but this one is from the higher range and offers the best in class features. The Pureit Ultima water purifier packs in the best of the features that the company offers in many of its products and includes some advanced features along with its enhanced and appealing looks.
Water is dispensed at a press of a button and there is an LED display that shows all the essential information.
For purification, the Ultima purifier relies on the tried and tested 6-stage process that involves both RO and UV filtration. It also has a TDS modulator and can store 10 litres of water.
Pureit's unique alert system gives a 15-fay early reminder of the expiration of the germkill kit. This purifier looks stunning and its features make it an even better deal.
Buy Now From : Amazon
Please do comment below to add your suggestions and feedback.
Thanks.