An IPS panel monitor from BenQ at a budget price which has HDMI port plus built in speakers, a refresh rate of 60Hz, and response time of 5 ms and is also wall mountable. Well, let's check out some of its features in detail.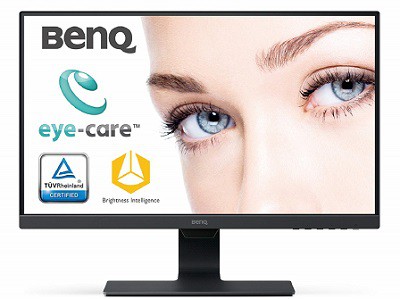 For office work, programming, casual gaming this monitor from BenQ is pure value for money. It just offers so much for the price, considering the IPS panel with thin bezels which makes your monitor screen more efficient and larger even giving it a more premium look.
Best Budget Monitor!
Budget monitor for video editing , being an IPS panel monitor you can expect good viewing angles and color reproduction.
Positive
IPS Panel 
VGA, HDMI, Audio in
In-Built Speakers
Thin Bezels
39 Months Warranty
Negatives
Needs adapter for power plug
In Built Speakers Sound are not loud
The inbuilt speakers are not so loud, but it's alright as you can always use external speakers. Being an IPS monitor you will get the best & bright viewing angles and color reproductions, while response times might be a bit high that is up to 5 ms. That's why I will recommend only casual gaming on it.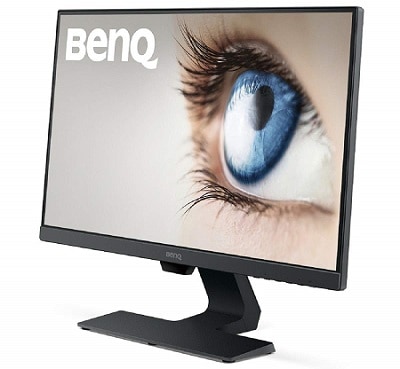 Everything appears sharp, be it the images or videos. With blue light filtering, there is less strain on the eyes while reading books and articles, this is a great feature to have if you are an avid reader. BenQ has implemented a lot of features to reduce the strain as much as possible.
Low Blue Light (Filters hazardous blue light)
Brightness Intelligence Technology (Adjusts screen brightness)
Flicker-Free Technology (Eliminates the harmful flicker)
If you face any brightness or dullness problem then don't be disappointed right away, go to the Picture Advanced menu and change the picture mode to the user. You can also turn off this bright intelligence and low blue light modes, setting all levels of brightness, etc manually.
The base of the monitor is designed in an ergonomic shape, which is also quite easy to clean. There is also a cable management system, which you can use to hide all cables in the monitor stand. Overall, I will say that this monitor is quite good for the price. You can get it under 10k easily during festival sales.
Available At – Amazon