Let's face it, TV is a great source of entertainment especially since the set-top boxes have been introduced. However, one of the biggest drawbacks of TV is that you need to follow their timetable to catch your favorite show. You either need to tune in to your TV at the right time or make do with the content that is playing at the time of your tuning in.
Thankfully, there is an easier way to watch your favorite content – streaming. You can now access your favorite movies, games, music, etc. through an app and access it whenever you like. And one of the best streaming devices that ensure that you can watch whatever you want without compromising on the quality and experience is an Android TV Box.
With the help of an Android TV Box, you can easily stream content from Netflix, Hotstar, etc. and can enjoy your favorite shows and movies on a full HD screen. In this guide, we have shared with you a list of the 10 best Android TV Boxes that you can consider for streaming content in India.

Rs.

3,999

Rs. 4,999
2 new from Rs. 3,999
out of stock

What Can You stream?
An Android TV Box can be used to connect to your TV and stream movies, music, games, and so on. You can easily connect to online streaming applications such as Netflix, Prime, Google Music, Plex, and so on to play your favorite music, game, or video.
How To Use?
Using an Android TV Box is quite simple and straightforward. You simply need to connect the box to a TV using the HDMI port and then use wired Ethernet or WiFi connection to setup.
Once the connection is established, you need to install apps on your Android TV Box with the help of Google Play Store or other websites. For this, you need a decent Internet speed and will need to sign in to your Gmail account if you wish to use Google Play Store.
After downloading the desired apps, you simply need to sign in to the app and you can start streaming.
10 Best Android Tv Box For Streaming in India
1. All-new Fire TV Stick Lite with Alexa Voice Remote Lite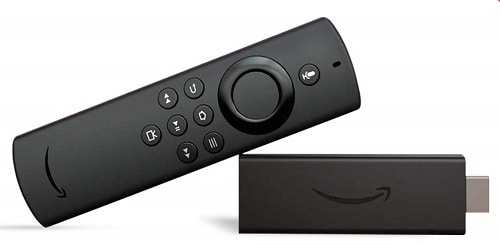 One of the most affordable Fire TV Sticks, Amazon Fire TV Stick Lite allows you to enjoy streaming content in Full HD and includes Alexa Voice Remote Lite too. This steaming device is more powerful than the previous Amazon Fire TV Stick and offers you quick app launch and streaming services, all in full HD. And with the help of Alexa Voice Remote Lite, you will find it easier to find and launch your content including TV shows, movies, news updates, weather forecasts, and so on.
Fire TV Stick Lite makes it easier to find your content on the Fire TV Home Screen where content from all the subscribed streaming services is displayed. This TV stick has a compact design as well and can be connected directly to the HDMI port and can be moved around easily too. Furthermore, if you are an Amazon Prime member, then you get access to thousands of titles on Prime Video and don't have to install apps or pay any subscription fees as well.
Also Read : Fire TV Stick Review India
Another great thing about this device is that it goes into Low Power Mode to reduce energy consumption. With a 1.7GHz quad-core processor and 8 GB storage, it offers amazing performance and can be connected to your smartphone both via WiFi or Bluetooth. So, if you are looking for a convenient and affordable option then this is the best product for you.
Check Cheapest Price : Amazon
---
2. Mi TV Stick with Built-in Chromecast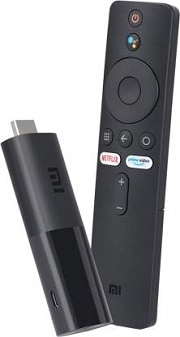 Mi TV Stick is another great option that has a user-friendly interface and allows you to access content on entertainment OTTs. This device comes with Android 9 OS that gives you access to more than 5000 games and apps. One of the best things about this product is that it comes with a built-in Chromecast that allows you to cast content from your smartphone and watch your favorite shows and play your favorite games without much of a hassle.
The powerful quad-core processor ensures smooth and lag-free content streaming while the Dolby sound system gives you an immersive experience.
Also Read : 10 Best LED TV in India (Smart / Non Smart)
You can also perform voice searches using the Google assistant and enjoy a Full HD screen to the fullest. And the best part is that it is not an expensive device and is a great fit for most users.
Check Cheapest Price : Flipkart
---
3. Fire TV Stick 4K with Alexa Voice Remote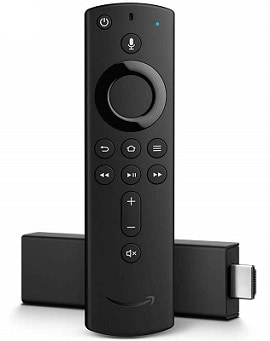 Fire TV Stick 4K is the most powerful streaming media stick that can be used to stream your favorite content with the help of the next-gen Alexa Voice Remote. You can use the volume and power button on this remote to control your TV and even find 4K content to play on your HD TV. It comes with a 1.7GHz quad-core processor and 8GB storage space that is sufficient for streaming videos and music smoothly.
The compact design of the Fire TV Stick 4K makes it easy to connect it to the TV and stay hidden out of view as well. And the best thing is that you can enjoy 4K streaming at 60fps too and can experience vivid colors and clarity along with an immersive sound system.
Also Read : 11 Best Smart LED TV Under Rs 30,000 in India
From Netflix to Gaana, you can install your favorite apps and start streaming movies, TV shows, music, and so on. And if you are an Amazon Prime member then you get access to thousands of movies and music on the Prime Video app. That's not all, you can also use the Alexa Voice Remote to control your electrical appliances, view live camera feeds, play music, and do a lot more.
Check Cheapest Price : Amazon
---
4. Google Chromecast 3 Media Streaming Device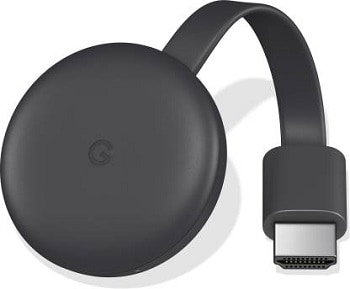 With the help of Google Chromecast 2 Media Streaming Device, users can now directly stream content from their smartphones and enjoy the Full HD experience on the TV. You can use this device to stream music, games, movies, etc. from a wide range of apps such as Netflix, Gaana, Hotstar, and so on. And since this device has higher hardware speed, you can watch 1080p content as well and use Google Assistant to perform searches and other tasks.
This compact device can be plugged into your TV using an HDMI port and works with a wide range of devices such as Mac, iPad, Chromebook, Windows laptop, etc.
Also Read : Best Bluetooth Speakers For Home
You can control your content with any WiFi-enabled device and don't require any extra remote to use it.
Check Cheapest Price : Flipkart
---
5. APPLE TV 4K 32GB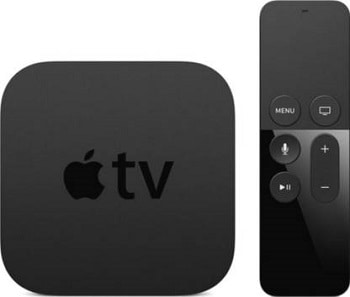 One of the most expensive yet efficient streaming devices in this list, Apple TV 4K makes watching your favorite content on TV fun and easy. And you can use Siri to remotely access the Apple TV and find your favorite movie, TV shows, etc. through the installed apps. With OTTs such as Netflix, HBO Now, WatchESPN, etc. it is easy to keep yourself entertained throughout the day.
This streaming device comes with 32GB storage capacity to save your favorite content to access whenever you want and has a rechargeable battery that allows you to use it for months at a time. There are both HDMI and Ethernet ports available to connect it to your TV or other device and stream your content.
Also Read : Best Soundbars in India
Most importantly, the Siri-enabled remote makes accessing content easier and includes a touch feature that allows you to use it while playing games on your TV screen too.
Check Cheapest Price : Flipkart
---
6. MarQ Turbostream Media Streaming Device with Built-in Chromecast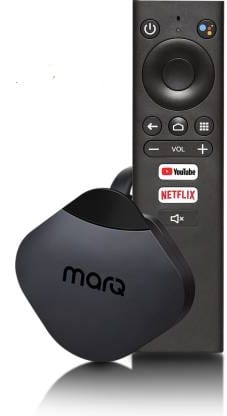 MarQ TurboStream Media Streaming Device can be connected to any TV to make it a smart TV and comes with Android 9.0 OS to access thousands of apps and games with the Android Play Store. This streaming device comes with Chromecast to enjoy movies and games on the big screen and gives you a complete Dolby immersive sound experience.
With its dual-band WiFi, you can enjoy the fast-streaming of your content. It also features a voice assisted remote that is powered by Google Assistant and can be used to control the content on your screen.
Also Read : Best 4.1 Channel Speakers in India
Overall, this is a simple yet effective streaming device that will make watching your favorite shows on TV a lot more fun for you.
Check Cheapest Price : Flipkart
---
7. Airtel Xstream Box with 1 Month HD Sports Pack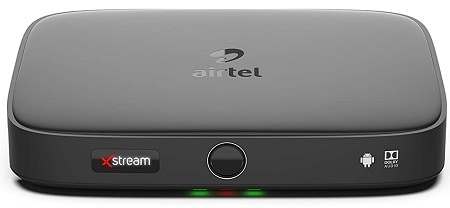 Airtel Xstream Box is another good option for people who love watching sports as this device comes with a 1-month HD Sports Pack. This Android TV Box comes with an Android 9.0 OS that allows you to access more than 5000 apps from the app store. One of the best features of this streaming device is that it supports voice search as well so you can find your favorite movie, music, game, etc. without having to scroll through all the content on the box.
With built-in storage of 8GB and 2GB RAM, you can stream any media without any lag and can watch your favorite content from Netflix, Youtube, and so on.
Also Read : Best Smart 55 Inch LED TV in India
You can experience 4K picture quality with this device and use your smartphone as a remote to easily access the videos and games.
Check Cheapest Price : Amazon
---
8. Cubetek 4K Portable Smart TV Box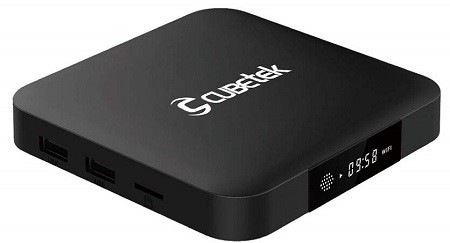 With a minimalistic design, Cubetek 4K Portable Smart TV Box is a great choice for anyone who wants a small yet powerful streaming device. This product comes with a Penta-core GPU processor and a quad-core processor that offers you a smooth 4K video experience without any lags. Cubetek CB4KTX2 also offers you 2GB RAM and 16GB storage that can play 4K videos at 60fps as well. One of the best things about this streaming media device is that it can be connected to any TV, old or new, as it comes with both AV and HDMI cable and port.
And you also have the option to connect an external HDD to play your favorite movies, games, and music offline whenever you want. Since this product comes with Android 6.0 OS and both Ethernet and WiFi connectivity, it is compatible with most apps. This Android TV Box is extremely portable and user-friendly and allows you to mirror your phone from Airplay as well.
Check Cheapest Price : Amazon
---
9. Think Infotech™ HK1 Mini Android 9.0 Pie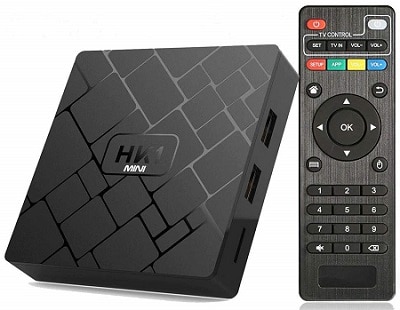 Another great TV Box, Think Infotech HK1 Mini is affordable and features several amazing apps such as Hotstar, Youtube, Netflix, and so on. This compact device comes with a quad-core processor that is perfect for playing 4K videos. Also, it features Android 9.0 OS that ensures amazing image processing running speed for a smooth and lag-free viewing experience. With 2GB RAM and 16GB storage, HK1 Mini has sufficient space to stream and store your favorite content and download your desired apps too.
You can connect this device to WiFi with 2.4G speed for fast and amazing connectivity. And HDMI 2.0 port ensures that you are able to connect it to any TV to smoothly watch movies and play games. This affordable streaming media device makes watching movies and TV shows in full HD extremely fun and easy for you.
Check Cheapest Price : Amazon
---
10. X96 Air Android 9.0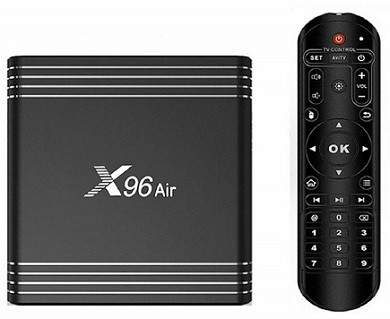 Finally, we have X96 Air which is a powerful device that is powered by Amlogic Quad Core CPU and comes with Android 9.0 OS for an amazing performance. With its 4GB RAM and 32GB storage, you have sufficient memory to run the device to play any video or music without facing any buffering issues. The design of this device is quite simple and similar to other Android boxes but it supports mouse and keyboard via USB that makes it easier to use.
You can watch 4K movies without any lag and can enjoy the screen lucidity with this TV box. And the best thing about this Android TV Box is that it supports up to 8K 24fps video decoding, allowing you to watch HD movies fluently.
Check Cheapest Price : Amazon
---
Read Also
Things To Consider?
Take a look at the below-mentioned factors that will help you compare and choose the best Android TV Box that suits your requirements:
Processor
One of the most important factors to consider when choosing an Android TV Box is the RAM and processing power of the product. With the help of a good processor, you can enjoy the streaming services without any lagging. On the other hand, if you have a slow processor, then it will end up lagging when performing simple tasks as well.
So, make sure that you choose an Android TV Box with a 1.5GHz quad-core CPU or higher. This processor is not only effective in streaming videos without buffering issues but is also good for playing games on your Box.
Available Memory
Another important factor to consider when looking for a good Android TV Box is the memory provided by the product. Of course, if your Box has more memory, it will be better because then it will be able to load the channels faster and will perform the tasks quickly as well.
Opt for a TV Box with at least 4 GB RAM else you will experience a lot of lagging and buffering issues when using it. A higher RAM will cost you more so make sure you choose the right amount of RAM for your daily usage to avoid unnecessary costs.
Storage Capacity
Storage capacity can be another deciding factor when looking for the perfect TV Box to buy for your home. If you aren't going to be using the TV Box extensively for gaming, then you won't need a lot of storage space. Alternatively, you could carry an external storage device that is portable and can be used with your laptop, etc. as well.
You have an option of storage capacity between 8 GB and 32 GB so you can choose whatever suits you.
Operating System
Next, choose an Android TV Box that has an operating system greater than Android 5.0. Avoid buying a Box with an older version as they cannot be updated.
Connectivity Ports
Another important thing to consider is the number of USB ports provided with the Box and the HDMI port compatibility. Make sure that your Android Box has at least 2 USB ports. Also, choose a box that features HDMI 2.0 at the least so that you can connect to your 4K TV.
Avoid Android Boxed with HDMI 4.0 as they tend to cause a lot of glitches and don't run smoothly when connected to your TV.
Network Connectivity Options
Finally, check which network is compatible with your Android TV Box before you purchase it. Make sure that it is WiFi and Ethernet compatible so that you can enjoy a fast and uninterrupted signal regardless of which method you choose for connecting.
Your Android Box should have Bluetooth connectivity as it will allow you to transfer content from your smartphone to the TV Box and then play it.
Also, check whether your Android Box is compatible with Google Play Store. This will make it easier for you to install apps and set up your favorite streaming services.
Also Read:

11 Best Studio Monitor Speakers in India

10 Best Party Speakers With Good Bass