Nowadays, everyone is relying on laptops for all of their needs. So, if you're someone who needs one for their work. Business laptops are a great choice for you. But choosing one can be hard. When it comes to business laptops, one always searches for something light, durable, secure, and especially long battery life, after all, you don't want your machine to ditch you in the last second.
When you're searching for work-oriented laptops, you'd at least expect these, since business laptops need to have these features.
So here we have narrowed down some of our preferences which can be a perfect choice for you. And since the festive season is going on, you might be able to grab some exclusive deals. This might be the best choice to decide and purchase one that fits the best for you.
But here you might ask, what we need to keep in check when you're shopping for one? Because work-oriented laptops are more or less the same thing. But there are some things you should keep an eye on when you are buying a business laptop.
Also Read : Avita Pura NS14A6 Laptop Review India
It should have some biometric protection (fingerprint readers are the most common), verified networking (like Intel V-Pro), and some properly tested Chassis and keyboards (MIL-SPEC-tested) since you also care about durability.
---
The hardware of Choice
Processor-
When it comes to the processor, the simplest answer would be that the more cores it has the better. But when it comes to laptops, especially for these kinds of laptops, we have to keep in mind that battery life is also something we need to keep in mind. AMD Ryzen laptops are already quite a battery efficient so you can go with those. But when it comes to intel try to search for 'Y' series laptops as they're the most battery efficient. You also have a 'U' series processor which are more performance oriented when compared to the 'Y' series. So, make sure to choose whatever fits right for you.
Also Read : Best HP Laptops In India
RAM-
Depending on your work, RAM is something you should be completely aware of. For those who are doing heavy work, 4gigs of RAM won't be suitable for you, try to aim higher (something around 8 or 16gigs). Don't go below 4GB at any cost as that will hamper your performance even for daily usual tasks.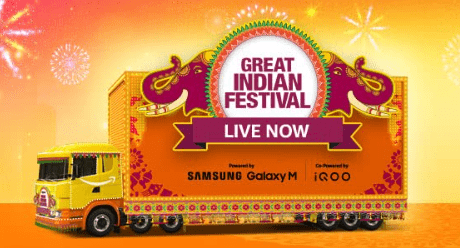 Storage-
Fast storage is just as important as any other hardware, you definitely won't like waiting for your files to load at an important hour. SSD is absolute. They will be more battery-friendly as well. SSD doesn't usually have large storage when compared to HDD. So, if storage is your concern try to upgrade. SSDs will improve your load times at every place, whether it's booting into your OS or opening some documents, you'll be able to get into them without waiting.
Battery-
Aside from everything, battery life probably will have the highest priority. After all, you will be traveling and you don't want your laptop giving up on you at crucial times. Though if you focus on battery, you're bound to lose out on performance so keep in mind which you want to prioritize more.
Also Read :
---
Best Business Laptops in India
With everything out of the way, here are some of our choices. Keep in mind that the list is in no particular order.
1. Microsoft Surface Pro 7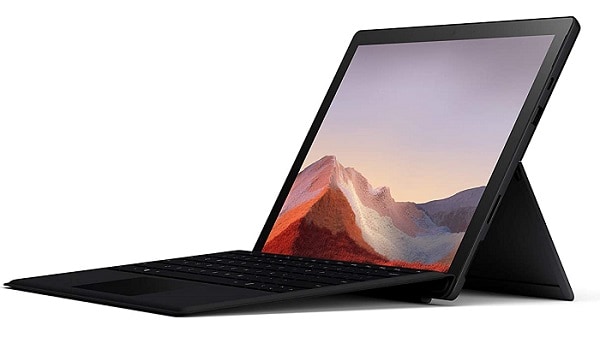 Specifications
Versatile 2-in-1 laptop.
Processor – i5 1035
Storage – 256GB SSD
Display – 12.3-Inch (2736 x 1824)
Windows 10 Home
Surface laptops are known for their lightweight and this weighs less than 800grams making it one of the best choices if portability is your concern. The laptop also has a touchscreen so you can buy a surface pen and get the most out of it. The surface also has a battery backup of up to 10 hours. Since surface laptops have a detachable keyboard, it also comes with a prebuilt kickstand.
This laptop is pretty much an all-rounder with its specifications and the extra feature it comes with. Though one thing I dislike is that the pen is sold separately. Aside from that, it is indeed a very good choice.
---
2. HP Chromebook x360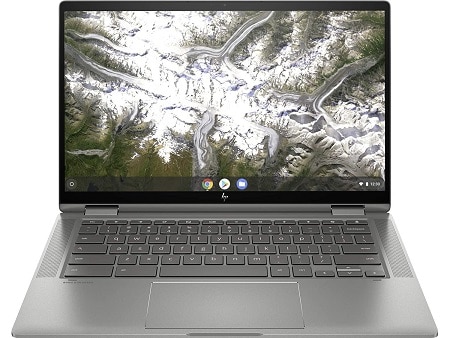 Specifications
Processor – i5 10110U @ 1.6 Ghz
Storage – 128GB SSD + 100GB cloud
Display – 14-inch (1080p)
Memory – 8GB @ 2666Mhz
Graphics – Intel UHD Graphics
Chrome OS
This laptop comes with a fingerprint reader so there's one security concern check. Chromebooks are honestly very convenient setups. Though, the chrome OS holds itself back when compared to windows OS it still packs a punch. The OS is very lightweight, you'll have all your core application as well. And since it comes with 100GB of Cloud storage this laptop is enough if your primary work revolves around web-based interactions. But if you still think that's less, you can easily expand its storage as well which is very convinient. And Chromebook usually has a large battery backup (we're talking about over 10hours usually). Oh, and forgot to mention, this laptop also has a touchscreen monitor.
Also Read : Best Prebuilt Desktop Computers in India
In conclusion, it's an excellent laptop if you're aiming for something more affordable when compared to others.
---
3. Apple MacBook Pro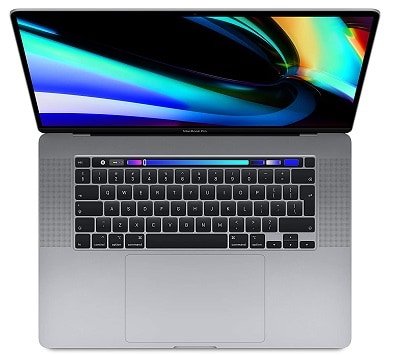 Specifications
Processor – 2 available variant i7 or i9 10th Gen.
Storage – 512GB/1TB SSD
Display – Retina Display 16.0-inch LEDD-backlit display (3072×1920) with 500 nits brightness
Memory – 16GB @ 2666Mhz
Graphics – Dedicated AMD Radeon PRO 5300M/5500M 5GB GDDR6 and Intel UHD 630 as internal
MacOS
Thunderbolt 3 (USB-C) Ports
Well, MacBook does stand out in this list but it's one hell of a deal. The display is probably the best you'll find here. Battery life won't be an issue as well (averaging around 11 hours). You have your touch bar and the trackpad is pretty huge. This is also one of the most performance heavy laptops here powered by AMD's dedicated GPU.
Also Read : Best Gaming Laptops Under Rs 70000 in India
This laptop has 2 variants available; you can choose the one which is perfect for you. This laptop is one hell of a powerhouse for creators. Though keep in mind, it still doesn't have a touchscreen.
MacBook is probably the most premium competitor here but something that you might be looking out for.
---
4. Lenovo ThinkPad X1 Carbon Gen 7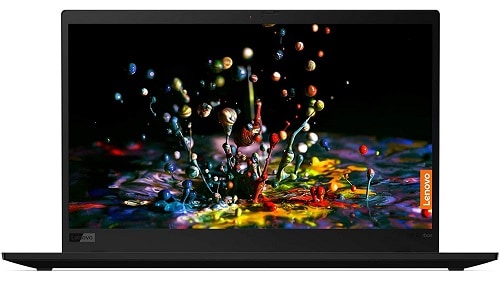 Specifications
Processor – Intel Core i7-1051U @ 1.80Ghz (up to 4.9Ghz)
Storage – 512GB SSD
Display – 14.0-inch Antiglare (2560 x 1440)
Memory – 16GB
Graphics – Intel UHD Graphics
Windows 10 Pro
This lightweight land sturdy laptop from Lenovo is something you should take a look at. ThinkPad can handle all your business-related tasks with ease. The battery life won't be an issue as long as you're configured at 1080p screen (UHD will consume your battery a lot more). Honestly, if you don't require a super high-end display, you can always go for the 1080p only variant of this laptop. But you'll miss out on things like Dolby vision for your High Dynamic Range (HDR). If you're not someone who requires these the 1080p option will be more than enough in our honest opinion.
Also Read :
Despite the thin chassis, the typing doesn't get affected at all. It's just as comfortable as the previous ThinkPad.
Sadly, the only thing this laptop doesn't have is an ethernet jack because of its thin chassis. So, you'll need an ethernet adapter if you want to have an ethernet connection.
Other than that, the laptop is a pure beast for business class works. And will carry you throughout.
---
5. Asus ExpertBook B9450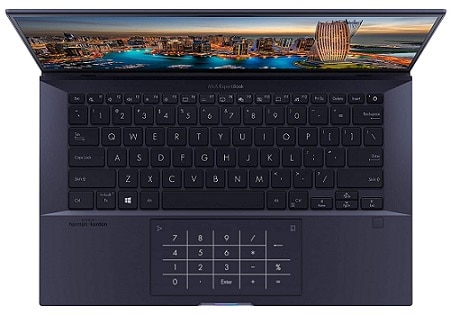 Specifications
Processor – i7 1051U
Storage – 2x 1TB PCIe NVMe M.2 SSD
Display – 14.0-inch LED-Backlit (1080p), Wide 100% sRGB color gamut
Memory – 16GB 2133MHz
Graphics – Intel UHD Graphics
Windows 10 Pro
Thunderbolt 3 USB-C
Another one of the most high-end business laptops on the list. Asus goes all out and this one isn't an exception. With up to 24Hours of battery backup and weighing less than 1Kg, this laptop is probably the best if you move out a lot. Thunderbolt is another great and much-needed addition for all upcoming laptops, enjoy high transfer speeds. Though keep in mind this laptop isn't the best if you're looking out for the best performance as it's mainly designed for those who travel a lot. This laptop probably has the best battery life in the whole list (yeah much better than MacBook).
So, if you're a frequent business traveler, this is the best choice for you.
---
6. Mi Notebook Horizon Edition 14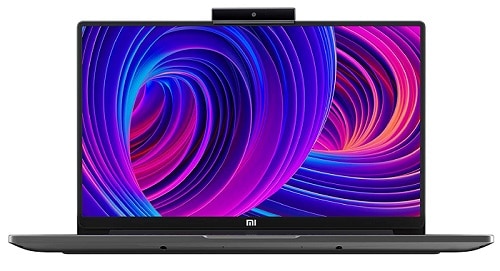 Specifications
Processor – i7 1051U
Storage – 512GB PCIE NVMe SSD
Display – 14.0-inch (10080p) Anti-Glare Screen
Memory – 8GB @ 2666Mhz
Graphics – Nvidia MX350 2GB
Windows 10 Home
This laptop from MI is more budget-friendly. But despite that, it still packs a punch. With i7 10th gen paired with Nvidia GeForce, it can process some light graphics processing as well. The laptop has all your basic ports. And it comes with a free trial of office 365 as well which can help you to decide if you want to continue the subscription or not. Though the battery isn't its strong point (less than 8 hours) so keep that in mind. Laptop also weighs around 1.35Kg. Another prominent thing is that it doesn't have a backlit keyboard and this is something very common and it can be a dealbreaker for some users as well. Trackpad also feels pretty cheap.
Being a bit budget-friendly the laptop has its fair share of cons which can be a big issue for some people but it is still a pretty decent laptop at this price range.
---
7. Acer Swift 5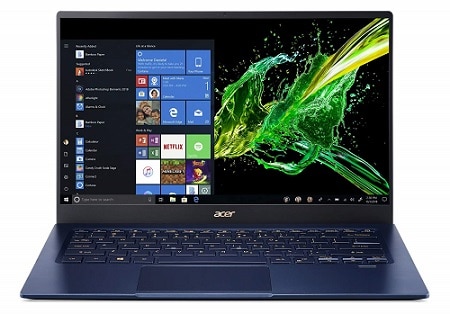 Specifications
Processor – i7 1065G7
Storage – 512GB NVMe SSD
Display – 14.0-inch (1080p)
Memory – 16GB
Windows 10 Home
Thunderbolt 3
Acer Swift 5 is a pretty decent lightweight laptop, weighing less than 1Kg. It comes with a fingerprint sensor as well. The thin chassis and the weight make it perfect for traveling. The battery can last you for over 10 hours which is very nice at this price range. Due to its thin build, this one doesn't have an ethernet port either. So be ready to spend extra on an adaptor if you rely on an ethernet cable. Surprisingly, it does have thunderbolt 3 port. So, enjoy extremely fast transfer speed. While it does have a touch display, it's very poor and doesn't even support a stylus. The trackpad and keyboard are pretty average, though this one does have a backlit keyboard. The laptop can get pretty hot when you're working for a long time which is quite a big dealbreaker as well.
In conclusion, while it does offer a lot of neat features at the price range it does have some serious issues especially overheating. Keep these things in mind before making a purchase.
---
8. Asus ZenBook Duo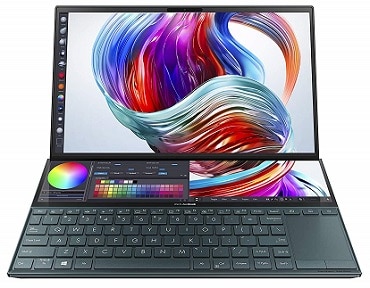 Specifications
Processor – i5 10210U
Storage – 512GB M.2 NVMe SSD
Display – 14.0-inch (1080p) LED backlit, 100% SRGB
2nd Display – ScreenPad Plus 12.6-inch Touch Display
Memory – 8GB @ 2133Mhz
Graphics – Nvidia GeForce MX 250 2GB
Windows 10 Home
While being on a bit heavy side of things (weighing around 1.5Kg). This laptop is absolutely perfect for content creators. A second screen giving you tons of new options, which also supports touch display, so you can easily use your stylus. And it comes with dedicated Graphics from Nvidia as well. While it is a beast when it comes to performance, it does fall off quite a bit when it comes to battery life, giving you less than 5 hours, which is incredibly short. But at the same time, this laptop isn't one of those which you'll use a lot on battery anyway. When we come to the keyboard, this chicklet keyboard doesn't disappoint at all and feels very premium. This can be said for the trackpad as well, which supports multi-gesture support. Oh, and this one doesn't have an ethernet port either.
There aren't many cons about this laptop but it does excel a lot and there are definitely people looking out for something like this. Hope this might be the perfect fit for you.
With this, we'll conclude this article. Hope you were able to find the one which fits right for you. Let us know if we missed something down in the comments.
Also Read :

Best i9 10th gen laptops in India

12 Best Ryzen 7 Laptops In India

Best Gaming Laptops Under Rs 50,000

Nvidia GTX 1660Ti Laptops in India