I have always been a silent admirer of watches, since mid-school, isn't it amazing how a watch can tell you about a person. In this smart age Wearing a watch requires a purpose, as for knowing the time is the least of your concerns.
To me, the world of watches always seemed vast and confusing. Every time I went past a watch store with fancy stuff on display I would always stop for a second glance.
After a few years of speculation and following them closely, I somehow feel responsible for sharing my knowledge. And so for all the enthusiasts, These are the basics you should know before buying a watch. The first thing you will notice is the mechanism or the movement of the watch.
Article Contents
Types of movement
The heart of the watch is its mechanism, all the wheels, and springs that makes a watch tick. So largely speaking there are two types of movements, starting with the first.
Quartz
Introduced by Japanese Watchmakers Seiko in 1969, it was the beginning of a new era. Quartz provides a battery-powered movement using oscillation and an integrated circuit, hence making them affordable and extremely reliable.Some other benefits of quartz are that they are low maintenance and are readily available.
Few of our picks for First-time buyers
(The watches picked by us are for reference purposes, to improve your understanding of the key feature and help you buy a watch that best suits you.)
Analog+Chronograph(Fashion brand)
The Armani Exchange AX2164 Hampton Chronograph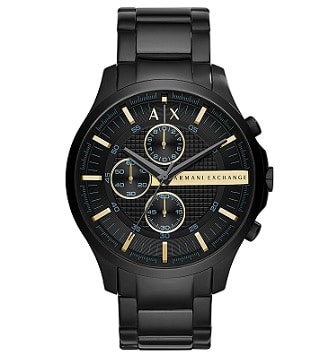 is a quartz movement watch, Allowing fashion brands like Armani to sell them at a reasonable price.The watch being a chronograph has two added buttons both above and below the crown to start and stop the chronograph(stop-watch).
Another thing you'll notice is that is has a stationary second hand (To be used as a stopwatch) and three sub-dials at 6, 9, and 12o clock. The 6 o clock dial is used to keep track of seconds of the day. The 9 o clock dial displays the minutes elapsed within a 60 min segment (while using the stopwatch). The final dial at 12 o clock displays the elapsed one-tenth of a second.
Both the case & strap are stainless steel. The crystal(watch glass) is of mineral glass, giving it a premium feel.
Available At : Amazon
---
Analog Dress watch (Fashion Brand)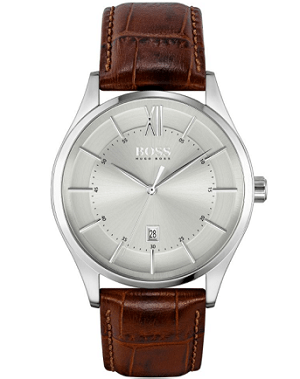 Hugo Boss a name which even survived the Third Reich, Is a well-renowned brand for fashion watches. With a stainless steel body and leather strap with crocodile embossing, this is quite a dress watch.
Other features are:
| | |
| --- | --- |
| Complication | Date (at 6 o'clock) |
| Dial color | White |
| Case Size | 42mm |
| Crystal | Mineral glass |
A dress watch like this should not have many complications and the case size, should not be more than 42mm. Also, a white dial and a leather band are more preferable.Making it a perfect watch for more formal occasions.
---
Analog Aviation watch with Chronograph (American Classic brand)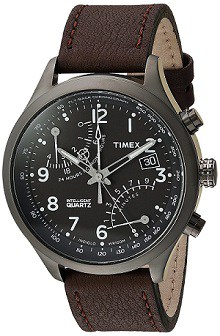 Our next favorite is the Timex Intelligent Quartz Fly-Back. A fly-Back Aviation watch (Not to be confused with a rattrapante) from Timex.
A Brief History of the brand-
Timex trails back to the 1500s when Queen Elizabeth I wore one of the first wristwatches made by them.
Then again during the ww1, a sudden demand for wristwatches was created which was fulfilled by Timex by adding straps to lady's pocket watches and making one of the first mechanical watches to be worn during combat.
Later in 1933, they made history by collaborating with Walt Disney and creating a Mikey mouse themed watch, which became their first multi-million-dollar product line. (a theme which is still relevant in apple watches)
From creating field watches for 2 consecutive world wars to producing casual cartoon watches, Timex has always managed to stay one step ahead of the competition.
Which brings us to our Timex pilot watch. ( An aviation watch or a pilot watch is any watch that has well-defined markings, a prominent crown, and a GMT complication.This watch comes with two separate second needles in the main fame one for seconds of the day and the other for the chronograph.
It also bears a date complication at 3 o clock and two more sub-dials for the chronograph function. One sub-dial between 9 and 12 for indicating hours and the other between 3 and 6 for minutes.An additional feature is a tachymeter on the bezel, Which is used to calculate the rate (in units per hour) which is irrespective of the distance unit.
Specification-
| | |
| --- | --- |
| Case | Stainless steel (43mm) |
| Strap | Genuine Leather |
| Water-resistance | 100m (10ATM) |
| Crystal | Mineral glass |
This is a perfect watch for commercial pilots, frequent flyers, or even for everyday casual wear. Being ATM 10 certified. it is suitable for water sports as well.
Though fashion brands like Armani, Boss, and fossil have a market for fancy and affordable watches. Antiquaries often find mechanical watches more characteristic and intriguing. Which brings us to our next type.
Available at : Amazon
---
Mechanical (Manual and Automatic)
A mechanical movement is powered by gears and springs the user needs to wind the watch by spinning the crown which stores energy in the mainspring which slowly releases it to turn the gears further. With constant attention and care, these watches can last for generations and hence are bought by serious collectors or for heirloom purposes.
Even with more reliable and affordable movements like quartz, Mechanical watches are preferred for their heritage, craftsmanship, and brand history. They are somewhat of an acquired taste.
While classic manual winding watches dominated the market in the 1800s, in recent times automatic watches, a slight variation of Mechanical watches are more common.
Here are our picks:
Classic Hand-wound Mechanical watch (American )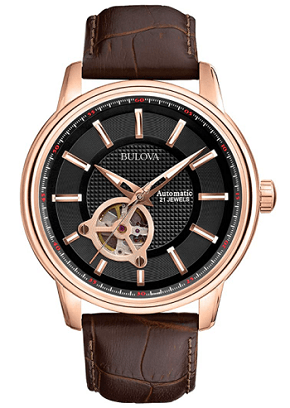 Bulova is an American brand and a subsidiary of Citizen Watches.
The brand has a vast and rich American history, going back to the early 1940s during world war II when America entered the war in 41 Bulova signed a contract with the united states government to make instruments that would aid the allies, though this had less to do with timekeeping devices they produced altimeters, variometers, telescopes for range-finding on artillery, and time fuses for explosives. However later they also started making field watches which were included in the official gear issued to American troops. These watches were rugged and had extremely precise which helped them in coordinated attacks.
Then again in the late 60s, during the space race to the moon, they officially provided all the timekeeping technology for NASA's manned spacecraft. Also during the historic Apollo 11 mission, Buzz Aldrin place a Bulova Accutron timer in the sea of tranquility to help transmit data.
And finally, in 1971, the first Bulova watch made it to the lunar surface on the wrist of Apollo 15 mission commander David R. Scott. Making it the only private watch to ever visit the moon, which was recently sold at an auction for $1,6 million.
Now coming to the Bulova Series 160 Mechanical Watch. The first watch in our list with a mechanical movement.
Starting with the movement, the crown is used to manually wind the spring which in turn, makes the needles move and hence frequent winding is required.
Coming to the design the face has a see-through between 9 and 6 where you can see the mechanics of the watch and the bezels have seconds written on it in the multiples of 10.
The case is 45mm stainless steel with a mineral crystal held by a sewed crocodile leather band, making it water-resistant down to 30 m. It is an excellent watch for special occasions, the rose gold dial, elegance, and pure sophistication will bag you many compliments day or night.
Automatic watches
An automatic watch derives its power from the wrist movement of the owner. A heavy metallic semi circle is attached in the back which moves when the wrist moves. This movement is converted into energy and stored in a backup reserve to power the watch even when it's still. And hence are a great choice for an heirloom as they can last for generations if cared for.
Generally, automatic watches have a power reserve for a couple of days so if you own a collection of automatic watches, you'll need to keep them all wound and a great way to do that is to get a winder.
Here are some of our selections.
Self-winding automatic watch (Swiss)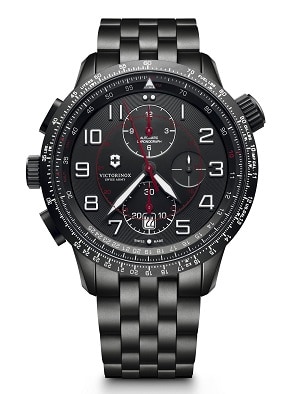 Our first swiss selection is from a very well-established brand Victorinox.
Victorinox is more known for their Swiss Army knives all around the globe but since 1989 they have also been manufacturing luxury timepieces under the name of Victorinox Swiss Army watches.
The Victorinox Airboss Mach Black Edition is an effortlessly stylish timepiece with an engaging sporty look and a 48hr power reserve for someone who is always on an adventure. The watch features 3 subdials one min and one hour counter for chronograph and the third dial at 3 o clock for seconds indicator for the current time. It also has a tachymeter on both the inner and outer bezel.
Another interesting feature is that most of the watches in this series have 2 crowns instead of just one. The first at 2 o clock, used to adjust the inner bezel and align it with the outer bezel markings and the second at 9 o clock used to adjust the minute hand. It also comes with a date complication at 6 o clock.
The watch as the name suggests also has military time markings, which overlaps all the three sub-dials and the date complication.
The watch is completely Swiss made with a stainless steel band and a 45mm case with an anti-reflective sapphire crystal. Making it very sturdy, durable, and additionally water-resistant till 100m
Now before coming to our personal favorite, One of the most incredible watches money can buy. Here are a few terminologies a one should know.
Bezel: The bezel is the metallic ring that surrounds the crystal. Some of them are stationary whereas others can rotate unidirectionally or even bidirectionally.
Chronograph: It is a type of watch which includes a stopwatch function in addition to the main time. Most of them include two pushers to start and stop the timer.
Chronometer: It is a watch that has been officially tested by the (COSC) Swiss Chronometer Testing Institute.
Complication: It is an added feature that provides additional information such as date, day, or moon phase.
Crown: It is a small knob on the outside of the case, used to adjust the main time and also the complication. In mechanical watches, this crown is also used for winding purposes.
Crystal: The glass covering of the case is called the crystal. it is formed with either synthetic sapphire, acrylic, or glass.
Dial: The face of the watch is called the dial it comes in various colors and shades, complimenting the numeric markings and the hands.
GMT: Stands for Greenwich meantime, it is a watch that can track time zones simultaneously.
Horology: The science of measuring time.
Lugs: They are pieces of metal that attach the band to the mainframe of the watch.
Power Reserve: It is the maximum amt of time the watch can keep going after being fully wound.
World timer: A watch capable of showing time across the globe, the 24 time zones are represented by 24 major cities of the world.
Winder: A box or a vault that keeps an automatic watch rotating to keep it fully wound when not in use.
MANUAL-WINDING
Now finally, presenting our personal favorite. Though you might need to spend a small fortune to own this specific watch but, this marvel is still worth reviewing.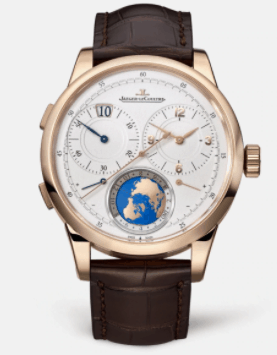 Jaeger-LeCoultre DUOMÈTRE UNIQUE TRAVEL TIME
The swiss name Jlc requires no introduction. The brand is even loved and worn by many celebs such as Kit Harington, Steve Carell, Jay-Z and Robert Downey Jr.
Now starting with the watch face the most unique feature is the 3D globe present at 6 o clock displaying all the timezones, time difference, and day or night region.
Other than that it also has 2 sub-dials for displaying current time(hrs and min) and a second time zone. Hence Instead of hour markings on the inner bezel, there are only seconds markings (0 to 60) in the mainframe and a second needle.
Another notable feature is there two more miniature needles each under the two time telling subdials. They indicate the battery remaining for each dial separately and hence indicating if the winding is required.
With a specially dedicated crown for winding, There are 2 pushers on the opposite side just like in chronographs used to adjust the time in both the subdials. Even after all these features it still has space for date complication, which featured at 12 o clock in the second time zone dial in the left.
Specification:-
| | |
| --- | --- |
| Case | Pink Gold 42mm |
| Movement | Manual-winding |
| Dial | Silvered grey, Grained |
| Water-resistance | 50m |
| Strap | Hand-stitched crocodile Leather |
Thanks a lot for turning with us, we will be back with more watch lists for a specific type, movement, and budgets for you, till then stay classy and stay safe.
---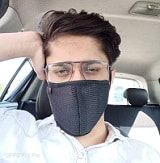 This article is written by Sanat Chaudhry
Photographer by choice, techie by profession. Making technology simpler and easier.