A calf massager is a machine that is used by athletes, people who do yoga as well as anyone who likes to feel relieved of strain and fatigue in their legs. The popularity of calf massagers have grown a lot in recent years and now they can be found at very reasonable prices, whereas before you had to go to a dedicated massage parlour to use them.
The main uses of a calf massager is to relax your calf muscles after a long day of work or exercise. When coming home from a busy day, the muscles tense up and have lower blood circulation. This leads to fatigue. A calf massager increases the blood circulation and strengthens the muscles. The increase in blood circulation increases the oxygen in the muscles and hence provides them with more energy. This also helps repair damaged muscles which can occur due to tear in the muscle fibers.
A proper massage also helps improve your mood and really makes you feel positive. This makes you feel very relaxed and calm, which is very important for everybody.
Most calf massagers are very compact and portable, which means you can take them with you on trips and vacations should you need them. This will allow you to enjoy it's benefits anywhere you go.
How to Use A Compression Calf Massager:
Using a calf massager is very simple and straightforward. Most portable massagers have Velcro straps to hold them in place around your legs and they are connected to a remote that controls the intensity of the compression of airbags in the massagers. It is generally advised to use the massager for about 20 minutes at a time. But if you feel that you need more, then you can increase the duration according to your preference.
How A Calf Massager Works:
There are many different types of massagers and all of them work differently. Some massagers vibrate at different intensities, which build up heat inside the leg wraps. The constant vibration also directly massages the muscles and increases the blood flow rapidly.
Other massagers use direct heat generation in the leg wraps. The leg wraps heat up and provide relief to the muscles. This is also sometimes accompanied with vibration. This combination of heat and vibration is very popular and found in higher end massagers.
Some massagers employ different techniques that only use air. The most common are the Air Compression Massagers, which work by inflating and deflating the air bags present in the leg wraps. This applies varying degree of pressure to your muscles and hence massages them.
Things to keep in mind when choosing a Calf Massager:
Portability: If you like to travel and also want to enjoy the comfort of a massager, you do not want to carry a very bulky machine with you at all times. So, choose one that is reasonably portable and which you can easily fit in a bag. 

Material: Some massagers have fabric materials that may cause irritation on your skin, so check them first. Most high quality massagers have very breathable fabrics that are very comfortable. 
Wattage: All massagers have a wattage rating which is responsible for the heat that it can generate. Be sure to check them when you are buying.
Coverage: Massagers come in various different sizes, and not all of them may fit your purpose. If you want a massager that also massages your legs and thighs, choose that one instead of just a calf massager.
Additional Features: Most massagers have an Auto Off features, which turns the massagers off after 15 to 20 minutes of use. This is incredibly handy and will be very useful.
Best Compression Calf Massagers in India
We have selected a few calf massagers that have the best value for your money and are readily available.
1.Agaro Air Compression Leg Massager
Rs.3999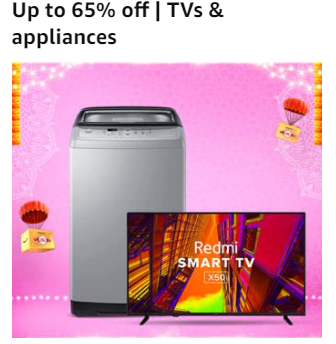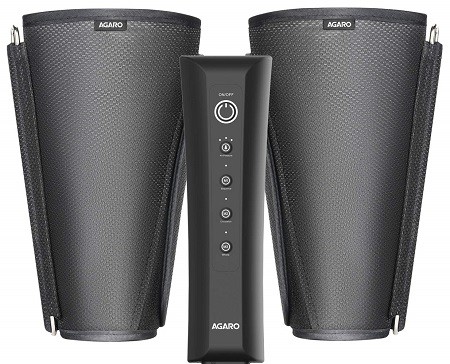 Main features:
3 Massage Modes
20 Minutes Auto Shut off
Adjustable Velcro Leg Wrap
Suitable for Legs, Calves, Feet and Arms
The Agaro Massager is a reasonably priced product that has all the necessary features that you would need.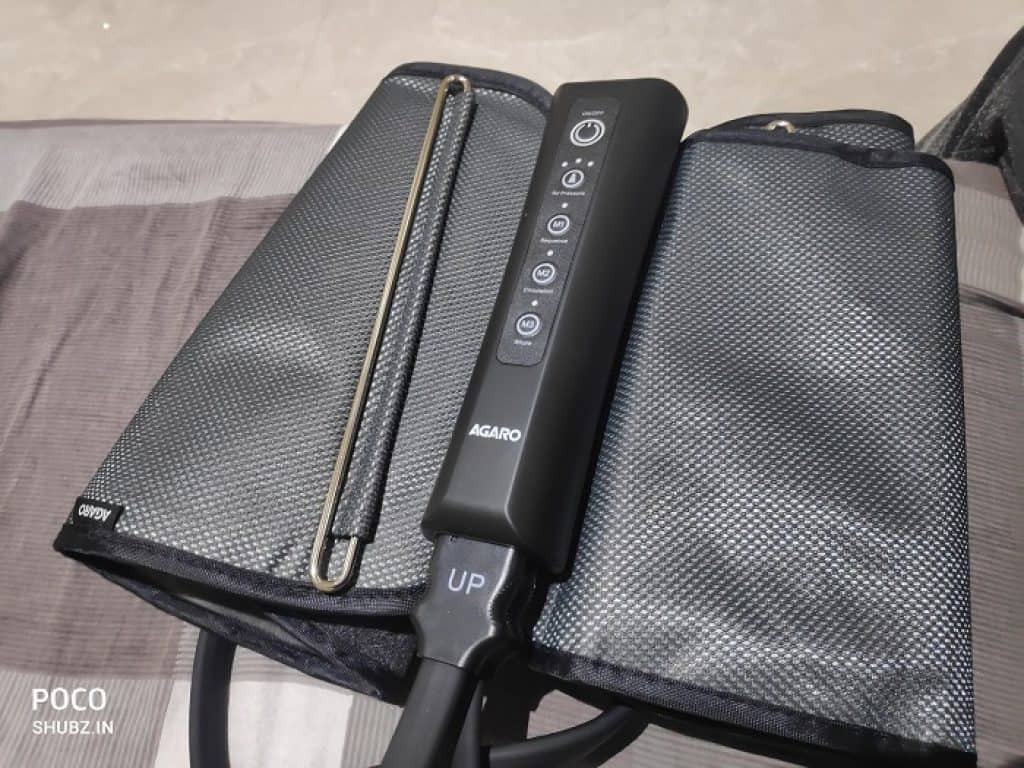 The pads are broad and are suitable for your calves as well as your arms and foot. These are also easily adjustable, making it suitable for people of all ages, from elderly people to kids. They are connected to the remote that has control over the air pressure and intensity of the vibration. You can freely mix and match the intensity and modes with the remote.There are 3 modes for air pressure and can be easily switched with the remote
The pads are well built and have Velcro straps to hold them in place. Another great feature is that the massager automatically turns off after 20 minutes of continuous use, so you don't have to worry about it running endlessly if you forget to turn it off.
Pros:
Price is cheaper than alternatives
Auto off feature is very useful
Can be used on other body parts
Cons:
No heating feature
---
2. Reach Mellow Leg Massager
Rs. 4,599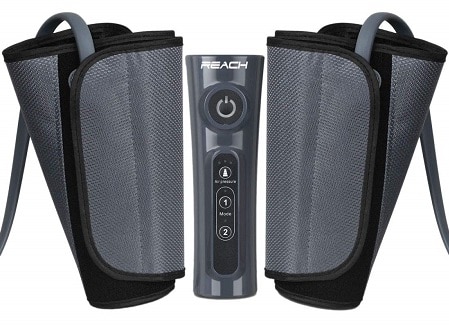 Main Features:
Three intensity levels
360 Degree Massage
Handheld Controller
Compact and Portable
The Reach Mellow Leg Massager has all the features you would expect in a calf massager and has good build quality too.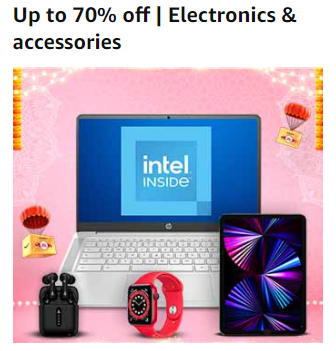 The pads have 2 modes that target a specific area of your calves. The Kneading Mode only massages the upper half of your calf and the Shiatsu mode only massages the bottom part of your calf. This is very useful for spot massaging. You can also turn on both areas at once, massaging your entire calf. The pads can also be used for hands, arms and feet if you please.
Also Read : Best Foot Massager in India
This massager also has an auto timer that turns the whole massager off after 20 minutes of use. The leg wraps also have Velcro straps to easily fasten them to you legs.
Pros:
Modes to target specific part of calf
Auto off feature is present
Cons:
Price is a bit higher than alternatives
---
3. Lifelong Full Leg Air Compression Massager
Rs. 5,199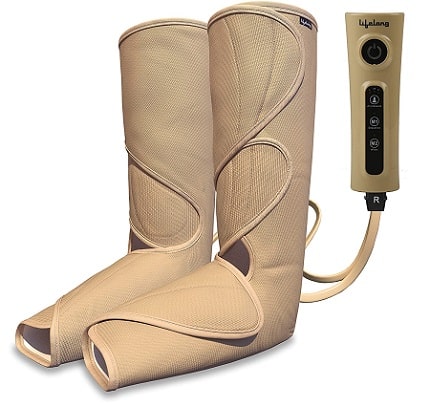 Main Features:
Four airbags
Massages Leg and Foot
Handheld Controller
Soft breathable fabric pads
The Lifelong Air Compression Massager is one of the larger massagers in this list. This is because it has airbags that massage the legs and feet simultaneously.
The pads look like long boots and are made from very breathable fabric that is comfortable to wear. This is more suitable for people who want to massage two regions of their body together. It saves a lot of time, since you do not have to reposition them after every use. 
Also Read : Best Body Massager Machine in India
The handheld controller can be used to change the air pressure and the mode of vibration in the airbags. There are three different pressure intensities, Low, Mid and High. The airbags are easily adjustable by the Velcro wraps on the inside. The air pressure can be set to three different intensities, Low, Mid and High. This massager also has the auto off features, which kicks in after 20 minutes of use.
Pros:
Massages legs and feet simultaneously
Good, comfortable fabric
Auto Off Feature
Cons:
A bit bulkier than alternatives
More pricier than alternatives
---
4.LifeLong LLM18 Air Pressure Massager

Rs.3,899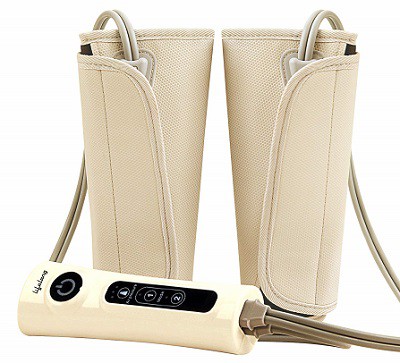 Main Features:
Light weight
Adjustable Wraps
Three Pressure Levels
Auto Off Feature
If you prefer a more compact and portable alternative to the above mentioned full leg massager, then this massager by Lifelong will be a good choice.
It has essentially the same features as the full leg one, such as the soft breathable fabric, the three intensity modes(Low, Mid, High) as well as the two different vibration modes. The pads can be used for different body parts like your thighs, feet and arms. Even the handheld remote has the same controls. So, for a smaller alternative, this is highly recommended. It is even priced very reasonably compared to the alternatives mentioned above.
Pros:
Highly breathable fabric
Adjustable leg wraps
Can be used on thighs and arms
More portable than full length options
Value for Money
Cons:
None
---
5. ARG Health Care Leg Air Compression Massager
Rs.3,699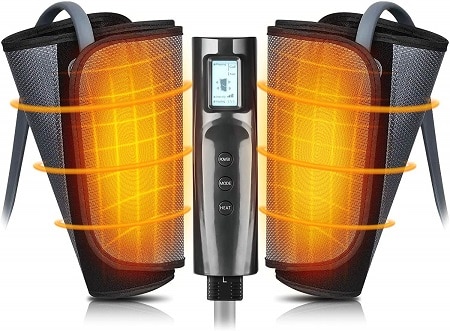 Main Features:
Heat Massager
Leg Region Specific Modes
Handheld Controlled with LCD Screen
Easily Adjustable Leg Wrap
Breathable Fabric
The ARG Leg Air Compression Massager is a unique product since it is one of the few massagers in the market that has a Heat massage option at such a cheap price.
The Heat intensity can be controlled via the handheld remote, which is also much higher quality than the competition, and it has an LCD screen too. Having the heat feature is very beneficial to your muscles and allows the massager to relax your muscles more efficiently. The airbags also have two modes that target specific parts of your calf. 
Also Read : Best Gun Massagers in India
If you want the massager to only massager your upper calf, you can set it easily. The same goes for the bottom part of your calf. This is a very handy feature and it works perfectly here. The leg wraps are also made from very breathable fabrics and do not cause irritation on your legs. The massager can also be worn on your arms, thighs and feet.
Pros:
Only heat massager at this price point
Better quality remote
Very breathable fabric
Airbags can target specific parts of your calves.
Bang for your buck
Cons:
None
Some Frequently asked questions about Massagers are:
How long to use a massager?
For people with mild fatigue or pain, using the massager regularly with about 15 minutes of use is more than enough to help relax your muscles. If your pain is more severe, you can use it twice a day.
Are there any health risks to using electrical massagers?
Most massagers are built with utmost safety in mind and do not have a chance of electrical shocks of any kind for the user. The cables and leg wraps have proper electrical shielding, so you do not have to worry about any safety hazards.
Another thing to remember is to not use the massager for too long, as great amounts of heat on your muscles is actually very harmful. Be sure to monitor your use, or use the Auto Off feature that some massagers have.
In conclusion, using a calf massager is greatly beneficial for your muscles as well as your health. And buying a calf massager can be a tough choice, since there are so many options available today. We hope this guide has provided you with the essential information you need to know about the importance of calf massager as well as allowing you to spend your money on the best value for money option available.