This list consists of what I think are the best drones available in India and a complete drone buying guide for a reader for whom this topic is new.
The first thing that you should know is what is a drone and the basic step towards having one. A drone is an aerial vehicle without any pilot or human at risk as these were first made for military purposes where the pilot is at risk in battle zones. But now drones are used as a flying camera that can capture aerial shots at ease without much hassle that were earlier very difficult ones to achieve and required helicopters and equipment packed teams for even a single shot. That was a very easily understandable definition that you can use to get the perfect idea of what exactly a drone is and for what it is used for.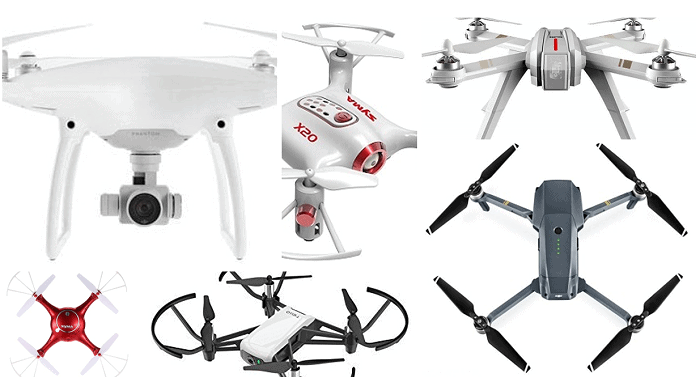 Now you can imagine a small aircraft with a camera flying to take shots for you but obviously, you have to get the controls to function it according to your desirable commands for which you need some kind of remote and this can be a phone with an app of that drone or a dedicated remote that comes along with it
But is it just a toy with this purpose and nothing else, the answer is NO some of these drones which weight the specified limit permitted by the government require registration to fly and you cannot use it without registration. This registration helps them distinguish between your aircraft and the civil drones and their operators and also the total number of drones.
Also, this is not a new concept of the radio-controlled aerial vehicle but it has improved a lot from the past in terms of their ease to use and advancement in the camera technologies over time. This made drones an excellent tool that can be used to capture stunning aerial images and videos.
Every time you see some great wildlife shots of deadly animals chasing each other in the plains you probably have to thank the drones due to which it became possible. And as the drones became quickly very popular they became more and more affordable for consumers commercially.
Before you shed a lot of money on your first drone you should know a few things about it. Firstly and very importantly stay out of legal trouble and avoid over expenditure on a drone and choose very wisely for the one you need for your purposes and not lots and lots of it for the one that is not required.
Also Read:

10 Best Travel Cameras For Beginners
High Tech Features That You May Consider
Now that you know much about the basics there are still some features left that are capable of making your drone flying experience far more pleasant. You may think that a drone with fewer features but cheap may be a great deal but you are wrong if it has a frustrating experience using it and no one would want to manage that and also should not. The added sensors and other features of the higher-end drones make it easy to use and make it better for beginners due to their convenient and nonfrustrating usage experience. Here are some other of what you can consider important features to look for in a drone –
GPS Navigation
There is no sense in having a drone that does not know where it is heading to or going. Built-in GPS Navigation can make your drone capable enough to find its way out. In some drones, it is even possible to assign routes to your drones and let it navigate itself. This is very helpful when you have to shoot a particular area multiple times.
GPS Home Function
As discussed earlier tall buildings, mountains, trees, towers, etc. can interfere with your drone's signal and the communication between you and the controller you are using for that drone.
Drones with this particular feature can come to the same location from where they started if any problem is recognized. This way you can be confident about the drone not flying away and never returning back to you.
This home function is very helpful as an emergency backup for drones. Although this function is very good and works alright you should not completely depend on it and keep your drone in sight and under your control so that you yourself ensure its safety if anything goes wrong. But if that is not always possible this function might help you at a very tight spot.
Headless mode
This feature makes it easier for a beginner to understand and learn drone flying.
To understand this feature let's consider that when you start flying your drone both you and the drone are facing the same way so your left and right will match with the drone's left and right directions and hence you can control it sensibly but what if it is turned around, this will replace the left with right and vice versa and now it is chaos to operate as most drone designs are not that distinguishable from front and back.
Amidst this problem is where this headless mode comes in-play as this mode sets a specific direction for your drone and now your drone cannot turn around and this makes it very easy for a beginner to now fly and land safely.
3 Axis Gimbal
A gimbal is a device that is used to maintain stabilization in your footage by holding your camera and pivoting with the movements of the drone. The three-axis define the different movements the drone can make rolling, pitch, and yaw.
This is a really important factor for video footage.
Government Procedures
Make sure that you have the proper legal constraints knowledge before buying or even looking for one. If you want to not worry about any fines or imprisonment then you may want to consider nano drones.
These are what you should know about before looking into a drone as you should know what to look for in it. And trust me this was as brief I could make it.
Now let's dive into the list of the drones that I consider best to buy in India in 2020 –
Best Drones In India
1. DJI Tello Drone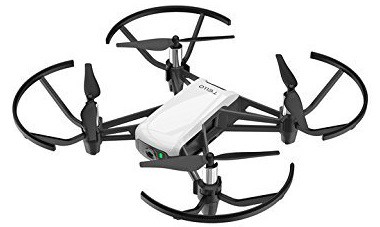 This is a fairly small drone falling in the nano category which is a plus and is one of the best drones to fly in windless conditions. It is a feature-packed indoor drone that elevates your experience. This drone features a 5 megapixels HD camera that can shoot up to 720p resolution videos at 30 frames per second and a vision position system.
You can also fly and control it using your smartphone, tablet, or wifi enabled controller. It features an EIS technology withstands for an electronic image stabilization facility. The drone ranges to 50 meters above the ground level.
And the stabilization enables us to get crystal clear and shake-free images. You should also remember that it is lightweight and small in size which makes it easier to carry along for tour and travels but as mentioned you should not use it in windy conditions due to the lightweight thing as then maybe you can lose your drone. This drone offers various other flight modes like the 8d flips, throw and go, auto take-off, and landing, which adds more ease to your tasks.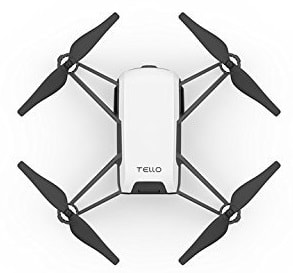 But this drone falls back in terms of storage as it does not provide any micro SD slot or any internal storage provision. It boasts a flight time of approximately 13 minutes and a maximum media transmission range or operating range of about 100 meters with a proper wifi connection and a limited altitude of about 10 meters.
It has a take-off weight of about 80 grams. This drone does not require any registration to use and is priced fairly at about 11000.
In emergency cases, this drone does not provide you with GPS Home Function and can not come back to the starting point but is optimized to land at the nearest safest point at the fastest pace it is possible for.
This drone is a good option economically if you are satisfied with what it offers as it does not break the bank delivering good quality. If this is about to be your first drone then you are supposed to have a good first-time experience.
Also Read : Best Luggage Bags For Travel in India
---
2. DJI Mavic Pro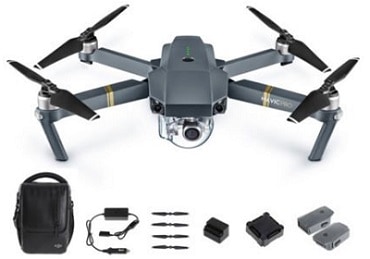 This is a very popular and well-known drone for its good performance among the drone users. This Quadcopter is made considering the flaws the users complained about for some of the past years.
For the start, the camera quality is nearly excellent and competitive. It is capable of capturing amazing still images with its 12 megapixels and shoots 4k UHD videos without any problem. It can also shoot 120 fps slow-motion videos at 720p and 96 fps at 1080p resolution. With its 1/2.3 inch CMOS sensor, you can readily shoot crystal clear and crisper 4000 × 3000 pixels.
This drone boasts about its longest range of operation of 7kms and one of the longest available battery flight times of about 27 minutes with a single charge.
It has the three-axis shock-mounted gimbal we talked about before and this facilitates amazingly stable video footage.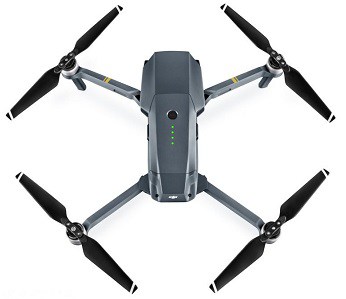 Also, it has a good flight speed of nearly 40 mph or 64 kph which makes it capable of fast pace follow sequences. This machine has some of the most powerful motors which help to control in rough wind conditions. The convenience and accuracy of its autopilot flight abilities will leave you impressed.
Another amazing factor is the portability of this drone. This drone is an excellent choice for any beginner or professional and it is deserving to be on this list.
Also Read : best travel adaptors in India
---
3. Kiditos Syma X20 Mini Pocket RC Drone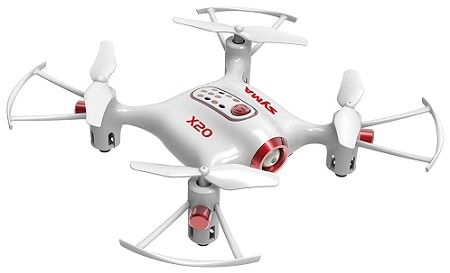 As the name suggests it is a dedicated pocket drone so you should expect everything accordingly.
The drone claims plenty of features which are quite impressive.
Let's start with it, the four-axis altitude hold mode which allows this drone to consistently maintain a specific altitude while permitting it to roll, pitch, and yaw which would be controlled normally.
The headless mode we talked about previously is included in this one which will make sure the quad moves in directions according to your perspective at all times irrespective of which side the quad is facing.
One key take-off and landing feature which means one press automatically take off or landing, radio control quadcopter will take off or go back to the position where it took off. Which pretty much means what we discussed in GPS Home navigation earlier.
It has 3d roll capabilities too. But what about the flying height and time don't stress it out it hopefully gets you covered as the company claims 20 meters flying height and 7 minutes of flying time.
This drone does not possess any built-in camera and you will have to mount your camera you may have planned to. It's the maximum range to be controlled or operated is 20m claimed but if you read what we discussed then you know how much you should depend on this range.
For stabilization, it has a 6 axis gyroscope stabilizer. It is safe to go with this machine and it promises pleasant piloting.
Also Read : Best Multiport USB Wall Chargers in India
---
4. IZI MJX B3 Pro GPS Camera Drone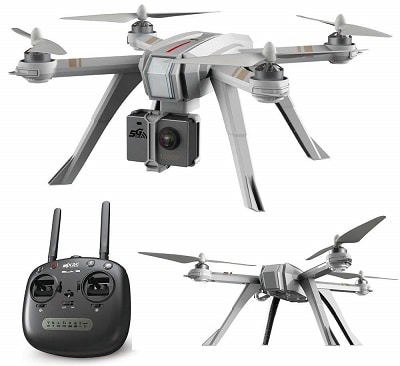 This one is a remote-controlled GPS camera drone. The drone does not include any camera instead it has a gimbal mount which will let you hook your go pro or any other camera effortlessly.
This is the perfect choice for anyone who wants a drone to use your go-pro to fly and get stunning images and videos with the go pro quality or whichever camera you find comfortable for it.
It boasts specially designed MT1806 1800KV motors which are significantly powerful and brushless which avoids high friction and thus it removes any chance for mishaps.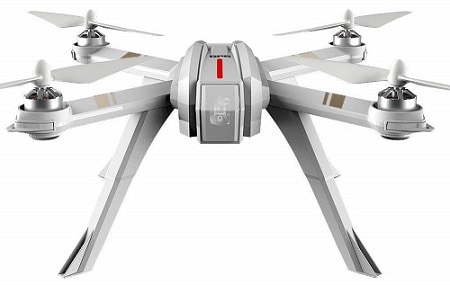 This technology used also features heat reduction which complements the battery life of this thing and increases it to nearly 50% more.
The remote control has a frequency of 2.4 GHz which controls it's all functions. It has the capability to transmit waves up to 1600 feet. It has an 1800 mAh battery that promises 15 to 20 minutes of flight time on a single charge. The battery included can be easily swapped with a new or any other compatible battery. This provides a way to extend the overall flight time.
Also Read : Best Tripods in India
---
5. Kiditos Syma X5UW Wi-Fi FPV 720P HD Camera Quadcopter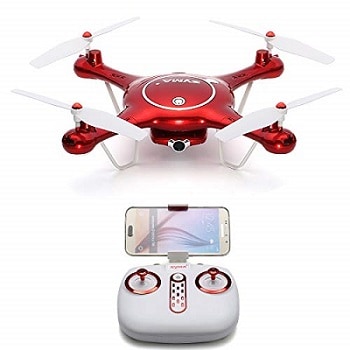 This possesses a flat aerodynamic design and a gyroscope. It is a deserving drone you should consider buying. It has a bright red color due to which it is easier to spot in the sky.
It features a 1-megapixel camera which I cannot appreciate as it is decent and okay but not that great, and it also provides a wifi technology that lets you track and monitor the drone with your smartphone or tablet. The camera captures up to 720p resolution videos and not above that.
It has a take-off weight of about 200 grams and a flying height of about 50 meters. This drone has a controlling distance of approximately 70 meters and a flying time of about 10 to 12 minutes.
In the remote, you have some really good options like on its back it has a flip 3d option that commands the drone to perform a beautiful somersault. The remote uses AA batteries so now you know how to swap them.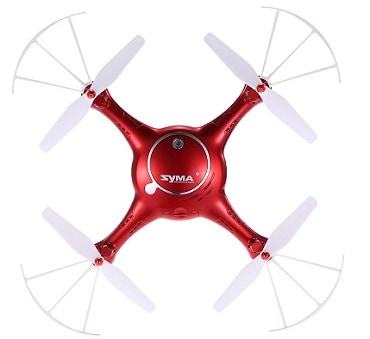 In this one, you get the option to add a micro SD card that further provides options to reduce any lag or stutter that may occur and to save your photos and videos on the smartphone. It also has many technologies and advancements for the stabilization which will provide pretty much as stable footage as is required by a beginner. Also, this helps to reduce friction which in turn will increase overall battery consumption and increase flight time.
This is a good option for any beginner who does not want to spend much and can live with the mentioned specifications for quite some time.
Also Read : Best Monopods in India
---
6. DJI Phantom 4 Drone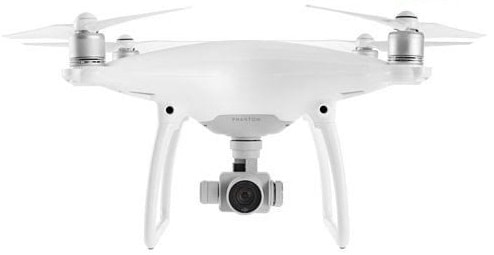 This drone is one of the best drones that you may find while selecting the one for you in India. It has a special 12 megapixels camera which is capable of shooting 4k videos at 30 frames per second and 1080p resolution videos at 120 fps.
Also, this comes with a sealed camera gimbal that has a casing made out of aluminum which offers stability and balance for capturing your aerial shots.
It uses some advanced sensors which ensure a better and smoother landing experience and good reliability.
Though it may come at a high price tag but will surely provide you with an experience worth it. So if your pocket allows for this one just go for it without any second thought.
These were the ones I think are the best for you in India and can be very important to make your first experience very pleasing and this impacts your opinions about drones which should not be hopefully bad if you read it all. The above-listed drones are subject to availability and you have to decide whether to wait for one or buy whichever is available.
Also Read : 10 Best Rated Split Air Conditioners
Types Of Drones
This should be one of the few things you should know about before your first purchase. Now every different machine has its own different purposes and also importantly they come at different prices.
So now you might have got some of what I am trying to convey from the previous lines that first you need to know about different machines and their uses as different tools and then you have to select what fits your needs perfectly to make this decision. Like do you need a drone to perform aerial stunts? Or do you require something for aerial videography and photography? And if you need to compete in the first-person point of view racing events? The answer lies in what kind of drone you need. And I agree that maybe some machines are multi-purpose but some are better at specific tasks than others as they are built accordingly.
You should also honestly judge and admit your own skill-set. Whether you are really comfortable with using these tools or not. Because some drones even require very extensive assembly before you can use it whereas others can be used straight away out of the box. Knowing about your limits in every aspect can be very helpful for finding the best choice for you.
Also Read : 10 Best Fruit & Vegetable Juicers
Ready to fly
These are the easiest type of drones for a beginner to get started with as they are what the name suggests. These require little but not none assembly before starting like connecting rotor blades and charging batteries. But no doubt these are easy to fly and these have everything included in the box that you need for operating it. Here is the point now, due to these being very convenient and hassle-free without a lot of assemblies they come at an expensive price to pay for that comfort they provide.
Also Read : Best Personal Smoothie Blenders
Bind and fly
Also known as BNF these come with the absence of a transmitter which you have to buy separately or you can use the one that you have already. Now, this is not as simple as it looks as some transmitters are compatible with some specific drones and not the others. And even if you possess a transmitter that functions on the same frequency as that of the drone it is still not mean that they will bind together. Both of them, the transmitter and the receiver need to use the same agreement in order for them to communicate with each other. So make sure that the transmitter you are buying satisfies everything stated above as this may impact your transmitter purchase.
These types of drones are popular among the users who are slightly advanced and comfortable with the separate transmitter concept. And because of the lack of transmitter in the included package, these are cheaper than the ready to fly type of drones but require some work to get started.
Also Read : Best Gaming Headphones Under Rs 5000
Plug And Fly
Commonly known as PNP or PNF. The name does not depict how really these are and whether complicated or simpler. These include neither the transmitter nor the receiver and you are paying for just the drone itself.
But keep in mind that drones are useless without the transmitter and receiver so you can add the transmitter and receiver yourself with that machine to make it all function together.
With this type of drone, you can get your preferred transmitter and receiver which means that you can decide these components according to you. That definitely will provide you more media transmission range than what is offered in the ones that come pre-included in other types and charge heavily because of it.
And another plus is that you are not supposed to learn new controls as the transmitter and receiver you own, you are already familiar with.
Another thing is that this type of drone is significantly cheaper than the two listed above it.
Almost Ready to fly
You may call it ARF. If you are new to the drone thing then you should really not get confused between this almost and the one you know. These are the kind that requires assembly before they are ready to use so you have to be ready for the hassle and discomfort that comes along and it can be very tricky for you if you do not know what you are doing with it.
ARF Drones are popular with those people who want to race with their machines as they have a high degree of customizability in this kind of drones. But these drones are best when left in a pro or skilled person's hands. And obviously, you will not want to spend hours on this kind to assemble it all and ruin it all with a crash on your first flight due to the lack of experience needed.
More In Ear Headphones

10 Best Earphone Under Rs.1000

10 Best In Ear Headphones Under Rs.3000
Some Features To Look For
After all, everything people look out for is features these days and it becomes the main deciding factor of whether there is any purchase made or not. So a drone is supposed to have the required features but what are they? We will discuss it here. Also keep in mind that having all the features is not bad instead what happens often is that you may end up liking a product due to the specification you prioritized less than what you prioritized higher which impacted your purchase. You should pay attention to this section as this will enormously influence your learning progression for your first drone as flying one of those machines is not at all easy and requires quite some time. It is not to be mentioned that features come with a price and the more features you include in a drone the higher they are priced and that you have to create a balance between features and budget which again brings you back to the same thing that what you need for yourself.
There are features that you might consider must have and others that you might consider a plus to have but no regrets if absent. But this section hopefully will cover them all.
Materials Used
Here what you should extract is that the better the materials used the longer is the durability of the drone and obviously you would want your drone to last long if you are investing your hard-owned money in it. Now drones may be expensive or cheap depending on the materials used in them as the brand spends a part of the cost for the materials. The cheaper drones use plastic which might reduce your durability largely but even if you are finalizing a drone made out of plastic you should try to look for ABS plastic which is better than the usual plastic used. The others use fiberglass and carbon fiber which is far more resilient relatively. Which adds on to the cost and makes these ones fairly expensive but if you know that you will be using your drone a lot then this might be a worthy investment instead of an unnecessary expenditure. And you may want to stay far away from aluminum-made drones as they can not with-stand accidents due to this lightweight metal.
Range Of Device
As a simpler form to grasp you can follow that the farther your drone can fly away from your transmitter, the better it is. Cheaper drones may have a range of transmission of about 30 meters or less whereas the expensive ones can have the maximum range of media transmission as several hundred meters or even kilometers without losing any contact with the transmitter. If you are planning your drone to be capable of doing videography and photography then this range can be very important to consider as this will let your drone to reach places you cannot. But if you just want to have fun and keep your drone in sight then you might prefer it to be low and a long-range may not be as important. Also do not believe the advertised maximum range fully as you may not be able to achieve that advertised range because this works due to the transmitter taking instructions from the radio waves and these radio waves interfere with one another very easily. So unless you live in a very remote area where there is no radio wave that can interfere with the radio waves of your drone you will not achieve it. And in some cases depending on this interference you might have a very short range than the advertised one.
Flying your drone near buildings, trees, mountains may also interfere with the drone's signal. And flying it near a cell tower will drastically reduce its range due to high interference.
So, the conclusion is that you should look for a more maximum range of transmission of your drone than what you think will be okay for you because the advertised one might not be possible to achieve in this world. Hence you should get a drone that provides this feature as high as you can get in your budget.
Flight Time
Like a passenger aircraft which was earlier limited by the fuel as the more fuel, it carries it can be in the air for longer but this would make it heavier and difficult to take off, similarly in drones the limiting factor is the battery limit which determines how long it can fly in a single flight. 20 to 30 minutes of flight time is okay for drones however some cheaper drones may be capable of just 5 minutes of this flight time.
But you cannot appreciate a 10 to 15 minutes flight time which is low but okay when it is combined with a slow charging speed and trust me this makes a difference for mid to low budget users as the high budget users will get long flight time which further reduces the desire of a fast charge. The users paying less will get less flight time but to complete your work without much of a headache you can counter that with a rapid charge speed as you can fly it again as soon as it is charged for it. This may be the thing to consider if the drone you decided to go with is letting you down with its flight time.
Another thing that may help you with less flight time and this will help everyone irrespective of the flight time, which is to buy some extra batteries and keep them fully charged and take them with you whenever you go out for flying. This way if your drone's battery runs out you simply swap the battery and boom you just doubled the flight time that easily. Also, keep this in mind that if you run your drone till it's exhaustion point which means complete battery drain then you might want to wait for about 10 minutes after swapping in the new batteries to prevent the motors in it from overheating.
Camera
For many of the readers, this may be the main or even only factor to consider and others may be compromise-able but not this. And for many of the drone users, the whole thing is to get a camera in flight. Due to this most drones either come with their own built-in camera or the capability to mount your own camera externally in it. Although this added weight will impact the flight time but is worth it due to the stunning images and videos that could then be captured which were otherwise not achievable.
If you are considering a drone that has a built-in camera then you might need to dive into its specifications and features like shutter speed, aperture, frame rate, and image stabilization. All of these factors will affect the quality of images and videos you capture through it.
Live Feed
This is an extraordinarily useful feature to have in the drone you are planning to purchase for you. Not only that you can see when you are in a position to capture an amazing shot but it lets you see through the eyes of the drone itself as if you were right at the place it is. This makes flying a drone both safer and much easier.
While shopping for the one that has a built-in camera you should look out for the one that can transmit the live feed either to a built-in LCD screen in the transmitter or to your smartphone or tablet depending on what you use. And if you are shopping for a drone that can mount your camera externally on itself then also you should pay attention that it should be capable of transmitting a live feed. While this feature might add some money to your cost but is worth having and pay for.
Availability of Spare Parts
Any one of the readers who have ever owned a car will be familiar with the concept of spare parts. As a common rule, we can say the more popular a thing is the more easily and widely are its spare parts available in the market. Do not assume that you won't ever need a spare part for your drone as this can be a big mistake if you find out later that the drone you chose has non-availability of its spare parts in the market. And machines do wear out over time or you may damage apart by a minor crash or accident while flying it then arises the requirement of a spare part to get it functional back again without replacing the whole drown with a new one and it is obviously cheaper than getting a new one.
Choosing a drone that has widely available spare parts in the market makes sure that it spends more time in the air than at any repair shop and this can be important as your drone may be irreparable if it's damaged part is not available. It is also good to purchase extra spare parts along with the drone purchase so that you have replacements that will help whenever needed and you can make sure your work is not interrupted. Some important spare parts include the propellers, motors, batteries, landing gears, and controllers.
Also Read :
Thanks for investing your precious time.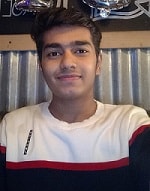 Written By : Hitesh Verma
I am a pc gaming and sound enthusiast for years and it excites me to be up to date with these markets.