Today we will be discussing a very anticipated topic which is the best DSLR camera options and buying guide in India for best models under Rs. 50,000 in India.
Like anything else before buying a dslr too you have to first understand what the features and specifications mean so that you get the idea of what each one is offering and what is best for you. And if you think you know everything then you may want to skip to the main list of the dslr's.

Rs.

42,490

Rs. 54,990
1 new from Rs. 42,490
in stock

Things To Know Before Buying a DSLR
There are probably a lot of things but here are the basic things to consider which will lead you towards the perfect camera for you. Every beginner will hopefully get a very good idea of how everything works and invest in a camera that satisfies them if they are not happy with the tiny smartphone camera.
The following are categorised topics to know about –
Sensor Size
This is possibly one of the most important features to consider for your camera but is the one that a lot of people are unaware about. Inside every DSLR is an image sensor which is the component that records the image which you see through the viewfinder and it sends it to the memory card. The bigger this sensor gets the more details it captures in the images and the clearer the images will be which you will notice when you zoom in that image.
Let's first consider the largest sensor size which is called 'full frame' . These full frame image sensors are similar to a 35mm film in terms of size which is 36mm × 24mm. This is the size that is capable of providing you the maximum details, clarity and image quality which brings us to know why these are fairly expensive than others. Most of the entry level DSLRs have a crop sensor which is relatively smaller in size. But what exactly their size is depends from brand to brand and models to models. For an example let's consider an APS – C sensor which is used widely in the mid level and entry level DSLRs. It's size is 23.60mm × 15.60mm but here is an exception that if that sensor is from Canon then it's size is 22.20mm × 14.8mm. Another common sensor is the micro four thirds sensor which measures 17.30mm × 13.00mm.
There may be various and various of these sensor sizes that you come to look at but keep in mind that there is only one relationship which is : the bigger it is the better it is. And of course this relationship goes parallel with money too which means the bigger it is the more costly it gets and you should decide how much you wish to spend for you to get a superior image quality. As we already discussed the two commonly used image sensor sizes above which are APS – C and micro four thirds which are very good in providing a fair balance between image quality and price (they affect how your camera lenses are going to work but you do not have to care about it for now).
Also Read :

12 Best Ryzen 7 Laptops In India
Megapixel Resolution
Now that you know that the sensor size is the big deciding factor of whether your images will have good clarity, details and quality or not , you should now know this fact that a big part of the population thinks it is the megapixels which do it. This mistake is not made by people themselves, it is created and fed to the minds of people by the smartphones and camera manufacturers while advertising their products. And they(megapixels) are somehow important but not as important as you might be thinking.
While researching before writing this article, I came to know this fact that if you have anything above or at seven megapixels your image prints will be quite sharp up to 14 × 11 which is pretty big than what people usually print. And these days megapixels are advertised so significantly that it has become a very important thing in the consumer's mind.
You are not supposed to worry about this factor as much as you do because the one DSLR that you might be picking up today will have enough megapixels for you. Because if two cameras have only megapixels to be the difference you would not notice any difference and if you do it is due to the lenses and sensor size but not megapixels.
In short do not worry about it you will have more than enough of it anyways.
Video Recording
If you are planning to video record on the dslr that you buy then you should look at the video capabilities of the specific model you chose. For example some of the entry level models can record upto 1080p or full HD but others are either capped to 720p or HD or lower resolution than 720p. Also there are different frame rates for different resolution, the higher the frame rate the smoother the videos are supposed to be.
This is a feature worth looking no matter if you are not sure of how much you think you would be using it. Even if you are not into videos for now, a camera with good video capturing capabilities might come in use later. Also keep in mind that filming with a DSLR is way different than any other thing.
Modes And Features For Editing
All cameras come with these various modes like landscape, portrait, night, action and many more.
And I get this that learning to shoot in aperture or shutter priority or what some consider noticeably better manual modes is great but for a beginner these already made modes can be a big help to climb the ladder progressively. You should compare these modes in the cameras you selected and see if there is something in any of them that stands out for you.
But for the most part of using your dslr if you are not concerned with aperture, shutter and manual modes. Then the auto will serve you very well and is totally not at all a deal breaker but you should keep in mind that the other mentioned modes can give you great results.
Some cameras let you edit your photos from its screen right away by applying filters and changing its exposure settings,etc. It is however less customizable than on your laptop but it is fun to edit and save them without connecting the laptop and doing all of it.
Lenses
A lot of the entry and mid level cameras use the kit lens in them which is actually approximately a 18-55 mm zoom lens. These lenses do not have the same quality as the expensive ones but they do the job you want them to do for you. But if there is an offer in which you are getting a 18-55 mm lens and prime lens and maybe a telephoto lens too for a reasonable price then that might change the results you get substantially.
Many of the sellers put together package offerings where you get the main camera body, kit lens and some other accessories too like a carry bag, memory cards or straps or maybe some extra lens. Which can cost you less than buying them all separately from any retailer and can be a great deal to make.
Details Of The Camera Body
Maybe all the DSLRs you saw for the entry level budget looked similar to you but you should look out for some valuable things in them that may change your perspective and make you believe that they are different for you. For an example you can consider the viewscreen to compare, some will have LCDs and others might have cheaper looking screens which can influence your user experience. Some have rotatable screens which can help you significantly while taking some weird angle shots. And some of them even include a touchscreen which makes it way easier than those small buttons to navigate on it. Some cameras are made for people with smaller hands too. Most of them have polycarbonate bodies which are lightweight but may feel cheap and this build quality increases with the price so you may want to balance it with your desires for it.
Also Read :

Best Wireless Earphones Under 1000

10 Best Wireless Earphones Under Rs 3000

Best True Wireless Earbuds Under Rs. 2000
It Will Take Time To Learn
Do not be mistaken for this thing if you are a beginner that it will definitely take some time to learn how to use it properly and it would not be as simple as you do with your smartphone these days. People just buy an expensive camera and use it with auto mode to judge it for its potential and obviously stay unknown from its true capabilities. The thing is that if you let two different cameras do their own thing themselves at auto then the pictures will be very similar and might be non differentiable. As, the whole point of getting a powerful camera is that you get the control of everything in it.
DSLRs and mirror less cameras are some technical equipment which do not demand a degree to be operated but you have to invest a bit of time to understand how it all works and how to control it. Because if you are not ready to do this then you should stay happy with your smartphone camera only. And also not to forget that other than the technical aspects you have to consider the artistic and creative aspects of photography.
You Should Be Ready To Edit Your Photos
In order to get the best results out of your equipment you should know how to edit your photos and bring out the best from it. Good cameras can shoot images in RAW format which carries a lot more details and information than the standard JPEG image format. But you will have to develop these files in digital software like Adobe Lightroom. Which if not done you will get flat and boring images that do not look appealing and you do not get from your equipment what you paid for. Editing is not that hard but you will have to put time in it to be skillful at it. And trust me it is more than the filters you apply in apps like Instagram.
You Will Probably Use It Less Than You Think
If you are a normal person then you will understand how much annoying it is to carry that camera along with you all the time which automatically changes the preference to the smartphone camera. Unless you are planning a specific photo expedition the camera will probably stay home. If you are doing two or more than two dedicated shooting sessions in a month then consider it to be good enough of usability and as you will not be having the camera everytime with you so you should keep your eyes open for good photos opportunities. You may take testing shots with you smartphone in absence of camera and later try it with the camera.
Every Other Person Will Tell You To Click Photos For Them
The big deal of getting a good camera is that every person you know will assume you and you will be known as 'the photographer'. People would ask you to click photos of themselves, pets, cars, appartments, etc. which if you deny makes you rude and being so kind may disturb you. You might have to find a polite way to say no else you will soon get annoyed and make a opinion about photography which may be true from your perspective but is obviously not what was intended.
Making An Informed Decision
Buying a new DSLR can be a big step and you and only you have to decide the perfect fit for yourself as no one else knows what you need better than you. So you have to decide your must haves and prioritize it all accordingly. By comparing the above mentioned specs and features you will surely get an idea of what you are offered at what price. And trust me you would be very happy after your first purchase if you got it all right for yourself and you will find yourself as a photography enthusiast.
So these were pretty much what I think the things that you must know before buying a DSLR and I apologise if I missed any important topic in these. Please feel free to tell it in the comments.
Now I think we should skip into the list as you have the requisite knowledge to understand it all and get the idea to compare them.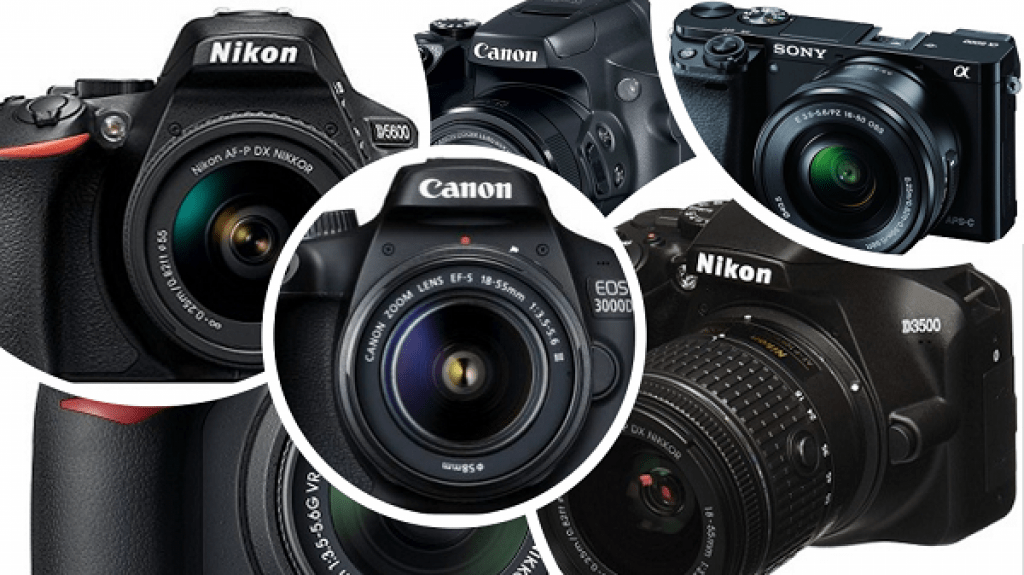 Best DSLR Cameras Under Rs 50,000 In India
Keep in mind that prices may vary at the time you make your purchase and these are subject to availability. And these are not arranged in any specific order on any basis these are randomly arranged. In some of these I have tried to mention kits or combos which provide better value to get along than getting only the camera body but you always have the final decision so you may remove the accessories included and get the camera body only if that is what you need and are on a strict budget.
1. Canon EOS 1500D 24.1 Digital SLR Camera (Black) with EF S18-55 is II Lens, 16GB Card and Carry Case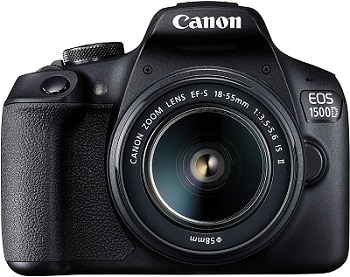 This camera is the best seller for its price and is definitely worth it. You can trust the brand and go with it as far as reliability is considered. Let's take a look at it's offerings.
It has a 24.1 MP APS-C SIZE CMOS SENSOR which helps in :
Image Enlargement: After shooting your images, you can enlarge photographs of the objects for a clear and detailed zoomed view which you cannot experience with your smartphone image.
Change In Aspect Ratio : Now you get the option to crop the subject and save it with such a composition that has impact. You can convert that image to a 1:1 square format, and after shooting you can create a photo that
can probably get you many likes.
SIGNIFICANT BACKGROUND BLURRING
A combination of an APS-C size CMOS sensor and an imaging processor that is capable to provide detail in every single hair, produces high-quality images that beautifully blur your background and enhance the subject in the photo.The sensor has sufficient size, high image quality, and makes rich photo expression possible by blurring the background of the image.
Also Read : Best Portable Bluetooth Speakers in India
DIGIC 4+ IMAGING PROCESSOR
This is an imaging processor that powerfully processes the vast amount of light data received by the APS-C size CMOS sensor used, completes it with high definition and a high level of gradation done to provide you the best experience. It produces delicate, natural and high-quality images with what the majority considers little noise but that's subjective.
ISO
100-6400 sensitivity range which is very important for obtaining grain-free pictures, especially in low light conditions.
Video Resolution
Full HD video with fully manual control and selectable frame rates like 60,30,24,etc. that is great for precision and high-quality video recording.
Connectivity
WiFi, NFC and Bluetooth built-in which is useful for remotely controlling your camera and transferring pictures wirelessly as you shoot.
Lens Mount
EF-S mount compatible with all EF and EF-S lenses (crop-sensor mount that is versatile and compact, especially when used with EF-S lenses).
It offers a lot for the price but here are some of the cons –
1. While focusing, the DSLR makes too much noise and it is kind of annoying for some users that may make you lose interest in taking photos but that is as I told you subjective and depends on person to person.
2. No dedicated shortcut or assigned button to change F stop (aperture). A manufacturer who is providing a dedicated button for changing the ISO has to think about the importance of aperture too.
3. You can not change the focusing point by pressing the round dial in the body system, if you press it some other setup will open up.
4. The output image quality is actually not mind blowing but does the job anyway.
5. Another issue is that if you use your camera flash to snap a pic then while focusing it will flicker substantially and it may annoy and irritate the subject.
6. Noise Noise Noise. Whatever low ISO you use noise will be there and when you go to a service center to ask about this they will say use a prime lens to get good output. Which is not the solution you may need at that moment.
But overall it is an excellent choice for the price considering lesser options for DSLR in India to choose from.
---
2. Nikon D3100 14MP DSLR Camera with 3x Optical Zoom (Black)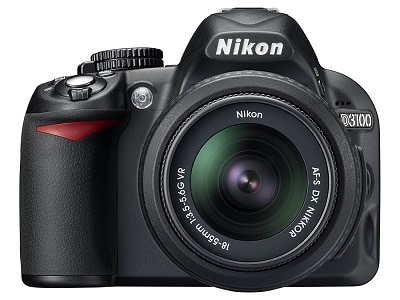 This is a very affordable pick out of the bunch and let's see what it offers and I am telling you now only that it is a lot for the price.
Type of Camera is Single-lens reflex digital camera
Effective Pixels are 14.2 million which are not to be confused with megapixels.
The Sensor used is Nikon DX format (23.1 x 15.4 mm) CMOS sensor.
Image Size (Pixels) supported are 4,608 x 3,072 [L]<BR> 3,456 x 2,3404 [M]<BR> 2,304 x 1,536 [S].
Sensitivity that you get is ISO 100 to 3200 in steps of 1 EV<BR> plus HI-1 (ISO 6400) and HI-2 (ISO 12800).
File Format supported are NEF (12 bit compressed RAW); JPEG (Baseline-compliant); MOV movie (H.264/MPEG-4 compression format with monaural sound).
Storage Media is SD memory card (SDHC and SDXC compliant) which is commonly used in the photography industry.
Shooting Modes available are –
Single frame shooting mode
Continuous shooting mode: approx. 3fps
Self-timer mode
Quiet Shutter Release
White Balance supports Auto (TTL white-balance with 420-pixel RGB sensor), Incandescent, Fluorescent, Direct sunlight, Flash, Cloudy, Shade, White balance preset.
Also Read : 10 Best Party Speakers With Good Bass & Sound in India
LCD Monitor used features 3.0", 230,000-dot, low-temperature polysilicon TFT LCD.
Playback Functionality available has –
1) Full-frame, 2) Movie Playback, 3) Thumbnail (4/9/72, calendar) playback, 4) playback zoom, 5) Faces detected during zoom, 6)Slide show 7) RGB histogram display, 8) Highlights, 9) Auto image rotation, 10) Image comment.
Delete Function is applicable for Single image, Selected images, images taken on a selected date, All images (except protected images).
Interfaces available are B 2.0 (High-speed), Video output, HDMI output (Type C mini-pin connector).
Picture Angle (in 35mm [135] format equivalent) is Approx. 1.5x lens focal length.
Viewfinder used is Eye-level penta-Dach mirror type; built-in diopter adjustment (-1.7 to +0.5m-1).
Focusing Screen is a Type B BriteView Clear Matte Mark VII screen.
Viewfinder Frame Coverage/Magnification (with 50mm lens at infinity; -1.0 m-1) is Approx. 95%/ Approx. 0.8x.
Autofocus comes with AF-assist (range approx. 0.5-3m); 11 focus point; Detection range: -1 to +19 EV (ISO 100 at 20°C/68°F).
Focus Modes available are – 1) Autofocus (AF): Single-servo AF (AF-S); Continuous servo AF (AF-C); Auto AF-S/AF-C selection (AF-A), predictive focus tracking activated automatically according to subject status 2) Manual focus (MF) can be selected
Exposure Metering System are – 1) 3D color matrix metering Ⅱ (type G and D lenses), color matrix metering II (other CPU lenses), 2) Center-weighted (weight given to 8-mm circle in center of frame), 3) Spot metering (meters 3.5-mm circle centered on selected focus point)
Exposure Metering Range (at normal temperature [68°F/20°C], ISO 100 equivalent, f/1.4 lens) are – 1) 0 to 20 EV (3D-Color Matrix or Center-weighted metering), 2) 2 to 20 EV (Spot metering)
Exposure Controls are – 1) Digital Vari-Program (Auto, Auto [Flash Off], Portrait, Landscape, Child, Sports, Close Up, Night Portrait), 2) Programmed Auto [P], 3) Shutter-Priority Auto [S], 4) Aperture Priority Auto [A], 5) Manual [M], 6) Guide mode
Auto Exposure Bracketing is not supported.
Shutter used is Electronically controlled vertical-travel focal plane shutter, 30 to 1/4000sec in steps of 1/3 EV plus bulb.
Sync Contact is X-contact only; flash synchronization at up to 1/200 sec.
Flash Controls available are – 1) TTL: i-TTL balanced fill-flash and standard i-TTL flash for digital SLR using 420-pixel RGB sensor are available with built-in flash and SB-900, SB-800, SB-600, or SB-400, 2) Auto aperture: Available with SB-900 or SB-800 and CPU lens, 3) Non-TTL auto: Supported flash units include SB-900, SB-800, SB-28, SB-27, and SB-22S, 4) Distance-priority manual: Available with SB-900 and SB-800.
Flash Sync Modes available are – 1) Front-curtain sync, 2) Red-eye reduction, 3) Slow sync with red-eye reduction, 4) Slow sync, 5) rear-curtain sync
Self-Timer supported is Electronically controlled timer with duration of 2 or 10s.
Remote Control is present Via Remote Cord MC-DC2 (optional).
GPS via GP-1 GPS Unit (optional) is available.
Battery Life (on a fully charged battery) is claimed to be Approx. 550 shots.
Tripod Socket which may be included in the deal is 1/4 in. (ISO1222).
Dimensions are Approx. 124 x 96 x 74.5 mm if you consider it.
Weight (without battery, memory card or body cap) is claimed to be Approx. 455g.
Other Features include Expeed 2 Image Processing Engine, Graphical User Interface, Guide Mode, D-Movie (Full HD recording), Full-time servo AF (AF-F) movie recording.
The customer reviews will pretty much remove all of your doubts that still remain and I can recommend this to any beginner blindly.
---
3. CANON EOS 3000D DSLR CAMERA SINGLE KIT WITH 18-55MM LENS (16GB MEMORY CARD AND CARRY CASE)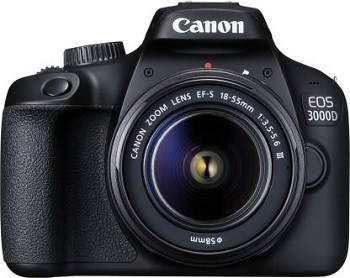 This option is also in the very affordable range and can be a great pick for a beginner.
Starting off with a 18megapixel APS-C-size CMOS sensor & DIGIC 4+ image processor – The 18megapixel APS-C-size CMOS image sensor used in this camera captures enough light and detail, which is processed by the powerful DIGIC 4+ image processor to produce images with highly accurate colors, rich contrasts and gradations, and minimal noise even in low light conditions. Compared to smaller smartphone sensors, the large CMOS sensor makes it easier to achieve the shallow depth-of-field necessary for creating an elegant background blur.
Optical viewfinder for the authentic DSLR experience – Shooting through the what "you see is what you get" optical viewfinder, users can take the benefits of the fast AF to capture fleeting moments. The large grip provides a steady hold, and dials and buttons have been designed for easy, comfortable operation, even when looking through the viewfinder.
Rich photo & video functionality that even beginners can enjoy – In addition to the scene mode presets which are present already and creative filters, the EOS 3000D includes the "Shoot by ambience" functionality, where users can simply select the specific word that defines their envisioned atmosphere to capture an image in the desired style. The EOS MOVIE mode facilitates shooting video in various formats including Full HD 30p/25p.
Also Read : 10 Best Bluetooth Speakers Under Rs. 1000
All in all, having a grip that allows a steady hold on the camera, an optical viewfinder that enables you to quickly capture fleeting moments, and a main dial for quick function switching, the EOS 3000D offers new camera users the quintessential DSLR experience. The 18megapixel APS-C-size CMOS sensor is about 25 times larger than the common sensor used in smartphone cameras which is to be honest a near to common function for cameras like DSLRs.
This allows it to capture more light and detail in images, and also contributes to the ability to achieve an appreciable background blur. Image information is quickly processed by the provided DIGIC 4+ image processor, resulting in high-resolution, high-quality output which is what you need. Small and lightweight at approx. 436g (including battery and memory card), this is one camera that is also ideal for traveling and good for other purposes which require carrying it.
Like the previous one all your doubts can be covered by the customer reviews and trust me it is a very good option to go for if you are new and do not want to spend much.
---
4. Nikon D3500 W/AF-P DX Nikkor 18-55mm f/3.5-5.6G VR with 16GB Memory Card and Carry Case (Black)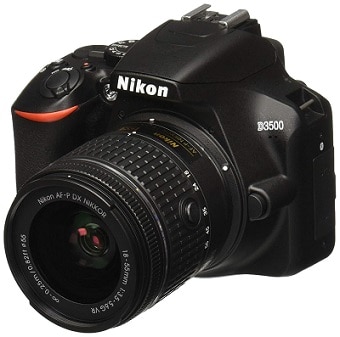 This camera comes at a reasonable price and is between the price segment of being very affordable and near 50k. Let's take a look at what it has to offer.
This camera is as easy to use as a point-and-shoot which you might be familiar with, but it takes beautiful looking DSLR photos and videos that get noticed. It feels great in your hands, sturdy and balanced with controls where you want them to be. It's compact, durable and versatile, ideal for traveling purposes.
And it works flawlessly with compatible smartphones, making it easier than ever to share photos with others. Even if you have never taken a DSLR camera in hand, you can take beautiful pictures with D3500 due to its ease of usability which require less learning which is what the brand says.
The photos you take with this camera captures more than the moment, they capture the feeling of the moment, a feeling that can be shared immediately with your others and then saved as a memory for a lifetime. It's lightweight and balanced, even when a telephoto lens is attached.
Each button and dial is carefully placed for comfort and ease of use, and the menu system is pretty simple and intuitive to use.You may download Nikon's free SnapBridge app and your D3500 photos will appear right as you want them to be on a compatible smartphone or tablet for posting them on your favorite sites, sharing with friends and family or just as backups for later. You can even deliberately use your smartphone or tablet to remotely trigger the D3500 to take pictures as a remote.
The image sensor used for D3500 is approximately 15 times larger than those used in typical smartphones which is again the thing I told you earlier which is common but is advertised so uniquely. That means much sharper, clearer photos with richer details photos that immediately grab attention and get likes if that makes you happy.
Also Read : 10 Best 4.1 Channel Speakers in India
Recording beautiful looking videyo with the D3500 is as easy as shooting photos with it. Just flip the Live View lever provided in the body and press the record button to start recording. You'll be capturing awesome 1080/60p full HD video which will look smoother and clearer. You should prefer your lens' zoom capability to shoot the wide angle videos or tight close-ups.
Some of the best moments only last for a part of a second and you may not want to lose them. Press and hold the shutter button provided on the camera and you would be capturing up to 5 frames per second at full resolution with tack-sharp focus, ensuring you have the shot that matters.
Unlike some smartphones, fast moving subjects are not a problem for this camera. 11 autofocus points are spread across your frame, and full-time AF locks onto the subject and keeps it in focus while you capture amazing shot after shot.
Sensor used is APS-C CMOS Sensor with 24.2 MP (high resolution for large prints and image cropping).
ISO is offered with 100-25600 sensitivity range (critical for obtaining grain-free pictures, especially in low light).
Image Processor used is Expeed 4 with 11 autofocus points (important for speed and accuracy of autofocus and burst photography).
Video Resolution includes Full HD video with fully manual control and selectable frame rates (great for precision and high-quality video work).
Connectivity is available with WiFi, NFC and Bluetooth built-in (useful for remotely controlling your camera and transferring pictures wirelessly as you shoot).
Lens Mount used here is the Nikon F mount.
Overall this is also a very good choice to make from a very promising brand in this market which has stayed here for several past years.
---
5. Canon Powershot SX70 20.3MP Digital Camera 65x Optical Zoom Lens 4K Video 3-inch LCD Tilt Screen (Black) + SanDisk 128GB Extreme Pro SDXC UHS-I Card – C10, U3, V30, 4K UHD, SD Card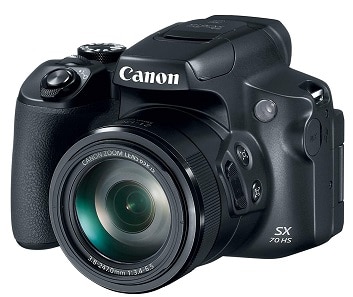 I will be talking about the camera only and not the combo as this list is camera centric. Talking about the camera it is really a feature packed good value camera to pick.
With Canon's power shot SX70 HS digital camera, you can zoom a lot to see craters on the Moon, wildlife shots from a distance and your child's face on a crowded stage which is what the brand claims but you may conclude that it has good zoom capabilities.
The power shot SX70 HS gives you the reach to capture it all. The camera has a 65x optical zoom (21mm-1365mm) wide-angle lens with an optical image stabilizer combining enormous flexibility with portable ease for you.
The 20.3 Megapixel High-Sensitivity CMOS sensor along with the Canon's new DIGIC 8 image processor together create the Canon HS system for excellent low lighting performance. Advanced technology including zoom framing assist and intelligence will let you track and capture clear, steady long shots for you.
Shoot some 4K videos and 4K time-lapse videos with this camera with ease. Quickly share everything you capture whenever you want to. The power shot SX70 HS has Wi-Fi and Bluetooth with an EOS-like user interface design.
Also Read : 10 Best LED TV in India (Smart / Non Smart)
Not much to say about this one but yeah it falls under the 50k mark and is a DSLR you can choose in India which will serve you well.
---
6. Sony Alpha ILCE 6000L 24.3 MP Mirrorless Digital SLR Camera with 16-50 mm (APS-C Sensor, Fast Auto Focus, Eye AF, Light Weight)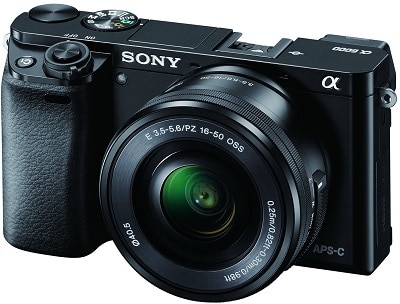 This camera is unique in its own being a mirrorless dslr which is kind of a marketing trick to gain sales but let's take a look at what it gives as it sits near the 50k mark.
As powerful as a pro camera, but smaller and easy to use, they turn your everyday shots into some great movies and photography to both see and feel. A Sony mirrorless camera with the digital SLR technology, with far larger image sensor and bright lenses, makes better use of the light you have and lets you achieve better results.
The so called smart image processor promises sharp, low-noise images even without any flash. Sony mirrorless cameras are compact and easy to use, so they'll quickly become your daily go-to camera. The rechargeable battery, tiltable screens and offered customizability makes them an easy upgrade for any photography enthusiast.
24.3 MP Exmor APS HD CMOS Sensor along with BIONZ X Image Processing Engine can let you record Full HD 1080/24/60P videos. Tiltable LCD Screen is discussed as you may have caught this word above. Gorgeous low light photos can be taken with provided ISO range of 100-25600. It has Wide 179 AF Points Coverage, spread over nearly the Entire Screen. The Alpha 6000 features good frame coverage and continuous, precise location of the subject and it doesn't matter where in the frame they may be.
The cam provides 4D Focus for sharp focus on moving objects in the frame.
This advertised 4D FOCUS goes one step further with the unique image sensor that extracts both space and time to capture and locate moving subjects with new clarity, allowing you to take crisper photos than ever. The provided Eye AF enhances portraiture. Use the given Eye AF for fast, effective and precise eye tracking performance while shooting still images.
Even when capturing a subject who is partially turned away from the camera side with the shallow depth of field, the face is sharply focused which is due to accurate Eye AF. It gives upto 11 fps Continuous Shooting with AF Tracking enabled. When your subject is moving pretty fast, 11 fps continuous shoot with AF tracking performance promises that you capture the decisive moment and get the most out of it.
This feature let's you get good tracking with those supposedly difficult shots without that technology. Instant sharing through your smartphone with Wi-Fi and NFC(near field communication) is possible. It does not need complicated setup and in just one step enables the transfer of photos or videos to other Android smartphones or tablets.
Easy to share vlog videos on social media channels like YouTube and Instagram if that worries you. What you see in it is what you get and should expect with an OLED Viewfinder. The provided OLED Tru-Finder EVF of Alpha 6000 enables a new optical system with four double aspherical lenses included which deliver 100% frame coverage and a wide viewing angle (approx. 33°) for clean and improved visibility from corner to corner which significantly bumps up visibility.
All the quality in half the size & weight of other DSLRs in the market. The Alpha 6000 is a super compact Mirrorless camera that's about half the size and weight of a typical DSLR but does the job of them too, like it has the same size APS-C image sensor as most DSLRs. The interchangeable lenses and E-mount system available here makes this cam more versatile than almost any other camera on the market and keep in mind that the brand claims all of this not me.
The Wide range of 54 Native mirrorless Lenses lets you capture the world the way you see it , with wide range of mirrorless camera lenses available for Sony mirrorless cameras. The compact and lightweight Sony lens gives excellent corner to corner resolution and beautiful bokeh effect. Sony's 54 mirrorless native lenses are designed for today and tomorrow's cameras and image sensors and can be reliable enough for you to give them a try.
Also Read : 10 Best Bluetooth Tower Speakers
So considering all of it and that it is coming from Sony makes it an even more reliable option to go for and hopefully you won't be disappointed.
---
7. Nikon D5600 Digital Camera 18-55mm VR Kit (Black)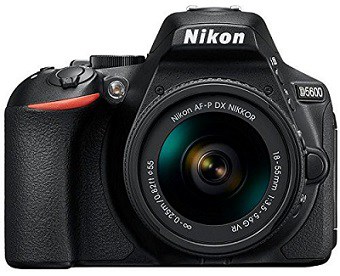 Last but not at all the least is this Nikon d5600 which falls well under the mark of 50k and is an awesome value for money camera to consider.
Let's talk about its offerings now,
It features 24.2 effective megapixels, an EXPEED 4 image-processing engine, and an ISO range of 100-25600 that captures attractive and vibrant images, Full HD videos and time-lapse movies even in low lighting conditions. Inspiration also comes easy when you discover new perspectives with the vari-angle LCD monitor as on some other cameras too but is important to have and it provides the intuitive touch interface also.
With Bluetooth and the Nikon SnapBridge app for easy and manageable transfer of images to your compatible smart devices, the D5600 is perfect for those desires. After a one-time setup through the free SnapBridge app, this camera wirelessly connects to your smart device through the built-in Wi-Fi, Bluetooth, or NFC. The app maintains a consistent connection, while automatically syncing still images for seamless online sharing which is required for a good sharing experience.
You can also use your smart device as a remote to click shots and shoot remotely for moments when the camera is unreachable to you or anyone in frame. You can shoot some pretty sharp and tonally-rich images and videos with the D5600's DX-format CMOS image sensor which is designed without an optical low-pass filter to bring out the full resolving power of its 24.2 effective megapixels and tries to give you the best output possible.
Its EXPEED 4 image-processing engine also works to help and improve the overall speed and performance you get in a variety of shooting situations. In dimly lit conditions, this cam's wide standard ISO range of 100 to 25600 which is quite common if you read this article carefully and it allows you to get crisp and sharp images in which noise is effectively suppressed.
Let it be a look, a smile, or a candid expression, this thing captures all these emotions in shining details with a high-speed continuous shooting rate of approximately 5 frames per second. The 39-point autofocus (AF) system covers a wide area of the frame with its points to keep track of your subjects with noticably good precision.
Experiment with unique and different shooting styles from your very own perspective with this touch screen vari-angle LCD monitor that can swivel up to 180° which help you for those situations. For that artistic finishing touch, simply trim, resize, apply filters and special effects which can help the ones who do not like or know proper editing with some good softwares, right from your screen using the provided retouch menu.
Take the pleasure of ease-of-use and intuitive control with its touch interface. You may scroll through your images smoothly with the all-new frame advance bar, or easily trim an area of the image by pinch zoom out. The touch Fn feature included here lets you make adjustments to a pre-assigned camera setting using your thumb, without the need to look away from the viewfinder, including the auto sensitivity control on/off switching.
Designed for portability, this lightweight camera features a unique monocoque structure that is made strong with a carbon-fibre composite material for excellent durability. With a long-lasting battery life support that packs 970 shots (claimed) per charge, this camera is undoubtedly a fairly good travel companion. The possibilities are endless with this camera's versatile compatibility with a nice range of NIKKOR lenses and accessories. No matter the subject or scene you are working with there is a NIKKOR lens manufactured to high standards of optical quality, to suit all of your expressive photography needs.
Stand out from the crowd with photos and videos so impressive, they'll inspire you to keep shooting and learning. Out of the box, you can depend on the camera and immediately start taking some good photos and videos without the learning curve. As your skills start to develop, the D5600 offers a plenty of room to grow with exceptional media quality, intuitive controls and powerful tools for pushing the boundaries of your creativity.
Unlike others, with a battery lasting over 970 shots per charge which is what the brand claims, you should be able to keep shooting all day long with this if this on paper spec is practical. You might want to share every shot once you see the extraordinary detail, clarity and low noise you can achieve with this camera and a versatile NIKKOR kit lens which comes along.
Its large high resolution sensor and broad ISO range helps deliver high quality photos and videos in almost any condition, from bright skies to dimly-lit concerts. And with a wide range of interchangeable NIKKOR lenses at your disposal, images with stunning background blur and richly-toned contrasts completely fall under your possession.
Also Read : 11 Best Wireless Earphones Under Rs 1000
Swipe, pinch, zoom and even set focus with your fingertips which you may be familiar with as many do that on their smartphones.
Wherever your subject is in the frame, one of the camera's 39 autofocus points (3x more than the D3400) will lock on and hold tight no matter where in the frame it exists. Shoot irrespective of the time with no problems in any lighting condition.
The Nikon's EXPEED image processor combined with an amazing autofocus system and the ability to shoot at ISO 25,600, and a wide ISO sensitivity of 6,400 in Night Landscape mode, ensures low-light scenes and tough lighting situations are handled with ease making the D5600 a low-light powerhouse for you at a reasonable price. And when the lighting is extremely dim-or you want to eliminate shadows in a bright portrait then its built-in flash comes to help illuminate any scene.
Shoot pictures which have a wide dynamic range using the built-in HDR. The D5600 puts very high creative potential in your hands. Create very attractive and beautiful compositions thanks to the high-quality optical viewfinder, which provides an incredibly clear view through the lens and when you need to focus on your subject, shooting through the viewfinder lets you block out any sunlight and distraction present.
So now that you understand what this little camera packs for the price you will probably agree with me that it is a great option to go for and you won't be disappointed in any manner.
---
Sadly these were the only options I acne across for under 50k in India and I am not saying that these are bad or something, I am just trying to convey here that there are limited choices available to choose from.
And I hope that you got what you were searching for when you came across this article.
Thank you for your precious time.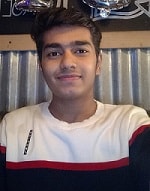 Written By : Hitesh Verma
I am a pc gaming and sound enthusiast for years and it excites me to be up to date with these markets – Instagram
---
Also Read:

1) Best Budget Wireless Soundbars

2) 10 Best Bluetooth Tower Speakers

3) Top 10 Best 4.1 Channel Speakers