After you're done with building your cabinet with the best hardware you could get for yourself, it's time to move to another complicated part of your build, which is the monitor itself.
While it does sound easy on paper but there are tons of things you need to keep in mind to make the most out of your purchase. Just like your other components, a monitor is just as crucial in improving your overall experience with everything, whether it's your games or shows/movies.
So whether you're an avid gamer or someone who needs the most accurate colors for their work, choosing the right monitor should be just as important as your other piece of hardware.
But deciding on one is also something that takes time to figure out. So, we're here to help you out on this. We've made a list of monitors that might suit you well. Hope this will help you in concreting your choice of the perfect monitor for you.
But before the list, we'll provide you some basic and crucial information about the monitors.
Resolution and aspect Ratios.
Nowadays, 1080p is the standard for all monitors. A full HD display is a minimum for your monitor. But 1080p won't suffice everyone's needs.
If you find yourself in need of more, definitely go for a higher resolution like 1440p or 2160p (4K). Yes, they will be more expensive than your usual monitors but that also means more clarity for the object on your screen. Do keep this in mind when selecting for yourself.

Just like resolution, the aspect ratio can also make a significant difference in your purchase decision. Usually, the monitors have an aspect ratio of 16:9 but you can get other variants as well. Ultrawide may be the right choice for you.
HDR
High Dynamic Range is also pretty popular nowadays and is something you should keep your interest in. HDR will get you more vibrant colors with more clarity. These days, most of the applications and games natively support HDR and can make a fairly noticeable difference in quality.
Built-in Speakers
Monitors with built-in speakers are just as popular these days. It's great to have one if you don't want more space allocated just for speakers. You can consider this as well.
AMD FreeSync
FreeSync is a great technology from AMD that is especially useful for gamers. It helps in preventing screen tearing which hampers the gaming experience by a lot.
With all of these out of the way, let's get into the important part.
Best Entertainment Monitors in India
Here we have shortlisted a bunch of monitors which will be the best for you. Hope you like this and get a better idea of what to choose.
1- LG Ultragear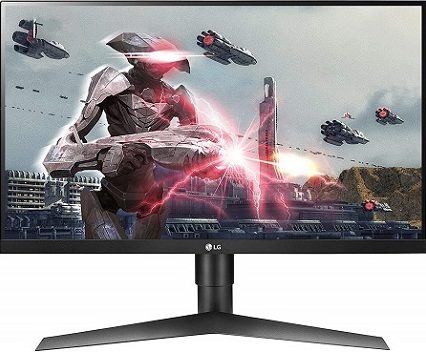 Best Choice For Gamers!
LG Ultragear is one of the best choices for all gamers if you're looking for the most out of your budget. The 1ms refresh rate will be perfect for e-sports enthusiasts. It offers an adjustable stand as well as a wall mount.

The best thing about this one is that it offers the lowest response time while being an IPS display which is perfect for all kinds of stuff whether it's gaming or movies.

While HDR is available it doesn't have a properly implemented one and honestly, we're already getting a lot at this price range but if you're aiming for HDR, this isn't the right choice.

Though it does have some problems, LG Ultragear is suitable for those who require a light budget monitor while expecting some premium features like G-Sync and a higher refresh rate.

Available At – Amazon

Positive
24.0-inch 1080p screen TN Panel for the best response time
144Hz Refresh Rate for e-sports gamers where every frame matters for them.
1ms response time despite being an IPS panel.
Nvidia's G-sync Technology for those with Nvidia builds will help you in reducing screen tearing and will give you a smooth and stable gaming experience throughout.
Black Stabilizer is a low-end gamma adjuster that will help you in improving the quality of the scenes for dark areas.
---
2- LG QHD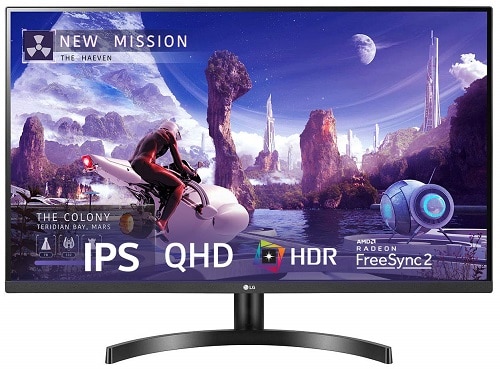 Best Colors!
Though the price range of this monitor might seem unjust to you despite that, it's really good for the creators. With high color accuracy, this monitor is perfect for people who want to see the best color production.

It does offer HDR10 but again the quality is not up to the mark but it's way better than the last one.
Though, it does have a 75Hz refresh rate which is pretty good in all honesty.
Despite being pricey, this monitor is perfect for those whose main concern is color accuracy.

Available At – Amazon

Positive
32.0-inch 1440p IPS display with three sides borderless making it quite large for those who want a big display
99% sRGB will give you the most accurate colors and can help designers or professionals 
AMD FreeSync
Dual HDMI will allow you to connect with another device without changing wirings and cords all the time making it hassle-free.
Black Stabilizer
Negatives
Lower Refresh Rate 
Poorly implemented HDR, so don't expect much from this if you're looking for a good HDR monitor.
Way more expensive than its competitors.
---
3- ASUS TUF Gaming VG259Q
Gaming
Another Gaming monitor in our list. This one boasts some very premium features.
Since we've already explained 1ms response time will greatly benefit the gamers.

Unlike the other models, this also comes with Nvidia's G-sync which is Nvidia's technology for reducing screen tearing. If you're an Nvidia user, G-Sync is the way to go, if you have a high budget. Keep in mind that while it does offer a built-in speaker it's better to leave them as the sound quality is very average.

Budget-friendly monitor who's a perfect beast that can fulfill all your requirements.


Available At – Amazon

Positive
27.0-inch 1080p IPS panel display
G-Sync support by Nvidia is perfectly suited for those who are having an Nvidia GPU. 
144Hz Refresh rate
1ms response time
4- LG UltraWide 34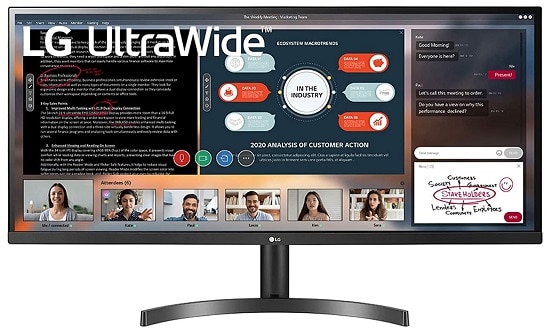 Best Budget Ultrawide Monitor
Probably one of the best ultrawide monitor at this price range. What makes it stand out aside from its sweet price point is that it also comes with high color accuracy of 99% sRGB.

Perfect for any designer. You can even multitask with ease because of how wide the monitor is. As I said before, it's pretty much perfect for multitaskers. Though it doesn't offer a higher refresh rate so that can be an issue for some.

In conclusion, just go for this monitor if you're not an avid gamer and looking for something more color accurate for your work, this monitor will not disappoint you at all.

Available At – Amazon

Positive
34.0-inch 2560x1080p IPS UltraWide Display
AMD FreeSync Compatible 
sRGB 99%
Very reasonably priced
Negatives
HDR not up to the mark, so don't go in expecting a properly implemented one.
5- Samsung 28 LED Backlit Monitor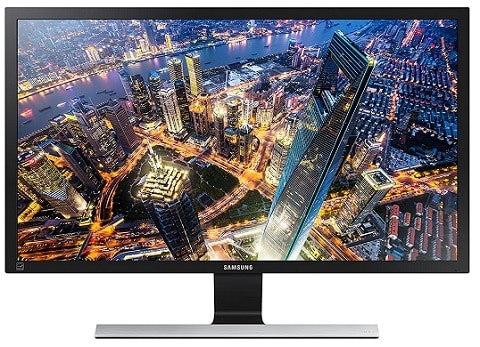 4K monitor
Our 1st 4K monitor in this list. Despite having a low refresh rate it does have a 1ms response time which is very nice.

Though since it's a TN panel, you'll have to be ready for poor viewing angles, and in all honesty, it's better to search for an IPS display if that's your concern since it can be a huge deal-breaker.
It is a very good choice for someone who's looking for a cheap 4K monitor but it comes with its fair share of issues that must be kept in mind.

Available at – Amazon
<br>Positive
28.0-inch 2160p (4k) TN Panel display
1ms Response time for the best gaming experience.
AMD FreeSync
Audio ports
<br>Negatives
TN panel resulting in poor viewing angles
Despite having a low response time, it does not offer a high refresh rate at this price. 60 will seem a bit too low for the audience it's aimed for.
---
6- LG 27 inch 4K-UHD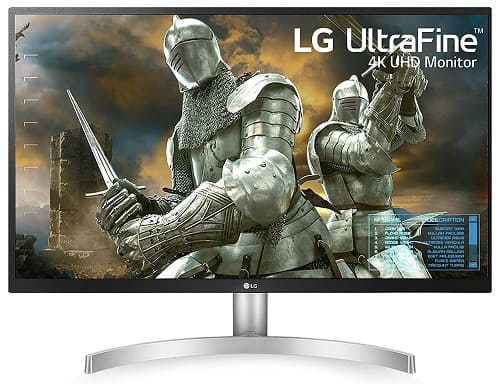 Budget Friendly 4k Monitor
This Monitor is also very color accurate and also comes with HDR10. Though spoiler alert, yes it's not as good as we thought but gets the job done. It is perfect for gamers as well who are not into esports games but need a 4K monitor to further enhance their experience.

And this is very reasonably priced considering it does offer you a true 4K monitor with such color accuracy. As usual, it does have FreeSync as well. This monitor is the perfect choice if you're looking for an entry-level monitor.  With this, we end this article and hope that it has helped you in finalizing your decision. If you think we missed some, do let us know in the comments.


Positive
27.0-inch 2160p (4K) IPS Panel Display
AMD FreeSync
99% sRGB
Black stabilizer for fixing your color calibration for dark areas.
Negatives
Once again the HDR isn't properly implemented, it's there but you should not rely on this monitor if you're in search of HDR.
The stand is pretty limited and it's better to get a wall mount for better support.
---
7- Acer Nitro 27.0-inch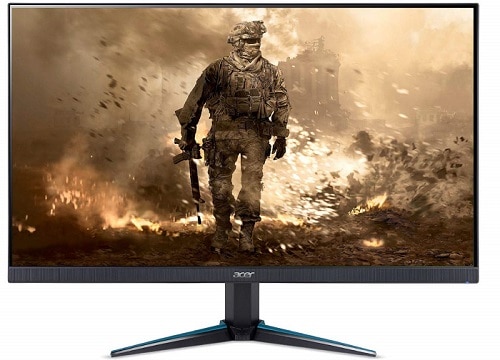 Complete Package!
This acer's monitor packs everything in one. It has your IPS display, so it will preserve your viewing angles and clarity which is often missing on TN panels. And even with IPS it offers you 1ms response time as well as 14Hz refresh rate.

You really can't go wrong with that by any means. Again it does offer HDR but it's not worth it, keep your expectations low for HDR. This is probably one of the best choices to go with and you won't regret it at all.

Available at – Amazon


Positive
1440p Monitor with IPS display
400nits display which is surprisingly a pretty nice addition at this price point
99% sRGB for the best colors
144Hz Refresh Rate as well.
Despite being a IPS display, it offers 1ms response time which is a nice feature
AMD FreeSync
Negatives
Built-in speakers are awful, don't rely on them
With this, we end this article. Hope we are able to give you a clear idea on what to go for. Thanks for reading and please let us know if we missed any others which you think should be there.