The market is full of gaming headphones to choose from but not everyone is fond of the bulkiness and sheer size of gaming headphones, some like the small size, subtle design and comfort of an earphone which can be used for gaming without giving them a disadvantage over those using headphones. So here we have prepared a list of best earphones or in-ear headphones which can be used for gaming, be it competitive FPS or single player games.
Note: The list is in no particular order and comprises of earphones in all price ranges, so there is something for everybody.
1. HyperX Cloud HX-HSCEB-RD Earbuds Gaming Headphones with Mic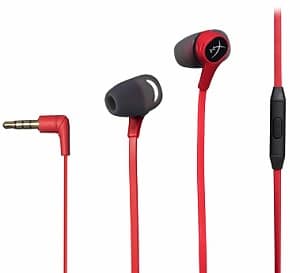 We will start off with gamers' favorite brand when it comes to gaming headsets, HyperX. Mostly famous for its bass heavy gaming headphones, comes out with its in-ear gaming headphones which provides nearly identical performance of its mainstream headphones but with the comfort of small earbuds which when in use, you will barely notice while in midst of heat of combat.
Also Read : Best Gaming Headphones Under Rs 2000 in India
Features: In line mic, 90 degrees rotation plug, very portable.
Pros:
Very comfortable.
Comes with a handy accessory box.
Crisp sound, best for FPS games.
Cons:
Delicate, needs to be taken care of.
Sound quality not the best for music lovers.
Non-braided cable.
Check Cheapest Price : Amazon
---
2. Razer Hammerhead Duo Wired Earbuds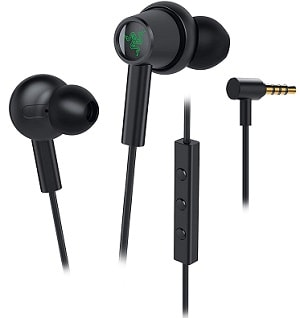 Razer is a popular brand choice among gamers, mostly because of its top of the line gaming peripherals. Razer is known for its high quality products and this one is no exception. Its aluminum frame provides a sturdy feel which allows it to survive rough daily usage. A major selling point for this and most razer products is the iconic green razer logo which provides for the gamery aesthetics.
Obviously, comfort is the main focus here and the design of the earbuds allow for long period of usage without making your ears hurt. The sound quality is what you come to expect of Razer products.
Also Read : 10 Best Gaming Headphones Under Rs 5,000
Although targeted mostly towards gamers, the sound quality is fit for all audiences.
Features: In line mic with 3 buttons, dual driver technology.
Pros:
Very sturdy.
High bass.
Balanced sound for both gamers and music enthusiasts.
Comes with a durable braided cable.
Tangle-resistant cable.
Cons:
No accessory box, so poor cable management.
Noise cancellation is not at par with other earphones.
Check Cheapest Price : Amazon
---
3. Turtle Beach Battle Buds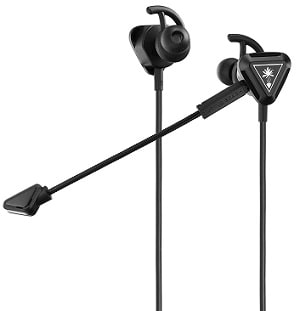 The battle buds is a new and innovative design by Turtle Beach who aim to provide their signature sound and mic quality in this earphone. Keeping comfort their main priority with this, they provide for high amount of customization, be it with the detachable microphone or the number of earbuds provided with the earphones which makes it suitable for a wide variety of audience.
The sound quality is on par with their main headphones and provide for deep bass and clear audio quality. The microphone is very identical to the one they used in their Atlas headphones (with obvious design changes).
Also Read : Best Gaming Headphones With Mic Under Rs 10,000
Although mentioned exclusively for Nintendo, works well with all platforms be it PC, other consoles or mobile phones.
Features: Detachable microphone, in line mic with multifunction buttons, stabilizers.
Pros:
Highly customizable earbuds.
Crisp sound quality.
Cons:
In line controls hard to fiddle with.
Bass is not adequate for music lovers.
Noise cancellation is not the best.
Check Cheapest Price : Amazon
---
4. 1MORE Triple Driver Earphone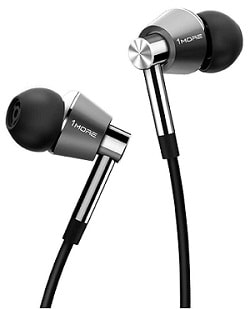 Although not directly targeted towards the gamer audience, 1More Triple Driver is a good choice for gamers as the sound quality is what most gamers look for when searching for a gaming headset. As the name suggests the triple driver allows for more control over a wide frequency range. It has two balanced armature and one dynamic driver, what this means is instead of having a single driver take care of everything, different sounds can be fine tuned for each driver specifically.
This feature allows you to easily make a distinction between a gun fire sound and a footstep. These are not cheap but the quality of sound makes it worth every penny of yours.
Also Read : Best Earphones Under 500
Features: Triple driver technology, ergonomic design, in line micrphone with multifunction buttons.
Pros:
Unmatched sound quality.
Lightweight and easy to carry.
Premium look.
Cons:
Cheap non-braided cable.
Easily tangles.
Check Cheapest Price : Amazon
---
5. CLAW G13 Triple Driver Earphones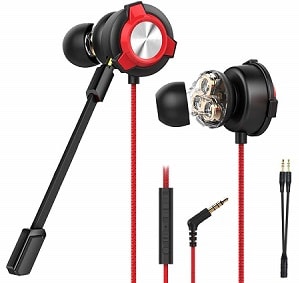 Now one for the low-mid range audience out there. The CLAW G13 boasts the triple driver technology only seen in more expensive earphones out there. It comes with dual microphones, one detachable for when you are gaming and need to convey your voice clearly and other in line microphone, for when you are not gaming. It comes with a handy in line multi-function buttons.
Although it offers a high bass, it's not the best fit for anyone looking for a chill and relaxing music session. The audio quality is decent but not the crispest out there. The triple driver technology do help to distinguish between different sounds while gaming but the overall sound quality does not resonate with this feature.
Also Read : Best Earphones Under Rs 1000
Features: Triple driver technology, 360 degrees detachable microphone, gold plated plug.
Pros:
Cheap, considering the amount of features included.
Adequate audio quality considering the price point.
Detachable microphone makes it comfortable to use.
Cons:
Bad build quality.
Cheap, plastic look.
Check Cheapest Price : Amazon
---
Conclusion: If you are looking for a headset with both comfort and performance, this is your go-to list. Gaming earphones are difficult to come-by and this list just aims to help you choose the best one for you. My personal favorite among the list is the Razer Hammerhead just because I am a razer fanboy.
All the products in the list are on available and the links are also provided. I hope you found this article insightful and helps you pick the best one. Thank you for taking out your precious time and reading this article.
---
Also Read :

Best Wireless Earphones Under 1000

10 Best Wireless Earphones Under Rs 3000

Best True Wireless Earbuds Under Rs. 2000