PC Gaming is an ever expanding realm with new technologies pouring in almost every year which mostly is an improvement over the previous generation, not only giving the consumers new lucrative options to upgrade their systems but also a temptations for more people to buy gaming PCs adding them to the infamous PC Master Race!
Though there is no limit to what one can spend on a Gaming PC but there are always some sweet spots that offer more than enough configuration options to satisfy the varied class of gamers.
One such configuration we'll be listing in today which is a Gaming PC under Rs 100000 or Rs 1lac or Rs 100K for those who have trouble counting the number of zeros there!
---
Best PC Build Under 100k in India
Also Read : Best Ryzen 5 Laptops in India
Having a big budget helps you a lot while building a new PC. But do you know that it is also a big problem? You might be asking how. The answer is simple, when your budget increases, you have more options to choose from. And, it could really be tough to make up your mind in those instances.
To tackle this issue, we have already researched on your behalf. And, we have gone ahead and made a list of the parts and components of the best PC build under 100K rupees. So, if you have a budget of 100,000 rupees for your next PC build, then this post is for you.
Without wasting more words, let's jump right in…
CPU – AMD Ryzen 5 3600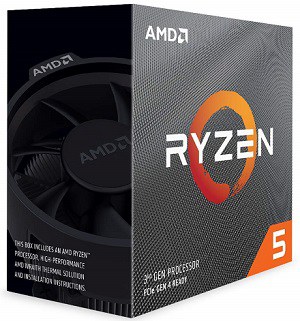 This choice was very easy to make. At the moment, the CPU market is dominated by AMD. Even if you are an Intel fan, you must admit that AMD is winning the battle right now. So, we have gone with AMD. And, our top pick in the CPU department was the AMD Ryzen 5 3600. If you are a PC building enthusiast, you should be familiar with this one by now.
This is one of the most popular processors in the world right now because of its power and performance under both single-core and multi-core load. The AMD Ryzen 5 3600 is a hexa-core CPU with 12 threads. It has a base clock speed of 2.6 GHz. And, the maximum boosted clock speed is up to 4.2 GHz. Moreover, you will love the huge 35 MB cache. Still, when it comes to power consumption, this one only needs 95 watts to operate.
It supports dual-channel RAM. Speaking of RAM, it is compatible with DDR4 RAM up to 3200 MHz bus-speed. This CPU is compatible with all the motherboards of AMD A300, A400, and A500 series chipsets as it comes with the AM4 socket. With the CPU, you will get an AMD Wraith Stealth fan. But, we would recommend using a 3rd party one. Interestingly, we will suggest you one in a bit in this post.
To make it clear, this is a CPU, not an APU. Thus, you will have to use a dedicated graphics card with this. If you look at the price to performance ratio of this processor, you will not find another one in this price range. Whether you will game or edit high definition videos, your workspace will be faster because of the AMD Ryzen 5 3600 CPU.
Notable Features:
This CPU comes with 6 cores and 12 threads
It comes with a 3 years warranty
This one comes with an AMD Wraith Stealth heat sink fan
---
CPU Cooler – Deepcool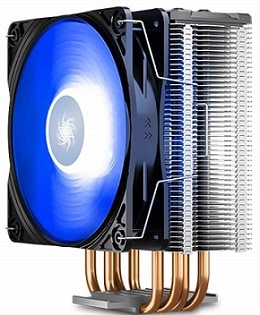 By default, the CPU we have chosen comes with a fan in the box. Of course, you can use that if you want to. However, if you want to keep everything tidy, you should use a 3rd party CPU cooler. And, in this case, we have picked the DeepCool Gammax CPU cooler.
It is totally compatible with our CPU and motherboard. One of the cool features of this is that it comes with an RGB fan. So, it will not only keep your CPU cool but also illuminate your system. For the price, this is a beast.
Notable Features:
It comes with 1 year warranty
This one has an RGB fan
It is equipped with 4 copper pipes for better heat dissipation
---
Also Read :

Best Gaming Monitors Under 20000 in India
Motherboard – GIGABYTE B550M DS3H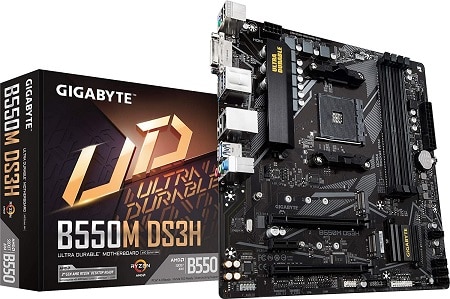 When it comes to the motherboard for the AMD Ryzen 5 3600 CPU, there are a lot of options to choose from. Now, we have chosen the popular GIGABYTE B550M DS3H motherboard. But why? The answer is simple. It has some of the best features in this price range.
First of all, it is compatible with our system. Next, it comes with a PCIe 4.0×16 slot. In addition, it also comes with both NVMe PCIe 4.0 and 3.0 M.2 connectors. That way, you can use internal SSD for additional high-speed operation. You will also love the inclusion of RGB Fusion 2.0 on this motherboard. At the back, it features 1 DVI-D port and another HDMI port.
You can add up to 128 GB RAM in this. So, if you are thinking about future-proofing your PC, you can get this one. It also has various useful features like temperature monitor, voltage detection, fan speed detection, fan fail detection, overheating warning, and even fan speed control (if you're cooler supports this feature). Overall, you can go with it without any hesitation.
Notable Features:
It supports RGB Fusion 2.0
Comes with 3 years warranty
It is compatible with up to 128 GB RAM
---
RAM – Adata XPG GAMMIX D30 16GB

For our 100K rupees build, we have gone with the A-Data XPG GAMMIX DDR4 memory. This is a 16 GB RAM that comes with a bus-speed of 3000 MHz by default. However, it can go up to 4600 MHz as well. The first thing about this RAM stick you will notice is the design of the heat sink. It is a unique edgy wing-shaped design.
For RGB lovers, this might not be your take because it doesn't come with RGB. But you should already know that RGB doesn't increase the performance of your setup in any way. And most RGB RAMs from top brands come with a high price.
In that case, we would prefer to save our money on the RAM and use it on other important things like the GPU or CPU. Overall, if you are looking for powerful performance without hurting your wallet, this 16 GB memory stick would be the best choice for your PC build under 100K.
Notable Features:
It is a 16 GB DDR4 RAM
It can go up to 4600 MHz bus speed
This one comes with a unique heat sink design
Comes with 3 years warranty
---
HDD – Seagate BarraCuda 1 TB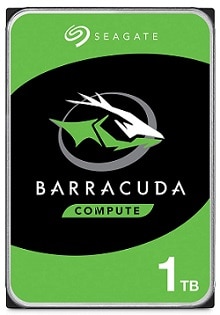 If you are building a PC in this day and age, the first choice in the case of storage options would be an SSD or Solid State Drive. But you know when you need a higher capacity of SSD, the price gets a bit higher compared to an HDD. So, it is a clever idea to choose an SSD with a small capacity.
In addition, you can choose an HDD with a higher capacity. That way, you will get the best performance without spending much. Now, we have chosen the Seagate BarraCuda 1 TB hard drive. Seagate doesn't need an introduction right now.
They are one of the most popular brands when it comes to storage solutions. This is a 3.5 inch SATA HDD. It has a 64 MB cache, 7200 RPM, and 6 Gb/s SATA speed. Because of its performance, it has become one of the best-selling HDD on the internet at the moment. So, like the other users, you can also trust the quality of Seagate BarraCuda.
Notable Features:
It is a 1 TB hard disk drive
This one comes with 2 years warranty
It has 7200 RPM and 64 MB cache
---
Graphics Card – INNO3D NVIDIA GEFORCE RTX 2070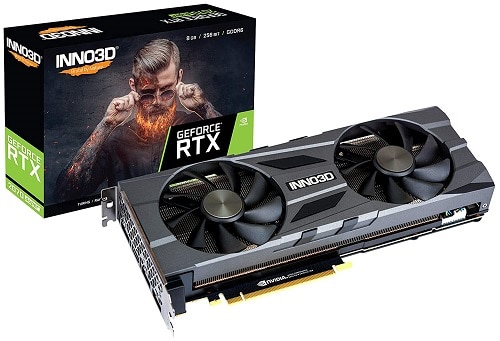 When building a PC with 100K Rs, it is very hard to decide where to spend the money. But if you want the best gaming and editing performance from your PC, you know that you should spend the most on the GPU or graphics card.
For that reason, we have chosen the NVIDIA GeForce RTX 2070 OC from Inno3D. It is the 'Super Twin X2 OC' edition. That means it is overclock-able and has a double fan for thermal decapitation. This GPU comes with GDDR6 memory and 8 GB of VRAM. It supports DirectX 12 out of the box.
Also Read : Best Graphics Cards In India
You can easily game at 4K resolution at 60 FPS with this GPU. All in all, this is a high-end overpowered GPU. And, as you are pairing it with the AMD Ryzen 5 3600 CPU, it will offer an unbelievable gaming performance. And, for editing, this would one of the best setup.
Notable Features:
It is a GDDR6 8GB GPU
Comes with 3 years warranty
It supports multi-monitor setup
This is compatible with VR
---
PC Case – DEEPCOOL MATREXX 55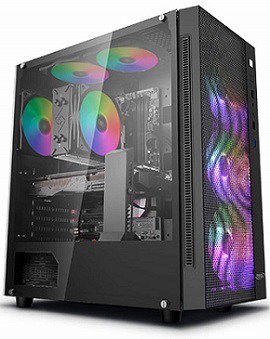 The first thing anybody will see of your new build is the cabinet. So, you should choose a PC cabinet that is eye-catching. And, to do that, you should pick one that is open, transparent, and has RGB lighting. Then again, if you are not a fan of RGB, you just need to change the fans.
This is a mid-tower gaming PC cabinet. So, it will support ATX/E-ATX/M-ATX/ITX/M-ITX motherboards. The front panel has a mesh grill. So, the light from the RGB fans will be clearly seen from the front as well as the components inside will be cooler. The left side panel features a tempered glass panel. So overall, this is a top-notch choice for our 100K PC build.
Notable Features:
Comes with free four x 120 mm RGB fans
The net dimension of this cabinet is 20.99 x 43.99 x 47.99 cm
It weighs about 8.1 kg
It comes with 1 year warranty
---
SMPS/PSU – Corsair CX550 550 Watt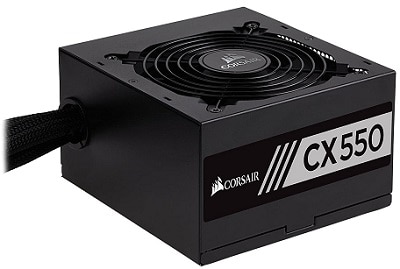 When choosing the power supply unit of your PC, you should be more careful. As a result, to be on the safe side, we have calculated the wattage of all the components of our 100K build. And, then we have chosen the Corsair CX550 PSU.
From the name, you can know that it is a 550 watts power supply unit. And, we believe this will be perfect for our entire build. Besides, it comes from the famous Corsair brand. So you can rely on this. At the same time, it is an affordable PSU for its performance and specs.
Notable Features:
This one comes with MTBF hours of 100,000
It is an 80+ Bronze certified PSU
It has 5 years of warranty
Comes with a 120 mm no-noise fan
SSD – Crucial BX500 240GB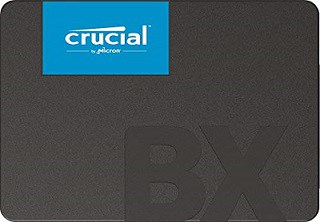 Earlier, we have reviewed a 1 TB HDD from Seagate. At that moment, we have told you to use an SSD with your HDD if you want the best and fastest performance. As a result, we are talking about the 240 GB SSD from Crucial. This is a 2.5 NAND SATA SSD. You can install the operating system (Windows), apps, and the games on the SSD.
Because of that, you will notice fast boot time and loading speed. For your information, this is about 300 percent faster compared to a traditional mechanical hard drive. So, you know you are getting a good deal for such a reasonable price.
Notable Features:
This is a 240 GB SSD
Comes with 3 years of warranty
It has sequential read speed up to 540 MB/s
The sequential write speed is up to 500 MB/s
---
Concluding Thoughts
If you are still with us, then Congratulations to you. Because now you know all the components and configurations of the best PC build under 100K in India. We admit that this combination might not be for everyone else.
Because everybody has their different choices and preferences. However, we have tried to build a powerful PC within 1 lakh rupees that will also be future-proof. So, we hope this post will help you to build your next 100k or 1 lakh rupees PC build.
Before we go, if you have any queries or suggestions, please let us know in the comment box down below!
---
So there you have it a Gaming PC configuration for around Rs 100000 to handle all your gaming and multimedia work without blowing a hole in your pocket, well not a crater to be precise.
I haven't included the cost of peripherals like monitor, speakers, keyboard-mouse etc so you can add that according to your preferences and budget.
Also Read: 10 Best USB Microphones in India
Also for Windows keep aside around Rs 500 or so as you can get an OEM key easily for that much from many online stores and places to activate your free copy of Windows from Microsoft website.
From my side I've tried to keep everything in mind regarding this build but just in case I did forget something or you have a suggestion for the same then do drop a comment.
Points Kept in Mind
1) The configuration is aimed at high end gaming and not just at 1080p gaming so all the games should run comfortably at high to medium settings on resolutions over 1080p.
2) We are aiming for 144Hz gameplay aswell as VR Gaming so the system should pack enough horsepower to handle all of that for smooth gaming.
Also Read : 10 Best Gaming Headphones Under Rs. 5,000
3) Upgrades should be easy for the chosen components and not mean changing multiple components just for the sake of one such as a processor.
4) The components not only should be compatible and not create a bottleneck for each other but also not be a bottleneck for other peripherals like a high resolution or high refresh rate monitor.
5) As we are using substantial amount of money here so the system should be more than capable of handling just gaming and should be able to do much more just in case required by the user.
Also Read : 10 Best True Wireless Earbuds Under Rs 2000
All of this is worth mentioning so as to give you a clearer picture of what we are aiming at here.
---
Also Read:
1) Best Gaming PC Assembled Under Rs. 80,000