Nowadays, vlogging and video editing have become quite common as more people make this as a career option. But when you are starting initially, you try to use the tools available to you and avoid spending too much before you are sure about this career path. And with the influx of smartphones and actions cameras which offer HD video quality, there isn't any need to purchase a video camera anymore.
However, you want your videos to be clear and high quality for which it is important that you don't have shaky/blurry video footages. And the best way to make sure of that is to get a good gimbal stabilizer for your smartphone, both Android and iOS. Thankfully, there are many good gimbal models in the market perfect for this task which you can select from.
2) Best Camera Straps Under Rs. 500
We understand that it can be intimidating to choose the right one when you have no clue what to look out for in a Gimbal. This is why we have prepared this article to help you choose the best gimbal stabilizer for yourself.
Hot Deal!

Rs.

7,274

Rs. 7,990
2 new from Rs. 7,274
in stock

Best Gimbals For Your Android & iPhone in India
1) DJI Osmo Mobile 3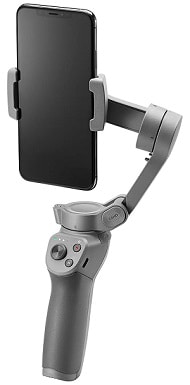 DJI has come far with DJI Osmo Mobile 3 , it's improved design and features as compared to earlier models. Currently this is the best Gimbal for the price and the one I would buy for myself.
They have taken care of details , finally made it good for stabilization being compact and portable. You can easily switch between landscape and portrait modes , with just a push of button.
Although it's made of plastic , the built quality feels sturdy enough. The DJI app works smooth , however the IOS version is better with more features. You can also charge your phone while using this if you prefer.
One it's folded it becomes very compact and portable , tight fit. The mobile app can crash sometimes , if your phone doesn't have enough RAM to handle. This usually comes with a carrying bag only , no case.
Overall , if you want a gimble at present then this one is definitely recommended.
---
2) DJI Osmo Pocket
( Best thing about this Gimble is it's quite compact , easily fit in pocket , people mostly don't notice it even if one is filming. Video quality and Selfie panorama both are awesome)
Water Resistant , Low light photos are better than go pro her 7 , comes with a case. For more walking stabilization , go for bigger gimbals.

1) Although one of the most expensive gimbals in the market, DJI Osmo Pocket Gimbal is a portable and lightweight gimbal which allows smooth cinematic captures from your smartphones.
2) This 3-axis gimbal stabilizer allows you complete control and makes ensures accurate tilt and speed while taking a shot.
3) It also features a sandstone handle which offers a sweat-proof and non-slip grip.
4) And the in-built touchscreen and buttons allow you to adjust the camera settings in a just a few clicks and swipes, making it extremely easy to use. That's not all though.
5) The DJI Osmo pocket gimbal also takes amazing photographs and footage which can be manipulated easily using the DJI mimo app.
6) The 80-degree FOV, 1/2.3 – inch sensors, and f/2.0 aperture help you getting high-quality video shots and amazing still shots. And it easily fits in your pocket.
7) So, if you want the best gimbal stabilizer for your smartphone (both Android and iPhone) then DJI Osmo pocket is the one you are looking for.
Also Read :
10 Best Ultrawide Gaming Monitors in India

Best Laptop Cooling Pads in India
---
3) DJI Osmo Mobile 2
Refer to DJI's youtube videos if you find quick start guide complicated.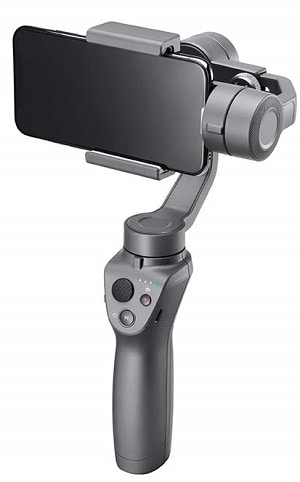 1) For people who are looking for a more budget-friendly gimbal option, DJI Osmo Mobile 2 is the perfect choice.
2) One of the best gimbal stabilizers for smartphones while taking video footages and still shots, this handheld gimbal features in-built brushless motor and sensors which ensure stability.
3) As a result, it is the perfect product for videographers who want to use their smartphone for shooting videos.
4) Made up of high-strength composite material, this gimbal is light and weighs just 458g. And it has a long battery life of 15 hours which can also be used to charge your mobile phone and take videos/photographs for a long duration.
5) But the most amazing thing about this gimbal is that it offers different styles of time-lapse filming.
6) Also, Osmo 2 allows you to do slow-motion photography, panoramas, and enjoy uninterrupted live streaming on your phone.
7) If you want a DJI gimbal at a reasonable price then Osmo Mobile 2 is the best gimbal for your smartphone.
---
1) Top 10 Best Travel Cameras For Beginners
2) Top 10 Best Camera Bags for Travelers
---
---
4) Zhiyun Smooth 4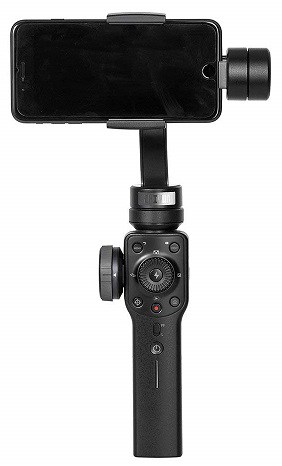 1) Another amazing 3-axis gimbal stabilizer for smartphones, Zhiyun Smooth 4 gives you multi-axis control for an amazing and stable video recording.
2) And it can support several smartphone models along with GoPro which makes it extremely versatile to use for shooting videos.
3) With its good build quality and stability, you can also use this gimbal in windy and adverse conditions.
4) The gimbal includes a hand wheel which lets you focus and zoom on your subject and also helps in object tracking for a smoother video footage.
5) And you can make time-lapse, motionless, hyper-lapse, and slow-motion videos as well which makes this gimbal really useful for taking cinematic shots.
6) With its 14-hours of battery life, you can also keep your phone charged while taking video shots and photographs and can even charge the gimbal with a power bank while it is in use.
7) It is extremely easy to set up and use and weighs just 599g while being extremely affordable.
8) So, if you want a good-quality gimbal at an affordable price then Zhiyun Smooth 4 is the best product for you.
---
5) Premsons Smooth 4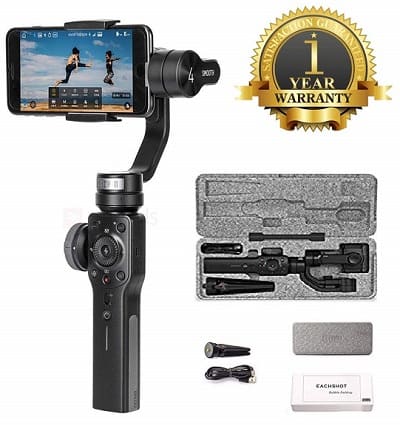 1) If you don't want to spend a lot of money and don't care much about DJI or Zhiyun models, then Premsons Smooth 4 is the perfect gimbal stabilizer for your smartphone.
2) This gimbal features key-handed operations which allows you to control the resolution, exposure, ISO, etc. without constantly touching the screen.
3) And the follow focus wheel enables you to zoom and focus on the object smoothly allowing you to create diverse images and footages.
4) The PhoneGo mode allows you to take footages while moving around and also promotes instant scene transition quite easily.
5) It also allows object tracking and helps you taking different styles of lapse shooting like hyper-lapse, time-lapse, etc. The gimbal can last for 12 hours and the battery indicator lets you know how much power is left so you can charge it and plan your day accordingly.
6) So, if you are looking for a stable and smooth gimbal for your smartphone at a reasonable price then Premsons Smooth 4 3-axis gimbal stabilizer is the best choice.
---
6) Zhiyun Smooth-Q 3 Axis Gimbal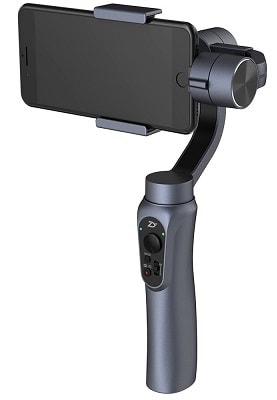 1) Another amazing gimbal model by Zhiyun, Smooth Q3 Axis is sleek and lightweight which makes it easy to use and carry.
2) With its 3-axis stabilization, you can rotate the gimbal at a 360-degree angle and can really enhance your shooting experience.
3) One thing to note is that Zhiyun Smooth Q3 Axis Gimbal only supports smartphones with a screen of up to 6 inches and which doesn't weigh more than 7.7 ounces.
4) It easily connects to your smartphone using the USB port and charges it at the same time.
5) And there is an associated app which allows you to do a variety of filming effects like face tracking, automatic zooming, panoramic filming, and so on.
6) It has a battery life of 12 hours and the 4-way joystick on the handle allows you to control the pan, tilt, and the roll for 360-degree filming.
7) At just 440g, it is one of the most lightweight gimbals in the market and is perfect for people who are looking for a professional stabilizer for their video shots.
---
7) KumbaCam 3

1) KumbaCam 3 Axis Gimbal Stabilizer works best for smartphones which are up to 7 inches diagonally.
2) And it can easily balance heavier smartphones with its counterweight feature.
3) You can easily charge the gimbal using the USB cable which is attached to its handle and can also attach the gimbal to a tripod or pole for more flexibility.
4) The gimbal offers 3 modes for different shooting scenarios and the joystick allows you to tilt in a pan more or rotate in a locked mode.
5) Another great thing is that it can connect to a camera app using Bluetooth which allows you to control the front and back camera without touching the phone.
6) And the brushless motors and digital controllers make it extremely silent and responsive which lets you take amazingly smooth videos at all times.
---
8) Yomito 3-Axis Handheld Gimbal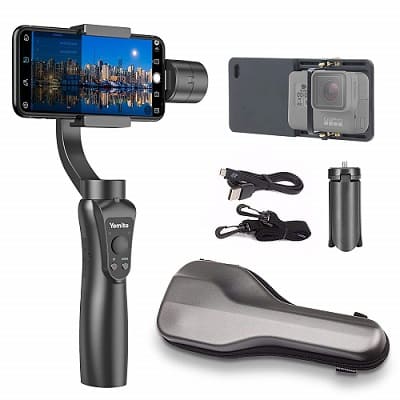 1) Finally, there is Yomito 3-axis handheld gimbal which works well with both smartphones and action cameras.
2) This gimbal is quite easy to use with its control panel and plug & play feature which reduces the screen touching time.
3) And with its ActiveTrack feature, brushless motors, and built-in sensors, you can take smooth and stable videos while on-the-go.
4) It also supports advanced shooting techniques and offers 360-degree rotation which helps in smooth zooming footages.
5) With its intelligent object tracking, you can also create moving lapses, motion lapses, hyper-lapses, and so on.
6) It also features 2-way charging and can run for 12 hours continuously and can be recharged using a mobile power supply.
---
Other Models
Digitek DSG 005 is also a good gimbal option and is one of the cheapest models in the market. It has an ergonomic design along with shock resistance and allows you to take panoramic shots easily. And the sensors and motors present inside the product makes it more stable to use. It also features a joystick for panning, tilting and controlling the speed and can work for 12 hours at a time. However, since it is so low priced, it isn't long-lasting or durable and is only a good choice if you are looking for a temporary product for stabilization.
LanParte HHG-01 is yet another good gimbal to hold your smartphones but it requires third-party add-on lenses to do so. This 3-axis gimbal also features a gesture control system and a high-quality BLDC motor. And the silica gel handle grip makes it easy and comfortable to hold the gimbal for long durations. But this gimbal has a battery life of just 3 hours which makes it highly inadequate for long shoots.
Things to Consider when purchasing a Gimbal
There are a few factors and features that you should consider when looking for an ideal gimbal stabilizer for your mobile phone. So, we have mentioned below a few of the top things to consider when selecting the best-suited product for yourself.
Look for a mobile phone compatible Gimbal
One of the most crucial things to consider when looking for a gimbal is that it should your phone compatible. There are many gimbals out there which are compatible with only iOS or a particular model of Android phone. So, it is your job to check if your mobile phone is compatible with a gimbal or not.
This is extremely important because if you choose the wrong gimbal model then you wouldn't be able to use your gimbal and will have to end up returning it.
Choose the appropriate axis stabilization option
The next important feature to consider when looking for a gimbal is the stabilization that it offers for your mobile phone. Ideally, there are two types of gimbals available for keeping your phone steady: two-axis stabilizers and three-axis stabilizers.
A two-axis stabilizer helps you keep your camera steady while tilting it or rolling it. On the other hand, a three-axis gimbal stabilizer keeps your camera steady while panning as well. And while two-axis stabilizers are more affordable, three-axis gimbal stabilizers are better at taking moving footages.
So, depending on your budget and use, you have to choose one of the two gimbal stabilizers.
Consider the batteries used to power up the Gimbal
Another thing that you need to consider when looking for a gimbal is the type of batteries that it requires. If you don't mind replacing batteries then you can choose a gimbal which uses alkaline batteries.
But if you would like to save some money and use a rechargeable battery then get a gimbal which uses lithium-ion batteries. However, remember that these batteries have a shorter life and will need to be recharged frequently.
Choose a Lightweight Gimbal
Another important thing to consider is the weight of your gimbal stabilizer. You don't want a gimbal which is too heavy as it will be uncomfortable to hold for a long duration. But this doesn't mean that you should choose an extremely lightweight gimbal which is unable to support the weight of your mobile phone.
So, look for a gimbal which weighs a couple of pounds so that it would be easier for you to hold for an extended period of time. However, don't compromise on the quality of the gimbal for a lighter product.
Choose a Gimbal with compatible computer software
Most of the gimbals include a utility software which allows you to perform more functions with your gimbal and your camera. But this software works with a few OS only.
So, make sure that you confirm that your gimbal's software is compatible with your computer before purchasing it.
Also Read :
10 Best Ultrawide Gaming Monitors in India

Best Laptop Cooling Pads in India