Be it a working machine or a gaming PC, the setup feels lacking if you rely on the integrated GPU of your processor. It will start to bottleneck within a few weeks with adequate load and you'd start seeing a difference pretty soon.
Going for a budget graphics card can get rid of that bottleneck by giving your computer more breathing space with added graphics memory which was otherwise being shared with RAM. There are many use cases where you're better off with a basic card than going for a premium model.
In this piece, we'll talk extensively about these graphics cards and why should you invest in one. You'll also learn if getting a lower-end card is a wise decision or a higher-end one would meet your needs. Finally, we have a list of graphics cards available for under Rs. 10,000 that you can purchase right away.
Also Read : Best Graphics Cards In India
Top 10 Best Graphics Cards Under Rs. 10,000 in India
Below mentioned are some of the best graphics cards that you can buy in India for under Rs. 10,000.
1. Gigabyte REV2.0 Radeon RX 560 OC 4GB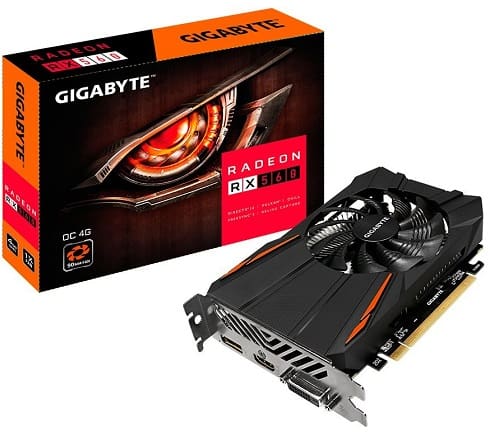 1. For 1080p gaming, this graphics card from Gigabyte is probably the best under the budget. As its name suggests, a Radeon RX 560 chip powers this card.
2. It is provided with 4GB of GDDR5 128bit memory which is supported by the company's software. It supports one-clock super overclocking.
3. Gaming aside, it can support an output of up to 4K @ 60Hz via HDMI or up to 8K @ 60Hz over its display port. Make sure your monitor is directly connected to the card's port.
4. A single 90mm fan is present for cooling the card. The card requires a 400W power supply and supports AMD FreeSync if you have a compatible monitor.
---
Also Read :
2. Zotac GeForce GT 730 4GB Zone Edition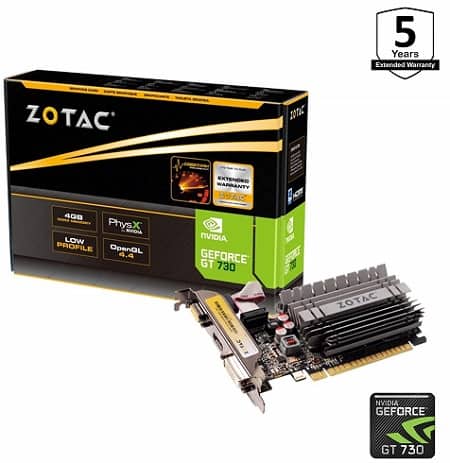 1. With its compact design that uses a heat sink instead of a full-sized fan, you can fit this card inside tight spaces and it is compatible with a host of boards.
2. This custom Zotac Zone Edition card uses an NVIDIA GeForce GTX 730 graphics processor that has 4GB of DDR memory.
3. You can easily play titles in HD quality while being able to enjoy audio in DTS-HD quality. You can control all the aspects of the card using a control panel software provided by NVIDIA.
Also Read : Best Graphics Cards In India
4. Zotac requires you to hook this card to a 300W power unit. You can connect the card to up to a 4K monitor via HDMI, VGA, or DVI ports.
---
3. ASUS PH-GT1030-O2G GeForce 1030 2GB Phoenix Fan OC Edition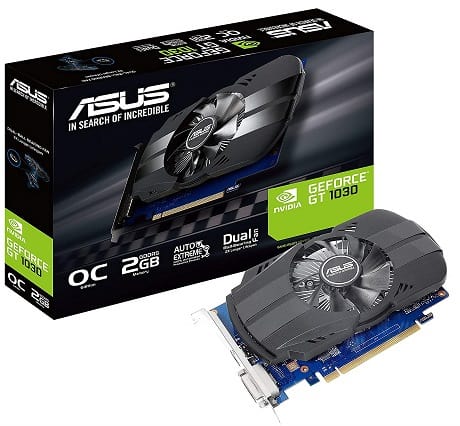 1. ASUS' OC edition graphics card packs a GeForce GT 1030 GPU from NVIDIA that has a GDDR5 memory of 2GB. The performance from this card is adequate for playing 720p games at good framerates.
2. For proper cooling, ASUS' custom card comes with a large fan with dual ball bearing for improved airflow and ultimately better performance.
3. An HDMI port along with a DVI-D port has been provided for connecting your monitor. It uses a PCI Express 3.0 interface to connect to the motherboard.
Also Read : 10 Best Gaming Headphones Under Rs. 5,000
4. The company ships the card with GPU Tweak II that helps you monitor the card's performance. Its features include Game Booster and XSplit Gamecaster.
---
4. Gigabyte GeForce GT 710 2GB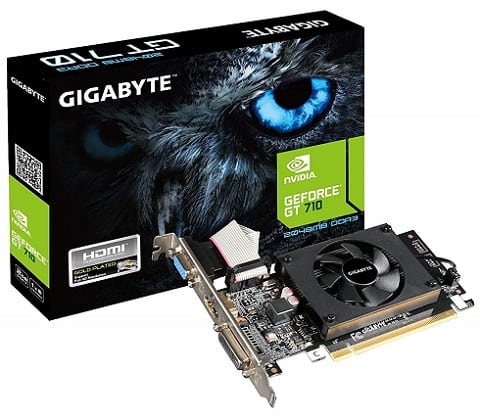 1. Gigabyte has maintained this card in its rawer form with the board itself and a fan slapped onto it. The GPU is based on 28nm architecture and comes with a warranty of 3 years.
2. If you still own an old-school monitor, you can hook it up with this card via a VGA or a DVI port. An HDMI port has also been included for more modern displays.
3. An NVIDIA GeForce GT 710 GPU powers this card with a memory of 2GB that is a DDR3 64-bit memory interface.
4. You can fix this in a PCIe 2.0 slot and power the card using a 300W power unit, though its own consumption stays much lower.
---
5. Zotac NVIDIA GT 1030 2GB Retail Card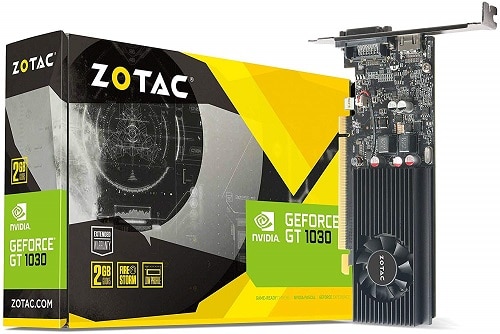 1. Part of NVIDIA's newer 10-series GPUs, the GT 1030 tends to give a smooth gaming performance when playing many recent titles in HD quality.
2. Zotac's take on the 1030 has a fan integrated with the heat sink and the company claims that it remains quiet for the most part giving you a peaceful time. It can easily fit inside your already packed PC.
3. The GPU itself has a384 CUDA cores and its 2GB of GDDR5 memory runs at 6GHz. It is a 64-bit memory that offers a bandwidth of 56GB/s.
Also Read : 10 Best Laptop Under 60,000 in India
4. For connecting a monitor, you only have two options—HDMI and DVI port. Zotac is offering a warranty of 2 years.
---
6. Gigabyte GeForce GT 1030 Low Profile 2GB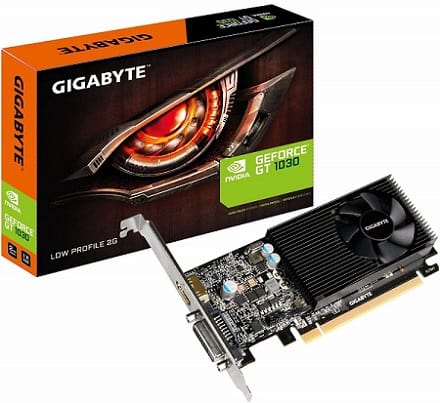 1. For well under ₹10,000 mark, this Gigabyte product is compact that is ideal for smaller towers, plus, it brings its own cooling unit, so that too saves extra space.
2. Gigabyte has deployed a newer-gen GT 1030 GPU that has a GDDR5 64-bit memory of 2GB. For this card, you can expect to have a decent gaming experience at 720p/900p.
3. You will have access to one-click overclocking support using the AORUS graphics engine. It offers variable core clock speed for OC and gaming mode.
4. It is designed for casual gamers and offers two options to connect a monitor. You can use either HDMI or DVI, depending on your display's make.
---
7. MSI GT 710 2GD3H LP DDR3 Gaming Card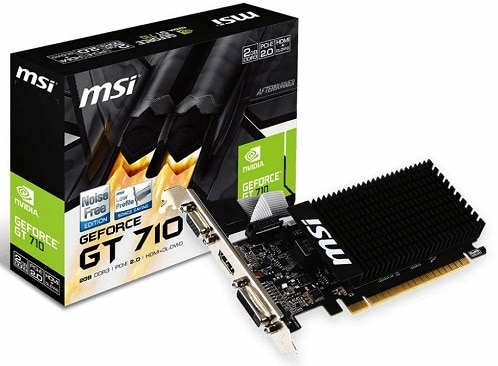 The first MSI card on this list is also among the cheapest. For its price, you're getting a lot packed inside a small package. For starters, it sources its GPU from NVIDIA—the GT 710.
It runs at a frequency of 954 MHz and has a memory size of 2GB. You will be just fine with this if your intended games aren't heavy on graphics.
Despite its budget offering, MSI has included a VGA port and a DVI port along with an HDMI out. This I/O should cover most monitors, from older ones to the newest.
Also Read : 10 Best Gaming Headphones Under Rs 2000
Using the 16-pin, you can connect it with a PCI Express 2.0 slot on your motherboard. The company offers a warranty for 3 years.
---
8. Zotac GT 710 2GB 64-Bit DDR3 Card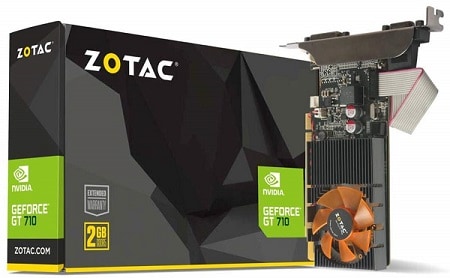 1. Much like the 730 model, this one caters to the entry-level of the market. It is particularly ideal for users looking to upgrade their integrated graphics or use multi-display output.
2. Using an HDMI, VGA, and a DVI port, you can connect up to 3 displays at a time which wouldn't be possible with the integrated graphics unit of the processor.
3. The graphics performance of your PC should improve multifold with this card, thanks to its GT 710 GPU. You can even play some basic games with its 2GB DDR3 memory.
4. It uses NVIDIA's software to provide reliable overall performance while the control panel is also supplied by the GPU maker itself.
---
9. NVIDIA Gigabyte GeForce GT 710 2GB GDDR5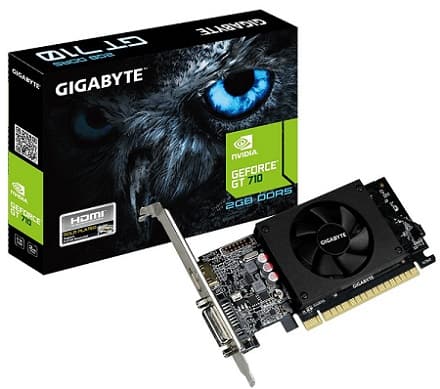 1. This entry-level NVIDIA card will make everything on your display look amazing. Its support for a newer DDR5 standard means the performance shall be dependable overall.
2. While it isn't particularly meant for gaming, it is best suited for desks with multiple displays or if you plan on playing 4K videos via YouTube.
3. It is based on 28nm architecture and clocks at 954MHz with a memory clock speed of 5010MHz. The said memory size is 2GB.
Also Read : Best Budget PC built Under Rs 25,000
4. The graphics card is supported by an intuitive companion software that allows for easy modifications, firmware and BIOS updates, and real-time monitoring.
---
10. Gigabyte GeForce GT 710 2GB DDR3 Low Profile Fan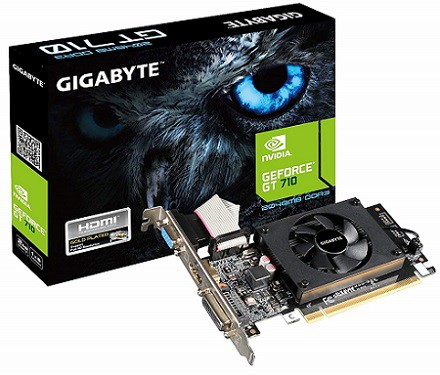 1. For the people wanting to connect up to 3 displays to their PC will really appreciate this card. It covers all the basics and gives you ample ports to connect those many screens.
2. As its name suggests, the fan unit installed here is a low-profile variety that doesn't stick out much.
3. It uses an NVIDIA GeForce GT 710 graphics processor that comes loaded with a DDR3 memory of 2GB. You can make use of this memory to hook multiple displays or play high-quality videos. Playing certain games is also feasible.
4. Gigabyte is offering a warranty of 3 years. You must connect it to a 300W power supply while it connects over PCIe 2.0 x8 bus interface. For connecting to a display, you have HDMI, DVI, and VGA ports at your disposal.
---
Why buy a graphics card?
1. The more popular need for a graphics card is to game. If you intend to game, then bumping your machine up with a dedicated card would be a boon. Certain entry-level cards let you play older games at 720p while many also support 1080p games with respectable framerates.
2. Not just gaming, graphics cards come in handy when you do stuff like 3D modeling or graphics designing. There are a handful of software that rely more on GPUs than CPUs to get things done rather smoothly. You can certainly make your programs run smoother with help from a graphics card.
3. For the multitaskers over here, you simply cannot run multiple monitors from a computer without a dedicated card. You absolutely need a graphics processor to support more than one screen. Under this scenario, there isn't a need to go for the most powerful GPU, a basic one with multiple ports for monitor should get the job done.
4. Most modern Intel chips come with an integrated GPU, but they are barely meant to get you started. While most lower-end ones can handle the basics well, the Iris-series of GPUs are superior but remain available only in premium SoCs. Moreover, these GPUs share their memory with the system RAM which isn't the best practice when the resources are scant. A dedicated card should address these issues.
5. The cards available below ₹10,000 use standard connectors for ensuring wide compatibility. Plus, they're usually smaller to fit inside rather compact cabinets with ease. With that, you wouldn't need to upgrade your power supply unit either.
Also Read : 10 Best Gamepads Under Rs. 10,000
---
What can I expect from these low-end graphics cards?
For one, you should know what you're going for. These low-end cards will disappoint you if you aim to game AAA titles with the best graphics settings. Do take note that newer features are generally available only to the premium products before being trickled down the mid-tier ones and then finally to the lower-end models. In terms of feature set, you should expect moderate offerings.
Under this budget, there are certain graphics cards that let you game at a decent frame rate. These products are often closer to the upper limit while the ones on the lower end of the spectrum are best for lighter loads. You can use them for improving the overall system performance for your software to run smoothly or connect multiple monitors.
Also Read : 10 Best Ultrawide Gaming Monitors in India
---
What are some good graphics card brands in India?
Before that, let's talk about the graphics processors themselves. So, the two biggest names in the industry are NVIDIA and AMD, which are invested in making their own cards that are often used as reference models. You can get your hands on these first-party cards for a near-seamless experience as from the GPU to drivers and from companion software to after-sales support is available under one roof.
Then come into the picture the companies that build their own custom graphics cards based on the reference cards by NVIDIA and AMD.
They tweak the performance or give additional cooling to get desired results from the card. Brands like Gigabyte, Zotac, MSI, and ASUS have established their brands and you can trust them without another thought.