With the latest gen hardware, it's finally time for us to decide on some heavy builds. Are you searching for the best premium laptop? How about intel's 10th gen processor, something like that paired with some of the best available GPU in the market? Right now, Nvidia's RTX are the best pair with these CPUs and with intel pushing their next gen technology, this might be the perfect time for you to experience the best of the best.
Quick Navigation
Why intel's i9 10th gen? Why should you choose this processor?
So, now that we've given you a brief rundown on what to choose, we'll try to explain why in more detail.
Here's a list that we've compiled which'll help you in understanding about this processor.
These CPUs have 8 cores and 16 threads so if you're a creator who needs to render something or someone who needs the best gaming experience, these are the most premium choice available to you.
It supports hyper threading and since this CPU has 8 cores (16 threads) expect unparalleled performance.
Turbo frequency of around 5GHz.
Faster load times for VR titles and content creation thanks to Intel's Optane technology.
Thermal Velocity boost is a feature which automatically boosts your clock frequency up to 200MHz if the temperature of the processor is below 65°C.
This list should be enough for you to understand why you should go with intel's i9.
Now let's look at the GPU itself.
Who should choose RTX?
We've told you why you should choose RTX but let us tell you about the features in detail.
For gamers who are looking for the best. These GPUs are best if you're looking for running your games at 144Hz screen or if you're a competitive player where every second counts.
With the introduction of RTX cards, Nvidia showed off their latest real-time technology which is known as Ray-tracing. These RTX cards are specifically made on Turing architecture which was developed by Nvidia itself. Ray Tracing is a rendering technology which generates an image by tracing the path of the light. In simple terms, it lets us experience the reflections in real time where they are traced based on the source of light.
DLSS (Deep Learning Super Sampling) is a new deep learning neural network that will give you an extreme improvement in performance while maintaining all the visuals that you want from your game.
You don't want to compromise on your visuals, don't worry about the settings as you can crank up everything to your preference.
Display
Specs like these, your aim should be at least 144Hz. Anywhere below that is an overkill for a budget like this. So, in this list we'll try to prioritize refresh rate of monitors as well. These monitors will generally have the lowest response time, necessary for those who play on a competitive level where every second matters. Some may even have a refresh rate of 300Hz. Keep an eye on what is the perfect choice for you.
RAM
Most laptops in this list will have 32gigs of RAM. You really don't need to worry about RAM upgrade anytime soon. 16GB is also enough for your gaming sessions but try to keep an eye on 2 things which are very important. Either the laptop should be in dual RAM configuration or at least have a free slot available for you to use. Remember, to get the maximum performance from your build always have RAMs in dual channel configuration. Most of the time, bottlenecking is also caused because of the RAM being in a single channel and this affects the overall performance by a huge margin.
Now that we're done with explaining all the features, here comes the hardest question of all,
what should you choose? After all, we've tons of vendors manufacturing laptops with these specifications. MSI, Dell or Asus or is there something else you have in your mind?
To help you with that, we've combined a list of all the best available laptops in India. Hope this might help you in deciding the best fit for you.
There's one thing you should be aware of, these laptops will be very expensive, you can build a similar desktop at a much cheaper rate, but laptops are all about portability. So, if portability is not your concern, it's better to build a desktop.
Also Read:
6 Best i9 10th gen laptops in India
1. MSI GE75 Raider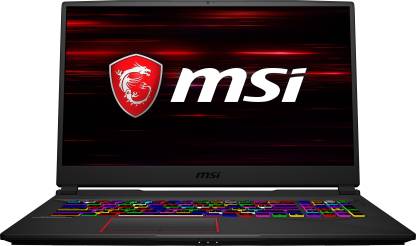 The first laptop from our list is from MSI. This laptop is powered by Nvidia's RTX 2070 with 8gb VRAM, making it one hell of a pair with the GPU. The laptop has a memory of 32gigs clocked at 3200MHz which is more than enough for everyone. And the CPU's base clock speed is 2.4GHz with a turbo boost up to 5.3GHz.
This 17.3-inch laptop comes with a refresh rate of 240Hz. Big display is a plus point for those who are looking for it. The screen is pretty good with the most accurate display, something which we generally don't see in laptops which are targeted for gamers. This coupled up with a high refresh rate makes it a very premium choice for display.
While the speakers are fine, the laptop gets pretty loud while gaming so it's better to rely on headsets. There's a very unique feature which comes with this laptop thanks to Steelseries. The keyboard is some of the best you'll see with a Per-Key RGB gaming keyboard. With this, you can customize the look of every single key according to your preference.
All things aside, this laptop is on a pretty heavy side, weighing about 2.64Kg. Another thing to keep an eye on is that it gets pretty hot during long sessions, especially around the keyboard.
For storage, the laptop has a 1TB HDD as well as 512gigs of SSD, so experience minimal loading time in your applications. Battery life is pretty decent for gaming laptops like this, it provides around 4-5 hours of battery life.
Also Read : Best Nvidia GTX 1660Ti Laptops in India
It has all the necessary ports as you'll expect from a device like this. All in all, this MSI's model packs a punch with all the features it provides considering you can ignore some of its issues.
---
2. Dell G7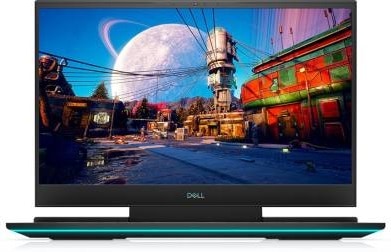 Dell is one of the most famous vendors in India, so it's no wonder that we've included it in our list. This beast is also packed with Nvidia's RTX 2070. And it comes with some pretty decent features
When we take a look at the display, this 15.6-inch laptop comes with a huge 300Hz refresh rate, slim Bezel paired with Anti-Glare display which can make your experience the best for your fps games.
Another good thing about this laptop is that it comes with Origami Hinge style, saving space and makes the look even more organic.
The keyboard comes with RGB backlit and you can customize WASD keys as per your preference, on top of that the bottom chassis can also be customized as it also has RGB lighting. The design of this laptop is pretty stunning with all of these features.
Battery features a 6-cell, 86WHr quick charge, it can go for around 5 hours on battery.
Unlike the other laptop, the speakers of this laptop are some of the best in this lineup. The sound quality is also very crisp.
For storage, it comes with 1TB PCIe NVME SSD, which is the best in class. Aside from that, it comes with 16gigs of RAM clocked @ 2933MHz. While it is enough for the time being, the laptop does have 2 slots and the memory of this laptop can be increased up to 32gigs making it very future proof and you can upgrade whenever you want at your leisure.
Also Read : Best Laptops With 240HZ Refresh Rate
While this laptop is higher than the previous one in our list, it is still around 2.56Kg making it fairly heavy.
In conclusion, another great laptop which is pretty good to look at aside its features.
---
3. Asus ROG Strix Scar 17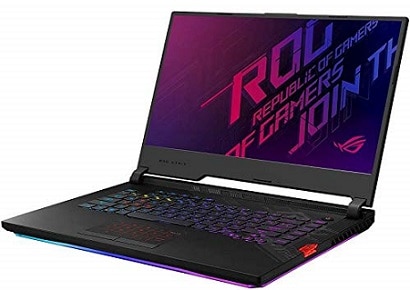 This Asus laptop packs a punch. It comes with RTX 2080 Super, the most premium GPU in the 20series from Nvidia. With a VRAM of 8GB, this laptop has a lot of headroom since you won't be limited by anything by this point. With 32GB of ram @ 3200MHz and a boost clock of 5.3GHz, this is one of the best choices for all your needs.
When it comes to display, this 17.3-inch laptop has all the necessary features that you want from it. Ranging from 300Hz refresh rate to 3ms response time. It does everything perfectly well. It also has 3-Sided narrow Bazel as well as 100% SRGB color value, giving you the most immersive experience for all your tasks, whether it's for gaming or other media related entertainment content.
Like the previous one, this laptop also has all expanded light bar at the bottom. And yes, you can customize these as well. Not only that, even the keyboard also comes with per-key RGB backlighting so you can customize each key as you want.
For Storage, this comes with M.2 NVMe PCIe 3.0 2TB SSD and it also has a free slot for another SSD if you're planning to upgrade in future.
For cooling, it comes with Liquid metal Boosts Cooling, which not only keeps your laptop a bit cooler than its competitors it is also more silent.
Also Read : Best 32 Gb RAM Laptops in India
Once again, this laptop weighs around 3Kg making it the heaviest in the list till now which compromises the portability of this beast. And the battery life is fairly average as well, lasting for about 4hours.
This is another beast which performs as it's supposed to while having some issues with portability and battery life, this laptop might be the perfect choice for you.
---
4. Asus ZenBook Pro Duo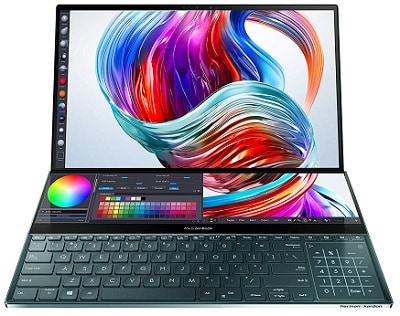 This laptop is for a completely different crowd. It is mostly made for the creators. So, if you're one and others didn't catch your eyes yet, this might be the one you've been waiting for all along. This laptop not doesn't come with one screen. Yes, you heard me right, this one has 2 screens and is also one with 4k OLED HDR display while the 2nd one is a 14-inch 4K LCD touchscreen. With this, you're getting a very premium display as most laptops don't come with an OLED screen. This laptop won't disappoint you in any way possible when it comes to productivity. This can give you tons of options to use the 2nd screen as the way you want, from using it as a stylus or just using it for your general usage. This gives a lot of flexibility for you as a creator.
When we move to specs, this beast comes with Nvidia RTX 2060 with a VRAM of 6GB. Moving to memory, it has 32gigs of RAM clocked @ 2933MHz. And for storage, we have 1TB of M.2 NVMe PCIe 3.0 SSD.
While the laptop isn't perfect for gaming, you can still game on this to a big extent, thanks to RTX 2060 and this can be perfect for streamers as you can use the 2nd screen for all your different tasks which can help you in providing a smooth experience.
Also Read : Best Gaming Laptops Under Rs 50,000
The keyboard and trackpad are pretty premium in all honesty, especially the trackpad is pretty decent.
In conclusion, this might not be the most performance-oriented laptop but this is probably the best laptop for the content creators.
---
5. Dell Alienware m15 R3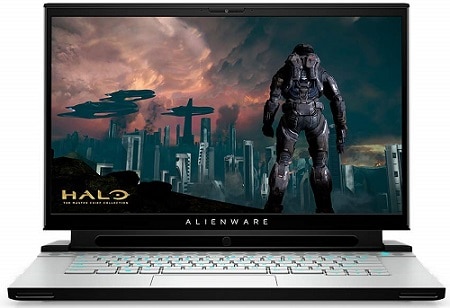 Dell's Alienware is another laptop which might catch your choice.
This laptop also comes with Nvidia's RTX 2080 which has a VRAM of 8GB.
With a memory of 32gigs of RAM and 1TB M.2 PCIe NVMe SSD.
This 15.6-inch laptop comes with a UHD OLED display (3840 x 2400). Another laptop which offers 4k resolution and has a refresh rate of 300Hz.
The design of this laptop is pretty simple but at the same time has a certain charm to it, as it looks very clean. It also has improved cooling thanks to the vapor chamber from its previous revisions but at the same time, it increases the size of the laptop.
The keyboard and trackpad are more than decent, these keyboards are pretty silent when compared to the MSI's steelseries keyboards. This laptop isn't light by any means either, weighing around 2.5Kg. It does limit your portability by a long shot.
As an added bonus, this comes with MS office preinstalled, which definitely isn't really needed by everyone but it's cool to have extra stuff. But aside from these, the battery life of this laptop is around 6-7 hours which is very welcoming since gaming laptops don't offer this much.
Also Read : 10 Best Laptops with 8GB RAM in India
This is another choice for you if you're looking for something from the dell's side. While it is a bit more expensive than others when it comes to providing features, I think it's simple and ergonomic design does make it stand out.
---
6. Asus ROG Strix Scar 15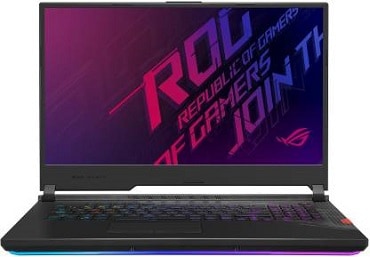 Well, here we are with another ROG Strix laptop. So, what's different here compared to the last one. To answer your question simply, it is for those who are looking for a Strix laptop but at a cheaper price.
So, if it's cheap it will have some changes. We'll list those for you so that you can make a better judgement on what is perfect for you.
When it comes to display, it is slightly small (15.6 instead of 17.3-inch) but the refresh rate is still the same with this one. Instead of RTX 2080 Super, this offers RTX 2070 Super but the VRAM is still the same i.e. 8GB. When we move to storage and memory, it still has 32GB of RAM but it only has 1TB of SSD. The keyboard is still the same and yes it still has the RGB per-key backlit keyboard.
Oh, and unlike the previous laptop, this weighs around 2.6Kg. It is not as bulky as the other one but still pretty heavy. So, all in all, these are some of our best recommendations if you're searching for i9 laptops. These laptops will definitely be enough for all your needs.
Even if you are still looking for more despite all we've mentioned here, how about we tone it down a bit? Are you willing to go to something like i5 or i7? Then these might peak your interest.
Also Read : Best i5 10th Generation Laptops
Remember since we're going down don't expect laptops with 8 cores or RTX level GPUs. Most of these laptops will have GTX 1660ti/1650 GPUs, so you won't be able to experience things like ray-tracing since they're all RTX exclusive. Now all that out of the way, we'll give you a few recommendations on our favorite picks.
---
3 Bonus Picks With i5 10th gen laptops in India
1. HP Pavilion Gaming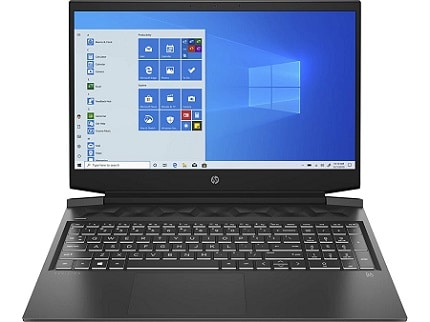 This laptop from HP is a very good option for those who are looking for something less. It is paired with i7 10750H with GTX 1660ti.
It's an all plastic laptop but it doesn't feel cheap by any means. The keyboard and trackpad are fine as well. One thing that kind of puts off is that the backlit only offers one color which is white, while not a big problem it's still something which we needed to mention since everyone has their own preference. And despite being an all plastic model, HP pavilion weighs around 2.2Kg.
When it comes to display it is a FHD (1080p) laptop which offers a maximum refresh rate of 60hz which is a bit of disappointment since this laptop can at least run all kind of esports title at 120hz given you're ready to sacrifice on settings especially when its competitors do provide higher refresh rate.
Also Read : 10 Best 4GB RAM Budget Laptops in India
Moving on to storage, this laptop has a 1TB 7200RPM HDD as well as 256 NVMe M.2 SSD.
Though the thermals are nice, it's still very inferior. It does get heat up when you're on a long heavy gaming session. It's an amazing gaming laptop with some things which hold it back but when you're at a budget like this it is to be expected.
---
2. Lenovo Legion 5i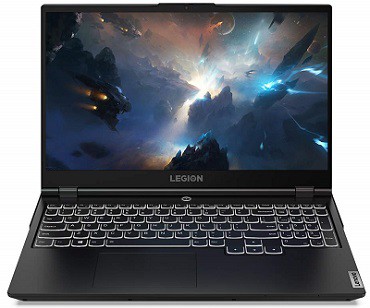 While this laptop is a bit on the expensive side, it still packs a punch.
This laptop has a display of 15.6-inch with anti-glare paired with 120Hz display, which can be beneficial for esports players if you're ready to turn down the settings to their lowest. The CPU has a max clock 5.0GHz in turbo mode and has 6cores powered by Nvidia's GTX 1650Ti which has a VRAM of 4GB.
16gigs of RAM @ 2933MHz and at dual channel this provides you the best. While giving you room for additional upgrades in future.
Moving on to storage, we have 1TB HDD and 256GB of SSD.
Compared to last, this laptop's cooling is better.
It has an average battery life of around 4-5 hours with rapid charging. This laptop also weighs around 2.3Kg which is a bit heavy but not by much, you have to expect that much when you're going on for gaming laptops.
Also Read : Best Productivity Laptops Under Rs 50,000 in India
Another good alternative but on a very expensive side of things. Honestly while this does provide 120Hz of refresh rate, it doesn't have the same GPU to push the games to 120fps, only a very limited number of games will get this performance and only when you've decided to go as low as possible.
---
3. ASUS ROG Strix G17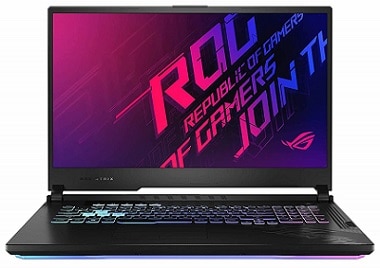 Well, here we are again at Asus. Don't worry the quality that Asus provides is enough for us to consider these in our list. Not to mention their services are absolutely great here in India.
This Strix version is another toned-down version from our list.
With Nvidia's GTX 1660ti 6GB VRAM, this is an absolute beast at this price and it has a turbo frequency of 5.0Ghz. 16GB RAM clocked @ 2933MHz it really is a definitive choice for you.
Like the other ROG, this laptop comes with 512GB of NVME M.2 PCIe 3.0 SSD and aside that it has 2 more empty M.2 slots in case you are looking for an expansion which you probably do since 512GB won't last long. G17 has a 17.3-inch FHD screen with 120Hz refresh rate.
Unlike the previous one, this laptop can handle 120fps for a number of games as this GPU has a lot of headroom for the performance you're expecting.
The keyboard is also a complete RGB chiclet keyboard with highlighted WASD keys and it also has a bottom RGB light bar around its chassis.
And yes, like the previous laptop it is on the heavier side when it comes to portability. Weighing about 2.83Kg it is indeed very heavy.
Also Read : Best Ryzen 3000 series laptops in India
While the thermals aren't as great as the previous one, this does stay relatively cooler than the other ones we've mentioned here.
All in all, Asus still delivers a very standard laptop at a reasonable price for all the features it comes with.
Conclusion
So, here's an alternative option for you as well, in case you're looking for more. Hope you liked our list and if you think we've missed something, do let us know in the comments.
Also Read:
12 Best Ryzen 7 Laptops In India