A good knife set in your kitchen can make it easier for you to cook a wide range of recipes whenever you want. From complex meat recipes to simple salads, you will be able to prepare anything that you want with great ease.
But with so many brands out there, it can be a little confusing to select the right knife set for yourself. This is why we have prepared this guide to help you choose the best knife set available in India.
Why Buy a Knife Set?
Now, you might be wondering if buying a knife set is even worth it or not. Well, it depends greatly on your use and your budget. Generally, with a knife set, you get major types of knives at extremely affordable pricing and you don't have to think about which knives to buy and which ones not to buy.
So, if you are planning to cook different items in your kitchen, then a knife set could be perfect for you as it won't cost a fortune and you would have all the possible knives that you could need.
Types of Knife in Set?
Here are a few of the major knives that you usually get as part of a knife set.
Chef's Knife – This is the basic kitchen knife that everyone needs as you can cut anything from chicken to carrots with the help of this knife.
Utility Knife – This type of kitchen knife is perfect for cutting food that are small for chef's knife so, you can use it for trimming or filleting the food.
Bread Knife – As the name suggests, a bread knife is used to cut bread, cakes, even meat at times. They have been designed to ensure that the bread doesn't get squished when you cut it up.
Paring Knife – This knife is perfect for making garnishes for food and drinks.
Santoku Knife – A lighter and smaller version of Chef's knife, Santoku knife is used by chefs who prefer a smaller blade and can be used for slicing, dicing, and mincing.
Best Knife Sets in India
1. AGARO Galaxy, 9pcs Set
Rating: 8.5 /10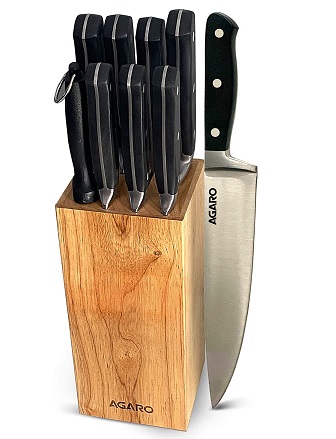 If you are looking for a knife set with a good number of knives then Agaro Galaxy 9pcs Knife Set is the perfect choice for you. In this knife set, you get 9 important knives such as the Chef knife, Bread knife, Slicing knife, Santoku knife, Steak knife, and so on. You also get a rubber woodblock to store the knives safely and securely.
Made out of food-grade stainless steel, these knives are durable and efficient and have sharp edges that make the task of cutting and slicing up really easy for you. The high-end Bolster Handle with the triple-rivet offers a comfortable grip to the users. Overall, this knife set is a good choice for anyone who is looking for kitchen knives with well-balanced blades.
Pros:
Affordable
Includes 9 pcs of knives
Durable
Cons:
---
2. AmazonBasics Stainless Steel Knife Set, 14 Pieces
Rating: 8/10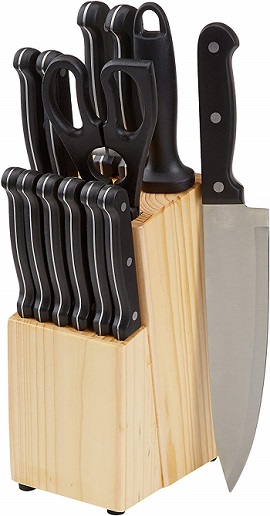 AmazonBasics Knife Set of 14 pieces is the best product on this list as it comes with all the important knives including chef knife, utility knife, bread knife, and so on at such affordable pricing. Apart from the knives, you also get a wooden block, a pair of kitchen shears, and a sharpener with this set that makes it easy to maintain the knife set and use it for a long time.
The blades are made out of high-carbon stainless steel for precision and the triple rivets POM handles ensure a comfortable and secure grip.
Pros:
Includes 14 pieces
Easy to maintain
Precise
Secure grip
Cons:
---
3. Cuisinart Advantage 12 Piece Metallic Knife Set
Rating: 9/10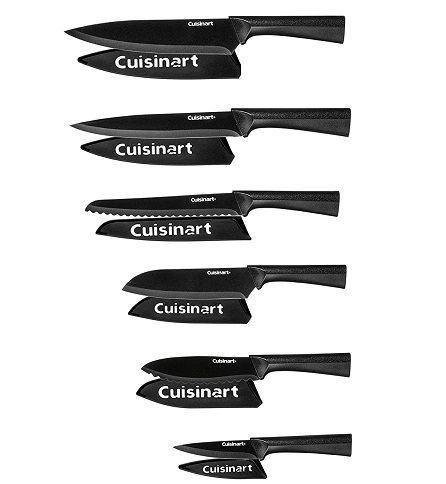 Cuisinart Advantage 12 Piece Metallic Knife Set is the best quality product in the market. This knife set includes all the important knives such as chef knife, santoku knife, paring knife, bread knives, utility knife, and a paring knife. The blades are made out of high-quality stainless steel material so they offer precision and are durable.
Moreover, the nonstick coating on each knife makes it easy to slice through the vegetables and meat. The knives also come with a matching blade guard and ergonomic handles so that it is safe to use the knives in the kitchen.
Pros:
Durable and precise
Easy to use
Nonstick coating
Blade guard for protection
Ergonomic handles
Cons:
Requires frequent sharpening
---
4. Amazon Brand – Solimo Kitchen Knife Set, 4-Pieces
Rating: 7/10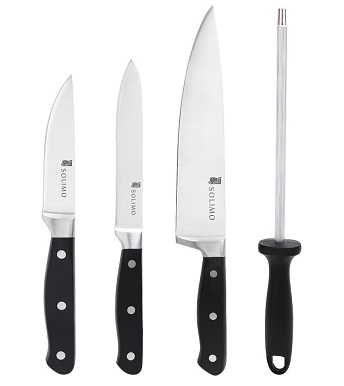 Another popular knife set from Solimo, this Kitchen Knife set consists of 4 knives – Chef Knife, Utility Knife, Paring Knife, and a Knife Sharpener. The blades of the knives are constructed out of high-carbon stainless steel so the knives are sharp and long-lasting. Also, the triple-rivet handles ensure a stable and secure grip for long durations.
With this knife, you won't just be able to slice and chop the food items but can prepare garnishes as well. All in all, this is a great 4-piece knife set at this pricing.
Pros:
Economical and space-saving
Sharp and durable
Secure grip
Cons:
Loses sharpness in a few weeks
---
5. Victorinox, Swiss Classic 3 pcs set
Rating: 9/10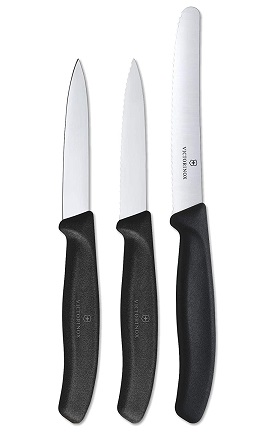 Another good option for anyone who needs a limited number of knives is Victorinox Swiss Classic 3 pc Knife Set. Available in several different colors, this knife set comes with knives that have sharp edges and ergonomic handles and can easily cut up any vegetable, fruit, or meat item. Made from stainless steel material, the knives are precise and long-lasting and are perfect for both commercial and home use.
The handles of the knives are made from polypropylene that makes them easy to hold for long durations and the ergonomic handle design is slip-resistant as well. It is extremely easy to clean them as well as they are dishwasher-safe but they are a little expensive in comparison to other knife sets on this list. If you are looking for quality kitchen knives, then this set is perfect for you.
Pros:
Available in different colors
Sharp edges
Durable and precise
Dishwasher safe
Ergonomic and comfortable handle
Cons:
---
6. RYLAN Stainless Steel Chopper with Knife Set
Rating: 7/10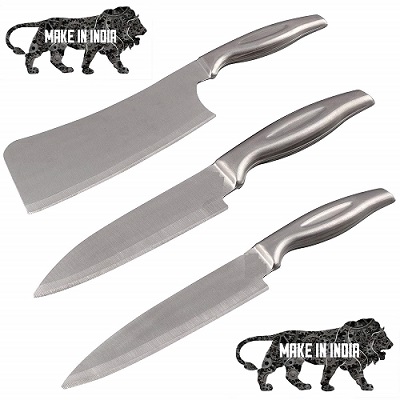 If you are looking for a smaller kitchen knife set with fewer knives, then Rylan's Knife Set would be a great option for you. This knife set comes with a chopping knife and two chef's knives that can be used for cleaving or chopping meat in the kitchen. You get a small and a big chef knife with this set to cut up different pieces of food easily.
The knives are sharp and made of stainless steel so they are durable as well. The handle is quite sturdy as well and knives are quite easy to use. Moreover, the knife set is budget-friendly so anyone can easily buy it.
Pros:
Sharp blades
Stainless steel body making it durable
Sturdy handles
Easy to use
Budget-friendly
Cons:
Customers have reported blunt blades in many cases
---
7. Amazon Brand – Solimo Utility Knife Set, 2-Pieces
Rating: 8/10

For those who want just the utility knives, this Solimo Utility Knife Set is a great option. This knife set includes 2 utility knives that can be used for slicing, dicing, and chopping meat and vegetables. The blades are made from high-carbon stainless steel which makes them sharp and durable.
And the triple-rivet handles on the knives ensure a comfortable and secure grip. This is a good option for anyone who doesn't want to crowd their kitchen and is looking for affordable knives in their kitchen.
Pros:
Space-saving
Sharp and durable
Comfortable and secure grip
Cons: