Frame rates are one of the most important things for gamers. The reason for that is just because as there are more and more frames updated every second to the screen the more advantage you gain over your opponents in online multiplayer games like Counter Strike or Fortnite.
Higher frame rates cannot be experienced without high refresh rate displays. Higher refresh rate in displays mean those laptop displays that have 120hz and above. But things have changed for good.
The norm for the higher gaming laptop refresh rates has become 144hz since the days of 120hz. But there are certain limitations to 144hz displays (in the laptop space) as lot of 144hz displays have higher response times (some even have around 20ms).
Laptops with 240hz screens have come here to eliminate the limitations of the 144hz screens in laptops. 240hz screen usually have a response time of 3-4ms even at the worst case the response time is 5ms which is better than even the best that 144hz offers.
Then there are 300hz screen that have even better response times for ghosting free gaming and there are inevitable advantages with the 240hz and higher refresh rate displays as they are higher quality panels and come with better color accuracy and brightness for professionals looking to do color accurate works or better media consumption due to the higher brightness screens and with better contrasts.
Also Read :
What Should You Look Out For?
Two most important things for the high frame rate gameplay are the screen and GPU that could output high frame rates to match the display.
First Let's talk GPU, there is literally no use for a high refresh rate panels if the GPU cannot output higher frame rates. Yeah there is an advantage in response times of the screen but the most important thing is the ability of the GPU to display the frame rates for a smooth tear free gaming experience.
GPU:
The GPU of choice would be ideally RTX 2070 but RTX 2060 is also good enough for some lesser demanding games anything above a RTX 2070 is overkill as there is just a negligible difference between RTX 2070 and RTX 2080 above.
But just keep in mind that hitting high frame rates around 240fps requires some tweaking and only possible in less demanding multiplayer games like CS GO or Fortnite. The settings should be lowered for hitting those frame rates. Don't expect single player games like Red Dead Redemption 2 to run at 240 fps.
PROCESSOR:
The processor of choice for gaming is intel as it provides better frame rates for gaming and supports higher end GPU's.
AMD CPU's how good they may be doesn't go above RTX 2060 when it comes to GPU. There are some AMD choices if you want better performance in productivity apps.
Most of the laptops in the segment come with either core i7 or even with the core i9 in the higher end.
DISPLAY:
There is nothing much of a difference between different 240hz displays as all of them are from similar manufacturers and have very low response times around 3ms and all of them are high quality panels with high brightness and color accuracy.
There are a few laptops that even come with 300HZ displays which have even better response times than 240HZ displays but keep in mind that you will have a hard time hitting 300 FPS or even something near to that with the GPU's in the laptop.
THERMALS:
Thermals are the most important thing in a laptop of this caliber. These high-performance laptops have very powerful components that suck in a lot of power and also dissipate a lot of heat.
This is especially important in the laptops with higher refresh rates because poor thermal management in these laptop will lead to heavy fluctuation in frame rates which in turn lead to worser gaming experience.
RAM:
16 gigs of RAM should be good enough for most users and advanced users can opt for even 32 gigs of RAM. The configuration of RAM is more important than the capacity by itself. Look out if the laptop has the RAM in a dual channel configuration as it provides better performance.
PRIORITY:
All these things don't come cheap and expect to pay around at least 1.5 lakhs to get a decent all-around system.
You can definitely build a PC that is better in performance and you can even buy a better screen than the ones included in the laptops.
But the thing to be considered is the portability. You cannot carry around a PC anywhere you go and especially for students and professionals on the go or gamers on the go laptops are the better choice.
So, you need to prioritize between the portability that the laptop offers or the performance that the desktop offers.
AFTER SALES SERVICE:
These laptops cost big money and any problems in the laptops could also cost big money. So just make sure that the brand you purchase has a reputable track record for after sales service because if things go down you should have a peace of mind after spending all that money for a laptop.
Once you have looked at the above-mentioned things you are now ready to choose your laptop.
Best Laptops With 240HZ Refresh Rate & Above in India
Now let me roll on with the best selections (Not in any particular order)
1. ASUS ROG Zephyrus M15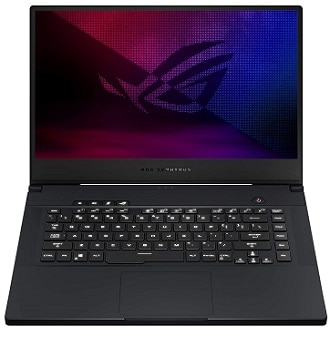 Zephyrus M15 is a thin and light powerhouse of a laptop from ASUS that is a very good pick for the gamers on the go.
Build quality is very good as it is constructed with metal all around and the design is also pretty clean with some patterns just on the top lid.
Portability is also a big plus point as it comes at just 1.9kgs and measures around 18mm which is excellent for a laptop that packs in high power hardware.
Display comes in at 15.6inches with a refresh rate of 240HZ and a response time of 3ms. It is a typical good quality 240HZ panel with around 100% sRGB coverage making it a good choice also for the content creators on the go and the display is also pantone validated which is bonus.
Specifications of the laptop are decent as it comes with a 6 core i7 and the GPU is RTX 2060. This should provide you decent gaming experience but you will have a hard time hitting around 240fps as the GPU is significantly weaker compared to the RTX 2070.
For storage the laptop comes with a superfast 1TB SSD and the RAM is dual channel 16GB.
The keyboard and trackpad are pretty good for casual use and the speakers are fine but these should not be a problem for a gamer.
Thermals are a strong point in this laptop as it uses liquid metal as the thermal interface for cooling which is considered to be the gold standard for thermal interface. This in turn results in very good heat dissipation which in turn results in better thermals than the laptops that use generic thermal paste. So, performance should not be a problem even under extended workloads.
Also Read : Best Ryzen 7 Laptops In India
There are some additional features such as thunderbolt 3 port for external GPU support and USB C charging up to 65W for casual use.
Battery life is also surprisingly good as it comes with a 76wh battery that should provide around 5hrs of battery life and it does not come with an integrated webcam but comes with a external webcam in the box.
Zephyrus M15 is the perfect choice for the gamers on the go without much compromise.
Check Cheapest Price : Amazon
---
2. ASUS G512 (aka G15)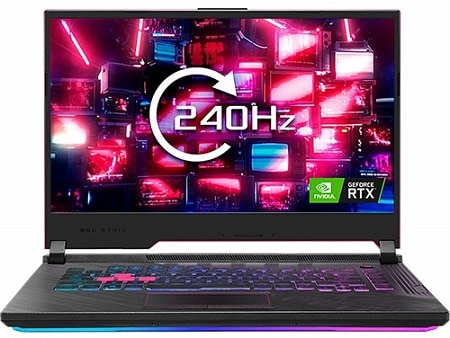 G512 is yet another ASUS laptop but targeted towards a different group of audience and this is one of the cheaper laptops with 240hz display.
The specifications are pretty much the same as the Zephyrus M15 but the G512 comes in a different package which you may or may not like.
Build is okay as it is all plastic and the laptop is very bulky and weighs around 2.5 kgs making it not ideal for portability.
There is RGB all over the place in the G512 which is a feature that gamers might like as there is RGB running all around the frame of the laptop.
Screen quality, CPU, GPU all are pretty much the same. There are higher variants of the same laptop that come with i9 and RTX 2080 which is something to be considered but I don't recommend you go for the higher variants.
Also Read : Best Ryzen 5 Laptops in India
Thermals though are not as good as the M15 that uses liquid metal but is fine and does not have any major thermal issues.
Keyboard is better than the M15 as G512 has better key travel and the speaker are also better as they are very large but the track pad is worse due to the plastic coating.
G512 does not have creature comforts like thunderbolt 3 port or USB type C charging.
Battery life is okay with the 66wh cell that should provide around 4hrs.
G512 is a good choice for those who need good specs for a significantly less money provided you don't care about portability and want some RGB goodness.
Check Cheapest Price : Amazon
---
3. ASUS ROG Zephyrus S15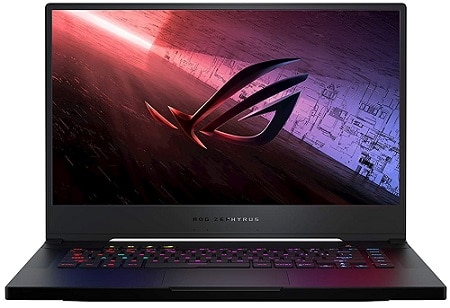 Zephyrus S15 is a bigger brother of the M15 and comes with straight up overkill specs for the most extreme gaming.
Build and design are pretty much similar to the M15 which means it is very good.
Display in here is 300hz and the rated response time is 3ms. The colour accuracy is also good at 100% sRGB.
The main differentiator is that it comes with the core i9 with 8 cores and RTX 2080 which provides excellent framerates and might even hit 300hz in lesser demanding games in lower settings and also supports G-Sync for tear free gaming.
Storage is 1TB SSD in raid 0 format for the best possible speed and the RAM is 32 gigs which is honestly overkill for gaming.
Keyboard, speakers all are similar to the M15 which means they are pretty good.
Also Read : Best Gaming Laptops Under Rs 50,000
Thermals are similar to the M15 with liquid metal as an added advantage there is a small gap between the bottom panel and the fans when the laptop is open to provide even better airflow
This laptop is not recommended for everyone unless you want the best possible performance in a very portable package for everyone else the M15 is a better choice.
Check Cheapest Price : Amazon
---
4. ASUS ROG Zephyrus Duo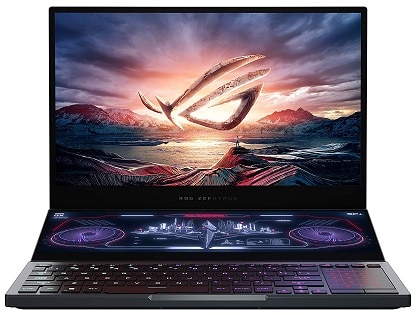 Once again this is an Asus laptop with a weird quirk of Secondary screen which might or might not be useful for you.
If you are not a fan of Asus as a company then good luck. The fact is not a lot of laptop companies take the interest in releasing these high spec laptops except for Asus.
Design of the laptop is pretty generic on the outside but its just a wild laptop on the inside. The laptop is pretty thin but heavy at 2.5 kgs.
Display is the same 300hz panel used in the S15 but there is a secondary screen that measures at 14.1 inches and is a touch screen. If you have use for a second screen like viewing the timeline during video editing or using it as a secondary screen during gaming you can do that all.
Keyboard and trackpad are pretty good but the position is pretty weird though as both are pushed down. Speakers are also okay for media consumption.
Also Read : Best Laptops with 8GB RAM in India
Storage is 1TB of superfast SSD that shout provide you very fast frame rates
Specifications are similar to the Zephyrus S15 as it comes with super powerful 8 core intel i9 and with RTX 2070 or 2080 to push out those sweet frame rates and the thermals are also pretty similar which means it is excellent as it too uses liquid metal and the secondary screen creates a gap for airflow similar to the S15 that creates the gap other way around.
Battery is very big at 90wh but due to the two screens expect no more than 3-4 hours. There is an external webcam included in the box.
This a laptop that is created for a special niche of people and there are no other laptops like this around. So, if you are that niche then this is the best laptop.
Check Cheapest Price : Amazon
---
5. Alienware m15 r3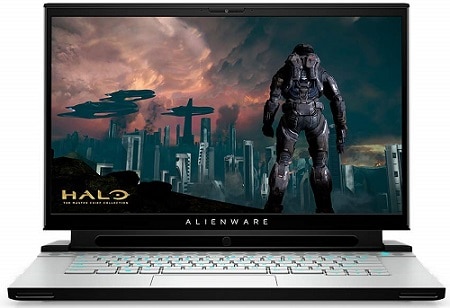 Alienware m15 r3 is one of the best gaming laptops around. This laptop does everything right and it is pretty rare for full blown gaming laptop like this.
Design is unlike any other laptop around and look unmistakably like a gaming laptop but in a good way. This is the best looking gaming laptops as there is certain aesthetic that does not hurt your eyes.
The laptop is heavy though at 2.5kg and it is a not as thin as other laptops above mentioned laptops.
300hz panel used in the laptop is also similar to other panel with very good colour accuracy, response times and brightness.
Also Read : Best Gaming Laptops Under Rs 70000 in India
Keyboard and trackpad are the best in this segment with very good travel and feel. Speakers are also the best in the segment.
The specs are very low for the asking price of 2 lakhs. It comes with only a 1660ti and you will have no chance of hitting 300hz in 99% of the games even in the lower settings and the ram is just 16 gigs which is good enough but not good enough for the high price.
SSD is also just 512 gigs which is just the half of what other laptops offer for this price.
There are different variants though they are extremely costly and doesn't make sense to purchase.
Thermals are interesting as this uses vapour chamber and the laptop does what you expect it to. But the temperatures are pretty high though compared to the Asus laptops that use liquid metal.
Battery life is pretty good though as it comes with a big 88wh battery that should provide you 5-6 hours of battery life under light use. Despite the included webcam it also comes with tobi eye tracking which might or might not be useful to everyone but is cool.
To sum up this laptop, if you are looking for a "gaming laptop" and want something that looks cool but not obnoxious and price is not a big concern then the m15 r3 is a good choice but if performance is your priority then there is better stuff around.
Check Cheapest Price : Amazon
---
6. MSI GE66 Raider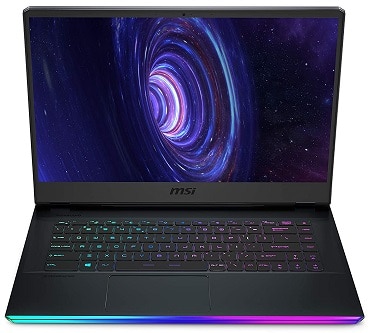 MSI GE66 raider is one of the best gaming-oriented laptops that comes with high refresh and when it goes on sale some variants go for around 1.5 lakhs with RTX 2070 GPU which is just amazing for the price.
Design is pretty good and takes some design elements form the Alienware 15m to the and the build is plastic but feel pretty good.
Weight is around 2.4kgs and is pretty bulky which is certainly not very good for portability.
Display is 240hz and the quality of the panel itself is very good with high colour accuracy and brightness overall.
Specification vary a lot between the models with i7 or i9 and RTX 2070 or RTX 2080. The GPU I would recommend is the 2070 as it provides very similar performance to the 2080 and this GPU is a full-blown laptop GPU and not a max-q variant.
Also Read : Best 4GB RAM Budget Laptops in India
Storage maxes out at 2TB of fast SSD and you can get RAM in different capacities ranging from 16 gigs.
Thermals are also pretty good if not as good as other laptops in the segment.
Keyboard and trackpad are fine and the speakers are pretty good and the webcam is a 1080p one unlike other laptop's inbuilt webcams with crappy 720p resolution.
Battery is a humongous 99wh cell which is the legal limit for travelling in flight and it speaks. You should easily get around 6+ hours which is the best in this category. There is also RGB LED strip on the front lip of the laptop which is a nice touch.
This laptop is pretty easy to recommend if you can find this for a reasonable price. But be aware of fact that MSI's after sales service is very sketchy and there are lot of bad reviews for the after sales service of this laptop.
Check Cheapest Price : Amazon
---
7. ASUS ROG Zephyrus G15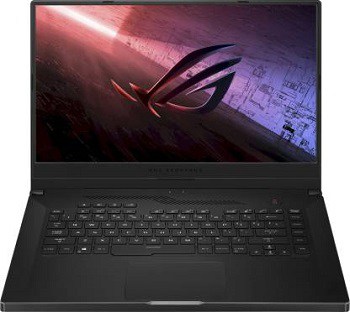 Zephyrus G15 is the only Ryzen based laptop to come with a good quality 240hz display but there are some very prominent issues that you must be aware of.
Build is predominantly plastic but is constructed well and the design is very similar to the Zephyrus M15.
Thickness is pretty much the same around 18mm but it weighs 2.1 kgs despite being plastic which is usually lighter than metal.
Display though is very good with 240hz refresh rate and very good colour accuracy and 3ms of response time. Overall, it is a very good panel.
Keyboard and trackpad are okay with low key travel and the surface of the trackpad is plastic which is not as smooth as the glass one's in the M15. The speakers are just bad as they are very small and sound tinny.
Best part of this laptop is the CPU. It comes with Ryzen 9 processor with 8 cores which even beats the i9 laptops in most of the tasks except for gaming costing significantly less. The GPU in here is a RTX 2060 max-q that is not as powerful as the regular counterpart.
Storage is 1TB SSD that is decently fast and the RAM is 16 gigs in dual channel configuration.
Worst part of this laptop is the thermals. Asus made a weird choice by limiting the air intakes for the laptop which chokes the laptop by not letting it pull in enough air for cooling.
This results in very high temperatures that are not good for the longevity of the laptop and worse performance during longer gaming sessions due to the thermal throttling.
Battery is a decent size 76wh one and with Ryzen's efficiency it should result in very good battery life around 7hrs on normal use. There is no webcam and external webcam is also not included.
If you want a Ryzen laptop with 240hz screen this is the only option but be aware of the bad thermals that the laptop comes with and it can somewhat reduced by disabling the turbo boost.
These are the best choices that you can buy with higher refresh rates and yeah lot of laptops in this segment are from Asus but there's no getting around the fact that all of them are pretty good.
Check Cheapest Price : Flipkart
If you have any other picks or recommendations make sure to leave it in the comments below.
Also Read :

12 Best Ryzen 7 Laptops In India

Best Laptops Under Rs 50,000 in India

Gaming Laptops Under Rs 90,000
Written By - Nirunjan Kumar 
Infinite monkey theorem.
I love how things work.
Tryna make things work!
Instagram