In our last article, we discussed about finding the right watch for you, where the selection process was mainly based on the movement of the watch. So today we'll be covering the outer & more visible features, and the kind of vibe a watch gives.
So before coming to the selections, You'll first needs to decide when and where you'll be wearing the watch and for what purpose, here are a few types of watches you can decide from and our picks for the best men's watches to choose from in India.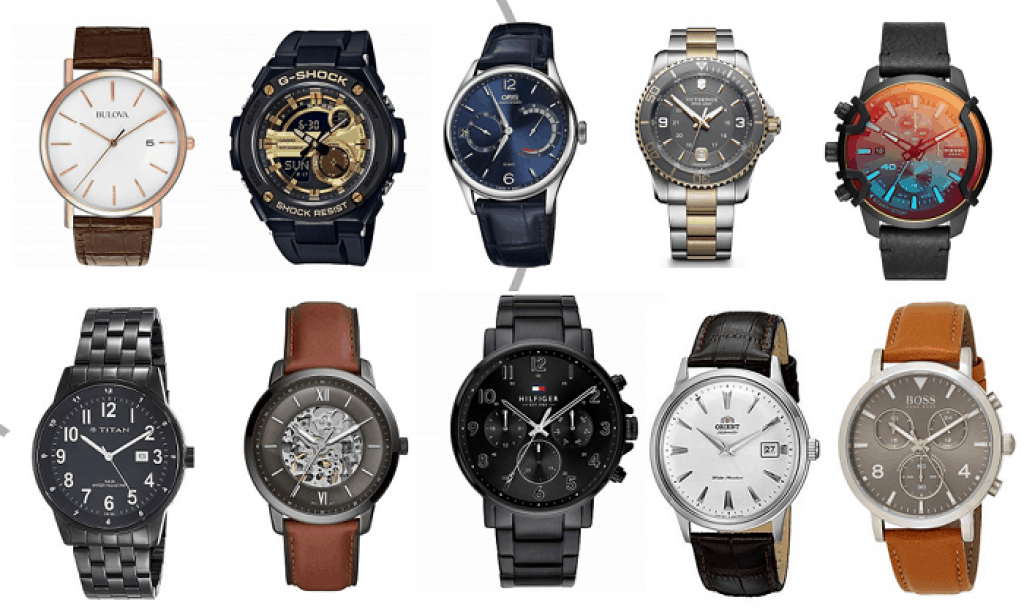 13 Best Men's watches in India
Sports Watch
A sports watch is a rugged, highly water-resistant, lightweight, and the most comfortable watch out there they may include features such as an alarm, stopwatch, tachymeter, thermometer, or even a heart rate monitor.
Whereas traditionally these watches were either analog, digital, or even hybrid however they have recently evolved into software-based smartwatches that can be directly linked to your phone.
However in this article, we'll be covering the more conventional sports watches, maybe another article specifically for smartwatches.
1.Casio G-Shock Analog-Digital Gold Dial Men's Watch – GST-210B-1A9DR (G694)
Our first watch comes from Casio a well-known Japanese brand based in Tokyo which was established in 1946, and since then it has come a long way. They not only make watches but mobile phones, musical instruments, and even digital cameras.
The Casio G shock is an extremely durable hybrid watch. Making a perfect choice for sports players.
The watch features both analog and digital functions.
The analog part is the same as in any other watch whereas
The two digital functions are a day and a second-time zone.
There are four buttons present namely adjust, mode, light, and search.
Adjust is used to set the analog time, Light as the name suggests used for switching on the backlight, the search button is used to switch between 4 selected time zones(which can be selected for 32 world time zones), and finally, the mode button which is used for switching between the 5 modes that are timmer, alarm, world time, stopwatch and the current time.
Specifications
---
2. U.S. Polo Assn. Sport Men s US9282 Silver-Tone Watch with White Silicone Band
Another sport watch you can go for is this off white hybrid watch officially from U.S polo Assn.
U.S polo Assn. is the official brand of the United States Polo Association (USPA), which is a nonprofit organization established in 1890 Florida.
Coming to the watch it has both analog and digital features, the analog needles indicate time both in 12-hour and 24-hour markings on the inside, and 60n second markings on the outer bezel used for the stopwatch function.
Now coming to the digital part, the watch features three digital subdials.
One for the second time and the other for the stopwatch.
The third subdial is the custom subdial used to indicate alarm and current day.
There are four buttons present on this watch same as in the previous Casio sports watch
Being highly lightweight and multi-functional this is a very well-designed and a comfortable sports watch.
Specifications
---
3. Hugo Boss Contemporary Sport Analog Grey Dial Men's Watch-1513691
Our next selection is from the german brand Hugo Boss another fashion brand based in Germany. A classic chronograph sports watch which is completely analog.
The watch has three subdials two for the stopwatch function and one indicating the military time. It also features two buttons, one above and one below the crown for starting and stopping the stopwatch.
This is a simple yet elegant sports watch, with a well-thought-out design that is more suited for coaches than for players.
Though we would not recommend this watch for rough or aquatic sports. You can always go through our other options for more durable sports watches.
Specifications
Casual Watch
Casual watches are perhaps the most common and most adorable watches. They are not very bold and hence won't make you stand out.
Moreover, they are a great choice for everyday wear as they go with almost every look from everyday office wear to semi-formal functions also not being extremely expensive they are a great choice for gifts as well.
4.Titan Gents Classique Analog Black Dial Men's Watch-NM9441NM01 / NL9441NL01
Titan ltd is an Indian company based in Bangalore which is a subsidy of the TATA group it is one of the biggest and most trusted watch brands in India. Titan is also a parent company to other smaller brands like FastTrack and Sonata.
Now coming to the watch, the Titan gents Classique is matt black
standard watch with Arabic numerals from 1 to 12 present on the inside and on the bezel.
It also presents a date complication at 3 o clock which can be adjusted using the prominent crown on the right.
This is a very affordable and casual watch for everyday use, being black in color it can match almost any look. It can even be a great gift for nearly any age group.
Specifications
---
5.Timex Sapphire Crystal Analog Silver Dial Men's Watch-TWEG17404
When we hear the name Timex most of us think of it as just an Indian brand, and that's how well-advertised brand it is.
What most of us don't know is that the Timex group is a Dutch holding company, Which is a parent company to many other Timex divisions, two of the most prominent are Timex USA and Timex India.
Now coming to this beauty from Timex India. The simplicity of the watch defines itself with no complications, no pushers, no tachymeter just sheer classic looks. It solely features navy blue roman numerals two needles. Making simply the purest casual watch for every occasion.
Specifications
---
6.Police Men's Analogue Watch – PL15923JS04W
Our Next select for a day to day casual watch from an Italian fashion brand police, the brand was launched in 1983 by the De Rigo brothers and since then it has been endorsed by many celebrities like George Clooney, David Beckham, and Neymar jr.
This is one of the most down-to-earth and yet fashionable watches out there it has a very unique look with extremely clear and visible design and markings, also the crown is at 4 o clock which is usually at 3 giving it a distinct look. It is an excellent choice for a gift for almost any individual.
Specifications
Fashion Watch
Fashion watches are generally made by brands that are not primarily watch brands they are more related to clothing or fashion accessories.
These brands often contract other watchmaking companies to make their watches and then sell them with their own brand stamp.
The pros are that they are highly fashionable, trendy, and affordable but on the other hand, they are not very long-lasting or have the best craftsmanship.
7.Diesel Analog Black Dial Men's Watch-DZ4519
Now diesel is an Italian fashion brand that not everyone can pull. Diesel watches are a shout for attention, wherever you go people will give them a second glance. The glossy glass does half of the job, it furnishes a distinctive look for every single viewing angle.
coming to the watch, it is literally the opposite of the classic and has almost designed every element differently.
The crown is 9 instead of 3, the seconds marking for the stopwatch is at multiples of .5. Even the pushers are at 10 and 8.
The design of this is very fresh and well thought out making it an extremely fashionable watch, which requires a certain kind of attitude and confidence to wear.
Specifications
---
8.Tommy Hilfiger Analog Black Dial Men's Watch-TH1710383
Tommy Hilfiger is another American fashion that requires no introduction.
In March 2010, Phillips-Van Heusen bought the Tommy Hilfiger Corporation for $3 billion, and ever since they have been one of the top American fashion brands. If you want to want a watch that speaks to people look no further this watch is the ultimate expression of style, brand, and design.
The watch features a chronograph with three sub-dials, unlike other classic chronographs this watch does not feature a minute sub-dial for the stopwatch instead, instead, it uses the main seconds' needle as a stopwatch.
Coming to the sub-dials the 1 st subdial indicates the 24-hour military time, the second subdial indicates the date of the month and the third one displays the day name using the initials.
It also features the brand name at 12 o clock making it an authentic premium fashion watch.
Specifications
---
9.Fossil Neutra Analog Grey Dial Men's Watch-ME3161
Fossil is one of my favorite brands. They have been working behind the scenes forever it's time we give them the admiration they deserve. The fossil group includes Relic, BMW, Michele Watch, Skagen Denmark, WSI, and Zodiac Watches not only these but fossil has been officially producing accessories for brands like Puma, Emporio Armani, Michael Kors, Diesel, Chaps, and Armani Exchange. Though they are still considered a fashion brand, and not a luxury watch brand I'd say they are almost there. Coming to their watches, their designs are one of a kind, simple & classic yet extremely intriguing.
Now reviewing the fossil Neutra mechanical analog watch. The watch features a see-through in the center of the main dial, where we can see the mechanical movements.
The outer dial has the second's marking in the multiples of 10, inside which we see hour marking with 12 and 6 marked with roman numerals, making it one of the most affordable fashion/automatic watch in the market.
Specifications
Dress Watch
Dress watches are more elegant and may draw a lot of attention.
As a general rule dress watches are very slim so that they can be easily worn under the sleeves of shirts and suits.
These watches generally do not have a tachymeter or a stopwatch features and neither too many complications just a date complication can suffice
These watches are generally bought by CEOs, lawyers, and financial advisors who are looking for an extremely formal and professional look.
If you are planning to buy a dress watch you might wanna decide beforehand with which attire will you be wearing the watch and then buy it accordingly.
---
10.Bulova Men's 98H51 Stainless Steel Dress Watch
Bulova is an American brand and a subsidiary of Citizen Watches.
The brand in 1941 signed a contract with the united states government to make instruments that would aid the allies, though this had less to do with timekeeping devices they produced altimeters, variometers, telescopes.
Then later, in 1971, the first Bulova watch made it to the lunar surface on the wrist of Apollo 15 mission commander David R. Scott
Making it the only private watch to ever visit the moon.
Now talking about this dress watch from Bulova, the watch is extremely light and slim. It can easily slide under the sleeves.
The watch features a date complication at 3 o'clock.
The hand sewed crocodile leather and the rose gold body makes it a perfect dress watch for all formal occasions.
Specifications
---
11.Orient Analogue Men's Watch
Oris is a Japanese brand owned by Epson, they have a huge market in affordable automatic and hand winding watches throughout Asia.
In 1949, they had to shut down the company due to the economic situation post ww2, but in 1950 they were reborn under the new management of Orient Watch Company, Limited. and since then
all their timepieces have been made entirely in-house.
Now coming to this affordable automatic dress watch by Orient.
The watch is available in 4 different colors so that you can choose the watch that matches your attire.
It features just a single complication as dress watches should, a date complication at 3 o clock.
Specifications
Luxury Watch
Luxury watches basically translate to luxury companies. Those brands, which have been making watches for decades now and have an extremely rich history.
Most of them are Swiss and make their watches complete "in house".
They Also control their brand's reputation sometimes by creating only limited timepieces and even deciding very specific retail regions.
These brands use top-notch craftsmanship and can last for generations if cared for.
Luxury watches are mostly preferred by collectors, celebrities, and businessmen.
---
12. Victorinox Men's Maverick Analog Display Swiss Quartz Watch
Looking for an affordable Swiss watch? Your search ends here.
Victorinox, primarily known for their Swiss Army knives around the globe, has also been manufacturing affordable luxury timepieces under the name of Victorinox Swiss Army watches since 1989.
Which brings us to our luxury/ dive watch. The watch gives an astonishing luxurious vibe, the gold just blends in with the stainless steel.
The watch features a unidirectional bezel, 24-hour military time, and a 100m water resistance, making it a good choice for water sports.
The watch also features a date complication in a golden window at 6 o'clock. All this is covered by an anti-reflectent sapphire crystal giving it a premium finish.
Another variant of this watch is also available featuring a brown leather starp and a black dial more suited as a casual watch.
Specifications
---
13.Oris Culture Analog Blue Dial Men's Watch – 01 111 7700 4065-SET 1 23 87FC
'Real Watches for Real People'
-Oris
The last on our list is a luxury watch from Oris. Oris is a swiss brand introduced in 1904 and since 1980s their main focus has been to produce traditional hand-wound wristwatches.
Now coming to the Oris culture series, the first watch of this series was released in 2014 on the 110th anniversary of the brand. Hence the name 110 calibers which features a 10-day power reserve and a complete in-house production. This watch was available in both steel ($6,500) and rose-gold ($17,500) cases but was limited to 110 pieces of each.
In the further generations of the watch new complications have been added but the mechanism has remained completely in-house.
Now reviewing the latest generation of the series. The watch features two subdials 1 circular and the other semicircular. The first sub-dial indicates the second's movement and the second sub-dial shows the power left in the reserve. It also features a date complication at 9 o'clock in the first sub-dial.
Specifications
This article is written by
Sanat Chaudhry
Photographer by choice, techie by profession. Making technology simpler and easier.
---
Also Read:
Best Collector Watches in India