Mini PC: What It is And Why You Should Own One
Usually, you would find desktop PCs that are huge and warrant their own dedicated space in your room. But what do you do when you want to save space? Well, one of the best options is getting a Mini PC.
So, what is a Mini PC? Simply put, it is a very small enclosure that comprises the most essential components of a PC and has very specific use cases. Most Mini PCs come with moderately powerful CPUs, an obvious choice if you don't want a new room heater with an AMD Ryzen 3950x inside a case that has little to no airflow.
Most Common Uses of Mini PCs:
A dedicated media hub:
One of the most popular uses of a Mini PC is that you can turn it into a media hub for streaming netflix or watching your own database of stored videos without having to haul in your desktop. Since the form factor is so small, most Mini PCs can be tidily placed near living room TVs and can be instantly connected for use without any hitches.
Work and Office use:
In most large scale offices that require a simple setup for doing tasks like word processing or something similar, Mini PCs offer a huge advantage. It can be easily deployed in a large space without having to give the PC a lot of room, and can offer a very clean setup.
Also Read : Best All in One Desktops in India
---
The Advantages of Mini PCs:
Size:
It's hard to argue that having more space on your desk or workspace is much more preferred than having to put a huge PC cabinet on your desk. Mini PCs come in varying sizes, some the size of a tiffin box and some are more akin to a hardcover novel.
Cost:
Most Mini PCs are much cheaper than their full size counter parts. Hence they are cost effective and provide much better value for money.
Energy Use:
Mini PCs use very little power compared to full size PCs. Their power supply is generally built inside and tends to run at much lower wattage. This helps keep electricity bills down.
In this article, we will be listing some of the best choices you have when buying a Mini Pc in India. These products have been carefully selected with value for money in mind. Do note that in India, most lower priced Mini PCs come with rather outdated hardware, but they will perform fine if you are only looking to do basic tasks. But if you want a Mini PC for gaming or video editing, it is only possible with the higher priced variants.
Best Mini PC's in India
1. Gigabyte Brix GB-BACE-3160
(Intel Celeron J3160, Dual Band Wifi and Bluetooth,4* USB 3.0 Ports, Headphone out)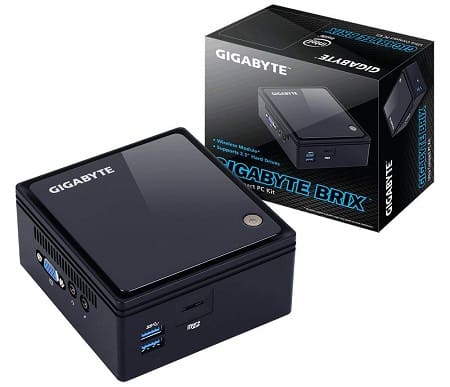 Coming in first is the Gigabyte BRIX,the cheapest decent Mini PC you will find. But there are a few catches. First. It has no inbuilt storage and RAM. On one hand, it is a big plus, since you can buy better components for it and install them yourself.
On the other hand, even 2GB of RAM could have been provided for quick usage, as buying this variant only means buying a motherboard with a CPU on board.
Also Read : Best Gaming Laptops Under Rs 70000 in India
The CPU is the Intel Celeron J3160, an entry level CPU which is suitable for basic tasks like watching videos or typing documents.
---
2. Intel NUC NUC7PJYH
(Intel Pentium Silver J5005, Intel UHD Graphics, Bluetooth, Lan , 6* USB drives)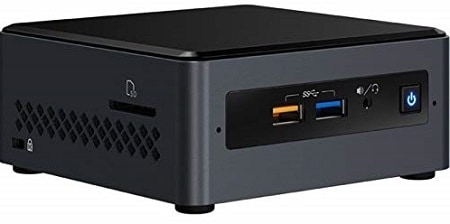 If you want more performance than the Gigabyte's offering then Intel's own NUC series is a good choice. Coming with Intel Pentium J5005, it is a much better CPU than the Celeron. It also has inbuilt graphics, so light games can be played easily.
It also has more USB ports, 6 in total. But remember, this also does not come with RAM and storage preloaded inside it.
Also Read : Gaming PC Assembled Under Rs. 50,000
So buy suitable ones along with this.
---
3. Gigabyte BRIX GB-BKi3HA-7100
(Intel Core i3-8130, HDMI, Mini DisplayPort, WiFi,Bluetooth, 4*USB ports)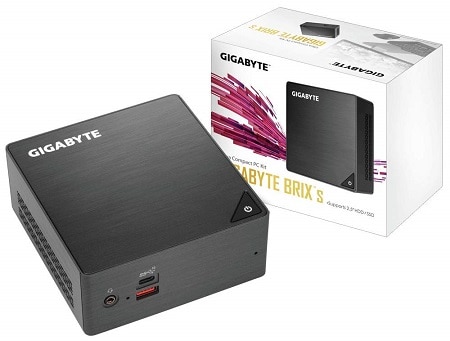 If you want an i3 processor for the least amount of money then this is one of the good options. Although the Intel Core i3 is the 8130 model, which is 3 generations old at the time of writing, it is still a much better option than the Pentium series or the Celeron.
It has all the usual specifications you would expect at this price point, like Wifi and Blueetooth, USB 3.0 ports as well as USB 3.1 ports.
Also Read : Best Gaming Laptops Under Rs 50,000
And like all the other Mini PCs before this, it does not come with any RAM or storage built in.
---
4. Intel NUC NUC8i5BEH
(Intel Core i5 8295U, Bluetooth 5.0, Wifi, 4K Support, Intel Iris Plus 650 Graphics,6*USB ports)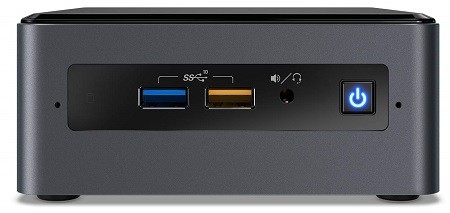 Stepping up to the quad core CPU realm, this Intel NUC Mini PC is one of the cheapest PCs you can get that has an Intel Core i5 processor inside it. We admit, it is the 8th generation 8295U variant, but still, quad core performance is a huge plus if you want more performance from your machine.
The PC also has Intel Iris Graphics built in so playing games would be a much easier task than other Mini PCs at this price point.
Also Read : Best True Wireless Earbuds Under Rs 2000
It also has support for Bluetooth 5.0. You can also install PCIe SSDs or M.2 SSDs in this model.
---
5. Intel NUC NUC8i3BEH
(Intel Core i3 8109U,8GB RAM,240GB SSD,Bluetooth 5.0,4K Support,Intel Iris 655,Windows 10 Pro)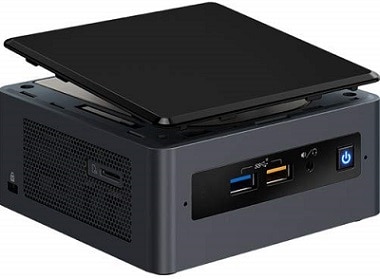 If you prefer to have your Mini PC completely pre built and ready to work on, then this is one of the best options at a cheap price. This Intel NUC comes with the Intel 8th Gen i3 8109U and 8GB DDR4 RAM,which is a huge plus.
Multitasking with 8GB of RAM will be a breeze and you do not have to worry about RAM stick compatibility since it's already included in the model.
It also comes with 240GB of SSD storage,which is an excellent offering. The boot times will be blazing fast and overall the operating system will be butter smooth.
Also Read : Gaming Laptop Buying Guide: How To Choose the Right Laptop?
Speaking of the operating system, this also comes with Windows 10 Pro preloaded in it. In terms of value for money, this is our recommendation, if you need a ready to use Mini PC for cheap.
---
6. Intel NUC NUC8i5BEH
(Intel Core i5 8295U, 8GB RAM, 500GB SSD,Intel Iris 655,Bluetooth 5.0,Thunderbolt 3)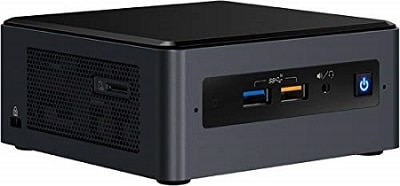 For people who want a better processor but still want to pay less than 50k for it, this Intel NUC is a good choice. It comes with the Intel Core i5 8295U, 8GB of DDR4 RAM and a whopping 500GB of SSD storage.
All these specs are a great deal for the price and you would be hard pressed to find a better deal.
Also Read : Gaming Laptops Under Rs 90,000
It also has the specs you would expect at this price point like Bluetooth 5.0, 4K support and in built graphics but has a few surprising additions like a card reader and even a Thunderbolt 3 port.
---
7. Intel NUC NUC8i7BEH
(Intel Core i7 8559U,16GB RAM, 500GB SSD,Intel Iris 655 graphics)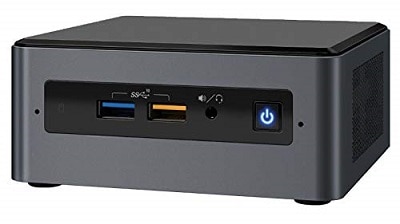 Above the 50k price point, you will find that there are a number of very powerful PCs that you can get for a relatively low price. This Intel NUC is a very good example of that. Since this Mini PC has the Intel Core i7 8559U, doing work on this PC will feel flawless, since the processor is very powerful and can deliver great performance when you need it.
It is also paired with 16GB of DDR4 RAM which is such a great deal. Multi tasking won't even cause a hiccup on this PC, as the 16GB RAM will be more than enough to hold its own when you have lots and lots of Chrome tabs open on your PC.
Also Read : Best Gaming PC Build Assembly Under Rs 1,00,000 in India
Even the 500GB of SSD storage is great since you will be able to enjoy blazing fast read/write speeds.
---
8. Intel NUC NUC8i7BEH (Windows 10 Version)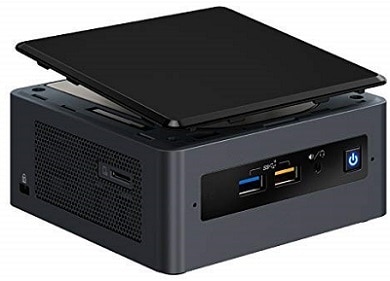 This variant is exactly the same as the one mentioned above but the only difference is that this one comes with Windows 10 Home preloaded in it. If you are picky about installing an operating system yourself then this is the one you should buy.
But for around ₹10,000 more than the one without the operating system, we would suggest you learn to install itt and save that money and spend it on better peripherals.
Also Read: 10 Best Ultrawide Gaming Monitors
---
9. Zotac Magnus ZBOX EK51070
(Intel Core i5 -7300HQ, Nvidia Geforce GTX 1070 8GB Graphics)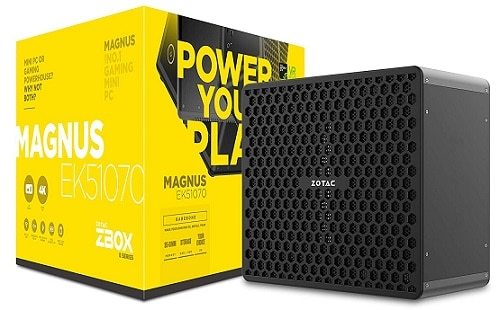 If you want a Mini PC with the sole purpose of gaming in mind,then the Zotac ZBOX Magnus is a very good choice. Although the newer variants have been released in other countries, in India, we still have the older generation models, so that is kind of a bummer.
Nevertheless, this PC is quite a beast for the price. With the Intel Core i5 7300HQ, it is a decent offering for playing AAA games especially when paired with the GTX 1070 graphics card.
Even though the 1070 has gotten old now, it still remains one of the best performing graphics cards from that generation. Modern titles should run perfectly if you tweak the settings a bit and play at 1080p. But this PC does have its drawbacks.
Also Read : Best Gaming Monitors Under 20000 in India
The most notable one is that it doesn't come with any inbuilt storage or RAM, so you will have to buy them separately, which is kind of underwhelming since lower priced offerings have much better specs in these aspects.
---
10. Intel NUC NUC8i7HNK
(Intel Core i7 8705G, 32GB DDR4 RAM, 500GB NVME SSD, AMD Radeon RX Vega M, Thunderbolt 3, Windows 10 Pro)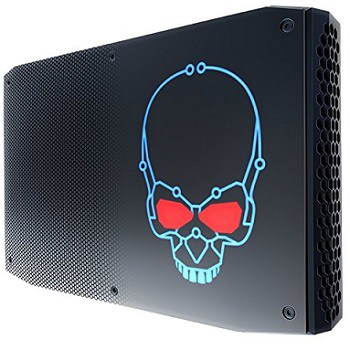 This Mini PC is the highest priced product in this list, and it is not a coincidence. This Intel NUC is made specifically for power users and people who need absolute performance but in a Mini PC form factor. The processor is the Intel Core i7 8705G and it has 32GB of DDR4 RAM.
We will let that sink in. 32GB of RAM means that you can do video editing,audio production, 3D rendering, and photo editing with absolute ease.
It also comes with the Radeon RX Vega M , which is an excellent graphics card, although it has gotten quite old by now. The PC also has 500GB of SSD storage and comes with Windows 10 Pro built in.
---
That was all for our best mini PC in India list , do comment your suggestions below.
---
Also Read :
10 Best Monitor Arm Stands in India
10 Best Laptops Under Rs. 35,000