Do you want a portable big screen? Right now, it is not possible. However, there is a very convincing workaround available. Yes, we are talking about a portable projector. This device can offer you the best of both worlds. You can enjoy your favorite content on a big screen while, you can take the projector with you anywhere you want to.
So, if you are looking for the best portable projector in India, you are in luck. Because in this post, we will be sharing reviews of some of the best portable projectors in India available. Besides, we will also talk about a few vital things to consider before purchasing a portable projector.
Things to Consider Before Buying a Portable Projector in India
You might think that buying a portable projector in India would be easy. But it is not quite simple. Rather, you would have to be familiar with the device first. Then you should also be considerate about your requirements and preference. Here are a few facts to consider before you are deciding on your next portable projector in India.
Portability
Undoubtedly, one of the main criteria of a portable projector would be its portability. If the projector is not easy to carry around, then you should skip it. The best portable projector in India would be lightweight, compact, and easy to carry. Most of the projectors, we have talked about above are fairly portable. You can simply toss on in your backpack and take it with you wherever you go.
Connection /Ports
Another very important point to consider is the availability and the number of ports in the projector. Typically, because of the compact size, a portable projector would come with less number of connectors or ports. However, you should make sure that your one comes with a full-size HDMI input.
Also, for the best result, you should look for one that has built-in Wi-Fi. As a result, you can enjoy content directly from the web on the projector. Additionally, a few USB ports can be an extra plus. Using those, you can easily stream from a memory card or flash drive/pen drive.
Picture Quality
The best portable projector should deliver high-quality picture quality. Remember, a cheap and no-name brand projector might save you a few bucks. But it will not offer you peace of mind. You will not be able to enjoy watching movies or any media pieces in a portable projector that delivers mediocre picture quality.
For the best result, you should opt for a portable projector that offers at least 720p resolution and brightness of 300 lumens. Remember, the higher the better in this case. And for a better user experience, you should not compromise on the picture quality of your portable projector in India.
UI
Even if you are a professional, your portable projector should come with an intuitive and easy to use UI (User Interface). That way, you don't have to go through a learning curve to use the projector.
Rather, you can start using it right from the start. Also, a user-friendly UI allows even beginners with a portable projector to use it. As a result, you should look for a portable projector that can be used by everybody very easily.
Speaker
Like a good video, the best portable projector in India would also come with good audio output. That's when the built-in speakers in a projector come to the play. Most of the portable projectors come with a pair of speaker built-in. However, not all of them can deliver loud high-quality sound.
As a result, you might have to use an external speaker or headphone to improve sound quality. So, having a built-in speaker system in your portable projector is great. On top of that, having a headphone jack or a 3.5 mm jack for plugging in an external speaker could be a great addition.
Battery
When it comes to portable projectors, you must be concerned about the battery life of the device. You don't want the projector to die in the middle of a full-length movie all of a sudden. So, get a portable projector that can last more than that. Of course, the longer the battery life is the better.
Also Read : Best Projector Screens in India
Best Portable Projectors in India
So, here we go…
1. XGIMI Halo Smart Mini Projector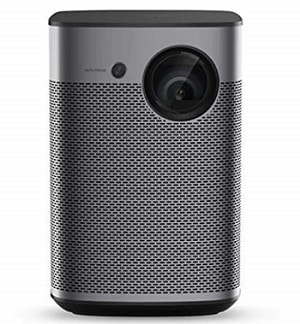 XGIMI is one of the best and top brands when it comes to the portable projector. One of the drawbacks of their product is that they tend to be pricey. But if you have the budget, then you should look no further to get the best portable projector in India. This smart projector comes with 1080p resolution, compatible with 2K/4K, supports more than 4000 apps, and so on.
It can offer more than 100 inches of screen size. In addition, it comes with Harman/Kardon dual speaker with a 32 mm driver. The OSRAM LED light source comes with 10 years (approx.) of lifespan. It has 800 AANSI lumens. And the 10400 mAh big battery will help you use the projector without any interruption. The size is so compact that it can fit on one hand.
Pros
Comes with Android TV 9.0
It has a 1 year warranty
This one has 'Automatic Focus' technology
Supports both Wi-Fi and Bluetooth
Very high-end, full of features
Cons
---
2. XGIMI MOGO Pro Mini Portable Projector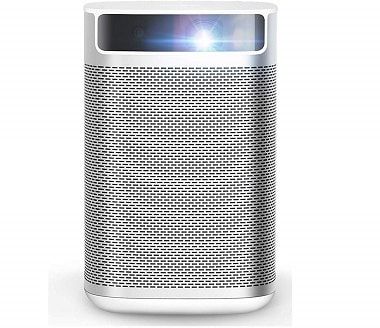 The XGIMI MOGO Pro is one of the best portable projectors in India at the moment. It has a very good price to performance ratio. It is full of high-end features. Some of the notable features are 1080p screen resolution, 3.5 audio jack, 10,000 points autofocus, more than 5000 apps support, Android TV 9, 10,400 mAh battery, and more. I
t comes with both HDMI and USB port. Also, it has 300 ANSI lumens of brightness. There are two Harman/Kardon 3 watt speakers in the projector as well.
Also Read : 43 Inch Smart LED TV
If you have the budget, then you can go with this without a second thought.
Pros
Top-quality portable projector
Comes with a 1-year warranty
Has 10 thousand points autofocus
2K/4K supported
Cons
---
3. Anker Nebula Mars Lumen Home Theater Portable Projector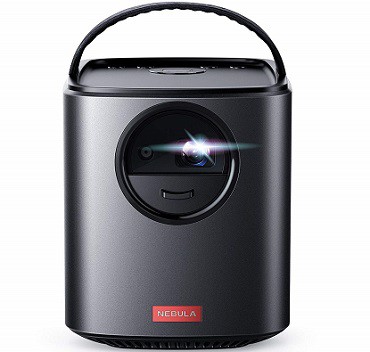 The Anker brand is known for offering top-notch electronic products. For example, this portable projector from them is a feature-rich device for a very reasonable price. It runs on Android 7.1 and has a 4 hour battery life. There is a dual 10 watt built-in speaker. The brightness is 300 ANSI lumens and it has a 720p resolution.
At the top, it has a carrying handle. The expected lifespan of the lamps is 30,000 hours.
Also Read : 32 inch Smart LED TV
It is integrated with 1 GB RAM, and 8 GB RAM, 1 HDMI 1.4 port, 1 USB 2.0 port, and more. For the price, this could be a good pick.
Pros
Good price to performance ratio
Comes with 1 year warranty
It has 1 second autofocus feature
Cons
---
4. XGIMI MoGo, 210 ANSI Lumens Smart Mini Projector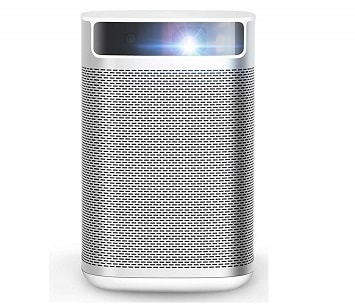 If you are looking for an XGIMI portable projector but does have a high budget, then you can opt for this. This one comes with a lot of cool features but the price is not that high. Some of the notable features of this smart mini projector are Android TV 9.0, 210 ANSI Lumens, 4000+ app support, 540P screen resolution, 10,000+ points autofocus, and 10,400 mAh battery.
It can cast up to a 100 inch screen from any devices like android, iOS, Chromebook, and Windows, etc. This one has 2 GB RAM, 16 GB ROM, two 3 Watt speakers, and more.
Also Read : 10 Best Smart 55 Inch LED TV in India
It weighs only 2 kg.
Pros
Comes with Android TV 9.0
1080p, 2K, and 4K compatible
Comes with 1 year warranty
Cons
---
5. BenQ GV1 Smart, Stylish, Portable LED Projector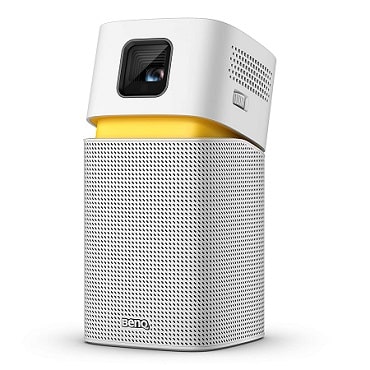 If you have a more limited budget, then you can check this portable projector from BenQ out. It is very compact yet packs a lot of features. You are getting a projector with DLP and LED projection system, auto keystone correction, Google Cast/Airplay support, and more.
It can project up to a 100 inch screen. Also, it consumes a lot less battery power, which translates to better battery backup.
Also Read : 10 Best Party Speakers With Good Bass & Sound in India
The 5 watts dual speaker also deliver decent quality sound, but not the greatest. But for the price, this is a good looking and featureful one.
Pros
Budget-friendly
Comes with 2 years warranty
Screen up to 100 inches
Built-in Wi-Fi and Bluetooth
Cons
Only 480p screen resolution
---
6. Nebula Mars II Portable Projector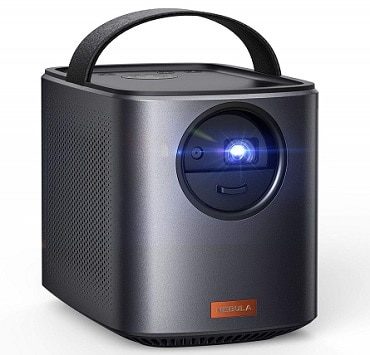 This is another portable projector from Anker. It also comes with some of the best functionalities yet a very affordable price. It has an approximate battery life of up to 4 hours. The device also features DLP technology.
It also has single-second autofocus, up to 4 hours of battery life, 30,000 hours of lamp lifespan, 12,500 mAh battery, 500 ANSI lumens, 720p native screen resolutions.
Also Read : 10 Best 4.1 Channel Speakers in India
You are also getting Bluetooth 4.0 and a powerful stereo sound. All in all, you can check this one out.
Pros
Comes with Bluetooth, USB, Wi-Fi, HDMI connectivity
30 to 150 inch screen support
Comes with 1 year warranty
Cons
Does not support 1080p resolution
---
7. Mijia Youth Mi Portable Home Theater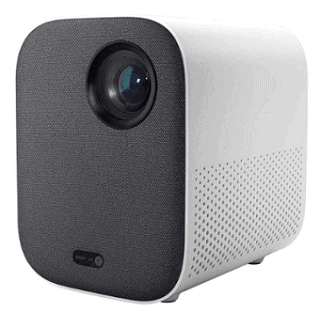 This portable speaker comes with a bunch of high-end features. Also, the price is not that high compared to other similar alternatives. It comes with Dolby sound, deep bass, and loudspeaker. You will love the Lase Camera Autofocus feature.
It has 8GB internal storage and 2 GB Ram. There are both HDMI and USB ports. The size of this portable projector is very compact.
Also Read : 10 Best LED TV in India (Smart / Non Smart)
And it weighs only 1.5 kg. With all the functions and features, it should be on your list.
Pros
Supports HDR 10 decoding
Comes with 1080p resolution
2 GB RAM and 8 GB ROM
Built-in Wi-Fi
1 year warranty
Cons
---
8. Nebula Apollo, Smart Wi-Fi Pocket Size Projector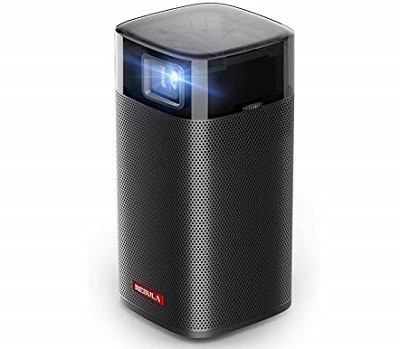 The people with a budget constraint can go for this one. This portable projector weighs only about 470 grams. And, you can easily toss it on your pocket or backpack because of the small form factor. You are getting HMDI, Bluetooth, USB, Wi-Fi, etc. connectivity in this. It has 8 GB storage and 1 GB RAM.
The expected lamp life span of this one is 30,000 hours. It can project up to a 100 inch screen. The native screen resolution of this projector is 854 x 480p. And the brightness of this is 200 ANSI lumens, which is not up to the mark in our opinion.
Also read : Best Android Tv Box For Streaming in India
If that is not an issue for you, then you can give this a look.
Pros
It features both Bluetooth and Wi-Fi
Comes with 4 hours of battery life (approx.)
Supports videos up to 1080p
Comes with keystone correction (auto/manual)
Cons
Only 200 ANSI lumens brightness
---
9. Nebula Capsule, Smart Portable Projector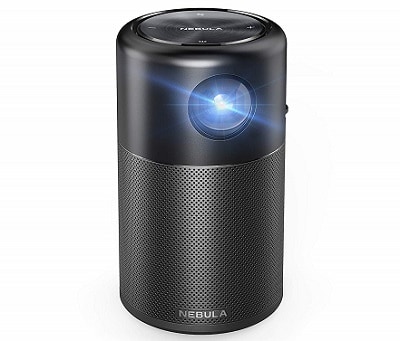 Yes, we are reviewing another Nebula portable projector. This is almost identical to the last one in terms of features. However, it has a cylindrical shape. And it is very small in size. The screen resolution of this one is 854x480P. The projection size is from 20 to 100 inches.
It runs on Android 7.1. There is one 5 watt omnidirectional speaker. You are getting USB, HDMI, Screen mirroring, Wi-Fi, and Bluetooth connectivity. One thing we didn't like is the brightness of this one is only 100 ANSI lumens. This is available in both black and red colors.
Pros
4 hour battery backup (approx.)
Comes with 1 year warranty
Comes with an Omni-directional speaker
Very compact size
Cons
Only 100 ANSI lumens brightness
Manual focus
---
10. AUN AKEY7 Full HD Home Theater Projector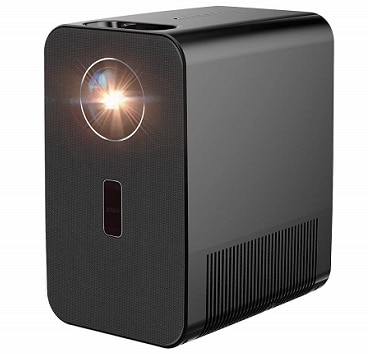 If you want a portable projector full of features but at a reasonable price, then you should check this out. It has a native 1080p screen resolution. The projector can project from 60 inches to 300 inches. The brightness of this one is 5800 lumens. And, the expected life span of the light source is up to 50,000 hours.
It comes with pro-grade diaphragm speakers built-in. In addition, it also features keystone correction.
Also Read : Fire TV Stick Review India
Overall, if you are looking for a portable projector with high brightness and full HD resolution, then this could be a good choice.
Pros
Up to 300 inch projection
It has 5800 lumens
Native 1080p screen resolution support
Comes with USB, VGA, TF card, SPDIF, and HDMI ports
Cons
---
What You Can Expect and Do with these?
It is simple really. You can do most of the same things that you could do with a conventional projector. However, as the name suggests, this type of projector is portable. So you can carry them with you wherever you go.
Also, most portable projectors come with various unique features like built-in Wi-Fi, built-in speaker, Chromecast support, Android TB support, etc. In a few words, you can watch any video files using your portable projector on a bigger screen. Or you can also use this for presentation.
How to Use a Portable Projector?
There are various types of portable projectors. Also, many brands are manufacturing their own variety of portable projectors. So, the process of using a portable projector might vary from model to model. But we can tell that most of these proctors are very easy to set up and use. It is better to follow the instructions manual that came with your particular portable projector.
Concluding Thoughts
There you have it! This is the list of the best portable projectors in India at the moment. Of course, it is possible that we might not have included your favorite one here. The market is so full of options that choosing only 10 of the best portable projectors is a very tough task.
Even then, we have tried to make sure we are reviewing only the top-quality ones. Also, we have tried to include products from a variety of price ranges. We hope after reading this post, you will be able to buy your next portable projector with ease.
As always, you can let us about your thoughts and opinions in the comments below! And don't forget to tell us about the portable projector you are going to buy!
Also Read :

11 Best Smart LED TV Under Rs 30,000 in India

Best Bluetooth Speakers For Home