Are You Searching For Best Pressure Washers For Cars & Home in India ?
Cleaning the outdoor area of your house is probably the most difficult of them all since it is subjected to the harshest weather condition and constant dust settlements.
Quick Navigation
You need special equipment like a pressure washer to have all the things kept in the open, including your car and furniture, cleaned and get rid of that thick layer of dust. Have a look at the best pressure washers that are available currently and how you can make the right purchase decision in buying one.
---
Best Pressure Washers for Car and Home
(Our First choice , with even better features and less cost)
1) Bosch Aquatak 125 1500W Pressure Washer
🌟🌟🌟🌟🌟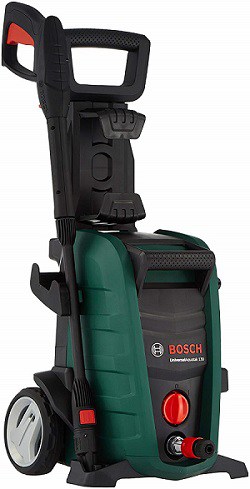 This ones costs way way less than AQT 35-12 and have got mostly same features ,but even better.
Pressure is 5 bar higher then AQT 35-12 model , water flow rate is more. It even comes with in built Self-priming which you don't find in AQT 35-12.
This is a newer more efficient product but AQT 35-12 has got better reviews , maybe that's why people prefer it more. But if you don want to save money and get the best deal then go for AQT 125.
Pros:
Its got all-new 3-in-1 nozzle that can make cleaning easier with fan jet, roto, and pencil jet, HP foam system.
Storing the machine is made easier with a foldable handle while moving it is helped by a second handle and large wheels.
Cost less.
Latest advanced model.
Cons:
Check Cheapest Price : Amazon
(Our second choice , to give you an idea of what's missing)
2) Bosch AQT 35-12 1500W Pressure Washer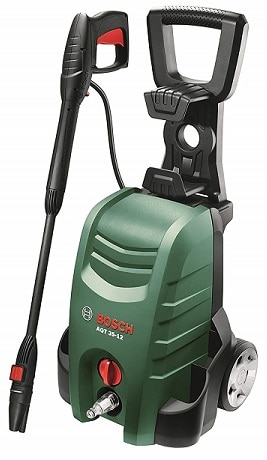 If you have a tap connection with good water pressure and a power socket then this for you. As it doesn't work by sucking water from bucket unless you buy self priming kit , which will enable you to use water from a bucket or even a water pond.
If you have a garage or a parking space with these facilities ( socket and water tap ) then you will be use it as you wish. You can take it anywhere as long as you got these two things.
Read: 10 Best Portable Car Tyre Inflator
Water pressure from this thing is great , enough to wash away all the dirt.
With 3-in-1 Nozzle: Three modes, i.e. rotary, fan-jet and a low pressure detergent intake , you can expect some quality results. All in all it's a great product and Bosch is a brand you can trust when it comes to tools and hardware.
Highly Recommended Accessories
Self priming kit to use bucket water
90 degree nozzle to clean inner or unreachable spaces like car wheel arches.
High pressure detergent nozzle , so you don't have to suck liquid soap using hose.
Pros:
It offers a pressure of 1750 PSI with a water flow of 350 litres every hour.
Includes a pair of wheels for moving it around easily.
Both the cable and hose measure 5 metres , which is long enough for most cars to wash easily.
Can be used to wash a variety of things like Cars, bathroom tiles , BBQ , outside furniture , two wheeler etc.
Cons:
Check Cheapest Price : Amazon
---
3) AGARO 1800 Watts Sigma High Pressure Washer for Car/Home
Rating: 8/10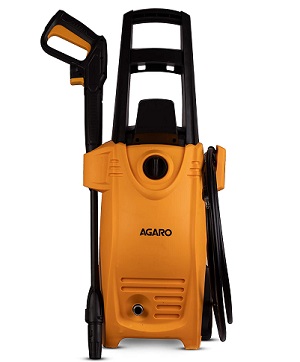 Pros:
1800Watts copper motor delivering 135 bars of pressure
Comes with wide range of handy accessories:
Universal Tap Connector
Long Spray Gun, Professional Foam Cannon
5 meter pressure hose pipe
5 meter power cable
Lightweight at just 7.3kg and easy to move around with provided wheels and 5 metres long cord
IPX5 water resistant and integrated detergent tank
Cons:
Takes quite a bit of space if you decide to store it in car trunk
Cleaning your car can be a one boring chore but if you decide to add a bit more fun to it while giving your car a thorough all around wash then the AGARO Sigma high pressure washer is something you should consider. It is a high pressure washer of 1800W that comes with a 100% copper motor that delivers a pressure of 135 bars. The 100% copper motor ensures a durable and long lasting life of the motor with easy maintenance. This machine makes cleaning your car and other minor things around the house and garden a walk in the park.
Accessories & Cleaning
It comes with multiple sets of accessories including different kinds of nozzles for multiple cleaning applications. It also comes with a universal tap connector allowing you to connect to any tap easily or if you would like, you can use a tub or a bucket for water supply. You also get a foam cannon so you can give a professional foam wash to your car.
As for cleaning, the high pressure motor does wonders. You can easily clean any tough stain or a patch of dirt and reach hard to get areas with the help of different accessories. Due to the integrated detergent tank, you don't have to run around applying detergent on your car and the foam wash just gives your car a good new shine.
Build & Durability
It is lightweight, and easy to maneuver with the built in wheels and a 5m long cord. You can easily carry it with the provided handle and store the nozzle when you're done using the built in holster for your spray gun. You can even fold it and fit it in your car's trunk but it does end up taking a lot of space so we would recommend storing it in your garage.
It has an integrated detergent tank which you can fit at the back of the machine which is a very convenient feature to have and to extend its durability even further, it comes with IPX5 rating which makes it resistant to water damage. But with all that said, the overall build quality is just average as the plastic used doesnt feel of quality and especially the nozzles and spray gun feel cheaply made.
In Conclusion
This is a solid machine for a very reasonable price and great to have if you own a car or a decent sized garden but most of all its really fun and handy when it comes to use.
---
4) Bosch Easy Aquatak 120 Pressure Washer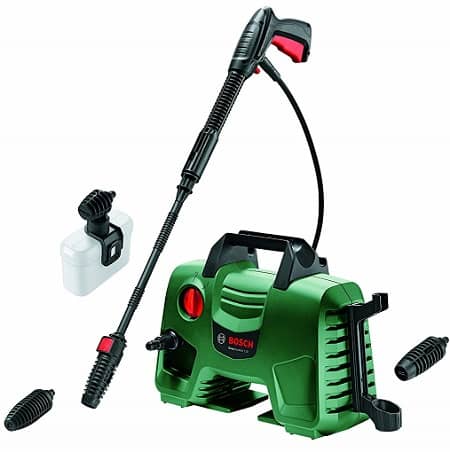 If you are on a tighter budget and can compromise with some features, but want a product from a reputed brand like Bosch.
Then this for you , although I will recommend you to have a look at AQT 125. As , there isn't much difference in cost and you get a lot for features.
Then coming to this model there are two choices Aquatak 110 and Aquatak 120 , I have gone with Aquatak 120 because it's got more pressure , more motor power and better flow rate.
Also Read : 13 Best USB Car Charger in India
While the price difference isn't much if you compare the extra efficiency you get. But if you still want to save that extra buck and can manage with little less efficiency , then you can go with Aquatak 110.
Pros:
Compact pressure washer from a reputed brand like Bosch.
This machine offers a flow rate of 350 litres per hour using 1500 watts of power.
It is compact enough to move around and has self-priming, meaning it can draw water even from a bucket.
Cons:
No wheels at base.
Check Cheapest Price : Amazon
---
5) Karcher K2.360 1400W Pressure Washer
🌟🌟🌟🌟🌟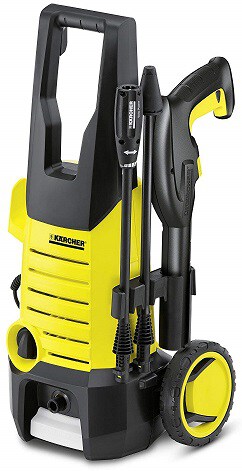 Karcher is also a reputed brand from Germany making products since 1935. Some people prefer Karcher over Bosch , but you will find that Karcher accessories are way more expensive as compared to Bosch. The hose is 6 m long , that is 1 m extra long as compared to 5 m long hose in Bosch. Second thing is that it delivers 120 bar pressure at 1400 watt power. While AQT 125 delivers 125 bar pressure at 1500 watt power. Both have nearly same price , with discounts coming and going.
Pros:
The Karcher K2.360 offers one of the values for the money by featuring a robust build quality and efficiency.
Consuming 1400 watts of power, the washer has a flow rate of 360 litres/hour.
Karcher has included a fairly long outlet hose measuring 6m that should be enough for most use cases.
Cons:
Expensive accessories as compared to Bosch.
I like Bosch build quality better.
Check Cheapest Price : Amazon
I will recommend you to choose from the above four products , to get best experience.
---
6) American Micronic AMI-PW1-1500WDx 1500W Pressure Washer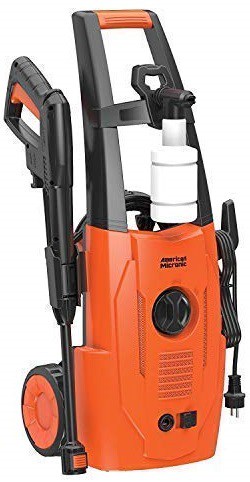 This is currently out of stock and I will update this when it's back.
Pros:
Despite its lower price, the product offers a higher flow rate of 390 litres per hour with a pressure of 1750 PSI.
It still manages to consume 1500W of power and comes with a warranty of 1 year.
Read: Top 10 Best Car Stereo To Buy Online
Also includes a high-efficiency spray gun that has an adjustable nozzle and comes included with a detergent dosing soap bottle. It is IPX5 rated and has an auto-stop feature to save water.
Cons:
Noisy
Check Cheapest Price : Amazon
---
7) AllExtreme EX60217M Heavy Duty Pressure Washer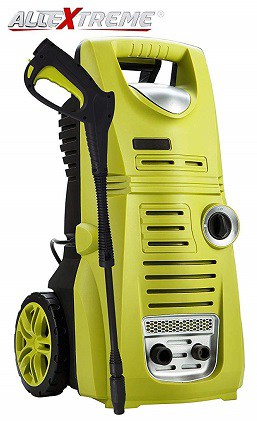 Pros:
For its price, this washer offers one of the highest-pressure levels at 2030 PSI while delivering water at 380 litres per hour and consuming 1700W power.
The water nozzle has a trigger system that helps save water and the machine has a trolley-style handle and wheel system to move it around easily.
Also Read : 10 Best Car Coaxial Speakers
The included nozzle is of adjustable variety as it can be rotated to change the settings.
Cons:
Water inlet hose isn't provided in the box and you will need to get it separately.
It needs to be connected to a tap connection for working properly. Using the soap bottle will require removing the lance attachment, so you will lose the pressurized water.
Check Cheapest Price : Amazon
---
8) Black & Decker PW2100SPB Pressure Washer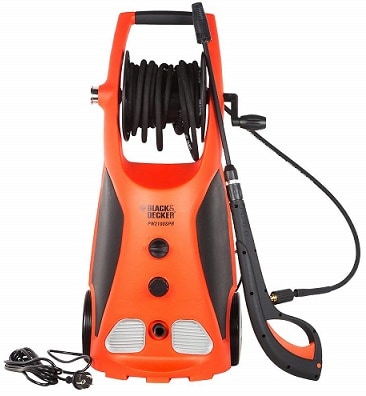 Pros:
Being the highest-end model from Black & Decker, this pressure washer offers the best performance at a pressure of 2030 PSI making it capable of pumping out water at 420 litres per hour.
Read: 10 Best Car Air Fresheners in India
The included hose reel ensures easier use and storage while the nozzle offers a top-notch cleaning experience.
Its power-saving feature turns off the machine not in use while its dual wheels offer proper mobility.
Cons:
The price is a bit too high for the product. Its power cord is short and will require an extension if you've got a wide area to cover. Foam lance unit needs to be purchased separately.
Check Cheapest Price : Amazon
---
9) Black & Decker PW1300C Pressure Washer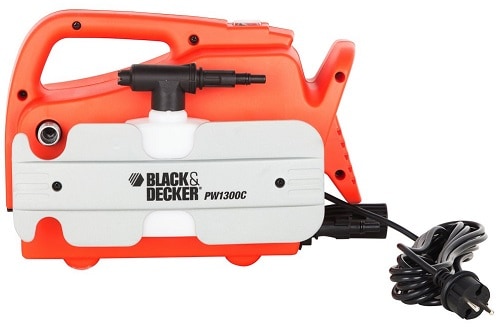 Pros:
Little in size, this Black & Decker pressure washer comes with its own storage solutions—a wall mount kit and the main body design that easily attaches all the accessories to hold in a single place.
The pump stops automatically when it isn't being used.
Also Read : 10 Best Car Coaxial Speakers
A foam sprayer attachment for the nozzle comes included in the box. This compact machine can throw water at 360l/h at a max pressure of 1600 PSI.
Cons:
Availing any kind of support will require contacting a Mumbai-based centre. Just 6 months of warranty makes this worse. The nozzle length cannot be shortened for being used in tight spaces.
Check Cheapest Price : Amazon
---
10) Mecano 1500W Pressure Washer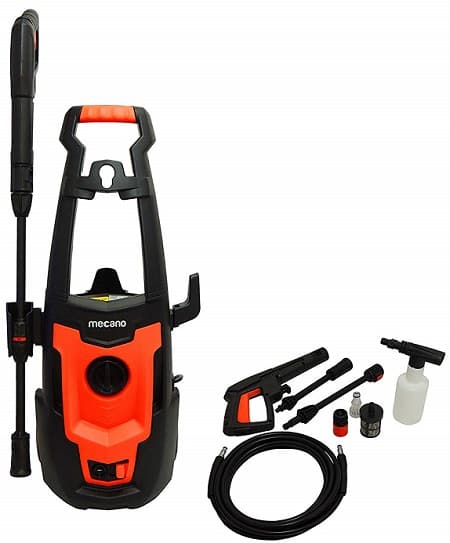 Pros:
For the people on a tighter budget, this Mecano pressure washer can be a great choice for it offers 1740 PSI pressure at 39L/h through its aluminium motor that will last you really long.
The washer unit itself offers a certain degree of water resistance to avoid any water damage and comes with a 5m high-pressure outlet cord with a detachable gun-style nozzle at one end that is adjustable.
A pair of wheels make it easier to move around.
Cons:
The availability of after-sales support may be limited to certain regions, so it is better to check with the seller before purchasing. While working, the machine makes a lot of noise which could be disturbing for some.
Check Cheapest Price : Amazon
---
11) STARQ W3 1800W Electric Pressure Washer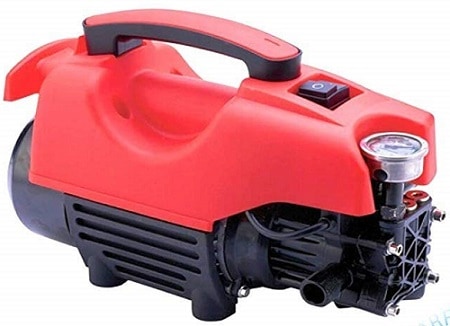 Pros:
A compact pressure washer is ideal for home use, especially if you plan to move it around quite a bit.
This STARQ product offers a high-pressure mechanism packed in a small package that you carry in your hand.
Features like auto turn-off make using the washer even more convenient while also reducing electricity consumption.
The company supplies a 5m-long outlet pipe for the gun along with a priming pipe. It comes with a year of warranty.
Cons:
This product is imported from China and is being sold in India so getting hold of spare parts will require going through the sole seller of the product. The after-sales experience from this product wouldn't be a delight.
Check Cheapest Price : Amazon
---
Why buy a pressure washer?
Pressure washers have a clear advantage over garden hoses by offering a significantly more powerful stream of water to loosen the dirt while consuming up to 80% less water.
For cleaning your car, these machines will prove to be cost-savers in the long term when compared with a garage service. Using different attachments, you can reach tight corners of your car which would otherwise be impossible to clean.
Not only cars, but your home cleaning needs can also be met with such pressure washers that are highly efficient in cleaning oil stains, depending on the particular model you go for.
Things like fences, grills, walls, doors, and outdoor furniture, and areas like patios, deck, swimming pools, walkways, and garages can be much easier and convenient to clean using a pressure washer than doing it manually, thus saving you a lot of time and energy.
---
Things to Keep in Mind While Buying a Pressure Washer
Wheels for heavier models
In case you have a garden or outdoor area that is fairly large, you will need to move the pressure washer around if the hose length isn't enough. These machines tend to be quite heavy and having a set of wheels to move it around becomes a must, especially for larger models.
Nozzle Type
The nozzle is probably the most crucial part of a pressure washer as it determines the water flow that is required for optimum results. A few of them come with interchangeable ones to easily replace with the one you need, while others include an adjustable one that can change the angle and focus of the flow by mere rotation.
Hose and Water Flow
These washers are meant to offer high water flow to effectively clean the surface and all its parts need to be heavy-duty to sustain that pressure. The outlet hose not only needs to be long enough to be comfortably used around a large area, but it also needs to be made out of quality materials to ensure its longevity.
Variety of Compatible Accessories
Using a host of accessories available for pressure washers, you can use the machine for many more things than just simple water spraying. There are attachments that allow you to dispense soap foam, while others allow you to change the angle of the nozzle to reach areas like the underside of a car. Some companies include a few of these accessories inside the box, while you might want to get them separately for others.
Power Consumption, Price and Warranty
Most pressure washers meant for home use usually consume around 1500 watts of power, while if you go for a higher-end model, you can expect the power consumption to go upwards. You must also keep your budget in mind when purchasing this washer besides also keeping a note of the warranty. These complex machines can be hard to repair on your own and the spare parts even harder to find.
---
Who should buy a pressure washer?
Pressure washers aren't generally meant for being used indoors and even the outdoors should be quite widespread which is difficult to manage by manual means to justify their purchase. If you have a barbecue or kitchen grills or automobile placed outside then cleaning it can be made much simpler with a pressure washer.
So is the case with garden walkways and walls which wouldn't need manual scrubbing if you use a washer. Plus, the high-pressure water streams coming out of these machines can even get rid of oil and grease stains if you have a lot of those in your garage. Cleaning your dirt-laden is, of course, the most popular use of a washer and you must get one if your car gets dirty often.
---
Also Read:
1) Top 10 Best Car Coaxial Speakers
2) Best Car Air Purifiers in India
3) Top 10 Best USB Car Charger