If you're looking for a computing device that's portable, reliable, light-weight and can be used on the go, then a laptop is the perfect solution. But it can be daunting to pick the right choice for you from the vast selection available, with varying configurations and options. Today, we'll be narrowing down some of the more interesting options available in the market to help you decide on your next laptop purchase.
One of the first things you'll have to decide is whether you want an Intel-based machine or one that uses an AMD processor. Despite the relatively strong presence Intel has in the average consumer's head space, AMD is a strong competitor both in terms of performance and cost, so the models we'll be looking at below all utilize AMD's Ryzen 3000 series mobile processors built and designed for use in laptops. Though one generation older than the Ryzen 4000 mobile processors, these laptops are still functional, powerful computing devices that still perform well at a lower cost.
Also Read :

12 Best Ryzen 7 Laptops In India
Best Ryzen 3000 series laptops in India
With that out of the way, let's get started.
1. Acer Nitro 5
CPU: Ryzen 5 3550H | GPU: GTX 1650 | RAM: 8GB | Storage: 512GB SSD | Display: 15.6'' FHD IPS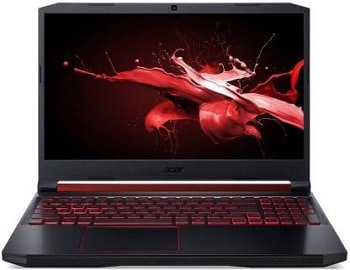 The Acer Nitro 5 is a gaming laptop that covers all the bases. It sports a quad-core 3550H processor and a dedicated Nvidia GTX 1650 GPU that can run most modern games at medium-to-high settings at 60 FPS, and breeze through productivity tasks and any office work you can throw at it. Despite coming with a single stick of ram installed, a second stick can be added to run memory in dual-channel, something that Ryzen processors benefit from.
The 512GB of SSD storage is enough for most casual work, even enough to have some games installed on a partition, but if that's not enough you can expand it with up to 2 TB of HDD storage. It also has a decent level of connectivity with 3 USB3.0 ports, 1 USB2.0 port, and an HDMI port.
The downsides of the laptop have to be its hefty weight and lackluster battery life. Coming in at 2.2 kg, it's not the lightest of machines, and the 'gamer' look of the device with its red accents and backlighting make it somewhat unsuitable for use in business settings. The 55 Wh battery can last you a few hours if you turn down the brightness and reduce the number of active applications, but it's no thin-and-light ultrabook.
Also Read : Best Gaming Laptops Under Rs 50,000
If you're looking for a budget gaming laptop, this is certainly a worthwhile option.
Check Cheapest Price : Amazon
---
2. Lenovo IdeaPad S145
CPU: Ryzen 5 3500U | GPU: Radeon Vega 8 integrated | RAM: 8GB | Storage: 512GB SSD | Display: 15.6'' FHD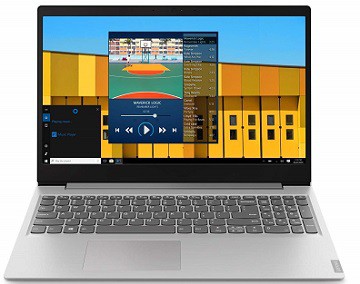 Taking advantage of the low TDP and good thermals of the Ryzen 3000 series, Lenovo's thin-and-light IdeaPad S145 is a welcome addition to the lineup of Ryzen-based laptops. It uses a quad-core 3500U processor that works silently and with minimal thermal impact. The 8GB of memory come pre-installed in dual-channel configuration, so upgrading will involve replacing at least one stick. An upgradeable 512GB SSD provides ample storage for light files.
There are only a total of 3 USB ports for the device, which makes connectivity somewhat lacking, so a USB hub or extender of some kind may be necessary, but the additional weight should be negligible as the power brick included with the laptop is quite compact and lightweight to make up for it.
The device is suitable laptop for people on the go, travelling, or for use in an office with its sleek and thin silvery design. The integrated graphics are enough to play lighter titles at decent settings but if you're looking for true gaming laptop, this is not for you. However, the laptop is more than sufficient for light productivity tasks and browsing, so if you're after a cost-conscious device to use on the go, this is for you.
Check Cheapest Price : Amazon
---
Also Read:

10 Best Laptops with 8GB RAM in India

Best i5 10th Generation Laptops
3. ASUS TUF Gaming FX505DT
CPU: Ryzen 3550H | GPU: GTX 1650 | RAM: 8GB | Storage: 512GB SSD| Display: 15.6'' FHD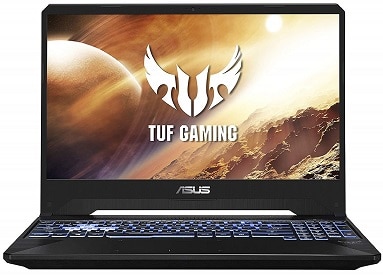 ASUS' TUF series laptops are known for their iconic gunmetal design, and the TUF FX505DT makes it clear that this is a gamer's device. Coming in below the ROG series, this is their entry-level device lineup and it shows.
The laptop uses a mid-range Nvidia GPU combined with AMD's 3550H processor that makes for a great combination without severe bottlenecks in either direction. Performance on most modern games at medium settings is quite decent, with the only major downside being the thermals, but some smart power management settings and the use of a cooling pad and keeping the laptop dust-free should be enough to alleviate these concerns.
A second stick of ram to run in dual-channel configuration might be worth investing in to improve the performance of the laptop. The chassis and build of are slightly lacking, but are sturdy enough to handle most travel scenarios. If you're looking for an eye-catching laptop to take your next LAN party, the TUF Gaming FX505DT is a suitable candidate.
Check Cheapest Price : Amazon
---
4. Dell Inspiron 3505
CPU: Ryzen 3500u | GPU: Radeon Vega 8 integrated | RAM: 8GB | Storage: 512GB SSD| Display: 15.6'' FHD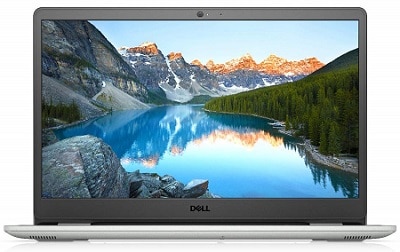 With the Ryzen version of the Dell Inspiron series, the well-known brand has introduced a competitive alternative to its Intel counterparts. The Inspiron 3505 is a stable offering that targets users aiming to get work done in a reliable machine.
The laptop comes with a 3500u processor with integrated Vega 8 graphics, so it is not a gaming powerhouse by any means. However, with stable thermal performance, good port connectivity including an SD card reader and 3 USB ports, and a free included copy of Microsoft Office, the laptop can handle office work without issues. The display is better than those of other laptops at this price point, and is bright, vivid and crisp. The laptop's battery can power the device for 5-6 hours, which is quite good compared to its competitors.
Also Read : Best Productivity Laptops Under Rs 50,000 in India
Overall, the laptop is a reliable device that can get everyday work done, with adequate battery life and acceptable thermals.
Check Cheapest Price : Amazon
---
5. ASUS ROG Zephyrus G GA502DU-AL025T
CPU: Ryzen 7 3750H | GPU: GTX 1660Ti Max-Q | RAM: 16GB | Storage: 512GB SSD | Display: 15.6'' FHD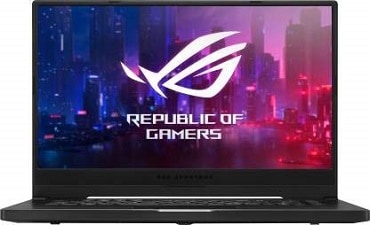 The last laptop in this list, the ASUS ROG Zephyrus G is the most powerful one yet. Coming from the ROG gaming series lineup, it is a powerhouse of a machine, with a 3750H processor, 6 GB of dedicated graphics and 16 GB of ram in a dual-channel configuration.
Built and designed for gamers, the laptop has a sleek design with an all-black body, thin bezels, back-lit keyboard and most noticeably, the included display boasts a 120 Hz refresh rate, making day-to-day use of the device smoother and more pleasing to the eye. The 1660Ti, despite being a Max-Q variant, can still handle all modern games at high settings with ease, though users may have to adjust them to be lower to benefit from the faster display in certain titles.
Naturally, the laptop does not break a sweat at productivity tasks. Rendering, video editing, and just generation day-to-day tasks run smoothly and quickly. The included battery has a 76 Wh capacity, and can run for 5-6 hours when not playing games. Combined with its thin form factor, it makes for a portable device that can be easily slipped into a backpack or case.
The major drawbacks of this device are its screen, and thermals. At 45% NTSC coverage, the colors will seem less vivid than on a more accurate screen, but the higher refresh rate goes some way towards compensating for this. The more important issue of thermals however, can seem like a deal breaker to some, but with some adjustments including better setup for airflow, undervolting, and an occasional thermal paste replacement, the laptop should be comfortable to use on any solid surface.
Also Read : Best Gaming Laptops Under Rs 70000 in India
Overall, it's a powerful gaming laptop with a great design that's hard to beat.
Check Cheapest Price : Amazon
---
6. ASUS VivoBook 14
CPU: Ryzen 5 3250U | GPU: Radeon R3 integrated | RAM: 4GB | Storage: 1TB HDD | Display: 14'' FHD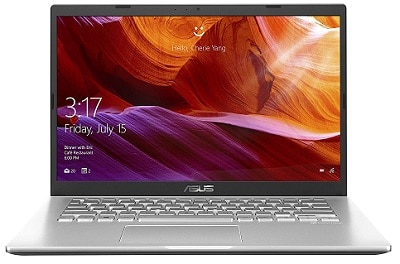 The ASUS Vivobook is device that offers flexibility and connectivity in a professional-looking form factor.
The 14-inch laptop has a dual-core 3250U processor with Vega 8 integrated graphics, making it clear that this is a laptop built for light work rather than gaming, though it can still handle lighter gaming workloads.
The laptop comes with a 1TB HDD installed, with an open m.2 slot for expandable flash storage, which is highly recommended, at least as a boot drive. Additional RAM can be added for up to 12GB of memory. At under 1.6 kg, the laptop is extremely portable and despite its small 32Wh battery, it can be used for a couple hours of light office work such as writing documents or answering e-mails.
One of the more noticeable drawbacks of the laptop is the panel, with only 45% NTSC coverage that makes media consumption less satisfying. However, at the low price this laptop comes in at, with its sturdy build and light weight, it's a good choice for people looking for a no-frills laptop to use on the go.
Check Cheapest Price : Amazon
---
From the six laptops covered in this lineup, ranging from low-end thin and light work devices to the high-end ROG Zephyrus gaming laptop, we've focused on devices using the Ryzen 3000 series processors. After consideration of the pros and cons of each device, the recommendations for different use cases would have to be the following.
For light office work, browsing and similar tasks, the Lenovo IdeaPad S145 is a winner with its light weight and good battery life.
At the mid-range, the Nitro 5 and Tuf gaming laptops are both suitable candidates, but the Nitro 5 pulls ahead in thermal performance and display quality, which are important in such a device. As such, the Nito 5 would be the better choice.
Finally, the Zephyrus G with the Ryzen 7 3750H processor is a powerful, capable machine that can handle all games and workloads thrown at it with ease. It's a good choice for users inclined to Ryzen-based machines.
Also Read :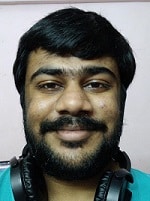 Written By – Siddharth Kumar
"I'm a 23-year old living in Mumbai, currently working in the IT sector. My interests include programming, data science, and technology. In my free time, you can usually find me reading, playing video games, or cooking." – Instagram