As the year finally comes to a close and the holiday season begins, a lot of you must be out for presents and gifts for either someone dear to you or for yourself. Well if you're looking out for a touchscreen or 2 in 1 laptop then you're in luck because we've got the right picks for you.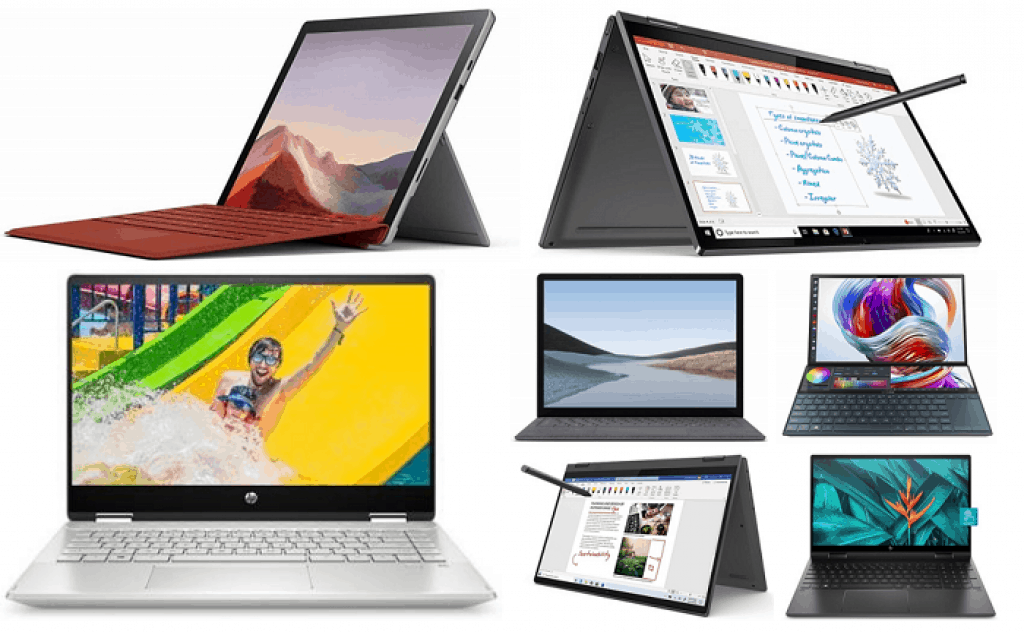 Best Touch Screen & 2 in 1 laptops in India
So now without any further delay we'll dive right into our picks of the best laptops with touch screens to buy right now before this year comes to an end. These are picked based on their performance and what they offer for their price. So let's take a look.
1. HP Pavilion X360 Core
The best 2 in 1 laptop excelling at performance, looks and value.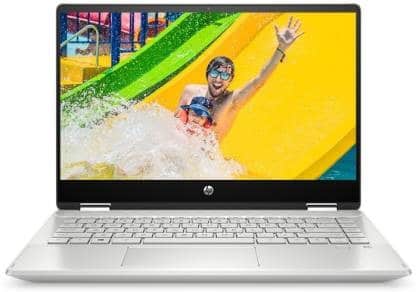 Positive
Superb Audio
Amazing keyboard
Great value
Negatives
Dull display
Poor battery life
Starting off strong we've got HP Pavilion X360 core. This if not some shortfalls would have been one of the best laptops but it's for sure the best when it comes to 2 in 1 laptops. It comes with Intel i7 10th gen processor which can take care of most of your intensive tasks. Be it 4K editing, 3D animation or gaming it can handle all that. You can have multiple tabs open while streaming Netflix on full HD and you'd still not feel any stutter or lag. This is also thanks to the massive 16GB DDR5 RAM. And just to add even more power to this beast is the 2GB dedicated graphics card for gaming so you can play any recent titles on 60fps. If you wanted a gaming laptop I wouldn't personally recommend 2 in 1 laptops but this one is an exception in the list.
| | |
| --- | --- |
| Screen | 14 inch FHD |
| Processor | Intel core i7 10th gen |
| RAM | 16GB DDR5 |
| Internal Storage | 512 GB |
| OS | Windows 10 Home |
| Weight | 1.59kg |
Performance is not it's only strongest suit, the sound is where it again proves why it's on the top of this list. It comes with Bang and Olufsen top firing speakers and this is some of the best sound I have experienced from a laptop. It seems like HP has left no stone unturned because this provides loud sound, crisp vocals and thumpy bass. But wait there's more! The keyboard is nice, tactile and comfortable. The key flow is so great and it takes some pressure to press them. It does not feel clunky or cheap at all just like the overall build quality of this machine.
The drawback is what keeps it from one of the best laptops overall. The battery life isn't great and lack of fast charging just hits too hard. With that the screen itself isn't too great either. I wouldn't be wrong to say that it feels dull and colors just feel washed out. Obviously being a 2 in 1 you can fold the hinge 360° to use it in tablet mode and since it doesn't weigh a lot you would have no issues using it that way. In conclusion it's a great laptop recommended for almost everyone but only those who are willing to pay the premium price for it.
Also Read : Best Laptops Under Rs 30000 in India
---
2. Asus Zenbook Duo
Innovation in the right direction that doubles your productivity.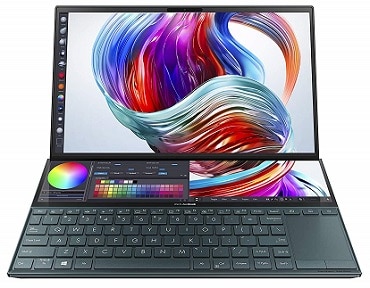 Positive
Extra Screen
Included Wrist Rest
Stylus Support
Negatives
Terrible Battery Life
Weird Trackpad Placement
Weak GPU
It's not a 2 in 1 like a lot of others in the list but it's a reimagining of a traditional laptop in a way that is just perfect. Zenbook duo comes with 2 displays. A 14 inch primary and a 12.6 inch Secondary located above the keyboard. Both of them boast the same resolution so you're never missing out on any detail while using the other display but you might think that the secondary display is just a gimmick. You'd be so wrong to think that as the secondary display just makes the whole experience so much better that it would be hard for you to move on to a traditional laptop.
| | |
| --- | --- |
| Screen | Primary 14 inch, Secondary 12.6 inch |
| Processor | Intel core i7 10th gen |
| RAM | 16 GB LPDDR3 |
| Internal Storage | 1TB SSD |
| OS | Windows 10 |
| Weight | 1.6 kg |
You can play your games on the first screen while watching a tutorial on the other or watch a movie while writing on the other or browse twitter as you're attending a video call. Possibilities are endless and you can drag and drop whatever you're doing on the first screen onto the second one and vice versa. Editing, sketching, taking notes just becomes such a great experience with this one but it does take a toll on your battery life. 2 screen will take up twice the battery and which means you'll have to keep the charging brick always by your side since it also can't charge with USB type C. Also with the added second display they had to cramp the trackpad where the number pad should be so that feels weird but there is a button which turns the trackpad into a number pad and there's nowhere to rest your wrist while typing so they have provided a wrist rest.
All of these given it's best suited on a desk but the enhancements those 2 screens bring just makes this laptop our top recommendation on this list.
Also Read : Best i9 10th gen laptops in India
---
3. Apple iPad Pro and accessories
Exception in the list but exceptional performance packed in a lightweight tablet.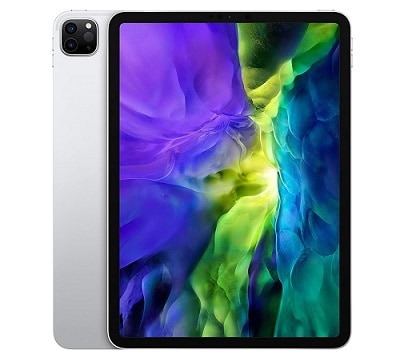 Positive
120hz display
Flagship cameras
Quad speakers
Negatives
Need accessories to take complete advantage
Accessories sold separately and are quite expensive
Okay I know this isn't a laptop by any means but hear me out. But iPad pro did deserve it's place in this list and the reason being that it can do almost anything you can expect from a traditional laptop with the added bonus of being a tablet. You get complete access to all the apple store apps and games and if you are already in the apple eco system then it just makes things more convenient for you.
| | |
| --- | --- |
| Screen | 11 inch |
| Processor | A12Z Bionic |
| RAM | NA |
| Internal Storage | 1TB |
| OS | iPad OS 14 |
| Weight | 0.67kg |
The A12Z Bionic chip with neural engine is no slouch, it handles most of your tasks with ease while also handling that 120hz display. Be it editing, gaming or handling a number of tasks it does not break a sweat. This is also thanks to apple tailoring their OS to respective devices giving you the most that the processor and ram can offer. Talking about ram, Apple in the typical Apple fashion has not disclosed how much ram they are using for the iPad Pro but my guess is around 6gb.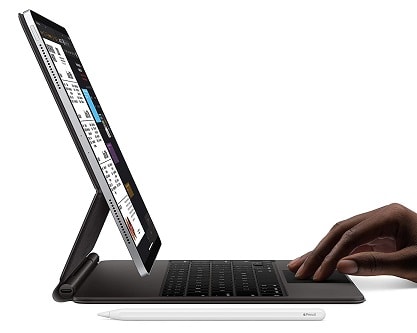 What makes the iPad Pro part of this list are it's accessories. The magic keyboard and the pencil accessory turn this powerhouse of a tablet into a great laptop and sketching pad. The magic keyboard doubles as a tablet cover and also a keyboard accessory. It comes with a back lit keyboard with a fully functional trackpad which activates the cursor in the iPad so you can use it as a traditional laptop. The Magic keyboard also doubles as a stand and attaches with the iPad with strong magnets so you can just set it down and start typing. The pen is also a handy accessory giving you more precise control over the touch screen for drawing and sketching. It also attaches magnetically to the side of the iPad and it's a great addition if you're into sketching and drawing.
Also Read : 12 Best Ryzen 7 Laptops In India
---
4. Dell Inspiron 13 7391 2 in 1 laptop
Capable 2 in 1 laptop that provides both looks and performance.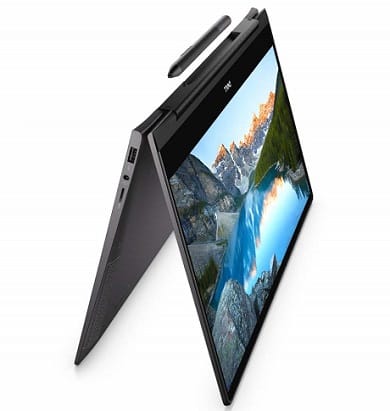 Positive
Premium Aluminium build
Dazzling display
Good battery life
Negatives
No discrete graphics card
Speakers are passable at best
This is our first 2 in 1 entry in our list. Dell Inspiron 13 7391 is a nice offering from Dell. This 2 in 1 laptop comes with a 13 inch full HD display which comes with Dell's own "CinemaColor " profile and Dolby Vision which deliver a very bright, crisp and vivid viewing experience no matter if you're using it as a laptop or a tablet. The colors always just pop out and even in outdoor environments the screen gets plenty bright. Sadly it does lack support for high dynamic range HDR which would have been a nice addition especially given the price. It also comes with Dell's Cinema Sound suite which is supposed to provide enhanced sound quality from the speakers but the speakers themselves don't get very loud. They are okay if you're alone in the room but I would not recommend using speakers with friends over.
| | |
| --- | --- |
| Screen | 13.3 inch FHD |
| Processor | Intel core i5 10th gen |
| RAM | 8 GB LPDDR4 |
| Internal Storage | 512 GB SSD |
| OS | Windows 10 Home |
| Weight | 1.4kg |
Performance wise it's powered by 10th gen i5 processor and 8gb of ram which is decent for the price. Apps like Photoshop and Adobe Premiere Pro can run fine on this laptop without any lags but it could have benefited from a discrete graphics card. It uses the integrated graphics which does the job but don't plan on playing games on it unless you're willing to play 5 year old games. The keyboard is a chiclet style keyboard with back lit keys and they're comfortable to use. You can do prolonged typing without feeling any strain. It also comes with a pen for sketching and drawing in the box which can be stored at the hinge of the laptop which is a nice storage option provided most of the brands just stick the pen to the side of the laptops.
All in all Dell Inspiron 13 is a great media machine and it's lightweight 2 in 1 style makes it a student friendly notebook.
Also Read : Best Gaming Laptops Under Rs 50,000
---
5. Microsoft Surface Laptop 3
Good all around laptop constrained by its price making it truly great.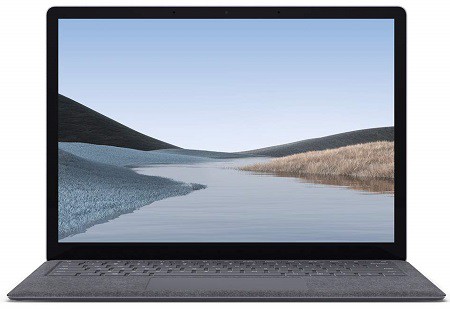 Positive
Fast charging
Big Trackpad and comfortable keyboard
Very light 
Negatives
Lacking ports
Average battery life
Very expensive
This one comes directly from Microsoft. The Surface Laptop 3 isn't a 2 in 1 like the previous Surface products but it does come with a touch screen. Powered by the Intel i5 processor its performance is very respectable. You can do photo editing and even 4K video editing on this machine to some extent but if you want more power go with the i7 version. Again it does not come with a discrete graphics card so gaming isn't recommended but if you do want to game on it then games can be played with low settings on everything.
| | |
| --- | --- |
| Screen | 13.5 inch QHD |
| Processor | Intel core i5 10th gen |
| RAM | 8 GB LPDDR4X |
| Internal Storage | 128 GB SSD |
| OS | Windows 10 Home |
| Weight | 1.265kg |
Where it shines out is that QHD displays on a 3:2 aspect ratio which makes more room for productivity tasks. Not every app goes well with that aspect ratio but the ones that do take complete advantage of it and you will feel hard-pressed to go back to 16:9 aspect ratio. The screen being the highlight get's plenty bright and the colors on the QHD display really look vivid and crisp. The display being a touch screen which has pen support so you can draw using the ink app and also take notes.
It also has fast charging support which is something all laptops should feature at this point. But fast charging here is a necessity given the average battery life that doesn't hold well. You can get around 5-6 hours of battery life even though it is advertised to go longer than that but carrying a charging brick shouldn't be a problem since the laptop itself is so light. It is made of aluminium with a matte finish which gives it a premium fee and the in hand feel is really good. It's price is it's major shortfall. You can get a really beefy laptop for this price and if you want more storage then you will need to pay more and I wouldn't recommend this laptop at that high price.So basically what I'm saying is it's the MacBook Air of Windows but the major drawback here is the price.
Also Read : Nvidia GTX 1660Ti Laptops in India
---
6. Lenovo Yoga C640
Slim and stylish form factor with a brilliant battery life making it the best travel 2 in 1.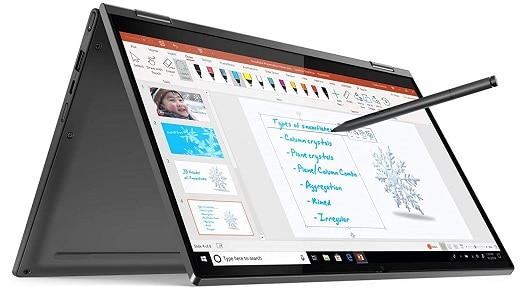 Positive
Remarkable battery life
Sliding Privacy Shutter
Slim form factor
Bright display
Negatives
Yellow tint
Average trackpad
Lenovo's Yoga series has always offered some of the most enticing 2 in 1's in the market and the Lenovo Yoga C640 is one of those enticing laptops definitely worth a look. It's a slim and light laptop weighing just 1.35kg making it ideal for carrying and travelling when you don't want to miss out on work. Powered by the intel i5 10th gen and 8GB of ram you can get a lot of things done like editing, rendering and very light gaming although a discrete graphics card would have helped with gaming a lot but still it's no slouch.
| | |
| --- | --- |
| Screen | 13.3 inch FHD |
| Processor | Intel core i5 10th gen |
| RAM | 8GB LPDDR4 |
| Internal Storage | 512 GB SSD |
| OS | Windows 10 Home |
| Weight | 1.35kg |
This is one of the first laptops where the marketing stands true as the advertised long battery does hold true. You can easily get around 10 hours or more of battery life from medium to light usage. This is followed by a 3000 nit full HD display which not only provides accurate and nice colors but also gets very bright outdoors so you don't have to squint to know what you are typing. But the color temperature is awfully warm giving the display a yellowish tint and there is also no way to tweak that so you will just have to live with the display with yellow tint. The build is polycarbonate but it's still sturdy and doesn't feel cheap. The keyboard is backlit and typing on it feels nice but the trackpad feels clunky although you won't find any issues using it.
It also has 2 speakers which are decent and comes with a pen in the box which is always a plus. Overall it's a nice 2 in 1 which I would recommend to those who travel a lot.
Also Read : Best Mini Laptops in India
---
7. Microsoft Surface Pro 7
An investment for the future that you would not regret buying.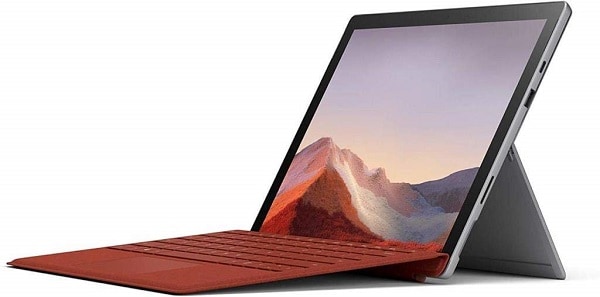 Positive
Sturdy hinge
Compact small design
Negatives
Needs accessories
Below average battery life
We have another microsoft product in the list but unlike the Surface Laptop 3, with the Surface Pro 7 you only get the tablet just like the iPad pro. Where the iPad justified it's price somewhat by it's build, it's display and overall performance, what justifies the high price tag of the Surface Pro 7? Well it comes with i5 10th gen and 8GB of RAM so nothing special there. No discrete graphics card so you can expect to use it for light less intensive tasks and for that it works flawlessly. If you're working on your notes, researching or switching from PPT to excel back and forth you would feel no issues. It also has 2 speakers on either side of the display and the display is a 3:2 QHD panel which like the Surface Laptop 3 offers great viewing angles and vivid pictures. But the battery doesn't last long and dies out around the 7 hour mark even with low brightness.
| | |
| --- | --- |
| Screen | 12.3 inch QHD |
| Processor | Intel core i5 10th gen |
| RAM | 8 GB LPDDR4X |
| Internal Storage | 128 GB SSD |
| OS | Windows 10 Home |
| Weight | 0.77kg |
The design is compact and slim but we have other 2 in 1 in the list with similar specs and similar if not better form factor then why this one especially when you have to invest in a pen and keyboard separately? Well consider buying it not for what it offers now but what it will keep offering 3-4 years down the line. If you're a student this tablet will stay with you throughout your college and still give you a responsive and fluid experience. The Surface tablet lineup is best known for their longevity and that goes for this one too.
Also Read : 32 Gb RAM Laptops in India
---
8. HP Envy X360
High end design without paying a high end price.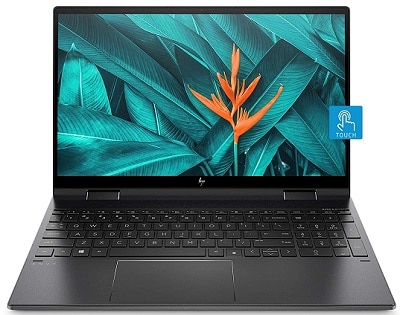 Positive
Premium looks
Robust performance
Negatives
RAM not upgradeable
Screen does not get bright enough
This is our only option in our list which comes with the AMD Ryzen processor as other brands usually decide to go with Intel CPUs. That said the AMD mobile platform has come a long way and the Ryzen 5 4500U can go toe to toe with even the i7's in certain aspects so performance is not an issue here. You can do your day to day tasks mixed with rendering some 4K videos, editing and gaming as well though I wouldn't recommend this for gaming. Sadly the RAM is soldered so you won't be able to upgrade it in the future.
| | |
| --- | --- |
| Screen | 13.3 inch FHD |
| Processor | Ryzen 5 4500U 3rd gen |
| RAM | 8 GB LPDDR4 |
| Internal Storage | 256 GB SSD |
| OS | Windows 10 Home |
| Weight | 1.32kg |
The smaller form factor of this laptop comes with a nice premium Aluminium body which is always welcome especially at this price point. The screen has pretty slim bezels even at the bottom but it's glossy instead of the usual matte finish so outdoor visibility can be an issue added to it that it also doesn't get bright enough outside. The keyboard is tactile and the same as the trackpad. It has ample space and feels comfortable to use for long periods. Talking about long periods of battery here is no joke either. It can last around 10 hours with light usage. It comes with your usual set of ports and thunderbolt 3 is excluded which is expected for its price point.
So if you want a premium looking 2 in 1 with paying the premium then definitely go with this one.
Also Read : 10 Best Laptops with 8GB RAM in India
---
9. Lenovo IdeaPad Flex 5i
Entry level offering which does not compromise where it matters.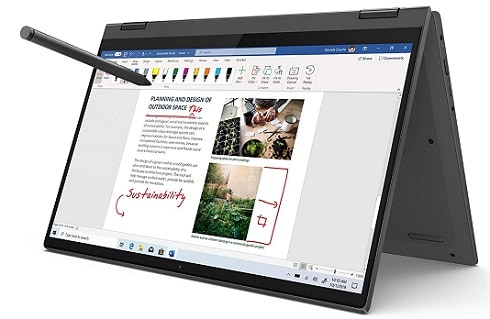 Positive
Great Battery Life
Physical shutter for webcam
Built in fingerprint scanner
Negatives
The performance is subpar
Screen does not get bright enough
Lenovo clearly pioneered the flexible 2 in 1 laptops and that shows in the Lenovo Ideapad Flex 5i. Though it doesn't cost as much and maybe if you are in the market for a cheap but durable 2 in 1 then this might suit you well. It's looks are decent although a little thick and it's made of polycarbonate but still has a decent heft to it. It comes with a 14 inch full HD touch screen which can be folded to use as a tablet just like all the other 2 in 1 in this list and has pen support so you can get accuracy with a pen but unlike the Yoga C640 doesn't come with one out of the box. The screen also doesn't get bright enough with only 250 nits of brightness which means you will have a hard time with the screen in any outdoor situation.
| | |
| --- | --- |
| Screen | 14 inch FHD |
| Processor | Intel core i3 10th gen |
| RAM | 8 GB LPDDR4 |
| Internal Storage | 512 GB SSD |
| OS | Windows 10 Home |
| Weight | 1.5kg |
The battery life on the other hand is just amazing offering 10 hours of time easily but that may be due to the i3 and lower brightness of the display. Talking about i3 it does the job but I wouldn't recommend trying to do any rendering or editing jobs on it but photoshop should work fine. The keypad and the trackpad are also great to use. So it's an affordable but a very worthy option if you're a student and looking for a cheap laptop.
Also Read : Best Laptops Under Rs 25,000 in India
---
10. Asus Vivobook Flip 14
Versatile inexpensive 2 in 1 with a lot of charm inside it.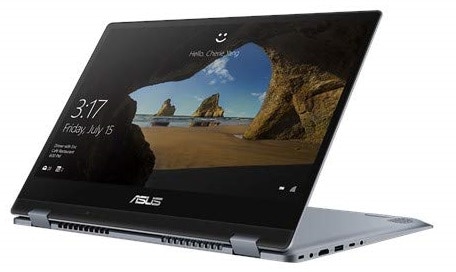 Positive
Screen is bright and vibrant
Decent battery life
Negatives
Cheap build quality
Average performance
The Asus Vivobook Flip 14 is the cheapest convertible laptop in our list and it does have the flaws that comes with it's inexpensive price. Obviously it's hard to find reliable and sturdy 2 in 1 laptops at this price but if you're on a strict budget then this one won't disappoint you. The 14 inch full HD display is nice bright, bright enough to be easily used in outdoor environments. It is powered by the intel i3 10th gen processor so you will have no problems with day to day tasks and it can handle apps like word, excel, powerpoint or browsing multiple tabs on chrome but that's the best you can expect from it. Gaming is something you can do but with much older games since i3 will have a hard time handling them and there is no discrete graphics processor.
| | |
| --- | --- |
| Screen | 14 inch FHD |
| Processor | Intel core i3 10th gen |
| RAM | 4 GB LPDDR4 |
| Internal Storage | 512 GB SSD |
| OS | Windows 10 Home |
| Weight | 1.5kg |
The build quality is fine at best. It feels flimsy and the keys feel loose. Other than that the trackpad and keyboard themselves are good. It doesn't fall short when it comes to ports. It has all the ports that you may require and battery life is quite good to and will last you for about 8 hours. So I would recommend paying a little bit more to get a better laptop but if you're on a strict budget then Vivobook flip does the job well.
Also Read : 10 Best Laptop Under 60,000 in India
What to know before buying 2 in 1 laptops?
If you are not sure what 2 in 1 laptops really are or just want to know if they are really for you or if you should go with a touch screen laptop or a traditional laptop then let me help you out. Let's talk about what 2 in 1 laptops first.
2 in 1 laptops are like your usual laptop except with one unique feature being the ability to turn into a tablet by folding the hinge 360°. Now you take the complete advantage of laptop touch screen. This can be useful if you're a student or an artist and prefer portability and don't want to carry multiple devices. You not only get the advantages of a tablet as it makes the entire user experience much more simple and delightful but also the processing power of a laptop with all the traditional ports, and a full size keyboard and trackpad when you want to get down and write down your notes. Basically giving you the best of both worlds. Over the years even Windows has adapted itself to be more tablet and touchscreen friendly experience no matter if you are using it in tablet mode or laptop mode. You don't lose out on any major feature and get full fledged laptop experience with all the productive office suite of apps, windows have straight-up included a dedicated tablet mode which turns the entire UI into a tablet friendly layout. The only drawback being it's a major hit on the battery life since that touch screen does take a toll and hog up a lot of power and they might cost you more than normal traditional laptops. Obviously a 360 hinge isn't going to be reliable over the years so that's also another shortfall to look for. But overall it's a great experience using 2 in 1 laptops.
Also Read : 10 Best Gaming Laptops Under Rs 90,000
Who should buy 2 in 1 laptops?
Now the question is whom is it for? Well I would personally recommend them to everybody but they are especially great for students, graphic and animation artists, content creators and businessmen. Many 2 in 1 laptops support a pen accessory which allows you to create sketches and arts more accurately and that's why it's a great recommendation for artists as you can be on the go looking for inspiration and pull one out and start sketching as soon as you find your muse. The suite of creative apps paired with a digital pencil will satisfy the artist and you can quickly export your arts and design into editing apps or share on social media sites. Students can take quick notes with the touch screen, browse your favorite sites with ease and then work on that pending article with a keyboard. As we're all studying and working from home, this makes things significantly convenient be it for students or for businessmen. You can prepare excel sheets and then do powerpoint presentations with ease using the tablet mode.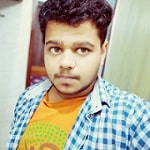 This Article is Written By Anshuman Jain
I'm a college student pursuing computer science and indulge myself in tech and video games. I'm great at nitpicking and pointing out even the smallest flaws. Instagram
---
Also Read:
Best Gaming Laptops under Rs 1 Lakh
10 Best Laptops Under Rs 35000 in India
Best Ultrawide Gaming Monitors in India