If you prefer freshly grinded homemade ingredients for your recipes and don't like the taste and texture of the dry ingredients sold in the market then you should take a look at BOSCH TrueMIXX pro mixer grinder. It's a 1000W mixer grinder delivering optimal power for grinding and mixing. Now all this emphasis on masalas and grinding is because of its especially designed blunt pounding blades which have thick edges that are great for pounding and replicate a pounding effect on the dry ingredients.
Bosch TrueMixx Pro Mixer Grinder 1000 Watt-MGM8842MIN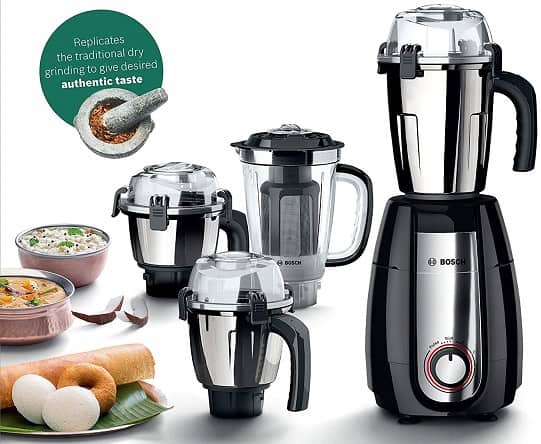 Powerful & Good with few setbacks
It is a good machine that you can consider if you want a powerful juicer mixer grinder and definitely you get the trust of BOSCH which has been a well known brand.

Check Price : Amazon

Positive
1000 Watt powerful mixer
Good blade quality and works really well for dry masala grinding
Design is very nice and appealing
Overload protection ensures safe operation
Negatives
The loud noise it produces is too high 
The lid doesn't fit properly and isn't very easy to clean
The machine has an attractive and ergonomic design and comes with x blender jar 1500ml for your juices and smoothies, a fruit filter, 1 x dry grinding jar 1000ml for grinding aata, masalas and other dry ingredients, and a chutney grinding jar 400ml to prepare freshly made chutney to go with all your favourite snacks.

Rs.

6,499

Rs. 10,590
3 new from Rs. 6,499
in stock


Rs.

12,298

Rs. 19,689
1 new from Rs. 12,298
in stock

This mixer grinder has good built quality but while working it gets quite loud that leaving it on for prolonged time just becomes unbearable, on top of that the lid feels loose even though it has clamps, you'll still need to keep pressure on them so as to not let anything spill out. The blades don't come out easy so changing or cleaning them can be a hassle.
Written By Anshuman Jain