This budget laptop from Dell Vostro 3401 which comes with a 10th gen i3-1005G1 processor , 4GB RAM and 1 TB of hard disk has been making waves as top budget laptops at present. But I certainly don't agree , because it doesn't have SSD and the solution is Dell Vostro 3491 which comes with a built in 256GB SSD.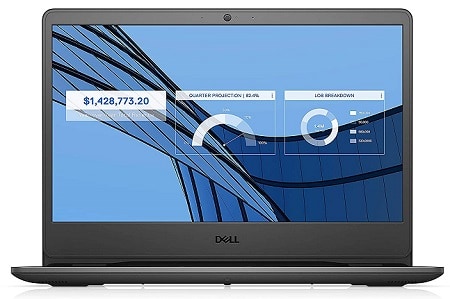 If your buying the model without SSD , it won't be worth at all. The browsers nowadays like Edge & Chrome can use heavy resources with multiple tabs , the HDD speed just can't keep up. Even rebooting times will be more without SSD. If you don't care about a bit of wait time in reboot and opening of apps , then you can go for Dell Vostro 3401 without SSD model.
But do remember that the laptop without SSD are prone to get slower with time , as the mechanical system in HDD gets slower. The 2 side narrow border display is quite nice to have , I hope Dell can use this in other budget laptops and give us better bigger screens.
Budget Pick
The thin narrow border design is good , i3-1005G1 processor but sadly no SSD.
Positive
Intel 10th Gen Processor
2 Side Narrow Border Display
Win 10 + MS Office H&amp
S 2019
Display
This is a basic laptop for online classes , browsing , working etc and definitely not for playing heavy games or designing. So , keep this in maind while buying Dell Vostro 3401. If your looking to buy a laptop for basic use only , then this might be for you.
Having preloaded Win 10 + MS Office H&S 2019 is great (MS Office is free not Office 365) , you do save a lot of money on this. The display is Anti Glare LED backlight WVA (Wide viewing angle) panel display , which is great. If you face the hanging issue then try uninstalling the bloatware apps , that you don't need and the hanging issue should mostly go away. Upgrading windows might also help with slowing issue , but honestly this an i3 processor and not i7 so don't have high expectations.
That's why I keep telling you , go for the Vostro 3491 SSD model instead of this Vostro 3401 model.
One more thing that you can do to make it fast is to remove McAfee antivirus and use the Windows defender instead. I just don't know when they will get rid of McAfee & Avast , they just make the systems so slow. The silver lining is that it does have a slot for SSD and extra RAM , so it can be upgraded. But it's going to cost a few thousand more , I will suggest to upgrade but it will be a bit technical to transfer windows to SSD for faster boot times otherwise what's the point of SSD.
Dell Vostro 3401 – Amazon