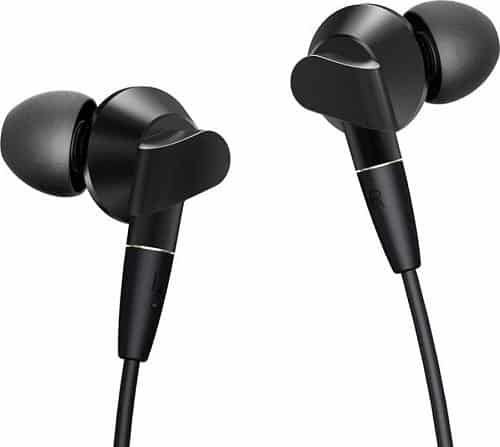 FiiO F5 Hi-Res Balanced In-Ear Monitors Headphones with Mic and Remote
yes , you heard that right. These are the best IEM that you can get under Rs. 5000 or maybe even 10,000.
Check Price – Amazon | Flipkart
---
FiiO F5 Review
One of the best feature is that they come with a detachable wire.
The in-line controls include 3 simple buttons to play pause and switch music. There is also a tiny switch to toggle between android and iOS plus a high definition microphone.
Now the wire is rubberized , that might not be to your preference for high end earphones. Although it is straight, light weight and splits ok.
There is a cable wrap permanently fixed on wire which might be irritating. Both left and right cables are of same length. Also they are a bit (4-5 inches) shorter then other earphones.
You also get a second 2.5mm balanced cable which is still rubberized and silver in colour. You can use it with any portable player which supports balanced output with 2.5 mm.
Black Case is very stylish and waterproof which includes different pairs of eartips of various size and colours.
The tips don't vary in size that much as much as you like them to be.
---
 So How Do They Sound ?
Now Fiio is more known for making audio equipment and there are not many companies which make can do the both perfectly.
FiiO F5 are the real deal and kind of their first real step in earphone world.
Clarity and sound stage are really off the charts , they make you feel like your sitting in some audiophile sound studio. Surround sound is really amazing.
These are really exciting to listen to with their signature sound and with excellent bass , mids and treble. Low end is kind of neutral.
Overall these are the earphones that you want to get as they offer best value for money under 5000 . Even high end earphones which cost 10,000 have trouble competing with then.
Check Price – Amazon | Flipkart
Just get these and you will be amazed.