Let's accept it we all love to play video games be it on the tiny screens of our cell phones or on UHD monitors and screens in our living rooms!
Gaming these days is one of the most prominent form of leisure & competitive sport mainly due to the ever growing gaming industry and also the fact that video games have been an integral part of the present generation of kids and teenagers.
When it comes to gaming a Gaming PC has long been the undisputed king among all the gaming platforms.
It offers unmatched performance and features when put into a head to head battle against any and every gaming console in the market today.
But one question always puts all of us in a dilemma whenever we plan to buy a Gaming PC, should you buy a pre-assembled off the shelf Gaming PC from any brand or should we just put together everything on our own and make a self assembled Gaming PC.
Today I'll be giving you five points as to why building your own Gaming PC is better than buying a pre-assembled Gaming PC from a computer store.
Quick Navigation
---
Considering building a new gaming PC within 50K rupees? Then this post is for you. In this post, we will be reviewing some of the most important components you will need to buy to build your new gaming PC. Remember, 50,000 rupees is not that high for a gaming system.
Also Read : Best Ryzen 5 Laptops in India
However, if you research the market thoroughly, you will be able to build a decent gaming machine without much of a sacrifice. But we have done the research on your behalf. As a result, you will find all the information regarding the gaming PC build under 50K in this post.
So, let's check that out…
Best Gaming PC Assembled Under Rs. 50,000 in India
1. CPU: AMD Ryzen 5 3500 Desktop Processor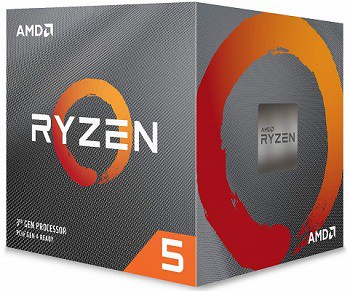 When it comes to building a gaming PC, you should pick a powerful processor. Now, both Intel and AMD are offering CPUs in the market at the moment. But we have gone with AMD for this build. Why? There are a lot of reasons for choosing AMD over Intel. But the first and main reason is the cost to performance ratio.
First of all, we should make it clear that it is a CPU, not an APU. That means it doesn't have any integrated GPU. So, you must buy a dedicated GPU with this CPU.
Now, this CPU sports 6 cores and 6 threads. It has a base clock speed of 3.6 GHz. And, it can boost up to 4.1 GHz. With 19 MB cache, this hexa-core CPU will be more than enough for hardcore gaming. In addition, you are also getting a free AMD Wraith Stealth heat sink fan.
It can support dual-channel DDR4 memory up to 3200 MHz bus speed. It is compatible with any motherboard with the AM4 socket. At the moment, this is a very popular CPU of many gamers all around the world. So, you can check this out.
Key Features
This CPU comes with 6 cores and 6 threads
It comes with a 3 years warranty
This one comes with an AMD Wraith Stealth heat sink fan
Check Cheapest Price : Amazon
---
Also Read:

Budget PC built Under Rs 25,000

Best Gaming PC Cabinets Under 5000 in India

10 Best Gaming Laptops Under Rs 50,000
2. Motherboard: MSI B450M PRO-VDH MAX Gaming Motherboard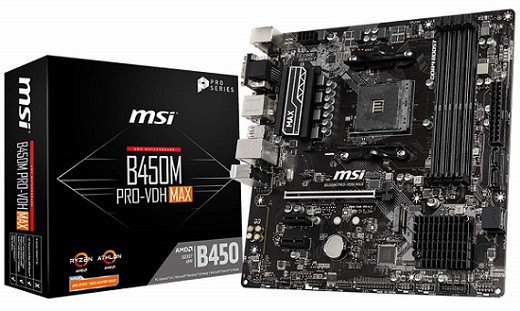 As we have gone with a CPU that is compatible with AM4 socket motherboards, we have picked the MSI B450 Pro-VDH Max motherboard for our setup. This one has a rugged build quality. It will perfectly work with our chosen CPU out of the box.
There are 4 memory slots. Each of the slots can be used for up to 16 GB DDR4 RAM. So, in total, you will be able to use up to 64 GB Ram. There is one PCIe 3.0 slot for GPU.
You will also like the inclusion of 1 VGA port, 1 DVI-D port, 1 HDMI port, 1 LAN controller, one 7.1 Ch. Integrated sound card, 2 PCIe 2.0 slots, and multiple USB 2.0 and USB 3.0 ports. Overall, for the price, this is a must buy.
Key Features
It supports up to 64 GB DDR4 RAM
Comes with 3 years warranty
Supports NVMe based internal SSD
Check Cheapest Price : Amazon
---
3. GPU: Inno3D GEFORCE GTX 1060 OC GDDR5 6 GB
(N1060-7SDN-N5GMX)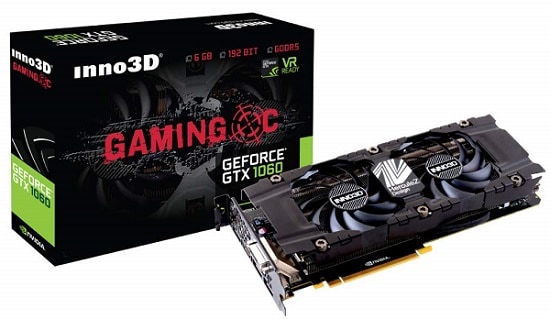 When it comes to building a gaming PC, the most important component should be the GPU or Graphics Processing Unit. And, for this build, we have chosen the NVIDIA GeForce GTX 1060 OC (GDDR5 6 GB). This is a very powerful GPU. So, you can play any games with this on 1080p resolution monitor with mostly high to ultra graphics quality settings.
It has 3 DisplayPort 1.4, 1 HDMI 2.0b, 1 Dual Link DVI-D ports for a multi-monitor setup. The dimension of the GPU is 275 mm (L) x 98 mm (H) x 2 Slots (W).
Also Read : Best Graphics Cards In India
The manufacturer recommends using a minimum of a 400-watt power supply unit. And, it has an 8 pin power connector. All in all, you will have the best experience gaming with this GPU. Moreover, it will also help you to edit videos or images effortlessly.
Key Features
It is a GDDR5 6GB GPU
Comes with 3 years warranty
It supports multi-monitor setup
You can overclock this GPU
Check Cheapest Price : Amazon
---
4. PC Cabinet: Cooler Master MasterBox Mid Tower Gaming Cabinet (K501L RGB)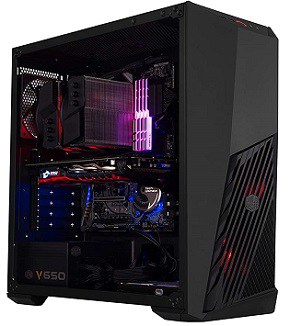 To install all these components, you will need a good looking and featureful PC case. For our build, we have gone with a mid-tower gaming cabinet from Cooler Master. This one comes with 2 pre-installed fans at the back and the front. The front fan supports RGB lighting.
It contains 1 headphone jack, 1 mic jack, 1 USB 2.0, 1 USB 3.2, power, and reset buttons at the front top panel. You can add two 3.5 inches and two 2.5 inches storage drives in this. In total, it has 7 expansion slots.
The left side panel sports high-quality tempered glass for an appealing look. One thing to note that like most modern PC cases, it doesn't have any DVD writer slot.
Key Features
It comes with 2 years warranty
Compatible with: ATX, Micro ATX, and Mini ITX motherboards
The net dimension of this cabinet is 49.09 x 19.99 x 45.09 cm
It weighs about 4.86 kg
Check Cheapest Price : Amazon
---
5. RAM: G.Skill Ripjaws Series DDR4 Memory Module 8GB

When it comes to the RAM for a budget gaming build, an 8 GB memory stick would be the sweet spot at this moment. Of course, you can go for higher. As you know the higher the RAM, the better gaming performance.
But within 50K rupees, we would suggest you go with 8 GB DDR4 RAM. In this case, we have chosen a 3200 MHz bus speed RAM from the G.Skill Ripjaws series. It is a well-reputed brand. So, you can take this without any hesitation.
Key Features
It is an 8 GB DDR4 RAM
It has 3200 MHz bus speed
This one comes with Ripjaws heat spreader
Comes with a lifetime warranty
Check Cheapest Price : Amazon
---
Also Read :

10 Best Gaming Headphones Under Rs. 5,000

Best Budget PC built Under Rs 25,000
6. PSU: Corsair CV550
CV Series, 80 Plus Bronze Certified, 550 Watt Non-Modular Power Supply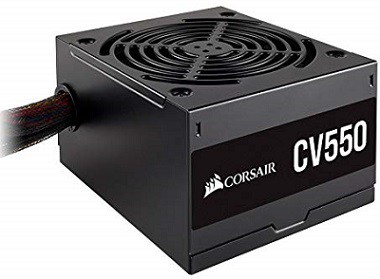 When it comes to the power supply unit of your PC, you should never compromise in this section. Choosing a good quality PSU can make or break your PC build. It is always better to go for a branded PSU if you are using a dedicated graphics card. There are many brands that manufacture power supply units for PC. And, Corsair is one of the best among them.
That is why we have chosen the PSU from Corsair for our under 50K build. Now, before you pick the PSU for your PC, you will need to make sure it can output enough power for all the components in your PC. And it is always better to go for a bit higher capacity PSU compared to the total power draw of your system. As a result, we have gone with this 550-watt PSU from Corsair. This is a non-modular PSU.
For the price, being non-modular is not a deal breaker. It has a thermally controlled fan. That means when the PSU gets hot, it will automatically start to run.
On the other hand, it will stop automatically, when the PSU is cool. All the cables on this PSU come with black sleeving. The build quality of the PSU is top-notch. And the black color will blend with any PC cases. We can say that 550 watts would be more than enough for our system.
Key Features
This is an 80 Plus Bronze certified power supply unit
Comes with a 120 mm thermally controlled fan
It has 5 years of warranty
Check Cheapest Price : Amazon
---
Storage Options
For storage options, you can use either an HDD (Hard Disk Drive) or an SSD (Solid State Drives). Now, SSD is far better than HDD. However, HDDs are very cheaper compared to SSD.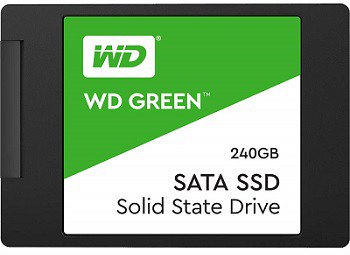 For saving money, you can go with a small-capacity SSD and a high capacity HDD for your setup. That way, you can install the Windows and the games in the SSD for faster boot and loading speed. And, the HDD can be used to store all of your other data.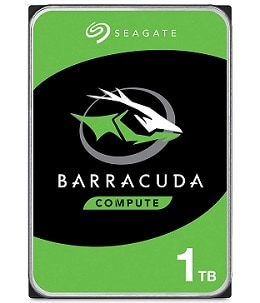 If you want a cheap yet high-quality SSD, then go with the 240 GB Western Digital SSD. And, for a good quality yet budget-friendly HDD, you can opt for the 1 TB Seagate BarraCuda HDD.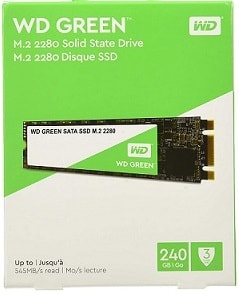 If you want to use an internal NVMe based SSD, then you can check the Western Digital WD Green 240 GB M.2 out.
Difference between the A320 vs. B450 Motherboard?
If you have read the post above, you will notice that we have picked the MSI B450M as our motherboard. But you might be thinking that why didn't we take any motherboards from the A320 series. This is a valid question. Because the price of the A320 motherboard is very cheaper compared to the B450 series. But except for the price, B450 is way better than the A320 motherboard in many ways.
First of all, the B450 comes with overall more features compared to the A320. Secondly, the B450 series is compatible with the 1st, 2nd, and 3rd generation of AMD Ryzen processors by default. Yes, the A320 also supports the 2nd generation AMD Ryzen CPUs, but you will need to update the BIOS first. It is a bit tricky for beginners. So, we would recommend buying a B450 instead of A320 motherboards.
Also, most B450 chipset comes with overclocking functionality. So, if you are using an overclocking CPU, you can overclock it. However, this is not possible with an A320 motherboard. Plus, the B450 chipsets come with a few more SATA ports, PCIe slots, PCIe lanes, and so on compared to the A320 series.
Finally, the A320 series is a very old one. Whereas, the B450 series is a newer series. As a result, the B450 motherboards come with various latest features, which the A320 lacks. Thus, if you want to future-proof your gaming build, you should go with the B450. That way it will be easier to upgrade from here onwards. Because of all these reasons, we have opted for the MSI B450M motherboard.
AMD Ryzen 5 vs. Intel Core i5?
We know that both Intel and AMD are two of the only top competitors when it comes to CPU or processors. But which one is the best? This is a hard question for us to answer. Yet, if you research the market thoroughly, you will see that AMD wins over Intel in many ways.
At the moment of writing this post, AMD Ryzen 5 CPUs offer far better value for money compared to Intel Core i5 CPUs. Intel might have dominated the CPU market for a long time. But now it is AMD who is dominating. As a result, we have chosen the AMD Ryzen 5 3500 CPU for our build.
Monitor Recommendation –
BenQ 21.5-inch LED Backlit Computer Monitor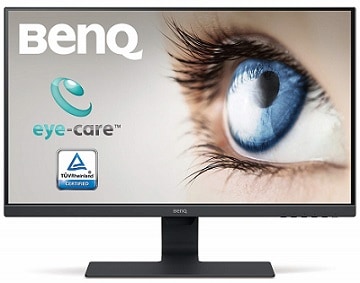 If you already have a monitor for your PC, then you can skip this. However, if you are looking for a cheaper monitor that will go well with your gaming build, then you can check this one out. For our 50K gaming build, we have chosen the BenQ LED-backlit monitor.
This is a 21.5-inch monitor at a very reasonable price. But don't let the cheap price tag fool you. Because it actually comes with a lot of high-end features.
For instance, it uses an IPS panel, so that you will get up to 178-degree wide viewing angle. This one supports wall mounting. At the back, it has 2 HDMI and 1 VGA ports.
Additionally, the monitor comes with built-in speakers. So, if you use HDMI connectivity, you can use the built-in speakers. That way you will not have to buy external speakers as well.
The 1080p screen resolution will be perfect for the GPU, we have chosen for this build. Another great feature of this monitor is the inclusion of the cable management system.
With the help of that, you will be able to hide the cables from sight with ease to give the setup a clean look. You will also like the brightness intelligence technology, flicker-free technology, and blue light filter features. All in all, this is a great gaming monitor for the price.
Key Features
This is a 21.5-inch monitor
It weighs about 2.9 kg
This one comes with a 3 years warranty
It has 5 ms response time
Concluding Thoughts
Building a gaming PC within 50K rupees is a tough task. Still, we have tried our best to build a setup with some of the most powerful components without breaking the budget limit. At the time of writing this post, you will be able to get all these PC parts within 50,000 rupees. However, over time, the pricing might change. So, make sure, you are keeping an eye on the pricing of the components while you are ordering.
As always, you can share your thought in the comment section down below with us!
---
Also Read :

10 Best Internal SSD for Laptop/PC in India
Why we should be assembled a GAMING PC?
– Assembled Gaming PCs are cheaper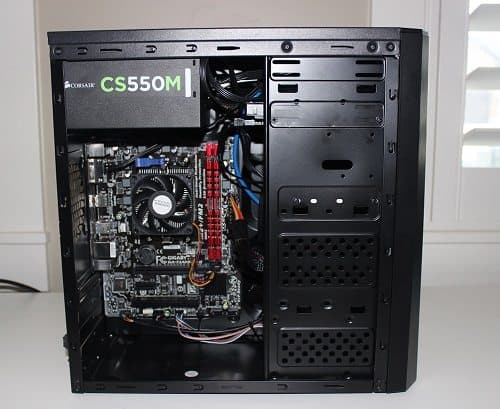 Yes that's right when you buy every component separately & assemble it all together into a PC by your own self you.
It would end up spending less in contrast to buying a pre-assembled Gaming PC with identical or near identical configuration, if at all you manage to find one.
The concept is pretty simple, when some PC manufacturing brand sells you a PC they have to pay various taxes, duties, labor charges etc for every unit they sell you this in turns increases the total cost of the PC.
So theoretically if you buy a $1000 pre-build Gaming PC the actual cost of the PC would be around $600 with $400 going into the above mentioned stuff!
Now this extra money can be used by you into buying better components or other required stuff for your Gaming PC hence making it a cheaper or much better deal for you.
– Customization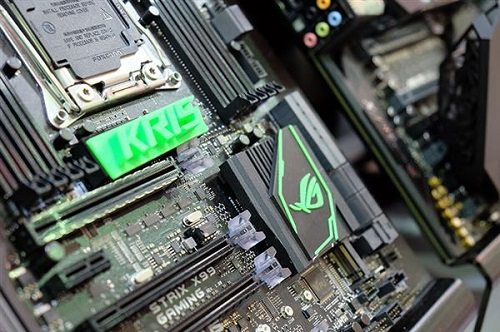 Buying a pre-build system means you'll have to choose from whatever the manufacturer has to offer which mostly happens to be either an overkill for your needs or an underpowered system that would choke upon maximum workload.
Let's say for example you just need a Gaming PC to run everything at ultra settings but that doesn't mean you need to buy a PC that has a custom liquid cooling system or a fancy cabinet that spikes up the prices unnecessarily!
Build one's own Gaming PC means you can decide what to buy and where to cut cost in accordance to your work need.
If it's just for 1080p gaming then a good single card is enough with a quad core processor and 8GB RAM all stuffed into a simple cabinet to cut costs where it's not necessary at the moment saving your bucks while delivering the required performance.
– Warranty and After Sales Services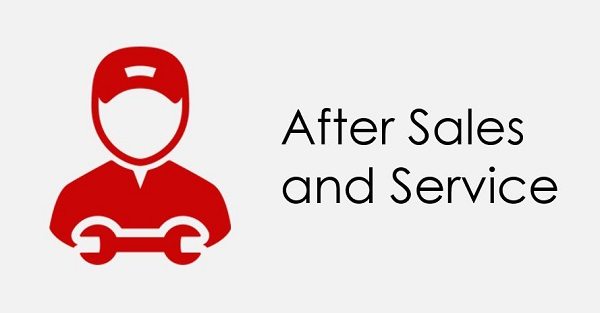 A pre-build system often comes with a one year warranty on the entire PC that you buy rather than giving you warranty on each component separately.
This might sound normal to you right now but consider this motherboards and graphics cards come with a minimum of 3 years warranty
And some RAM sticks carry a three years or even a life time warranty which my friend you lose in a pre-build system!
Gaming PC or any other electronics tend to develop issues in the long run which calls for a customer care support or even RMA at times.
In case of a pre-assembled system not only the manufacturer's customer care is in charge of all your problems which most often proves to be of no help due to the various components in the PC.
The customer care executive has to deal with but also due to the fact that they deal with their component providers through a channel making it a long chain full of hierarchy!
In case of a self assembled system not only you can contact a dedicated customer care personnel for each of your PC parts but also its a straight forward method for support or for RMA.
Cherry on the top is the comprehensive and supportive DIY community on the internet where you can get solution to almost anything regarding your PC from a whole lot of knowledgeable people and bloggers.
– The ease to Upgrade
Pre assembles Gaming PCs or any other PC for that matter mostly have no provision for upgrades and you mostly don't even know what's inside the cabinet as most of the times the branding on components is generic for the manufacturer.
Also most pre-assembled PCs are not build keeping in mind the concept of upgradation and hence only those parts are used that are required immediately such as the power supply unit on most PCs is enough to feed the immediate components making it nearly impossible to swap the present components with another one that requires more power.
On the other hand when you assemble your own Gaming PC you know what you've bought and where you've installed it. You are the best judge of your needs and expectations and hence assemble your PC accordingly.
For example, in case you can't buy a powerful graphics card or more HDDs at present due to availability or budget crunch you can always invest in a bigger cabinet and power supply unit to lay a solid foundation for your future upgrades.
This not only saves you money but also is a hassle free method.
– It's good for your brain & soul
Well of course it is! When you assemble your own Gaming PC you search, read and contemplate all the information that you gather regarding your potential build.
This makes you more knowledgeable about something that you love and are about to buy infusing you with more confidence about your machine.
Since gaming is felt is more of a passion, nothing beats the feeling of satisfaction that one gets while taking out new components out of the box, putting them together and feeling every bit of it.
All this brings you more closer to your Gaming PC just like motorcycles and cars enthusiasts feel about their machines.
You are bereft of all this when going for a pre-assembled Gaming PC, I'd say that's a deal breaker.
---
Okay so now that you are all pumped up and filled with basic knowledge let's pour in a Gaming PC configuration for Rs 50,000 just to bring together what all I've mentioned above.
And also because the 50K mark is a sweet spot for Gaming PCs today which I'm sure most of you reading this have come here for!
---
So that covers our Gaming PC configuration for Rs. 50,000 in India and be rest assured as this configuration.
It would last you for a couple of years easily running all the present and upcoming games at medium to high settings at full HD resolutions.
The components are easily available and you can upgrade any part as per your requirement whenever you feel like without worrying about compatibility issues.
---
Now go and order your brand new-shiny Gaming PC and jump into the battlefield with all guns blazing out!
Also Read: