With plethora of options out the there , choose a budget DSLR is no easy feat. That's why we decided to help you out in the process and also recommend the top options available.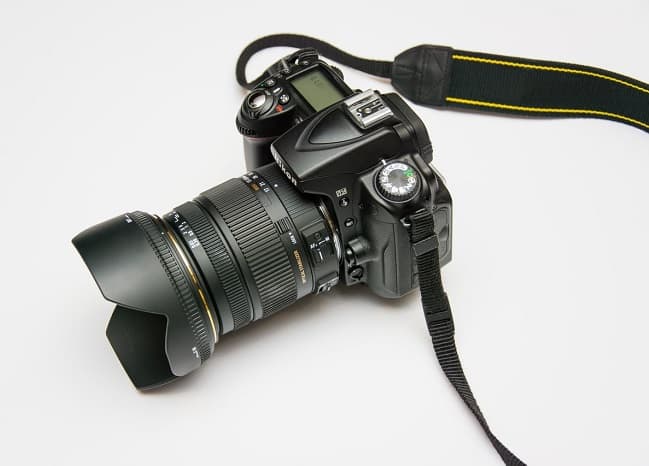 5 Things To Consider While Buying a DSLR Under 50k
Let us see the different things to be considered while buying a DSLR under 50,000Rs.
Which Brand to go for?
The first question that comes to our mind before buying a DSLR would be which brand to go for. There are many brands available in the market. Canon, Nikon and Sony are the some of the well-known brands.
In order to check which brand is the best suited, you should go to a camera shop and try different models from these brands physically. The controls and the Graphical User Interface vary for different brands. Once you try various brand you can conclude which brand to go for. Getting a good feel of the camera is essential before purchasing one.
Burst Frame Rate
Burst Frame rate is an important factor for those who are looking for action photography, which demands for getting the right frame. Higher burst rate will allow you to have a better shot from a bunch of photographs taken during that action.
Camera Resolution
Camera resolution is nothing but the number of megapixels. Higher the megapixels higher the resolution. An 18- 24 Megapixels would be a good choice. Canon's 700D body and Nikon's D5600 are some good choice for DSLR bodies under 50,000. Higher resolution is required only if you are going for big size prints.
Video Recording
Nowadays, most of the DSLR comes with video recording feature. Here you need to check what video resolution you are looking for. For a budget of 50,000, you will be able to get a DSLR with Full HD 1080p video recording capability at a frame rate of 60fps. If you intend to do lots of full HD video recording then make sure that the memory card of higher capacity as well as a write speed matching to your cameras writing speed.
Lenses
Since the budget is 50,000Rs, you will be getting the basic kit lens (18-55mm lens) if you choose Canon 700D or Nikon's D5300. If you want to have one more lens in the telephoto range then you should go for Canon 1300D or Nikon D3400 with the two-lens option, where you will get the 55-250 mm lens for Canon or 70-300mm lens in the case of Nikon.
Image stabilization/ Vibration reduction is another good feature in these lenses, which will help you to avoid image shake to an extent. So, make sure these lenses are "IS" marked in the case of Canon and "VR" in the case of Nikon.
---
Top 5 Best DSLRs under Rs. 50,000
Let us have a look at the top 5 DSLR which comes under a budget of 50,000Rs.
1 Canon EOS 700D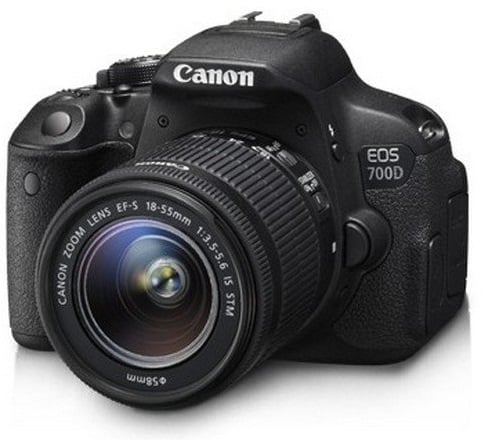 Canon 700D is an 18 Megapixel APS-C Hybrid CMOS sensor DSLR camera. It comes with 9 points auto focus system and all the 9 points are cross type sensor. This ensure that the focusing is pretty fast. Processor in this model is DIGIC 5.
Canon 700D supports 5fps burst frame rate in continuous shooting mode. It supports full HD video recording, 1920 x 1080p @ 30fps. It comes with touch screen display interface. Once fully charged it can support 400 shots (without flash).
Check Price : Amazon | Flipkart
---
2 Nikon D5300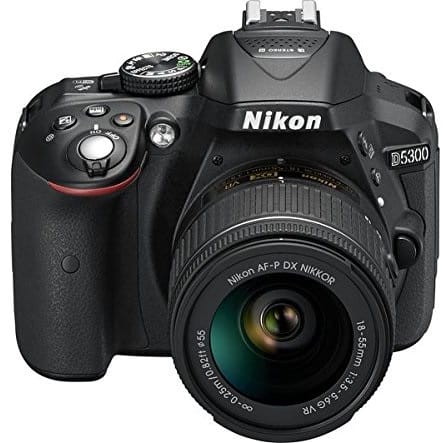 This one comes with Nikon's EXPEED 4 processor and supports 39 points auto focusing system. So, if you are looking for a DSLR with more focusing point option then this one is the right choice for you. This camera is good for family and casual travel photographers. It can deliver up to 600 shots with a fully charged battery.
It supports 5fps burst frame rate. For those who are interested in video recording, this model is capable of full HD video recording (1920 x 1080p) at 60 fps. It comes with 3.2 inch articulated swivel LCD display. It is almost similar to Canon's 200D in terms of specifications. The only major difference being the number of focusing points which is only 9 in the case of Canon 200D.
(Highly Recommended)
Check Price : Amazon | Flipkart
---
3 Canon EOS 200D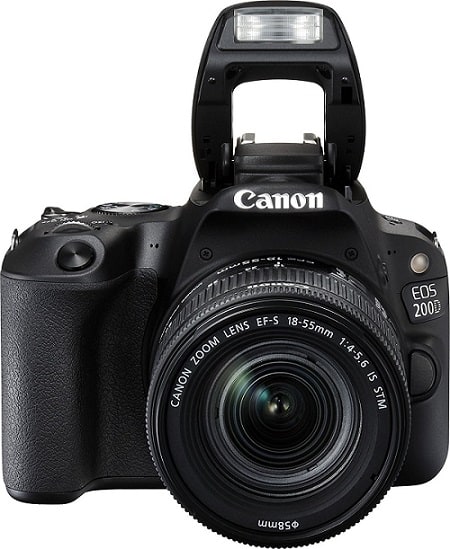 Canon EOS 200D comes with 24 Megapixel APS-C sensor with dual pixel auto focus system. It comes with DIGIC 7 processor & 3 inch touch screen display. Compared to Canon 700D this one is capable of recording full HD video (1920 x 1080p) at 60fps, which is double the rate supported by 700D.
So, slow motion HD videos can be recorded. Once fully charged, it can deliver up to 600 shots (without using flash). It comes with wireless connectivity which is good for travel photographers who want to share photos on social media.
Check Price : Amazon | Flipkart
---
4 Nikon D3400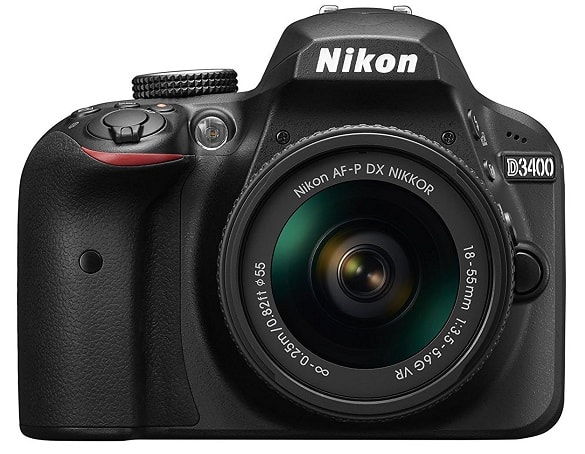 If you don't have budget to purchase Nikon D5300 and still you want to buy a Nikon DSLR camera then Nikon D3400 is the DSLR for you. It is around 10,000Rs less costly than its counterpart D5300. It comes with a 24 Megapixel APS-C CMOS sensor, EXPEED 4 processor.
It supports 11 points auto focusing system. It doesn't come with touch screen or articulating screen. If you are looking for the video recording capability then this model also supports full HD (1920x1080p) resolution at 60 fps. It can support 1200 shots with a fully charged battery. Nikon D3400 is well suited for beginners and amateurs. This model comes with Bluetooth connectivity which allows user to transfer the photos from camera to smartphone.
Check Price : Amazon | Flipkart
---
5 Canon EOS 750D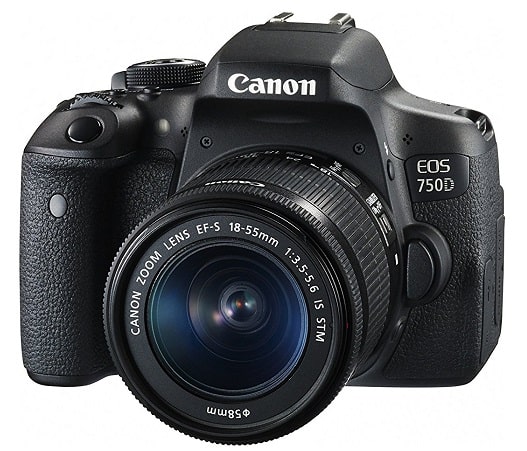 Canon EOS 750D is an upgraded version of Canon EOS 700D. Let us see what makes it different from the 700D. It is a 24 Megapixel DSLR camera with DIGIC 6 processor. So, resolution is slightly more than the 700D and it make use of a newer version of the processor. The number of focus points is 19, which is more than the 700D.
All the 19 focusing sensors are cross type ones. The number of shots with a fully charged battery is same as that of Canon EOS 700D, around 400 shots. It comes with built in wireless connectivity which is not present in the other model. Video recording capability is same as that of Canon EOS 700D, 1920 x 1080p at 30fps. Cost wise it is around 5000Rs more than the 700D. In my opinion, it is worth paying this additional price for these features.
(Highly Recommended)
Check Price : Amazon | Flipkart
---
Also Read:
1) Top 10 Bluetooth Tower Speakers
2) Top 10 4.1 Channel Speakers