The year 2017 has been one of the best years ever in recent times for the video game industry. With not only some of the best and most anticipated gaming titles coming out but also in terms of PC hardware wars soaring to new heights. AMD rolling out the revolutionary Ryzen CPUs countered, well to some extent, by Intel Coffee Lake.
The Graphics division wasn't too different after all with AMD Vega entering the arena to challenge Nvidia Pascal cards supremacy in the main stream segment.
In short if you are an avid or even casual gamer who is planning to build a new PC or upgrade his old and loyal gaming buddy then this is the best time to do all that, not only will you be able to play the latest titles but also prepare yourself for the impressive titles that are bound to release in the first quarter of 2018.
Considering all the trends and stats it's safe to assume that Rs 80,000 is what you will have to shell out for a brand new gaming PC which will sail you across easily for the next two to three years atleast before asking for a major upgrade, mostly in the graphics card division. Before compiling this configuration I've kept a few key points in mind which I would like to enlist first –
---
Quite basic points but worth mentioning for easy understanding of what I'm about to write down next.
Key Points For This Build
The build should be future proof and should last the user for over a year or two without any upgrade.

It should run all the existing and upcoming titles at 1080p resolution with respectable settings.

Upgrade should be easy and economical with minimum change of components.

It should be balanced over all with all the components in sync & at par without overpowering or under-powering others.
---
CPU –
Intel Core I5-8400
The latest offering from Intel in form of the Coffee Lake will be used since this build is primarily for gaming and not anything else for which the Intel i5 8400 does the work smoothly.
This six core or hexacore processor comes with a base frequency of 2.8Ghz which can top out at 4Ghz boost on all cores when needed and since it's a six core CPU you won't need anything more than that for gaming anyways making it quite future proof even for two to three years to come. As a bonus it comes with the Intel Stock cooler so you don't need to shell out any extra for an aftermarket cooler.
Check Price – Amazon | Flipkart (NA)
---
Motherboard –
MSI Z370 Krait
MSI is a brand now known for its very solid yet impressive looking motherboards and one such motherboard is the MSI Z370 Krait. Not only does the motherboard sport a black with streaks of white PCB like a Krait snake which makes it look impressive sitting inside your cabinet but also supports dual M.2 SSD just in case you want to opt for one in future.
Has support for dual graphics card configuration with two reinforced PCIe slots for looks and longevity. As a bonus you get RGB lighting and great onboard audio CODEC for superior audio experience.
Check Price – Amazon | Flipkart (NA)
---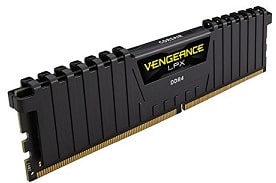 RAM –
Corsair Vengeance LPX 16GB DDR4 2400Mhz
Today for gaming 8GB is the bare minimum that you should have in your PC for playing games at respectable setting or else it creates a huge bottleneck even if you've got everything else in place! For that matter we'll be using the Corsair Vengeance LPX 16GB DDR4 2400Mhz memory kit which constitutes of two 8GB DDR4 stick so you get two RAM sticks working in dual channel for superior performance.
2400Mhz is the sweet spot for gaming and with the Vengeance its possible at a great pricing offering you good looks and a very stable memory kit which is trusted by everyone in the PC industry alike.
Check Price – Amazon | Flipkart
---
SSD –
Kingston A400 240GB
Yeah you obviously need a SSD for faster Windows boot up time and quick loading in games or else you'll be stuck loading multi gigabyte games over a conventional mechanical hard drive.
The Kingston A400 256GB would do the job here as the SSD offers superior performance than SSDs that cost almost double the price for which it comes at! Great after market sale support for Kingston is always there and 256Gb would be more than enough for Windows, your vital softwares and games so pick this up without any second thoughts here.
Check Price – Amazon | Flipkart
---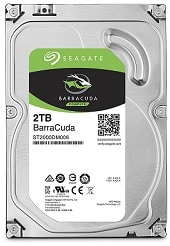 HDD –
Seagate Barracuda 2TB
Since we are building a PC it is quite obvious that you would be watching movies and listening to music aswell along with downloading a bunch of other stuff from the internet so we need a HDD here for which we'll go with the Seagate Barracuda for its long line of trusted quality and service that it offers at a very reasonable price.
The 2TB HDD spins at 7200RPM so you won't feel it slowing down or spoiling your experience even if you play a multi-GB BluRay rip over your monitor or TV due to slow load/buffer time.
Check Price – Amazon | Flipkart
---
Graphics Card –
GIGABYTE GeForce GTX 1060 6 GB OC
One of the most gorgeous looking cards in the market for this segment, the Gigabyte GeForce GTX 1060 OC and mind the OC here as there is a slower and less attractive non-OC versions of the same aswell so don't get yourself confused.
The card is very competent for 1080p gameplay of every game in the market today and with the tweaking app that it comes with one can easily increase the frequency of the card with just a click to squeeze out extra performance just in case.
Check Price – Amazon | Flipkart (NA)
---
PSU –
Corsair VS550 550-Watt
For less than Rs 4K the Corsair VS550 550 PSU is more than you need for this configuration leaving enough headroom for a few extra components or upgrades that you might want to add in or do in future without changing the PSU for extra wattage or more reliable performance.
The PSU is vastly compatible, extremely reliable and has good number of connectors with long wires for easy installation all build with a dual rail 550W power supply.
Check Price – Amazon | Flipkart
---
Case –
Cooler Master Masterbox Lite 5 RGB Case
For build that performs great you need a case that looks great and can house in all your precious hardware offering ample of cooling all at the same time, plus it should make your friends go envious of your PC!
I suggest the Cooler Master Masterbox Lite 5 RGB for this build as its very well priced, has a tempered glass side and front and comes with three RGB fans out of the box for great cooling and eye catching looks. You can house all these components and more in this chassis and forget about space issues for a long time.
Check Price – Amazon | Flipkart (NA)
---
---
Outside Of List
Monitor –
ASUS VP228H- 21.5 Inch Gaming LED
Now since we are building a gaming PC we need a monitor that looks good with thin bezel and also has to the point specifications. The Asus VP228H is not only a 21.5' full HD monitor but also has just 1ms of response time!
Check Price – Amazon | Flipkart
This makes it not only a great choice for watching videos, movies, images, surfing web and all that but also for gaming since we have a very low response time for ultra fast gaming experience especially if you play a lot of FPS games or are crazy about CS:GO. For around 10K this is the best the market has to offer right now.
---
So there you have it a Gaming PC configuration for Rs 80,000 to handle all your gaming and multimedia work without blowing a hole in your pocket, well not a big one to be precise.
I haven't included the cost of a peripherals like speakers, keyboard and gaming mouse so you can add that according to your preferences and budget. For headphones go with SteelSeries Siberia P100 with Mic.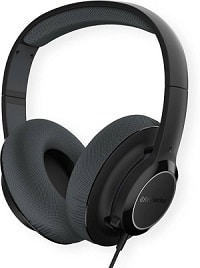 Also for Windows keep aside around Rs 500 or so as you can get an OEM key easily for that much from many online stores and places to activate your free copy of Windows from Microsoft website. From my side I've tried to keep everything in mind regarding this build but just in case I did forget something or you have a suggestion for the same then do drop a comment.