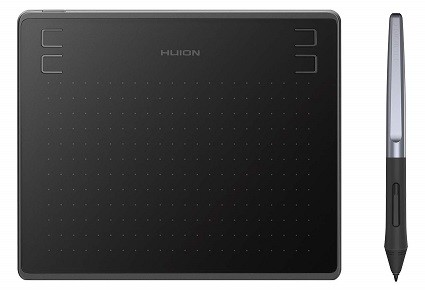 Another budget-friendly graphics tablet that is completely suited for everyone. For people with a low budget, it surprisingly provides a lot of things that won't disappoint you.
Awesome
This Graphics tablet from HUION is absolutely perfect for all kinds of users despite being cheap. It surpasses a lot of others when it comes to features and excels at them. It is very surprising how underrated it is because it gets overshadowed by its competitors like Wacom.

Available At – Amazon

Positive
Pressure-Sensitive Pen
Works with Windows, macOS, and even Android, giving you a wide variety of platforms to works on.
Battery-free stylus, making it light and easy to use.
Comes with Extra nibs if you want to replace them.
Wide space compared to its competitors.
Negatives
No Linux, iPad, or iPhone support. 
The stylus is thicker when compared to others.

The drawing tablet is quite big which I honestly didn't expect. Pressure-sensitivity will help digital artists as well. The best part was the android support. By enabling OTG function from your android device, you can use this drawing tablet on either your Android smartphone or tablet, given it should be above android 6.0. Aside from this, you do have the option to use this on macOS as well but keep in mind that it doesn't support iOS devices. Though, the lack of Linux support is a bit disappointing.
The stylus was also something that felt weird to me, it was very thick which is something I don't like at all since I prefer thin pens, this was the biggest turn off for me but its very subjective and you should make sure if you're fine with it or not.
To conclude, this is one of the best choices for anyone who's looking for a cheap drawing tablet, whether it's for students, teachers, or beginner artists.