Each and every citizen of India (whether or not he/she is a geek, or he/she does not even own a smartphone) knows that 'Oppo' and 'Vivo' exist somewhere! You really just can't overlook the marketing strategies of both the giants if not anything else.
When I bumped across the name Realme , first thing that came to my mind was 'Redmi'. You see there are umpteen details which the scholar marketing managers take into consideration while creating a brand identity.
Madhav Sheth, CEO of Realme India quoted that it is the company's effort to bring something 'India Exclusive' among the Indian millennial. Let's find out what we got inside the box in here…  
Design:

To be quite honest the Realme 1 hardly seems like a mid-range device externally. The textured finish is similar to that of Oppo F7. The phone is just 7.8mm thick at the bezels and weighs reasonably at a 155g.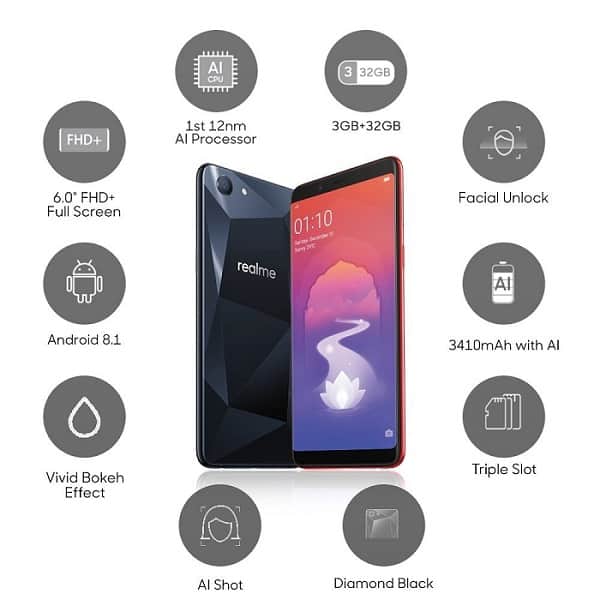 Not to mention the infamous 18:9 display that has been adapted among many smartphones. There's no fancy AMOLED display or any other software enhancement provided here; so what! It is after all, a mid-range smartphone and an IPS LCD just serves the purpose right here!
Also you won't expect (why should you :/) the Gorilla glass or metal finish in here. Back around 2012 there were many flagships from the likes of Samsung, Nokia and Sony which flaunted a polycarbonate back and yet managed to look elegant. This is where the textured finish comes into aid, to make the device look a lot more attractive.
Camera & Audio:

Our regular readers might have notices that the spec sheet is rather smaller than usual. That's because Oppo has chosen not reveal the details such a sensor size and pixel size. There isn't even any specific website of Realme brand to be honest! Again, seeing that it is a mid-range device we are swallowing the fact that it shouldn't matter (*Sigh*)

Since there is a single lens the optical zooming facility is missed here. The digital 2x zoom in stills is fairly appropriate in daylight photos. Same goes for the videos too.
There has been a lot of noise going on around about the AI powered features. The one that has been highlighted the most is camera, more importantly the selfies. On digging out we saw that it is kind of a marketing gimmick for scene recognition! Nonetheless the camera app is quite intuitive and both front and rear cameras yield satisfactory results.
Bottomline

:

The very reason of Realme brand's birth lies here. This is basically the cheapest 128 GB / 6 GB smartphone available in India; and that's why the 'India exclusive' strategy. If that was not enough Realme 1 has a dedicated SD card slot (unlike the hybrid slot) which supports upto 256 GB of expandable storage! The battery capacity ample and also the device is powered by the latest edition of Mediatek chipset series.
Now coming back to the core, it is very commendable of the company to divulge people's minds into figures that are daunting. And I see no reason as to why they should not. On the other side, most of the flagships have a 4 GB / 64-128 BG combination is altogether a different debate.
If you think from an average buyer's viewpoint he would even settle for the 3 GB / 32 GB version at the current price. After all, the entire target audience of Oppo is quite focused towards the masses who are using Redmi phones!
So if you are planning to buy the Redmi Note 5/5 plus, it's about time you had a look around this similar pronounced 'Realme' 1 phone! It is Amazon exclusive and the prices are listed below:
3 GB / 32 GB ( Amazon )
4 GB / 64 GB  ( Amazon )
6 GB / 128 GB ( Amazon )
---
Also Read:
1) Best Gaming PC Build Assembly Under Rs. 1,00,000
2) Top 10 Best Webcam For Youtube 
3) Top 12 Best Xbox One X Accessories 
4) Top 10 Best Gaming Headphones Under Rs. 10,000
5) Top 10 Best 20,000 mAh Powerbanks
---
Please do comment below to add your suggestions and feedback.
Thanks.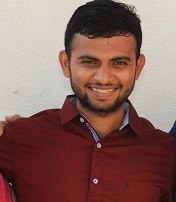 About The Author : Parth Dattani
Bio: Hanging out with headphones, smartphones and flirting with frequencies is my thing! Facebook