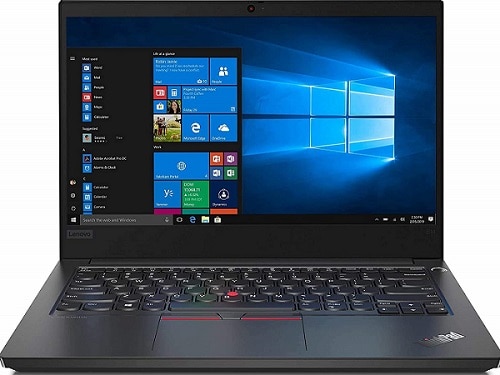 This Lenovo laptop is machine made for work , it can be used by both professionals & students. As Lenovo has taken care of all the needs by installing an SSD , Windows 10 and Microsoft Office. All in all it's a complete package suited for professional usage. But we will take a deep look at it's features and quality.
Best Business Laptop!
For under Rs. 60,000 price bracket this is one of the best laptops for students and professionals. It has all the artillery that one will ever need.
Positive
Good Specs
Battery Life
Matte Finish
Inbuilt SSD
Built For Rough Use
Negatives
Bit Pricey
Lenovo can improve Customer Service
Well as you can see the Lenovo ThinkPad E14 comes with Intel Core i5 10th processor , 8GB RAM and TB HDD+128GB SSD. These are good specs for a Laptop , as it has almost latest generation (11th Gen is latest) processor and comes with inbuilt SSD. So , you can expect a fast performance and quick boot times from this laptop.
There are two variants available for this model i.e IPS & TN display. Let's do a quick comparison between these , so you can decide which display panel is better for you.
IPS panels have better viewing angles & color reproduction , while TN panels have faster response times. For a professional use laptop , I will prefer IPS panel over TN panel as I don't need faster refresh rate which is more suited for gaming.
Well , now coming back to Lenovo ThinkPad E14. It also has a backlit keyboard and the battery backup is quite good. The thinkpad laptops are usually lightweight , made for portability. It's a good business laptop. It has a military grade certification , which means it can handle a rough use.
Military Grade Tests
Extreme temperature check
Mechanical Shock
Humidity
Sands & Dust
Fungus
Altitude and more..
These are the kind of tests it takes to get the Military Grade certification so don't take it lightly.
Comes preinstalled with Windows 10 Home and Microsoft Office Home & Student 2019 , which is good. Being a business & student laptop , it has to have these preinstalled. One more interesting feature is the physical camera shutter , which ensures your privacy at all time. It also has an integrated fingerprint button , which you can use to log in.
Lenovo claims a 12.8 hours of battery life , depending on the varied usage. Also , that 80% of the battery can be charged within 1 hour. All in all , this Lenovo ThinkPad E14 has a lot of crazy features and is built like a tank. So highly recommended!
Available at – Amazon