When it comes to quality, LG doesn't disappoint. And just as usual this window AC won't disappoint you either. If you have dedicated space windows AC is a very good option to have.
Let's look into it why you should consider purchasing this.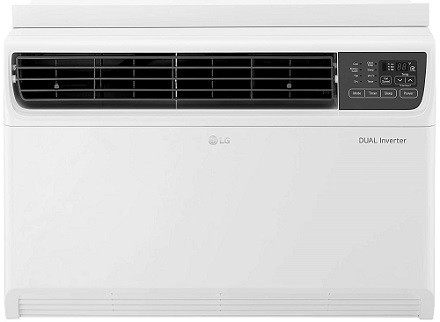 Pros-
DUAL inverter
Capacity: 1.5 ton
Wi-Fi Connectivity
Energy Rating: 5 Star.
100% Copper with Ocean Black protection
R-32 Refrigerant Gas
Cons-
Installation issue (will get into more detail below)
Check Cheapest Price : Amazon
This 5star rated DUAL inverter AC will ensure that you're fully equipped from all sides, whether it comes to energy-saving or cooling. The Dual inverter will make sure that AC cools faster, run quieter.
Since it comes with a Wi-Fi function, you can use voice control apps such as Amazon Alexa or Google Assistant to use your AC from anywhere as long as it's connected to Wi-Fi.
The Top Air Discharge feature helps in widening the airflow which gives uniform cooling. It also has a clean filter indicator that will timely notify you.
Aside from all these, it's 100% copper with Ocean black protection which provides the best possible durability, ensuring the longevity of your AC.
While we have all these positive things to talk about this AC, there's one thing that you should keep in mind, which is specifically mentioned by a user in the review section of amazon. Please make sure that you're not installing this AC at the top of your door or at higher places because it is designed in a way that if the height is more than 4 feet then the air vents cannot reach the surface within it.
It's one of the best windows AC to choose from and as always LG delivers another quality product which will be very convenient to have around.
Also Read : 10 Best 1.5 Ton Split AC in India