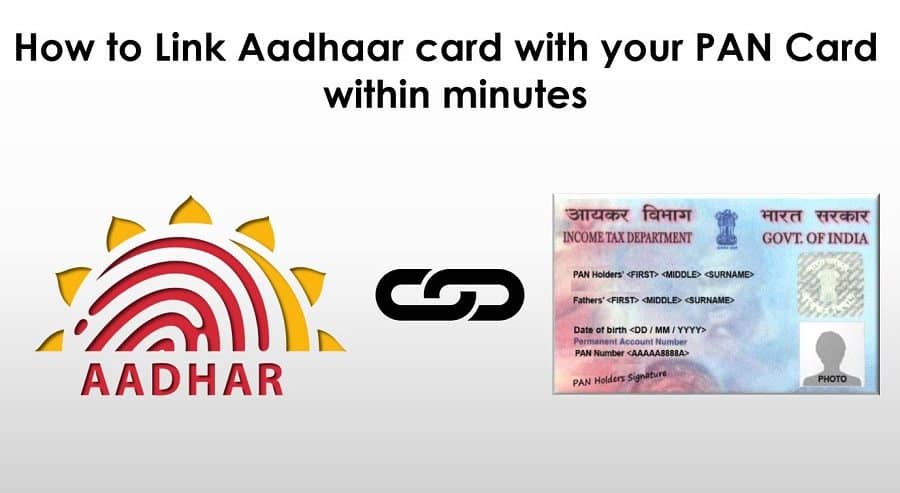 How to Link Aadhaar card with your PAN Card within minutes
Planning to opt for an Aadhaar Card and a PAN card is no longer a choice.
The Finance Act 2017 from July 1, 2017, makes it mandatory for every citizen of the country to link their PAN card with their Aadhaar number.
While a PAN is a 10-digit number issued by the Income Tax Department of India to track one's financial transactions, the Aadhaar number is a 12-digit code issued by UIDAI, Unique Identification Authority of India.
An Aadhaar number delivers a unique identity to the citizens of India. It serves as an identity proof as well as an address proof.
---
Why link your Aadhaar with PAN
– The primary reason for linking your Aadhaar with PAN is to avoid your PAN get invalid.
– Because the government has given a strict deadline of 1st July 2017 for linking.
– Invalidation will cease you from submitting your PAN number as an identity proof for any reason.
– One cannot file returns if the two documents aren't connected.
– Also, a person will not be allowed to buy a property more than worth ₹10,00,000.
– However, the list doesn't cease here and has many more implications in various situations similar to the ones mentioned.
– Since the government has made it compulsory to link the two documents, it allows you to do it at your comfort sitting at home.
– One does not even require half a minute to do so. The Income tax website gives an easy option of linking your Aadhaar and PAN.
---
Steps to follow:
Step 1 – visit the official Income Tax Website. You will find the link of Aadhaar and PAN linking form.
Step 2 – click on the link and fill in the necessary details. The page asks you to fill in your Aadhaar number, your name written on the Aadhaar Card and the PAN number. Fill in the box writing the captcha code from the image in the below section.
Step 3 – once you have filled in all the details, click on the 'link Aadhaar' option. If there is a mismatch, you'll be compelled to write in the Aadhaar OTP. Thus, make sure your date of birth and gender are the same in both Aadhaar and PAN card.
If successful, you can see a pop-up message that informs that the linking has been successfully processed.
---
Final word
Linking Aadhar with the PAN card is though mandatory; the government ensures that the same can conveniently be done through the online portal.
Thus, it is a matter of minutes that will enable you to comply with government norms and let enjoy all the benefits you are eligible to. So, link your documents to the earliest.
---
---
---
---
---