When it comes to building a PC, one of the final yet crucial aspects of the setup is the cooling. An adequate cooling system ensures your PC components performance at their peak capacity, without overheating. It also increases the lifespan of components.
There are mainly two ways of cooling your PC, using air coolers or using liquid coolers. Some enthusiasts also make custom loops for cooling, but that is not readily available in the market.
Air Cooling vs Liquid Cooling:
In air coolers, the heat generated from the CPU moves into the heat pipes and the fans remove the heat away from the CPU plate. This ensures that the CPU does not overheat. The overall effectiveness of air coolers can vary, depending on various factors such as material used and the size and quality of fans. Larger air coolers are much better in heat dissipation and hence lead to cooler systems. But they are very bulky.
In liquid coolers, there are two categories : AIO (All in One) coolers and Custom Loop coolers. In this article we will focus primarily on AIO coolers. The AIO coolers have a coolant inside them that helps in better cooling. The coolant absorbs the heat from the CPU as it moves through the water block. It then moves through the tubes into a radiator. The radiator exposes the liquid to air and helps it cool. The fans attached to the radiator move the heat away from the cooler.
Also Read : Best Gaming Monitors in India
Picking between these two types of cooling depends on a few factors :
Price: Generally air coolers are cheaper than liquid coolers, since they are more straightforward. Although there are more expensive versions of air coolers available, liquid coolers cost more.
Aesthetic: This is more of a subjective matter, but liquid coolers are more aesthetically pleasing since they have RGB included. And using AIO coolers makes the cabinet look much cleaner overall.
Ease of Installation: An AIO cooler is much more complex to install compared to an air cooler. You have to install the waterblock, the radiator and the tubes. But since all these components are self contained,(aka AIO), they require very less maintenance after installation.
Size: Air coolers generally occupy much less space compared to AIO coolers. You will need space for the radiator, and have to properly align the waterblock and coolant tubes. In Small form factor builds however, an AIO is the better option.
Sound/Noise: Liquid coolers tend to be much quieter than the fan on a regular air cooler. Although, this may vary from model to model, since some air coolers come with very silent fans, but overall liquid cooling tends to be much more silent. The radiator fans run at very low RPM than those on air coolers.
Also Read : Best Gaming Headphones Under Rs 1000
So here are some of the best AIO coolers you can get in the market today:
1. MSI MAG CoreLiquid 360R RGB Liquid Cooler

Highlights:
360mm Radiator
120mm RGB PWM Fans
Fully customizable RGB
Rotatable Cap
If you are an enthusiast and are looking for the best large form factor AIO cooler, then the MSI MAG Coreliquid 360R is a great choice. This AIO cooler comes with three 120mm fans which means it will have excellent cooling ability. For high end PC builds with components such as AMD Ryzen 9 3900x or Intel Core i7 9700k, this cooler will do the job really well. Another big plus for this cooler is that it has great aesthetics as well. All the three fans have RGB lighting that is fully customizable to your liking. And compared to other alternatives with similar specifications, the MSI is cheaper too.
Check cheapest Price : Amazon
---
2. Cooler Master MasterLiquid ML240L ARGB V2 Liquid Cooler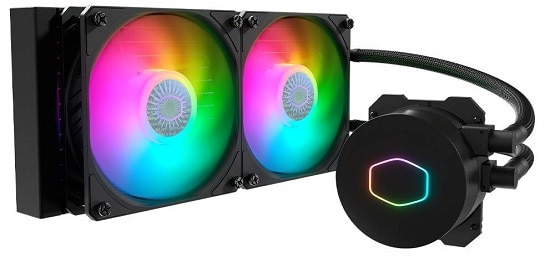 Highlights:
240mm Radiator
120mm ARGB Fan
Dual Chamber Pump
RGB Pump Cap
For medium sized setups that require adequate cooling, the Cooler Master MasterLiquid
ML240L is a great option. For most people, this cooler should be for than sufficient for properly cooling their system and looking good enough to show off too. The cooler has two large 120mm fans that are fully RGB and can be customised with software. It is compatible with almost all major motherboard manufacturers so you don't have to worry about the RGB headers not working.
Also Read : Best Gaming Chairs In India
The pump cap also has the Cooler Master logo on it which is RGB customisable too. Overall it is a really clean looking cooler without any clutter and should look really good in your PC cabinet.
Check cheapest Price : Amazon
---
3. DeepCool Castle 240 EX WH AIO Liquid CPU Cooler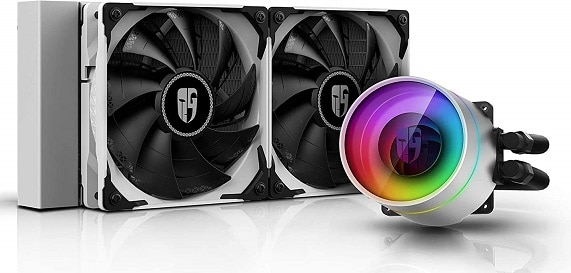 Highlights:
240mm Radiator
Two 120mm Fans
Addressable RGB Lights
Anti-Leak Technology
If you are looking for more options at a reasonable price, Deepcool does not disappoint. The Castle 240 is a solid cooler for the price. It has a great white build and looks really good. Most coolers have the standard black look to them, so this cooler stands out a lot. The radiator is 240mm in length and there are two 120mm fans that offer great cooling.It should be noted that the fans themselves have no RGB lighting, only the pump cap has that feature.
Also Read : Best Gaming Laptops in India
The lighting can be customised to your liking and looks really great in almost all PC cabinets.
Check cheapest Price : Amazon
---
4. Cooler Master MasterLiquid ML360L ARGB V2 Liquid Cooler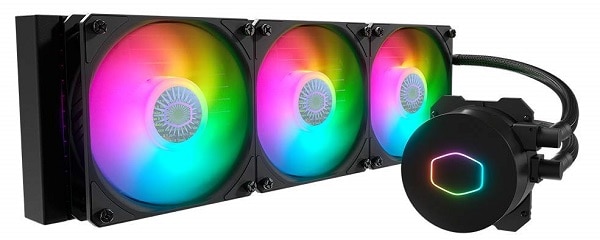 Highlights:
360mm Total Radiator Length
120mm fully RGB fans
Dual Chamber Pump
An even better deal than the MSI MAG AIO cooler, this Cooler Master MasterLiquid ML360L is the perfect option if you want the most bang for your buck. At just Rs. 9,999, this provides almost all the features you get on the MSI variant. The Cooler Master cooler has three fans and the radiator is 360mm in length. The fans are 120mm each and have RGB lights.
Also Read : Best Mechanical Gaming Keyboards in India
The RGB is really great to look at and adding to that, they are entirely customisable to your preference. This cooler is very sleek looking and provides a very clean look to the PC cabinet.
Check cheapest Price : Amazon
---
5. Deepcool Gammax L120T Liquid Cooler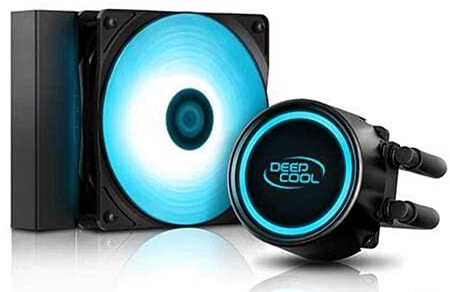 Highlights:
120mm Radiator length
120mm Fan
3 Year Warranty
For small form factor setups and budget builds, the Deepcool L120T is a very good choice. The cooler is very small and can be installed in almost all PC cabinets. The fan has only Blue LED on it, which looks really good. Although the fan does not have any RGB lighting, the blue color is fine enough. The pump cap also has blue lighting.
Also Read : Best Gaming Mouse in India
The main selling point of this cooler is the price. At this price point, you won't find better specifications.
Check cheapest Price : Amazon
---
6. Cooler Master MasterLiquid Lite 120 Liquid Cooler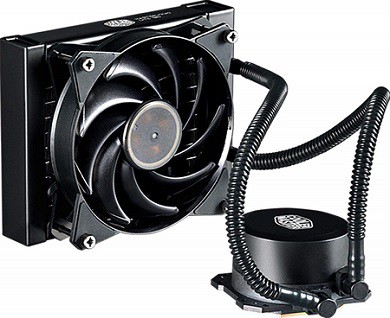 Highlights:
Very Low Noise
Low Profile Dual ChamberPump
120mm Fan
For budget builds that do not require any sort of RGB, the Cooler Master MasterLiquid Lite 120 is a fitting choice. The cooler has absolutely no lighting, so there is no distraction. The cooler is all black and looks very sleek. The size of the cooler is comparatively small. The fan size is 120mm and will fit most if not all small form factor builds very easily.
Check cheapest Price : Amazon
---
Also Read : Best Graphics Cards In India
7. Corsair Hydro Series H100i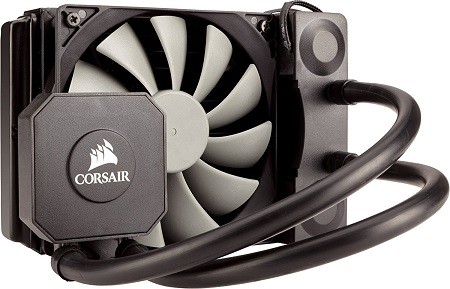 Highlights:
16 Individually controlled LED RGB lights
Two 120mm RGB fans
Corsair iCue Software for RGB control
400 RPM to 2400RPM Fans
240mm Radiator
The Corsair Hydro H100i is a tad bit on the overpriced side, since the only selling point of the cooler are the bright RGB LED lights. Sure, they look really good, but you have to ask yourself if they are worth spending more than the other cheaper alternatives. The fans are 120mm in size and they have plenty of speed to aid in cooling your system. Corsair products also support their own iCue software to control the RGB lights. The software is really easy to use and if you have other Corsair products, they all sync up really nicely.
Check cheapest Price : Amazon
---
Also Read : Best Monitor Arm Stands in India
8. Corsair Hydro CW-9060028 AIO Liquid CPU Cooler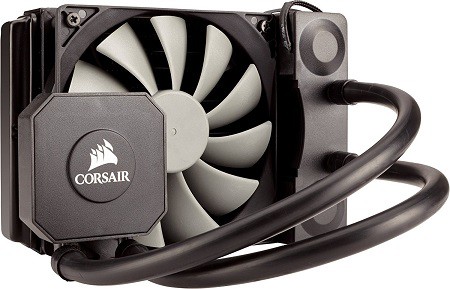 Highlights:
120mm Radiator
Improved cold plate and pump design
Easy Mounting
Another budget option from Corsair is the Hydro series. These coolers are simple in design without any RGB lighting, but they get the job done nonetheless. This particular variant has just one 120mm fan on the radiator. If you are making a Small Form Factor(SFF) build, then this is a decent purchase. For people who prefer functionality over form and do not mind missing out on RGB lighting, this is a good choice.
Check cheapest Price : Amazon
---
Also Read : Best Soundbars in India
9. NZXT Kraken X53 AIO Liquid Cooler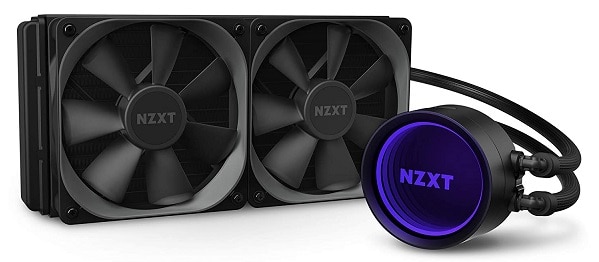 Highlights:
240mm Radiator
Two 120mm Fans
RGB lighting on Pump Cap
NZXT CAM Software integration
NZXT products are known for their premium quality and build. But the drawback of this is that most of their products are overpriced in India. The NZXT Kraken X53 is a decent cooler and would have been even better if it was priced more reasonably. The Aer fans on the radiator have great performance and have powerful cooling ability. The look and design of the radiator is also very sleek and modern. The RGB on the pump cap looks great and has a variety of colours and effects to choose from and personalise to your liking. If you find this cooler on a sale, it would be a great purchase, but given its current price point, we recommend similar lower priced alternatives.
Check cheapest Price : Amazon
---
Also Read : Best RAM in India
10. Thermaltake Floe DX360 Triple Ring AIO Liquid Cooler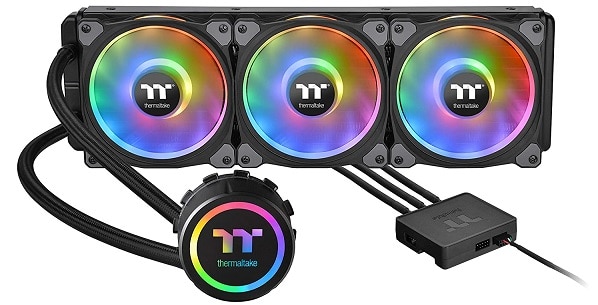 Highlights:
Dual Ring RGB Fans with full spectrum RGB Lighting
500RPM to 1500RPM Fans
360mm Radiator
Three 120mm Fans
Total of 54 RGB LEDs
The Thermaltake Floe is a perfect example of overkill. This cooler has everything going for it, the bright dual ring RGB fans, the massive 360mm radiator, three 120mm fans, fully customisable RGB lighting with Thermaltake's very own software. It even works with Alexa, in case you have a dying need to change your cooler's lighting with your voice. But all these features come at a very steep price and to be honest, this is very unlikely to be anyone's first choice if they are looking for great coolers at a reasonable price. For people with no problems spending tons of cash on just a cooler, and people who really want to make an overkill build, this cooler is a viable choice. But for the general public, this is just too much.
Check cheapest Price : Amazon
---
That was all for best liquid coolers for PC in India , please do give your suggestions in comments below.
Also Read :
Best Power Supply Units For PC in India
Budget PC built Under Rs 25,000
10 Best Gaming Headphones Under Rs. 5,000
Best Gaming Laptops Under Rs 50,000
Best Gaming Desks Tables In India
7 Best Flight Game Controllers in India
Gaming Monitors Under Rs 20,000 in India
Best Internal SSD for Laptop/PC in India