Motorola's Moto X was the first phone to be launched when Motorola came under Google back in 2013. The software philosophy of Google was clearly reflected in the X lineup with stock android experience hence it was nicknamed 'the poor man's Nexus' as it offered many features offered by Google's nexus lineup, with clean vanilla Android and the promise of regular Android updates and security patches.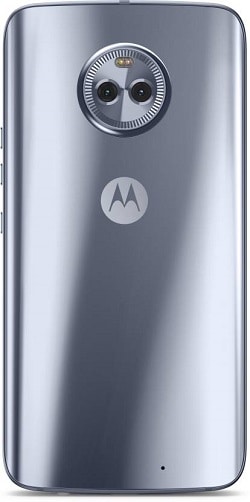 However, after Lenovo bought Motorola, things changed quite a bit for the X lineup. Between the acquisition and introduction of the Z lineup as their new flagship lineup, the X line was thought to be discontinued. But in late 2017, Motorola brought back the X lineup back from ashes. Although Moto X4 wasn't the X lineup we have known, as it has now trickled down to premium mid-ranger segment from the previous flagship status, it did bring some features to talk about with it. Let's have a detailed look on the new Moto X4.
Check Latest Price : Flipkart
Specifications
Snapdragon 630 (2.2 GHz octa-core processor)
3GB RAM-32 GB ,4GB RAM-64GB
Dual sim support (hybrid) solution
5.2-inch 1080p IPS LCD display (424 PPI)
Dual: 12 MP (f/2.0, 1.4 µm, PDAF, dual pixel) + 8 MP (f/2.2, 1.12 µm, no AF) and secondary 16 MP (f/2.0)
Display
The Moto X lineup, after using OLED panels for first two generations, moved to IPS LCD panels for their third iteration and it makes perfect sense that they've decided to use IPS LCD panel for their fourth iteration considering its mid-range price segment.
---
Also Read:
---
Moto X4 features a 5.2-inch Full HD (1080p) panel resulting in pixel density of 424 PPI) with fine brightness levels. Visibility under direct sunlight is okayish but not great especially when compared to OLED panels. Color accuracy is not the best but gets the job done. Overall, the display is good for most part.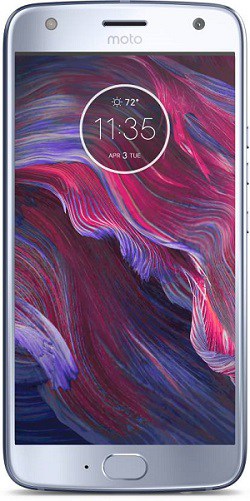 Battery life
Moto X4 packs a non-removable 3000 mAh battery which can be certified as more than sufficient for a phone with a 5.2-inch display and considering that the device is powered by Snapdragon 630 which is a very power efficient chip, battery life was supposed to be exceptional but that's not the case.
Don't get the wrong idea, the battery life is neither exceptional nor bad. It sits in the middle. It's good enough to get the job done but nothing spectacular to push the limits. On the bright side, the phone comes bundled with USB C Motorola Turbo Charger so in case of a heavy day, you can top it up really quick, it is Qualcomm fast charge compatible.
Check Latest Price : Flipkart
Hardware and Performance
The phone is powered by Snapdragon 630 chipset built on 14 nm process which is an upgrade to hugely popular Snapdragon 625/6. It is an octa core Cortex A53 setup with clock speeds of 2.2GHz. It comes with 3/4/6 GB RAM variants. The phone is more of like a more premium version of Moto G5S+. It has all the basic sensors like GPS, Gyroscope, etc. The physical LED notification although present is disabled. Instead being a Motorola phone, Moto display is present.
The fingerprint scanner is rapid fast. Gaming is a breeze on the device and the device does not heat up during the process. Headphone jack is present and the audio output is above average. It'll be able to drive heavy headphones with ease as well. Speaker on the other hand is like Moto G5+- the earpiece doubles as a speaker. It's decent enough and gets the job done but the volume level is not that high. They should've added a stereo speaker setup like the iPhone's.
Camera
The device comes packed with a dual camera setup with one regular camera and another wide-angle lens somewhat similar to what LG has been doing with their flagship smartphones. The primary camera is a 12 MP f/2.0 camera with pixel size1.4-micron pixels. OIS is missing though. The secondary camera is a 8MP f/2.2 camera with 120 degree wide vision. The selfie camera is a 16MP f/2.0 with a  pixel size of 1 micron with a front facing flash.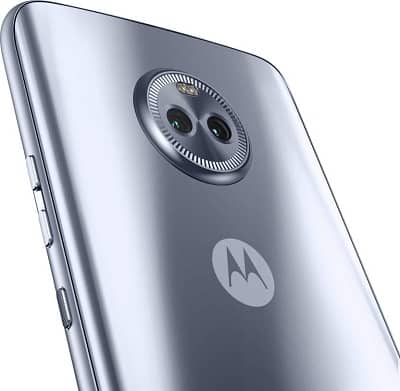 The camera app is pretty simple to use with options like Auto HDR present (being a Motorola phone). Face filters are also present so you can have quick photo with additional ears on your head. What's awesome is that manual professional mode is also present, so if you know what you're messing up with, you can get some great shots. Controls for ISO, shutter speed, exposure and focus is available to tweak.
Motorola has even managed to provide something to this phone that even LG hasn't provided for their flagships i.e. Depth Mode. Color isolation which was first shown off with the Moto G5S+ makes a comeback. For those unfamiliar, this helps you to select a particular object based on distance from the camera (a slider is present to change the distance to select a different object) and keep its color and turn the rest of picture black and white. It's handy to bring more attention to a subject in the picture
I know some of you guys must have been bored by the geeky numbers presented above so I wouldn't bore you guys. Let's jump to the real deal- the image quality. The photos taken in normal daylight is good considering the price point. The image quality has improved from the G5S+. The photos come out great and likeable in normal light. Although it's not a low-light killer by any means but it's not bad. The camera can capture usable shots in low light.
Check Latest Price : Flipkart
The wide-angle camera on the other hand is quite annoying because of the fish eye effect around corners. This has something that we've seen even when LG first came with similar dual camera setup with LG G5 and it was only after few iterations of devices later, that they were able to perfect it, although this issue can be improved by software update.
The portrait mode is also hit or a miss. It's more of a beta version than a final product. The edge separation is quite imperfect m This is something that they'll have to address in future updates for sure.
Moving to video, the Moto X4 can record videos up to 4K. It also supports 1080p 60fps and 30 fps. The video quality is really good- lots of details and lack of noise. The EIS present does a good job of avoiding shakes. The wide-angle camera s capped at 1080p 30fps but you can't switch from normal to wide-angle mode or vice-versa while shooting.
Selfies on the device look crisp and noise free though with a pinkish tint at times. The front facing flash does help in low light situations to keep the noise low. Overall, it's fine considering the price point
Software Experience
Remember the time the original Moto X was launched. One of the most talked about feature was the presence of special features (at least at that time) like raise to wake, wave to see notifications, always listening Okay Google hotword to perform actions. Well even though many of these features have made their way to almost all flagships now as it's been baked into Qualcomm chips, the credit can be given to Motorola for introducing this to the world using the X8 computing platform to reduce battery drain.
Being a Moto device, the software experience is very stock like with subtle Moto additions which are present is you need it but stays out of the way in case you don't want them. The launcher that comes with the phone is somewhat like Pixel launcher with the swipe up gesture to access your app drawer. Long press for shortcuts is also present (Android 7.1 feature). The Moto additions over stock Android that are present in the software includes Moto display, One button Nav, Moto Actions, Moto Voice and Moto Key.

Moto display is a way to display clock, battery and notifications in an interactive fashion. To like the blue accented battery ring with clock is personal preference but if you don't like it then you're out of luck because it is not possible to change accent color.
One Button Nav is a way to turn off the on-screen navigation buttons and use gestures via fingerprint scanner to navigate the UI. You can swipe left on the front facing fingerprint scanner to go back, swipe right to access recent apps. You can interchange the action as per your liking.
Check Latest Price : Flipkart
Moto Actions are handy features that Moto provides for quick actions. Double chop to access flashlight and double twist to access camera aren't something revolutionary but it obviously adds up for a better day to day experience.
Moto Voice is sort of an assistant that is can provide more instantaneous results than Google search. It no longer works exclusively with Google search and in a way that's a good thing as actions related to device works faster. Moto Assist can also announce all incoming notifications if you chose to do so.
Moto Key is an app that acts as password manager and as a mean to log into another device like tablet or laptop.
The one thing that can bug you is the roll out of android security updates and version updates. After Lenovo's acquisition, this has been a huge concern with Motorola devices, So one should keep this in mind that update rollout would not be the fastest.

Build and Design
The Moto X4 took a departure of earlier plastic builds to a more modern glass and metal sandwich design that has been the talk of the day. The device looks very premium due to the reflective glass back and 3D gorilla glass on the back. The 2.5 D gorilla glass also makes the front transition seamless.
---
Also Read:
---
The icing on the cake is that the phone comes with IP 68 dust and water resistant. This is a feature only present on Samsung and LG's flagship. No device in this price range provides any IP certified resistance and thus it makes the phone a must have for people who have faced water damage on their phones.
Final Thoughts
The Moto X lineup, once a flagship has now crept in the mid-range segment. That maybe in the favor of customers thought. Moto X4 is a phone which doesn't turn any head but doesn't make any blunders at the same time. This is the only device in the smartphone market to come equipped with a wide-angle lens other than LG flagships and is the only phone to come with IP 68 water resistance other than Samsung and LG flagships. The camera again is the same story.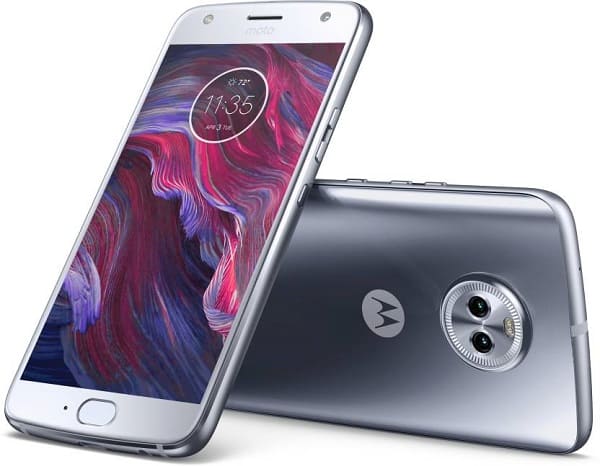 It won't turn heads but gets the job done for most part. And the same statement stays for the display, battery life, design and performance. The design is a reminiscence of Samsung flagships. The software is mostly stock with little features sprinkled here and there which one will definitely appreciate while using the phone. The phone seems the lone phone in the price segment. No other phones come close. Although some noteworthy alternatives in the ballpark are Mi A1 if you care about updates and want a dual camera setup with telephoto lens.
Even Moto G5S+ seems like a competition to Moto X4 as it provides a better value for money. Honor 9i is another cheaper alternative with a great camera (dual camera setup both front and back). Although no phone would look this premium or provide you with wide angle lens or provide water resistance.
Check Latest Price : Flipkart
This is the phone to consider who face a lot of water damage, want the wide-angle lens or wants a compact but powerful phone. This provides enough reasons to buy considering the sensible pricing as well.
---
Also Read: