It has not even been 5 years since OnePlus officially came into existence and today it's become quite successful in creating a noise within the smartphone world. So much so, that a mighty giant like Samsung had to place their own Google ad to tackle the newly launched OnePlus 6! (Just google 'OnePlus 6' and see for yourself)
Without any further ado we shall have a quick walkthrough of the 6 major things (as mentioned in the weird-ish title!)
Feels
Almost as if you are holding 40% of the Samsung S9, 30% iPhone X and again 30% say Nokia 8 Sirocoo, the OnePlus 6 is beautifully crafted inside out adapting the design features if each and every one of the three mentioned competitor flagships. With a rear mounted fingerprint sensor, the curved edges with a pleasant looking bend in the outer corners and of course the infinite display with the signature 'notch' it seems like engineers at OnePlus have done their benchmarking homework just right.
But what is wrong is a little too much of influence from benchmarking. The 'Designed by OnePlus' tag on the rear glass is a little bit absurd; a thing which is not at all needed to be present.
Other than the stunning mirror black version and a silk white (which almost resembles the Nokia 7 plus with golden edges and camera rings) the limited edition Infinity Wars piece is a treat for the Indian Marvel fans.

Curves
When added to things make them a little more beautiful to look at against the one with not so much curves. It is a basic notion of good design. The 19:9 optic AMOLED screen makes it a pleasure for human eyes to look at – both ergonomically and aesthetically. The default colour balance is just fine and well for the 'notch' hating people? Let's just say the more you learn to adapt to it the easier it will be!
Breaking their own cycle OnePlus decided to go with front/rear glass + Aluminium frame unlike the Aluminium unibody without compromising much with thickness and weight. The device is also water resistant and we still have the beloved headphone jack intact! But there are no stereo dual speakers seen here which again, is not a necessity but could have been a good add-on.
Camera
It is one of those things that really captivate more and more attention from a customer's vista. And that's why manufacturers ought to focus on that. We have the same 16+20 MP rear shooter in OnePlus 6 as it was in 5t with a slightly different aperture. Front camera is practically the same. Nonetheless OnePlus is widely acclaimed for its excellent camera results especially the portrait mode. (Check out for #ShotOnOnePlus on Instagram)
Jumping on the bandwagon (almost) they upgraded the frame rate of the slo-mo videos from 120fps to 480fps. That is really commendable but far far behind the competitors (720p @960fps on the Galaxy S9 and 1080p @960fps on the Xperia XZ2).

The Speed You Need
How much of this daunting tagline you think actually holds true? The history of OnePlus has been seemingly good when it comes to the UI/UX design. Powered by the latest Snapdragon 845/Adreno 630 CPU/GPU combo on top of 6GB/8GB RAM it goes without saying that there will be no 'performance issues'. The Oxygen OS is the only customization that I personally prefer (other than Sony's customization) if you are looking for a minimal topping on stock Android. Still, OnePlus has got a plethora of their own little features inside settings and for home screen which differentiates it from the raw Android.
Now you might have an obvious question (most people don't because they stopped caring!) that why an 8GB RAM when there are flagships that run smoothly even on 4GB (even the iPhone). Well the shortest answer to that it's what you're getting whether or not you ask for it! The 128/256 GB variants come with an 8GB RAM by default. Consider it as just some more room to breathe will you now? 😉
Bullets Wireless

It is a new experiment by the audio engineers at OnePlus. They are beautiful, Period. I can't say anything about sound quality though until they are officially in the market. There is this cool feature of magnetic control, where you just press the earpieces against to turn them on/off. And of course they have a Dash-Charging like technology which pumps a 5 hour batter life into the bullets just in a 10 minute charge cycle! And on top of that they are water resistant. Not a bad way to spend ₹ 4000! At least the audiophiles around here can go for it because it is way too less expensive than those 12k costing Airpods.
Making such a product intimidated me to think if OnePlus plans to ditch the headphone jack in the near future. What do you think guys?
Botttomline
It is that OnePlus 6 is the best hardware and software combination that you can get starting at a reasonable price of ₹34999. Really, if you scan the whole article again there are hardly any 'if's and 'but's mentioned anywhere! This is their only 8th phone since the start of the company and the level of ingenuity they have achieved over the years is absolutely appreciable. The credit goes not only to the designers but also to the marketers at OnePlus. The whole idea of rolling out Android phones on an invite basis and then turning them into some of the best acclaimed phones available around – it is something very credible to do in a shot span of 5 years.
I can surely say there is a lot more to expect from OnePlus in near future. Stay tuned to this space till then!
---
Also Read:
1) Top 10 Best Bluetooth Earphones Under Rs. 2500
2) 5 Best In Ear (IEM) Headphones Under Rs.3000
3) Top 5 Best In Ear Headphones Under Rs.1000
---
---
Please do comment below to add your suggestions and feedback.
Thanks.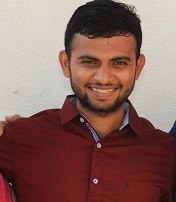 About The Author : Parth Dattani
Bio: Hanging out with headphones, smartphones and flirting with frequencies is my thing! Facebook