When Every Little Feature is Carefully Though Of !
Like most modern gadgets , backpacks have also come a long way in their innovative design and functionality. With Pacters polyester backpack charge your phone on the go , listen to music and enjoy premium safety features.
Check Price – Amazon
Pacters Polyester Laptop Backpack With USB Charging and Headphone Port
With Free Earphones !

What we have here today is an advanced backpack from Pacters. This backpack designed in an elegant classic look, is not just a simple backpack . It comes with additional functionalities like USB charging port and headphone port. 
Features of the Pacters polyester backpack
Zipper that stays out of sight:
If there is one factor that often scares us is the possible theft of the valuables in our backpack. But what if our backpack is so secure that the thieves fumble trying to find the zipper? Well, that is what the Pacters anti theft backpack has. Now when a thief tries to open it, you will definitely know for sure, despite the place being crowded or not. Traveling in the local commute is never so secure like now.
Thick Padding on the shoulders:
A common discomfort that many people complain when using a backpack is the stress on their shoulders. With the padding provided by Pacters, you will not feel the weight of the backpack stressing your muscles. So you will continue to feel lighter as you travel with this backpack on your shoulders.
More room:
The main compartment of this backpack can take up to 14" laptops and there are other compartments to keep your valuables like wallet, phone, camera, iPod, power bank, etc.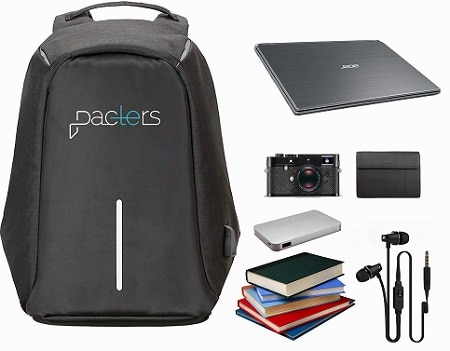 Additional ports for extra features:
The other features that makes the backpack more endearing is the presence of the two extra ports. There is one port to charge your phone and there is one for plugging in your headphone and listen to your favorite music as well.
High quality material:
The backpack uses water resistant oxford material and the mesh on the shoulder straps provide increased breathability.
There is also a shiny tape in silver on the back of the bag to identify while in the dark. Overall, it is an innovative design in itself.
As for the customer experience goes, this backpack has already stolen the hearts of many with its design and functionality. If you are looking for a backpack that serves more than one purpose, then Pacters is just for you!
Check Price – Amazon
Also Read: