The Qualimate Fitness cycle is a small exercise machine for those who don't get enough time from their hectic lifestyle for self improvement. This little machine can easily fit under any desk or table so you can keep working out even when in the office or at home just sit back on your chair or sofa and put this machine down and start pedalling.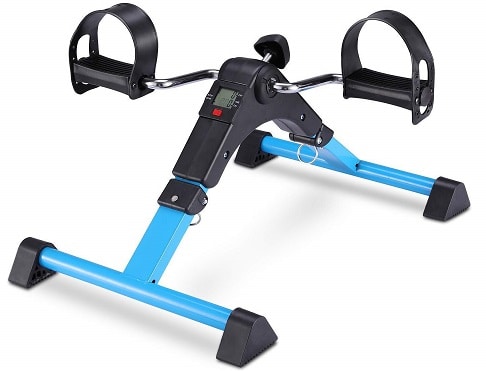 Rating: 8/10
| | |
| --- | --- |
| Item weight | 10.5 kg |
| Warranty | 1 year product warranty |
Pros:
Small, compact, foldable and portable so you can take it with you and use it basically anywhere
Electronic LCD display keeps track of your workout progress
You can always easily adjust the tension with the resistance adjustment knob
Battery operated comes with AA batteries
Cons:
The foot rest pedals are not comfortable and should have been broader
The machine comes with anti slip vibration pads but does tend to slip a lot on smooth and tile surfaces
Check Cheapest Price : Amazon
You can even set it up on top of the table and use your arms to peddle for upper body and muscle workouts.
The cycle comes with a small battery powered LCD display that shows your stats and you can adjust the resistance with the provided knob. It has anti vibration pads at the bottom to stop it from moving while exercising but it does slip on smoother surfaces like marble and tile so you will need to set it against a wall on such surfaces.
It's a great device for your old parents or even kids who are stuck with their phones all day and don't go out much. The fact that you can even fold it and easily store it makes this more compelling given that it doesn't weigh a lot and unlike your usual exercise cycles there is no weight limit with this one.