And it's that time of the year again! Millions of people waiting altogether just to hit that Buy Now button and it is only a matter of seconds that 'Buy Now' gets converted into 'Notify Me' or 'Coming Soon'. Xiaomi has set the foot in the Indian smartphone market just at the right time and they have been successful ever since the launch of their most popular device MI 3.
Convincing design, larger battery capacity, better storage options – all these daunting specs  put together for the Indian market.
Speaking of the newly launched Redmi Note 5, do you think they have played right card right this time too? Do you think you should upgrade your old Redmi phone to the sexier and more curvy Note 5? Scroll down and see for yourself!
Design Comparison

Going a little beyond of what is mentioned in the table, the Redmi Note 5 is a clear winner here. Not that the predecessor was that bad, but Xiaomi did a good job here by reserving Note 5 a seat in the 18:9 bandwagon. And the upside of these 18:9 displays is that you get a good filleted screen from the corners which make the device even more sexier!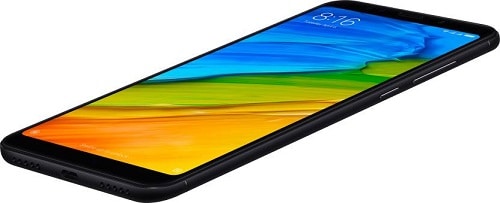 Yes the weight is a little extra due to the larger screen maybe. Nonetheless 180 gram is pretty much within the limits for a device to be carried around.
Also the screen to body ratio has been fairly increased by integrating the on body touch controls in the screen itself.
Camera & Audio Comparison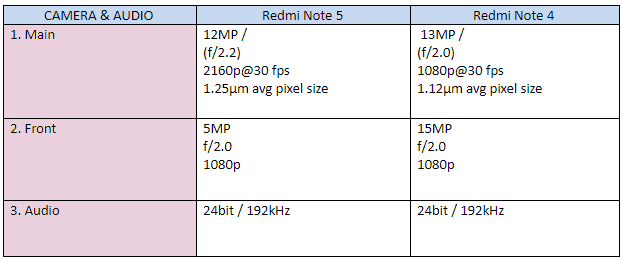 It won't be totally wrong to say that there are no major changes done in the audio and visual side of this upgrade. Yes the 4k recording feature is just a cherry on the top for any entry level device out there in the market.
Rest assured, the front 5 MP as well as the main 12 MP shooters , both of them are really good enough to get some quality photos in normal daylight.

Low light imaging still needs a round of improvement here, but then again all these, is pretty good for a device with such an attractive and pocket friendly price tag.
Key Features Comparison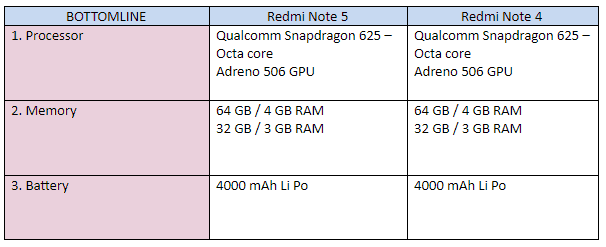 There is practically no difference here! Oh wait, there is one – you get an Android 7.1.2 out-of-the-box as compared to the Android Marshmallow of the Redmi Note 4 on top of MI UI 9.0.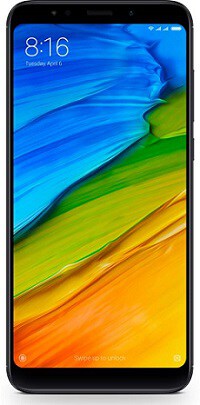 Should you upgrade to Redmi 5?
My technical answer would be NO but practically thinking and summing it up the answer is YES. Because you are getting a fair deal starting just at INR 11,999 for the 64 GB version while the Note 4 started out selling at INR 12,999 last year. Let me put it like this way:
If you are a normal user who is using the phone only moderately for a given time period, Redmi Note 4 will do the job here for you.
But, even if you have the slightest ounce of geek blood in your veins and you are looking for a fresh new look and feel , and most of all, if you are an avid fan of Xiaomi products you should definitely go for the Note 5. And if you are lucky enough, you might as well get a fairly high amount on the exchange of your previous phone also! And if not, then 12k is totally worth this device.
The 'Itch':
Oreo over Nougat. Period.
Now save some time and head over to Flipkart (Exclusive) if you want to book yourself one!
---
Also Read:
---
Please do comment below to add your suggestions and feedback.
Thanks.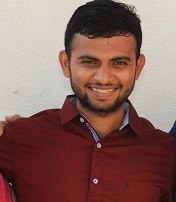 About The Author :
Bio: Hanging out with headphones, smartphones and flirting with frequencies is my thing!