Brace yourselves. Winter is coming!
Winters are all about snow, cozy blankets and hot cocoa! It's all fun and games until the cold really gets you.
And it's all downhill from there. No matter how many layers you put on, you start missing summers in no time.
The only respite from shivering cold is a warm, cozy fire. Or its 21st century equivalent – room heaters! Considering all the environmental, child-related and safety hazards involved in having fires inside houses, room heaters have emerged as the clear winners.
Room heaters have versatile applications. From keeping room warm to serving as clothes drier, bless these modern miracles! Whether you are a bachelor or a family person, I am sure you must have dried your socks once at least in front of them during cold, harsh winters.
If you decide to buy room heater, do your research first. The sheer number of brands, models, types and variations available is overwhelming. Based on your individual requirements, you can opt for a suitable room heater. You can also look for room heater online.
There are several choices available with all major brands present on Amazon and Flipkart. Since you will not get to preview how good your heater works when you do room heater online shopping, check the type of heater you are buying, the size of your room and various electrical features such as energy efficiency, time taken to heat up, noise levels and humidity levels.
Table Of Contents
---
Let's discuss these features briefly:
What are different types of heaters online?
---
Currently the market has three different types of heaters. These are:
Fan heaters
Infrared heaters
Oil heaters
1) Fan Heaters
These are also known as Ceramic Heaters, Blower Room Heaters and Convection room heaters. Fan heaters are ideal for heating large spaces quickly.
Fan heaters have a ceramic coil structure which heats up air around it and this heat is blown out via a fan which warms up your room.
Fan heaters are safe to touch, they are inexpensive and energy efficient.
2) Infrared Heaters
Infrared heaters are also referred to as Quartz, Halogen or Radiant room heaters.
Infrared heaters are the cheapest heaters in the market. Remember the red, glowing heater your grandma had? This is the one!
Radiant heaters work like campfires; providing heat only to people in close proximity. This is why it is only recommended for individual usage or for very small spaces. There is no noise, since there is no fan; it heats up quickly and consumes less energy.
You can't touch it though.
Word of caution: Keep children away from radiant heaters.
The surface of these heaters gets hot quickly and can cause major burns. Hence, these are not recommended for families with toddlers and young kids. Oil heaters or fan heaters are better alternatives for families.
3) Oil Heaters
Oil heaters are probably the best kind of heaters you can get for your home. Although they take up time to heat up, they provide heat for longer time periods. They emanate heat even after you turn the heater off and they do not create noise like convection heaters.
Oil heaters are energy efficient. They save your electricity bill. The oil heater works with oil as the heat reservoir. Since oil gives off energy when heated once, your heater will give off heat even when turned off. Oil room heaters do not consume oxygen and do not reduce humidity as in case of convection heaters.
A general misconception is that oil is required to burn in oil heaters. Instead, the oil is heated up by electricity, and the heat is then passed on to metal walls through convection.
---
Bachelors, babies and bigger spaces – which heater is good for what?
For single people or for studio apartments, fan heaters or radiant heaters are ideal. You can simply keep your heater next to your bedside and it will provide enough warmth for one individual. Fan heaters will also provide warmth to 2 or 3 people.
If you're searching for a suitable heater for your baby, oil heaters are your safest bet. They do not cause dryness, skin rashes or suffocation and thus, are safe for new born babies, toddlers and young kids. You can install oil heaters for older family members too.
Oil based heaters are the best option for heating up large rooms, while fan heaters are sufficient for medium rooms as well.
For asthma patients, all electrical room heaters are recommended. Electrical heaters comprise of all three variants of fan, oil and infrared heaters.
---
Should my room heater be energy efficient?
Yes. Your room heater should not burn a hole in your pocket by piling up electricity bill.
You can find out the electricity consumption of your heater by its watt specification. Wattage is defined as amount of power your heater consumes. Fan heaters consume around 2000 wattage, infrared heaters consume around 800 – 1200 wattage and oil filled heaters consume 1000 watts at the most.
This is why they are highly energy efficient. Moreover, oil heaters give off heat even after they are turned off, since the oil inside heats up and continues dissipating heat. They also use up less energy to heat up oil again.
---
I want a room heater that heats up quickly.
Infrared and radiant heaters are great choices for impatient people who want a warm room instantly. Oil heaters, on the other hand, take up a good deal of time to bootstrap in the first place.
If you're looking for a heater which heats up your surroundings relatively quickly, then go for fan heaters or quartz heaters. Oil heaters generally take up more time, since the oil inside them needs to heat up first.
---
Should I be concerned about noise levels?
Whether your room heater creates noise or not, depends on the technology that generates the heat. Radiate heaters do not create any noise at all, since the ceramic coil heats up the air around.
The same is true for oil heaters, which use oil to generate heat. Ceramic room heaters are a little noisy because of the blower installed inside.
---
Oxygen and Humidity Levels
Both quartz and fan heaters reduce moisture content in the air. This is because they use oxygen to make the air warm. The ceramic heaters heat the air near the coil and infrared heaters do this too. This is why, humidity levels are reduced in their surroundings.
Lower moisture content leads to irritation, nasal blockage and dry eyes. Retaining moisture for small kids and older individuals is very important, which is why radiant heaters or infrared heaters are not suitable for them. We recommend keeping a water filled bucket in the room or a humidifier to rid this problem.
If you want to your room's moisture levels normal, an oil heater is the best option for you. Since the heat is transferred from the oil to the air, oxygen levels are not depleted; thus keeping the humidity intact.
---
What kind of safety measures should I look for in my heater?
You must consider the surface heat, cord length and Heaters Certificate of Safety carefully before buying room heater blower. The heater should be kept at least 3 feet away from your bed, which means the cord should be at least 3 feet long. Auto-cutoff is also a handy feature and is typically present in all modern-day room heaters.
---
Some of the other noteworthy features to keep in mind while buying room heaters include:
Precise thermostat control
Timer to turn off the heater at a pre-determined time
Multiple settings for adjusting temperature by altering watt usage
Portability
Now that you know what features best electric heaters for home have, you can easily buy electric heaters online.
We have created this handy guide for your ready-reference. For easy reading, we have divided them into functioning categories.
Take a Look at Best Room Reaters in India Available Today.
Best Fan Room Heaters
1 Havells Comforter
(🌟🌟🌟🌟)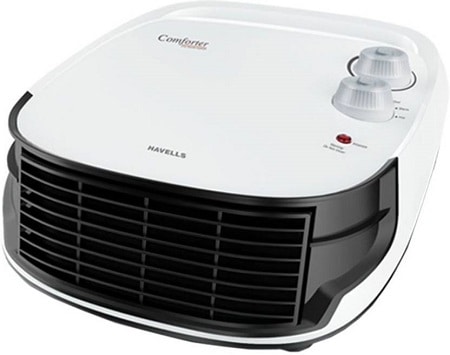 1) Havells offers a wide range of electrical appliances and is a trusted brand in Indian households.
2) The GHRFHAGW200 is a premium room heater from Havells with top-notch features, well worth its price.
3) At first glance, the heater appears a little expensive than its counterparts, but when you take a look at its features, your money would be well-spent.
4) The look and feel of this heater is above par with all other heaters. Its cool touch body ensures that there are absolutely no hot surfaces to burn your fingers.
5) The upper surface does not heat up at all. Double safety ensures that you are protected from over-heating. An adjustable thermostat helps in better temperature control and the air is directly better with adjustable vent.
6) At a maximum of 2000 watts, the heater has two modes which heat up the room well.
7) The warm setting heats up the room a little above the ambient room temperature and the hot setting really warms things up!
Pros:
Convenient handle for portability
One year warranty from manufacturer
Cons:
You need a 16 amps socket to for the heater; however, not many rooms are wired to adjust a 16 amps socket.
Check Price : Amazon
---
2 Bajaj Majesty RX11
(🌟🌟🌟)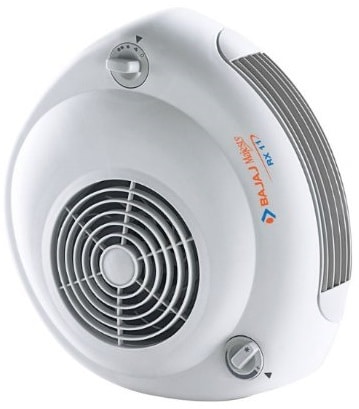 1) Our very lovable Bajaj Electricals offers its esteemed customers a range of appliances under one roof and one trustworthy brand.
2) The RX11 is premium fan heater and another feather in the cap of India's beloved home brand.
3) One of the most noteworthy features of this heater convector is its dual purpose. You can use it as a heater in winters and as a fan in summers. Amazing, right?
4) There are two heat settings operable at 1000W and 2000W; so that you are able to regulate the temperature you want.
5) The setting can be obtained from the adjustable thermostat. The constant heat is maintained with fan forced circulation of warm air.
6) Bajaj always emphasizes on the safety of its manufactured appliances. The RX11 heater has cool touch housing, so it's safe to use around children and accidental touching.
7) The in-built handle offers easy portability. Auto power cut-off ensures that the devise cuts off power when room temperature increases above ambient temperature. The thermal fuse prevents over-heating.
The heater, when placed inside your home will jazz up its surroundings with its international look and feel.
Pros:
BIS approved
Adjustable fan settings
Light-weight
Cons:
Some users report that it consumes too much electricity. Make sure to discuss this with your dealer before buying.
Check Price : Amazon
---
3 Usha 3620
(🌟🌟🌟)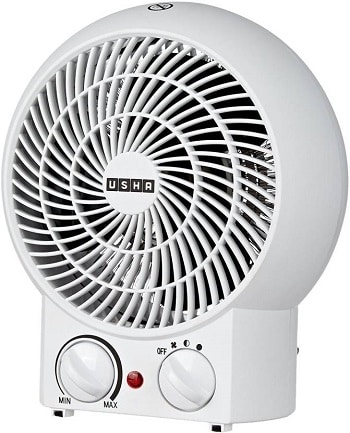 1) Another home based brand, Usha has been the "electrical manufacturer of choice" by millions of domestic and industrial establishments.
2) The 3620 Room Heater is another one of Usha's premium products and is worth your hard earned money.
3) Requiring functioning at 2000W, the heater is auto-revolving, so that your nearby surroundings are constantly provided heat.
4) The heater has a special heating wire element for effective heating. The thermostat is adjustable for proper heating. The device has ISI mark of quality.
5) There are 3 power modes to suit cold levels. These are – cool wind, low heat and high heat. The heater operates at two heat settings – 1200 watts and 2000 watts.
6) The appliance has overheat protection in case of high temperatures.
Pros:
Light-weight and portable
One year manufacturer's warranty
Cons:
The device does not work on regular switch board and needs a 15 amps socket.
Some users report that the temperature control is not too precise and only functions as a cut-off.
Check Price : Amazon
---
4 Singer Blow
(🌟🌟🌟🌟🌟)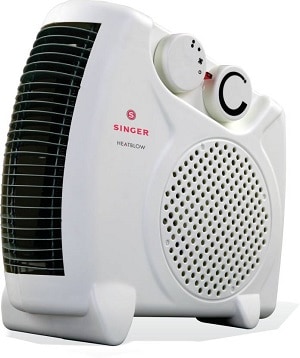 1) Remember that old sewing machine your mum had? That's how most of us know Singer.
2) A premium brand with dozens of appliances under its belt, Singer has long been a reputed and renowned electrical appliance manufacturer.
3) The Heat Blow room heater from Singer will be your ideal companion in these chilly winters.
4) Light-weight and portable, this heater has an easy-carry handle for convenient carrying. Its cool touch body ensures that you do not get scalding burns by touching hot surfaces.
5) The heater has a thermal cut-off. You can place the heater conveniently either vertically or horizontally to provide effective heating.
6) Both these models ensure that you battle winters in comfort and coziness.
Pros:
Dual standing model – vertical and horizontal
Thermostat and auto-cut off
One year manufacturer's warranty
Cons:
Users report that you need a separate power plug to connect the heater.
Check Price : Amazon
---
Best Carbon Room Heaters
1 Orpat OCH1420
(🌟🌟🌟)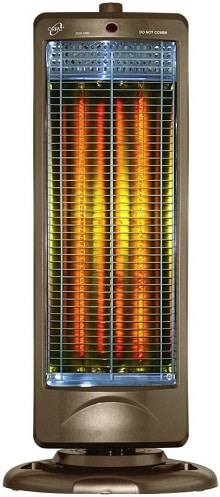 1) Another trusted name among electrical appliance manufacturers, Orpat is widely known for its wide variety of everyday household electrical gadgets at affordable prices.
2) They have a wide range of room heaters; having premium designs and unsurpassable performance.
3) The OCH1420 carbon room heater is the answer to everyone who is wary of spending too much on oil heaters and trying to preserve the moisture in the room by not using fan heaters.
4) The heater has its heating elements built from carbon fiber. The good part about these heaters is that they give softer radiant heat without heating the element too much.
5) They are a good alternative to blower room heaters which cause dryness after sometime.
6)The heater has an ergonomic design with an international look and feel. There are 2 heat settings at 600 watts and 1200 watts. The heating element is made of high quality carbon fiber tube with a safety cut-off switch.
7) To prevent accidents, a safety mesh grill is embedded in the heater front. The heater ensures that the warming up is uniform with its 60 degree rotating base. It is energy efficient and consumes lower power.
Pros:
Natural convection
Sturdy and durable
Adjustable heat settings
2 year manufacturer's warranty on product
Cons:
None
Check Price : Amazon
---
2 Marc CR Carbon
(🌟🌟🌟🌟🌟)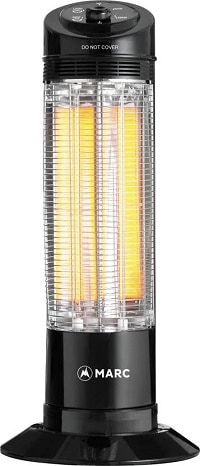 1) Marc is an established and trusted brand when it comes to buying electrical products online.
2) The company offers a wide assortment of electrical gadgets and its products are often featured on PepperFry, Homeshop18, Shopclues, Amazon, Flipkart, eBay, PayTm and so on.
3) Marc has a wide product range of room heaters, water heaters and watches for men. The CR room heater is another premium offering from the company.
4) The heater has a maximum power consumption of 1200 watts. Its carbon heater is of premium quality and offers low electricity consumption and maximum efficiency.
5) The outer body is made of stainless steel to offer high durability and longer life. You can control the heat at 600 watts and 1200 watts.
6) The heater has an auto-revolving body which offers uniform heating all-round. There is a safety tip-over switch for auto-cutoff as well as overheat protection.
Pros:
Auto-revolve
One year manufacturer's warranty on the product
Cons:
None
---
Best Gas Room Heaters
1. Oreva 1207
(🌟🌟🌟)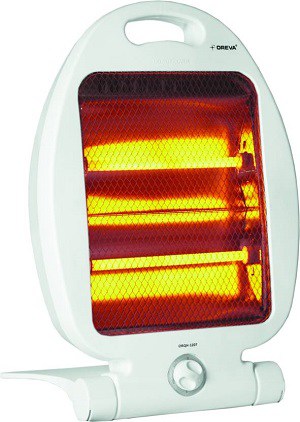 1) Oreva is a reputed brand under the Ajanta Group. Oreva offers high-quality electrical products including home appliances and indoor and outdoor lighting.
2) The 1207 gas room heater is a popular product because of its affordability and reliability.
3) At 800 watts, the heater provides optimum warmth with 2 quartz heating elements. There are three heat settings which you can adjust as per your requirements.
4) The safety mesh grill and safety tip over switch ensure that the heater is safe around children and pets. You can easily carry the heater around as it is quite portable with an ergonomic handle.
Pros:
Overheat protection
One year manufacturer's warranty
Cons:
No remote control
Check Price : Amazon
---
Best Halogen Room Heaters
1. Bajaj Minor Halogen
(🌟🌟🌟)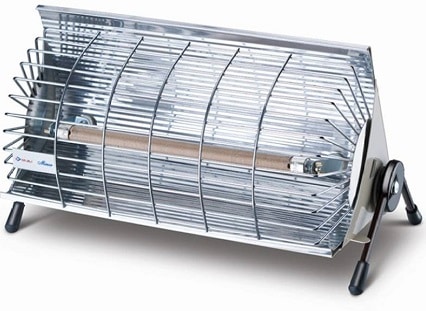 1) We have another entry from Bajaj Electricals under the Halogen room heater category. As such, Bajaj's reputation surpasses its competitors by far and rightly so.
2) Top-notch quality of products, good customer service and affordable prices – all of these make Bajaj a name to bank upon. The minor halogen heater with its superior heating capacity is going to be the perfect companion for the upcoming cold season.
3) A noticeable feature we found from several customer reviews was the fact that the heater warms up the room pretty quickly.
3) This means that if you switch on the heater when you enter in your room, you will have a cozy nook by the time you change and get under the blankets.
4) The heater is energy efficient. It comes with adjustable legs to adjust according to your lying position. The nickel chrome plated mesh grid and reflector ensure that the heat distribution is uniform throughout.
5) The heater has an ergonomic design, built with space saving in mind. The stylish design of the heater makes it go with your home décor. Made with cast iron, the heater has premium quality, certified by BIS.
Pros:
Superior heating element
2 year warranty on the product
Cons:
No tipping sensor or switch
Not suitable for larger rooms
Element is exposed and prone to shock around water
Check Price : Amazon
---
2 Bajaj Flashy Halogen
(🌟🌟🌟🌟🌟)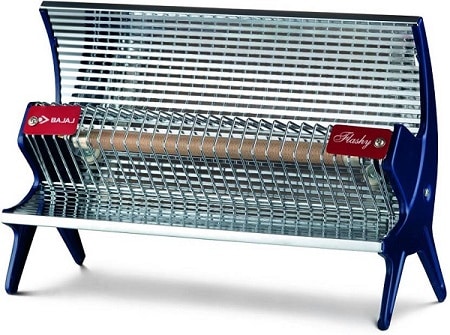 1) In freezing cold, warm blankets, woolen clothes and hot liquids fail. All you want is to get some fire around you.
2) And that is why we propose that you give the Flashy Halogen Heater from Bajaj a try. Heat your room and yourself in style!
3) Operating at a maximum power of 1000 watts, the heater is ideal for harsh winters. The nickel chrome mesh ensures even heat distribution so that no part of your room is left cold, including you.
4) The overheat cut-off lets you sleep soundly and not having to worry about getting up in the middle of the night to turn off the heater.
5) Plus, the ergonomic design makes the heater compact and portable. Simply pack and store once winters pass.
Pros:
Superior heating element
Nickel chrome plated reflector
Stylish design
Corrugated reflecting surface
2 years' manufacturer's warranty on the product
Cons:
You need a 15 amps power socket to plug in the heater.
Check Price : Amazon
---
3 Maharaja Whiteline Lava Halogen
(🌟🌟🌟)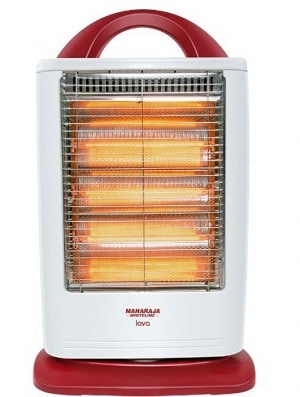 1) Maharaja Whiteline is another homegrown brand noted for its innovation best practices. They offer a great selection of home and kitchen appliances.
2) The Lava HH-100 room heater is a premium room heater from Maharaja Whiteline with several useful settings to make your room feel summer-like during winters.
3) The heater is elegantly designed to suit your home interiors stylishly. The innovative vertical built and 180 degree rotation ensures that the heater is able to provide warmth evenly in the whole room.
4) There are 3 convenient heat settings at 400 watts, 800 watts and 1200 watts to battle winter chills. You can switch the heat levels from highest to lowest according to your needs.
5) The body of the heater is shock-proof, certified by ISI to provide utmost safety.
Pros:
180 degree rotation for uniform coverage
2 years warranty on product from manufacturer
Cons:
Some users report that the heater is not energy efficient.
Check Price : Amazon
---
Best Infrared Room Heaters
1 Orpat infrared
(🌟🌟🌟)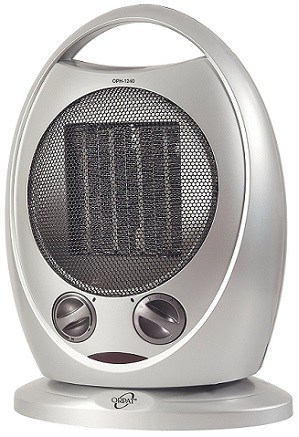 1) Orpat is an ISO-9002 & 140001 Certified company. They are manufacturers of high quality appliances for daily household usage and office properties.
2) The OPH-1240 room heater is ideal for everyone looking to battle the winter chills away!
3) The 1800 watt PTC heater has self-regulating feature. It is portable with the ergonomic carry handle. The PTC heating element of the heater makes it an active heat thermostat.
4) It means, the resistance of the element increases as temperature increases, but never surpasses the ambient room temperature. This is why it's self-regulating. If the temperature reaches preset threshold, automatic cut-off stops current flow in the heater.
5) The safety tip-over switch ensures that the heater switches off when accidently knocked over. There's a safety mesh grill which prevents accidental contact with heating element. This way, your kids and pets can sit and play around the room without any concern for their safety.
6) The heater has two adjustable heat settings at 1200 watts and 1800 watts. The appliance is driven by a powerful motor with copper wire at its core. Heat distribution is made even with wide auto-oscillation feature.
Pros:
Power on indicator
Noiseless
Overheat protection
Variable thermostat setting
One year manufacturer warranty
Cons:
You need bigger power sockets. The smaller ones won't do.
Check Price : Amazon
---
Best Oil Filled Room Heaters
1 Usha OFR 3511 F
(🌟🌟🌟🌟🌟)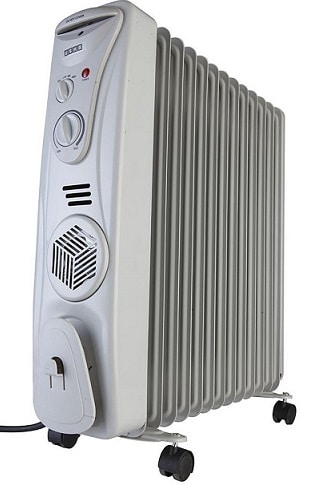 1) For more than 2 decades, Usha has been manufacturing and supplying electricals to commercial and domestic households.
2) The company has a wide array of air coolers, sewing machines, fans, kitchen appliances and household equipment. The 3511 F oil filled heater is an excellent choice for big rooms and lots of people.
3) The heater has 11 fins with fans with a powerful motor to dissipate hot air evenly across the room. The fins are powder coated for preventing rust and longer life.
4) The oil is world class grade HD/ED 300 for superior performance. An adjustable thermostat ensures that the hot air is well-channeled.
5) There are three heat settings – low at 1000 watts, medium at 1500 watts and high at 2500 watts, to adjust the fans according to your specific requirement. The heater has nylon castor wheels for smooth maneuver.
6) The ergonomic, integrated handle ensures easy carriage of heater. To prevent hazards by accidental knock overs, a tip over switch is provided.
7) In addition, the heater turns off automatically when it over-heats. Since it is oil based, the heat is dissipated even after the heater is turned off.
Pros:
Cord winder
Two meter long cord
One year manufacturer's warranty
Cons:
Fan makes some noise while operating.
Check Price : Amazon
---
2 Morphy Richards
(🌟🌟🌟🌟)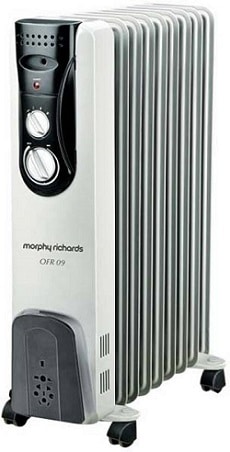 1) Morphy Richards is an international brand featured on our list simply because of their amazing product designs.
2) The 9 fin Oil filled room heater is no exception in this case. The heater is ergonomically designed and is bound to add a touch of style and class to your home décor.
3) The heater has 9 robust, durable and strong fins to provide uniform heating across the entire space. You can easily maneuver the heater around with sturdy castor wheels at the bottom.
4) To control the fins, rolling knobs are provided with thermostat control. There are three power settings which help you adjust optimum temperature levels.
5) Furthermore, the heater has overheat protection to prevent any accidents due to high temperature. Unlike other oil heaters, this one produces minimum noise so that you sleep peacefully!
Pros:
Ergonomic, stylish design
Very silent
2 year warranty from manufacturer
Cons:
The wire is short in length
The heater makes clicking noises when turned off
Check Price : Amazon
---
3 Havells OFR
(🌟🌟🌟🌟)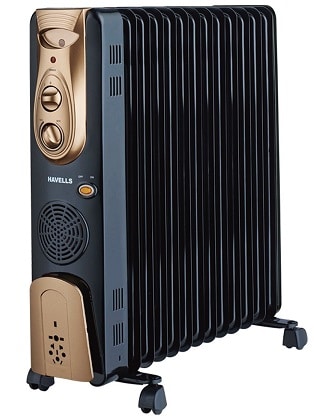 We decided to showcase another Havells heater on our list, simply because this one is worth it! Another awesome room heater for those who like their room really hot!
Just kidding!
1) We featured it because of several amazing features the heater has. There are 3 power settings at 1000 watts, 1500 watts and 2500 watts.
2) This means you can operate the heater as per your individual heating requirements. Oh, and it has an additional 400 watts setting of heater and fan combined!
3) The heater has auto cut-off when it over heats. You can control the heat through thermostatic fan control which quickly heats up the oil.
4) Dog ran into the heater? No problem. The tip-over safety switch will prevent any accidents. There is no concern of getting tangled within the cord as there is ample space for cord storage as well as a rear safety cover.
5) The heater is pretty portable with durable castor wheels for carrying around easily.
Pros:
Automatic switch off
2 year manufacturer warranty on the product
tip-over safety switch
Cons:
Some users feel that a remote control should have been provided with the unit.
Check Price : Amazon
---
Best Quartz Room Heaters
1 Usha 3002 Quartz
(🌟🌟🌟🌟)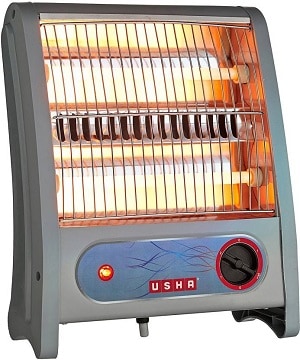 1) Usha is considered among one of the leading electrical manufacturing, marketing, distribution and sales company. Swimming with giants such as Bajaj, Ajanta and Havells, Usha is a beloved brand.
2) The 3002-QH room heater is Usha's answer to chilly, bone biting winters.
3) Designed for high performance on low power consumption, the heater is perfect for bachelors. There are two heat settings at 400 watts and 800 watts to adjust your individual requirements.
4) A safety switch ensures auto turn-off in case the heater tips over. For longer life, the heating element is powder coated to fight corrosion. Ergonomically designed, the heater sports an auto cut-off to prevent overheating.
5) One of the salient features of the heater is its unique placement feature. Based on your sitting or lying position, you can adjust the heater. It also has hooks for mounting the power cord for better convenience.
6) The cord storage facility helps in better packing so that once winters pass; you can store your heater safely without damaging the cord.
Pros:
Ergonomic design
One year manufacturer's warranty on the product
Cons:
Suitable only for small rooms
---
2 Inalsa Neon Quartz
(🌟🌟🌟)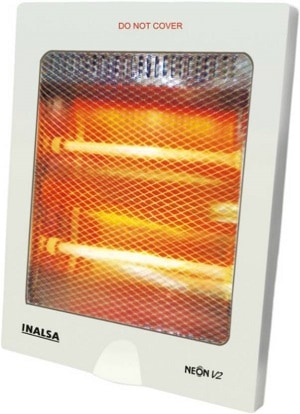 1) Although a late bloomer, Inalsa has become a popular brand in a short span of time. They have a great assortment of home appliances and other household electricals.
2) The Neon V2 has been featured on our list because of the great reviews we gathered from different users.
3) The heater sports a cool touch body. That means it's safe to touch and move around; even at its highest temperature.
4) There are two heat adjustments at 400 watts and 800 watts with a safety tip-over switch to switch off the heater when accidently knocked over.
5) The quartz heating element quickly heats up your space. The heater is lightweight with a plastic body and stainless steel grille material.
Pros:
Cool touch to prevent burns
One year manufacturer's warranty on the product
Cons:
No overheat protection
No power indicator
Check Price : Amazon
---
Best Radiant Room Heater
1 Orpat ORH 1410
(🌟🌟🌟🌟)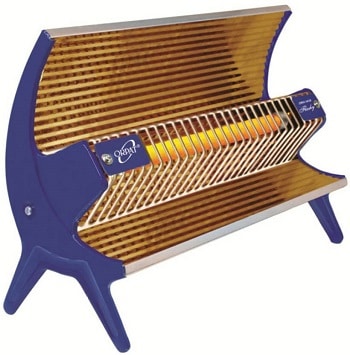 1) Last but not the least; we decided to feature one radiant room heater. After careful selection, we settled on Orpat 1410.
2) At the price of 800 bucks, the heater is worth the investment. Moreover, Orpat is a trusted brand with superior products with durability and style.
3) The ORH – 1410 is a stylish addition to your home. The 1000 watt heater is handy and portable with an international ergonomic design.
4) The heater uses infrared technology for heating and is ideal for small to mid-sized rooms.
5) The nickel-chrome plated reflector and mesh grill ensure that the heater blows air evenly throughout.
Pros:
Ergonomic design
Portable
2 years' manufacturer warranty on product
Cons:
Not suitable for larger rooms
Check Price : Amazon
---
Winters can be an ordeal for all of us. We hope that our extensive research gave you more than enough dough to choose the right heater for these upcoming winters. Brace the cold by making sure you have a robust room heater, a cozy blanket, a good book and a cup of hot chocolate!
---
Also Read:
1) Top 10 Best Sandwich Makers
2) Top 10 Best Table Top Wet Grinders in India
3) Top 10 Best Current Mixer Grinders in India
4) 10 Best Fruit & Vegetable Juicers