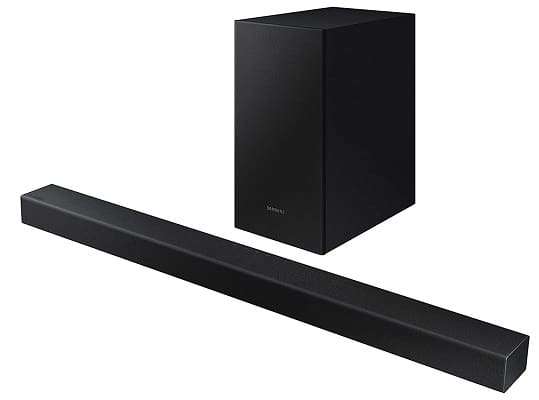 After Smartphones , Samsung has also made a sweet spot in audio devices. If your looking to get some world class entertainment at home through a Bluetooth sound bar which is easy to install and get going.
This Samsung T45E soundbar is quite compact and packs a powerful punch. Subwoofer being wireless , can be placed anywhere you like that will enhance the sound even more. The remote works very well and there is small LED monitor at the front of soundbar.
Powerful 200W Soundbar!
Wireless Subwoofer is a feature that you don't see in many other Soundbars , Great Sound , Vocals and Bass.
Positive
Wireless Subwoofer
Loud and Clear
Game Mode
Good Inbox Remote
Negatives
No HDMI ARC
No AUX
Bluetooth Version Not Specifed
With remote you can control the sound of both soundbar and subwoofer. The sound is deep and quite clear , you will satisfied with the sound. The bluetooth versions is not specified by the Samsung , as some users have reported a minute lag between TV & Soundbar when connected via Bluetooth. You can also use Optical cable to connect soundbar to TV , which results in good sound output.

You can actually see the front of subwoofer thumping beats while playing. The soundbar is ideal even for bigger TV's. If your TV doesn't have bluetooth , then you can connect Fire TV Stick or any other streaming device to this soundbar via bluetooth.
All music instruments and vocals sound clear , the sound won't distort even at highest volume. This is surely better than the boAt AAVANTE soundbar at so many levels.
The design is slim and beautiful , it will surely complement your bedroom or living area. If your getting this soundbar for around Rs. 10,000 then I would recommend it.
Available At – Amazon