Sometimes our iPhone screens are not big enough to watch latest movie or to do a office presentation. That's why most people try to mirror their iPhone to big screen TV , which can be tricky. To make this simple for you , we will explain the process of mirroring iPhone in simple easy steps and different ways to do it.
Mirror iPhone Using Apple TV
Check Latest Price – Flipkart
The tight integration between all Apple devices makes it so easy to move between devices and makes the transition look seamless. Apple TV which is digital media player and microconsole developed by Apple can be connected to any TV with a HDMI cable including all the new Samsung and LG smart TVs etc.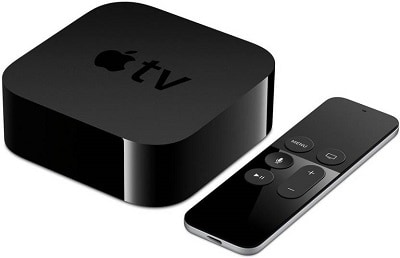 Set up the Apple TV by connecting it to the power using power cable, to media device using HDMI cable and also to the internet.
Connect remote and pair iPhone for getting the most out of Apple TV. To mirror your screen, make sure that your iOS device and the Apple TV are on the same network. It won't detect your Apple TV otherwise.
Enable AirPlay on your Apple TV by going into Settings -> AirPlay and turn it ON.
Swipe up/down on your iOS device to access control center and look for screen mirroring toggle. Toggle it ON. Your iOS device will start looking for Apple TV and until and unless anything is broken it should detect your Apple TV.
Select the Apple TV you want to stream to. Your Apple TV will generate a passcode which you will need to enter on your iPhone to start mirroring. If the passcode matches, your iPhone/iPad will start mirroring to the Apple TV.
To stop mirroring simply press the AirPlay toggle again from the control center and tap it and then select turn off AirPlay mirroring.
---
Using Lightning AV adapter
Check Latest Price – Amazon
Apple sells a lighting digital AV adapter to connect HDMI based devices to iOS devices. While not being the most elegant solution, it is definitely one of the most inexpensive method.
The adapter contains a lightning end and on the other end contains input for HDMI and a lightning connector so that you can charge as well as transmit audio/video at the same time.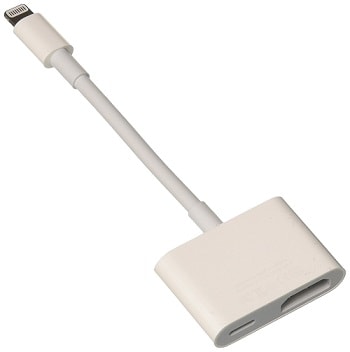 To mirror, first turn on the TV and set the display the video input from HDMI. The home screen will appear now on the TV. The home screen may appear in low quality but it's only for the home screen.
Now you can play any video and it'll be played on the TV in full definition. The iOS device will show the message 'TV connected'
To send specific content, TV can be selected from the control menu.
If you own an older iOS device with a 30 pin connector (iPhone 4S and before), you will have to use composite AV cable instead. It has one end having 30 pin connector and the other end contains composite video output interface with three round pin connectors.
---
Using Google Chromecast
Check Latest Price – Flipkart
Google Chromecast is a media streaming device that can be used to stream media content. It works with a range of devices like iOS and Android phones and tablets, windows PC, TV, etc.
To cast using a Google Chromecast, set it up first. Plug your chromecast into your TV. Connect one end of USB to TV and another end to chromecast.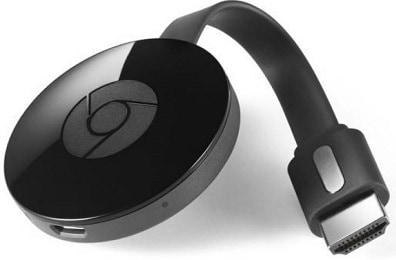 Connect your iPhone and chromecast to the same WI-Fi network.
Download Google Home iOS app on your device (iPhone/iPad)
Choose an app that support chromecast (like YouTube) and press the broadcast button on your iPhone. The contents of your device will be shown on the screen of your TV screen.
Popular services like Netflix, Google Play Music, YouTube, Pandora, etc support casting the screen to TV.
---
Using Softwares like ApowerMirror
There are many softwares like ApowerMirror which helps you mirror mobile content on TV. The interface of ApowerMirror is user friendly. To mirror screen using this follow the following steos.
Link the TV to PC using HDMI cable.
Set the input to HDMI using the TV's remote. The PC screen should be visible now.
Install ApowerMirror on your PC. Make sure that the iOS device and the PC are on the same network.
From control center, select AirPlay mirroring and then select Apowersoft and that's it.
---
Also Read: