High-quality headphones will allow you to "carry" great sound with you, and the best thing is that you can have the ideal experience for a relatively small amount of money. But when choosing the right headphones, it's important to think about the environment you want them to excel in and for what purpose you would like to use your new headphones.
German company Sennheiser is one of the world's best-known manufacturers of headphones for various purposes, that produces quality equipment for over 60 years.
Whether you want to listen to your favorite music from the hi-fi system without disturbing the crowd, enjoying the music during your recreation time, listening to music from your mobile phone on a long trip, enjoying video games or communicating on a computer, Sennheiser is the first choice for you.
Sennheiser HD 518 Over-Ear Headphone
For fans of superb sound, there is the prestigious HD 518 model, probably one of the best headsets in that price range.
Crystal clear audio
As the successor to the popular HD 500 series, The Sennheiser HD 518 headset guarantees the ultimate sound and comfort. They are made with a semi-open back tip and provide excellent sound with rich and clean bass tones, ideal for enthusiasts who like to enjoy crystal clear audio.
The headphones are supplied with a 3-meter cable and a 6.3-millimeter connector for home use, with a 3.5mm adapter that can be connected to smartphones, iPads, iPods as well as HiFi audio systems. They are extremely lightweight and additionally padded so you can enjoy your favorite music for multiple hours straight.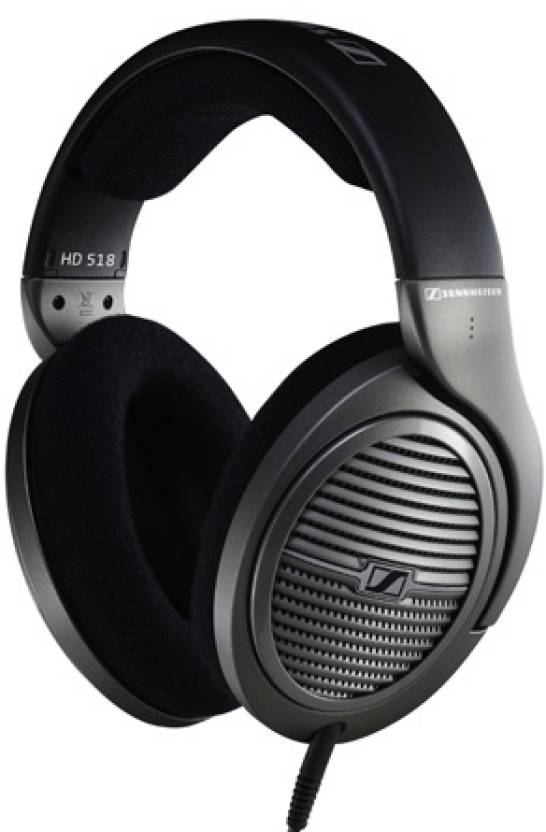 Eargonomic Acoustic Refinement – E.A.R.
According to experts, over-ear headphones are more comfortable than earbuds for longer periods of usage. With their circumaural design, these over-ear headphones provide a solid, flexible option for home entertainment.
The Sennheiser HD 518 headphones are reinforced with Sennheiser's recognizable technology that includes the "Ergonomic Acoustic Refinement" (E.A.R.) design, allowing the audio signals to go directly into your ears.
If you want high-quality headphones for your home A/V system, when you don't want to interfere with the environment, a good choice would be this Hi-Fi headset, where the wire length doesn't have to be a critical factor. Thanks to their contemporary design, they are ergonomically designed and at the same time attractive.
Home enjoyment
If you want to make the best out of Sennheiser HD 518, you should use them with a home entertainment system. As for the sound reproduction, the HD 518 are great all-around headphones.
The sound is rich, detailed, and balanced, which means that no spectrum of tones is exaggerated, making the frequencies extremely uniform. Because of their open back tip, they might leak sound to the environment. This is definitely a downside, but the positive thing is that sound never sounds 'boxed in' and artificial.
These headphones will perform better than any mp3 or streaming internet video is capable of driving them and sound absolutely great with a decent DAC.
They offer extremely good value for your investment and you would have to spend a lot to get better sound quality overall.
The Sennheiser HD 518 headphones can be found on Amazon or Flipkart India, as a proof that quality and affordability can go hand in hand.