It was way back in 2012 when Sony made a noise in the smartphone world with the launch of Xperia S. that, by far was one of the best devices for that time.
There's a reason why I had to mention this model which you will soon find out as we proceed. Later came Xperia Z, followed by the Z1 and trust me Sony has been trying so so hard on making their devices top notch.
Is Sony XZ2 A Game Changer ? Well..
Believe me most of the times they've failed in the process. Plummeting market share over the years, a high sell price, issues with late firmware update – in this crucial time of Sony will the XZ2 prove a game changer for the company? Let's find out.
Design:
| | | |
| --- | --- | --- |
| DESIGN | Xperia XZ1 | Xperia XZ2 |
| 1.Display | IPS LCD / 424ppi / 68.6% Screen to Body Ratio | IPS LCD / 424ppi / 76.1% Screen to Body Ratio |
| 2. Form Factor | Front Glass, Aluminium Body, Bar Form | Front/Back Gorilla Glass, Aluminium frame |
| 3. IP-X | IP68 certified / water and dust proof | IP65/68 certified / water and dust proof |

Cut out bezels from the top and bottom but big enough to fit in the company's logo and the stereo speakers, a rear mounted fingerprint sensor and a camera unit placed symmetrically at the centre – this is something altogether different.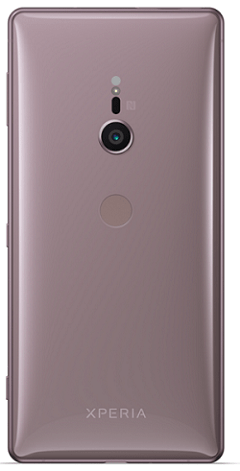 From the Xperia Z to the latest Xperia XZ1 – all models followed Sony's typical omni-balance design, which by the way was not at all bad but you got to evolve with the current pace of the market trends. And that's what Xperia seems to have done by adapting the 18:9 screen supporting HDR and a rear mounted fingerprint sensor.
But I for one personally don't admire the concept at all.
The side power button which doubled to be a fingerprint sensor till date was actually the one unique thing that made them stand out. Not only that, but it was perfectly ergonomic and it is the best place right where you start operating your phone from.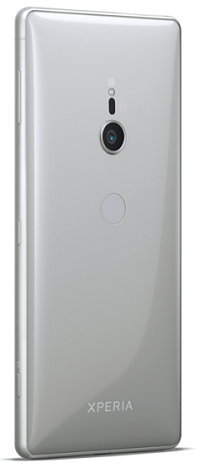 Apart from that Sony has a beautiful rear view which they call the 'Ambient Flow' design. The curved Gorilla glass is embedded in a fashion to make the surroundings reflect in a definite pattern of flow lines. Okay so the catch for adding glass both sides is a heavy weight of 198g against the 155g XZ1 which did not have rear glass.
That's bulky. Period. It isn't expected of a flagship device to weigh 200g.  
Now Sony is also known for making the notorious compact versions of flagships. While that is pretty convenient, it is as much irritating if you don't feel like a flagship while using that! The XZ2 Compact has a polycarbonate back, weighs a 168g and does not have the luxury of the Dynamic Vibration System. -1 for you, Sony!
Did You Know?
Sony Xperia Z was the world's first smartphone to be water and dust resistant (IP57 certified)
Camera & Audio:
CAMERA & AUDIO
Xperia XZ1
Xperia XZ2
1. Main

19MP / (f/2.0, 25mm, 1/2.3")

1.22μm avg pixel

2160@ 30 fps

720p@ 960 fps

19MP / (f/2.0, 25mm, 1/2.3")

1.22μm avg pixel

2160@ 30 fps

1080p@ 960 fps

2. Front

13MP

(f/2.0 , 22mm, 1/3")

1080p@ 30fps

5MP

(f/2.2, 1/5")

1080p@ 30fps

3. Audio

24bit / 192kHz

Stereo Speakers

24bit / 192kHz

Stereo speakers

Dynamic Vibration System

No 3.5mm Jack

Sony likes to experiment here and we have seen many differences in this table over the years; which comprises of varying attributes such as megapixel count and sensor size.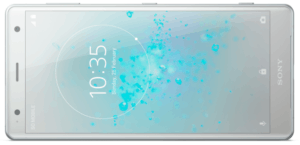 Record 4K videos in HDR ? Yeah.
The camera app is easy to use with Sony's Superior Auto mode for mainstream photography. Now the super slo-mo thing was introduced back in last year featuring in XZ Premium followed by the XZ1, but now the step up for XZ2 is that you can shoot it in Full HD mode also. Yes , now you can also record 4K videos in HDR but again 4k HDR makes a noteworthy difference only when viewed on a 4k compliant TV or projector.  
But one of the next steps forward on HDR is that now you will be able to play any SDR videos on the XZ2 in HDR mode which shall be processed on the fly.
However I don't get it , why they felt a need to downgrade the front camera by reducing the sensor size as well as the megapixels.
So while, every OEM is pounding the audience with some or the other innovation, Sony came up with the Dynamic Vibration System.
Their tagline is it lets you feel your media, be it YouTube, Netflix, gaming or even your audio files. While this is a really nice out of the box thing, I am not sure it is strong enough to set a benchmark in the industry.
And to our sheer disappointment Sony followed the trend to ditch the headphone jack.
Even though they have added support of AptX HD and LDAC codecs for Bluetooth audio I don't think this idea will make their worthwhile, given the situation the company is facing.
Did you know?
Sony Xperia Z Ultra is the thinnest smartphone tablet (phablet) with a maximum thickness of only 6.5mm
Bottomline:
BOTTOMLINE
Xperia XZ1
Xperia XZ2
1. Processor

Qualcomm Snapdragon 835 / Adreno 540 GPU

Qualcomm Snapdragon 845 / Adreno 630 GPU

2. Memory

64 GB / 4 GB RAM

64 GB – 4/ 6 GB RAM

3. Battery

2700 mAh

3180 mAh

Qi Wireless Charging

The latest chipset coupled with a powerful GPU plus Sony's lightweight customization on Android – are beyond doubt enough to make this device neat without a lag.
It would have been better if they added an upgraded storage to 128GB or even rolled out different versions in that case.
And no matter how much does Sony upgrade their battery capacity, it will always be lesser than their competitors in the market and so cumulatively the battery backup of any Sony device is always just average, and not a pinch more.
Sony hasn't officially revealed the prices yet, but it is clear from their history that both these devices will ship at a very hefty price. Are they worth? I don't think so.
The 'Itch':
If you guys scanned this article thoroughly you must have found a lot of 'if's and 'but's. That's because I meant it!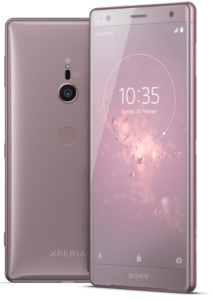 Let's get back to the first line of this review. The Xperia S, back in 2012 was 10.6mm thick and the XZ2, 8 years later is disappointingly 11.1mm thick and the XZ2 compact even more with an unbelievable 12.2mm thickness!
I was totally perplexed just seeing at these numbers. No smartphone, let alone a flagship, is supposed to have a thickness figure in two digits at this point.
Also, an initial word had spread about a dual camera phone before the official launch and what Sony showed during MWC is just a dual camera module! As if they aren't already running late to cope up with the industry standards.
Sony has been way too far away from the league of other premium phones because they have always lived in a bubble of their own.
Sony tends to match only their perspective year after year while upgrading their smartphones (they literally downgraded it, which I mentioned just above in this case) without taking seriously the target audience.
Yes they have been first and unique in many things before, not anymore. But this is an alarming call and I really hope Sony to surprise us soon or else the days are not far when they will be dooming their own future.
---
Also Read:
---
Please do comment below to add your suggestions and feedback.
Thanks.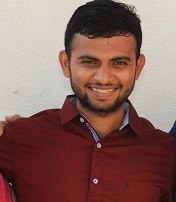 About The Author :
Bio: Hanging out with headphones, smartphones and flirting with frequencies is my thing!