The Sparnod Fitness STH 3000 series walking pad is a hybrid 2 in 1 walking pad that can easily unfold itself to become a motorized treadmill. The pad itself is small, compact and doesn't weigh a lot so you can store it beneath furniture making it a great option for people with smaller homes.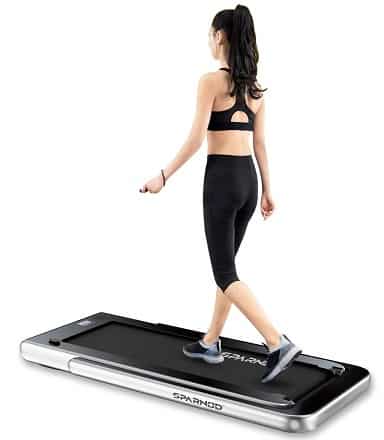 Rating: 9/10
| | |
| --- | --- |
| Horsepower | 2.25 continuous to peak 4 horsepower |
| Suggested weight | 110kg maximum weight limit |
| Maximum speed | 4 kmph when in walking pad mode and 12 kmph as treadmill |
| Weight | 35 kg |
| Warranty | Lifetime warranty on frame, 1 year warranty on parts and 3 year warranty on motor |
Pros:
2 in 1 design allows you to switch the pad for the kind of workout you want to do
The Pad is lightweight and easy to move and store
Comes with Wireless controller and bluetooth speakers as well as capacitive touch controls
Very quite motor that makes minimal to no sound
Cons:
Lack of a proper in built display to see your stats
The running surface is small and can feel cramped up
It can get difficult to use it for running due to the build not being that sturdy
Check Cheapest Prices : Amazon
On the specs side of things, it comes with a plenty powerful 2 HP motor that peaks at 4 HP and can go upto 4 kmph when in walking pad configuration and 12 kmph as treadmill with a max weight limit of 110kg for either mode. The running surface is good and has a grippy feel to it but it's small so you do feel cramped up and accidentally can step outside the belt. Other than that it is great but lack of proper shock absorber means it's gonna wobble and shake if you start running on it at higher speeds.
As for controls and features, it comes with a bar that has capacitive buttons and you can control it with a remote. You also get a decent bluetooth speaker as well. All in all it's a great option for those who want an easy solution to get some workout done in their office or home without sacrificing much on space.
This Article is Written By Anshuman Jain