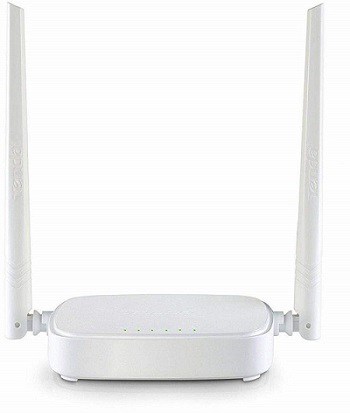 Affordable Wireless Router
Tenda N301 is an affordable wireless router. The design is simple and the quality feels good. With 2 antennas at each side and 1 WAN and 3 LAN ports at the back which 10 to 100 mbos bandwidth. It supports 802.3 and 802.11n wifi standards. It has 128 bit and WPA2 PSK2 encryption for security but lacks MAC filtering which isn't a major drawback but would've been better if it had it. But the router promises 300mbps speed which is good and pretty decent. 

Available at : Amazon

Positive
Easy setup
128 bit encryption security
3 years warranty
Can connect upto 10 devices
Negatives
Lacking many advance settings
Poor range coverage 
Tenda N301 comes with dual antenna which has 5 DBI which are omni directional but the range is very poor and the speeds go down significantly when you go at the far end of the coverage even though the 500sqft. range isn't big enough to start with. You can connect 5 to 10 devices but the coverage will be very poor. The speed falls down more than half when you're about at maximum range so it's not fit for big houses or apartments. But should be sufficient for small houses and apartments.
The setup is simple as advertised and it comes with a disc for configuration and also has a 3 year warranty which is big plus but after sales service isn't any good so I would not recommend this product and instead ask you to look for other products in the similar price range which provide a better experience, coverage and value for you money. 
Refer : 11 Best Wifi Routers in India
This Article is Written By Anshuman Jain
I'm a college student pursuing computer science and indulge myself in tech and video games. I'm great at nitpicking and pointing out even the smallest flaws.