Since most of us like to listen to music or podcasts in peace, adequate sound isolation will be of great importance.
In this case, closed-back-tip headsets are better than open ones because they don't "leak" sound to the surrounding. Many of us have problems concentrating in the office or in the noisy rooms, so closed ones are the best solution for the noise reduction.
Check Price : Amazon | Flipkart.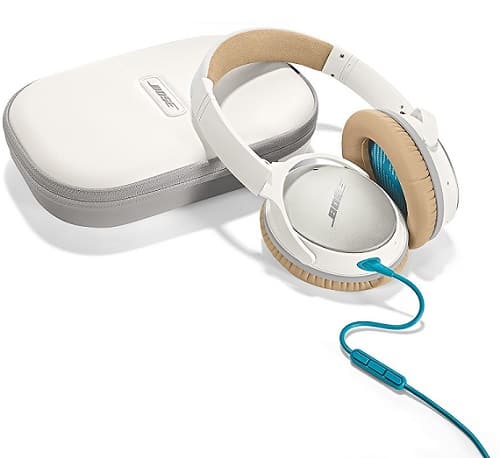 They use active noise control – a sophisticated circuit that relies on small microphones to pick up the ambient sounds around you. The headset then reproduces a signal with opposite phases of unwanted sounds, which helps to silence and reduce the noise.
Turn on the headphones – turn off the rest of the world
Although many full-size headphones isolate a lot of ambient noise, by including Noise Cancellation, you almost have the feeling that you have entered the vacuum. Isolation, however, is not so perfect. You can still hear some sounds around you, but if you start a song, it's almost impossible to discern whether someone in your vicinity talks or produces unpleasant sounds that disturb your enjoyment.
The new Bose QuietComfort 25 headphones are designed to sound better, more comfortable and easy to carry. Put them on and suddenly everything changes – your music gets the depth, strength and balanced sound, and such silence that you can hear each note clearly.
Even travel by plane becomes pleasant because the annoying roar of the engine disappears and you can enjoy the silence, listening to your favorite music.
Improved design
QuietComfort 25 are made of high-quality materials with a nice finishing touch. This makes them lightweight for multi-hour wear. Headphones can be easily rotated, even more, compared to earlier models for better shock absorption or easier folding when you want to put them off. The headband is now placed closer to the head and coated underneath with the luxury fabric for greater comfort.
Less noise – more relaxation
Bose QuietComfort 25 allows you to focus on what really matters. They contain advanced electronics to eliminate noise that excludes all unwanted sounds around you – such as noise from a busy street or engine sound.
If the AAA battery for the active NC electronics is emptied, you can continue to use the headphones without it, and the ear pads also block the part of the outside noise so you can still enjoy good sound. Just to be noted, reducing environmental noise entails greater energy consumption.
Bring The Sound To Life
Many of the Bose engineers are also musicians with a great passion for music. That's why Bose headphones have a natural sound with extraordinary clarity, deep bass, and rhythm that you can feel. QC 25 are equipped with Active EQ and TriPort® technologies that make the audio performance so vivid that you'll want to listen to music for hours, and the comfort of these headphones lets you do it.
Since these headphones are most commonly used with portable devices like mobile phones -in this case, Apple devices – the QuietComfort 25 comes with a cable that contains in-line microphone and controls, so you can make calls without taking off the headphones.
You can find Bose QuietComfort 25 on Amazon or Flipkart.
---
Also Read: