Tin HiFi is a widely known audio brand which is Chinese based company producing a lot of audio gears from budget category to the high end category. They have established a separate sound signature to themselves which has quite a big fans for them and frankly I'm one of them. Their product line up looks neat and their latest product T2 Plus is my daily driver due to its natural tonality with balanced sound signature. Now they have launched a new product named as T5 as their successor to their T4 which is known for its great technical capabilities but many had few gripes with it, namely poor design and bass response. The T5 is designed to be one of their best in line up with great bass response and premium design. In this review let's see the T5 stands up to the expectation of mine.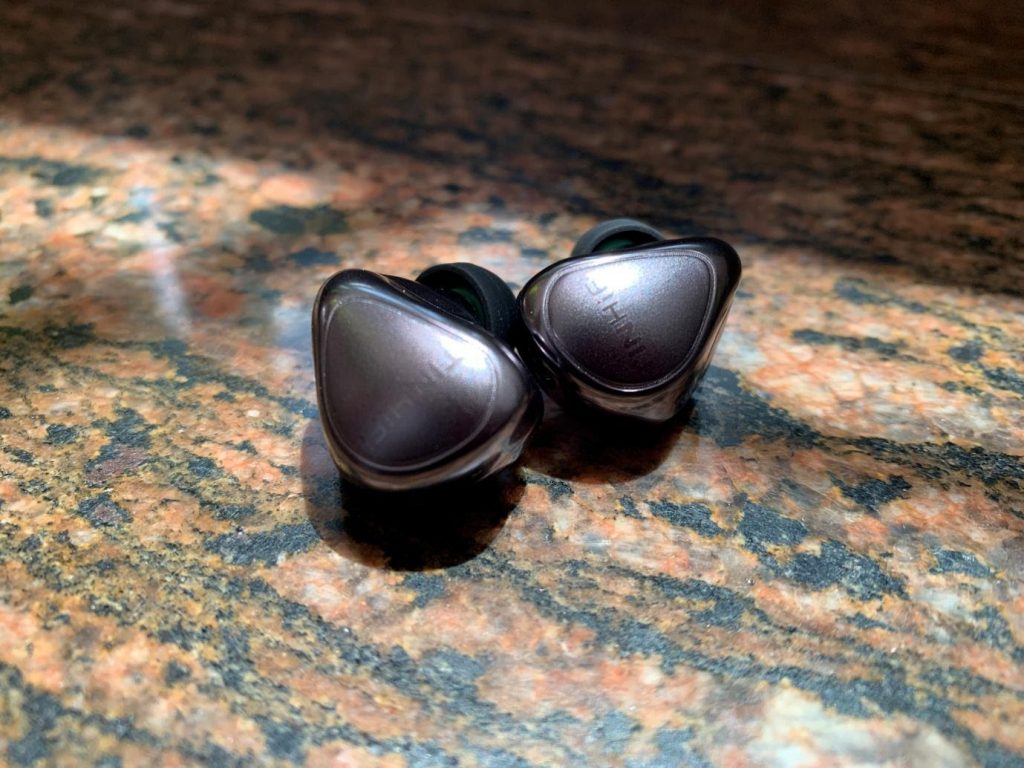 DISCLAIMER:
The views that I provided in this review are solely mine and are not influenced by the brand or any other member. I used this product for quite some time and expressed my views which are completely subjective and I don't influence anyone who reads this to purchase the item.
PACKAGING:
As always! Tin HiFi is best in the market for making some exquisite packaging and the T5 is the proof of that. Best in class if I have to say it, usually I would never keep boxes because they take up the space and are not quite attractive but every tin product I buy, I always keep them with me since they are crafted well. Same goes to the T5 too. It comes in a white box which is quite big, has T5 and the brand name printed in gold letters. The address is printed on the back of the box and after opening the front lid the lower compartment has the earpieces in a velvet block and by removing that there are documentations and different pairs of ear tips along with a tweezers and a brush is included which made me quite amazed.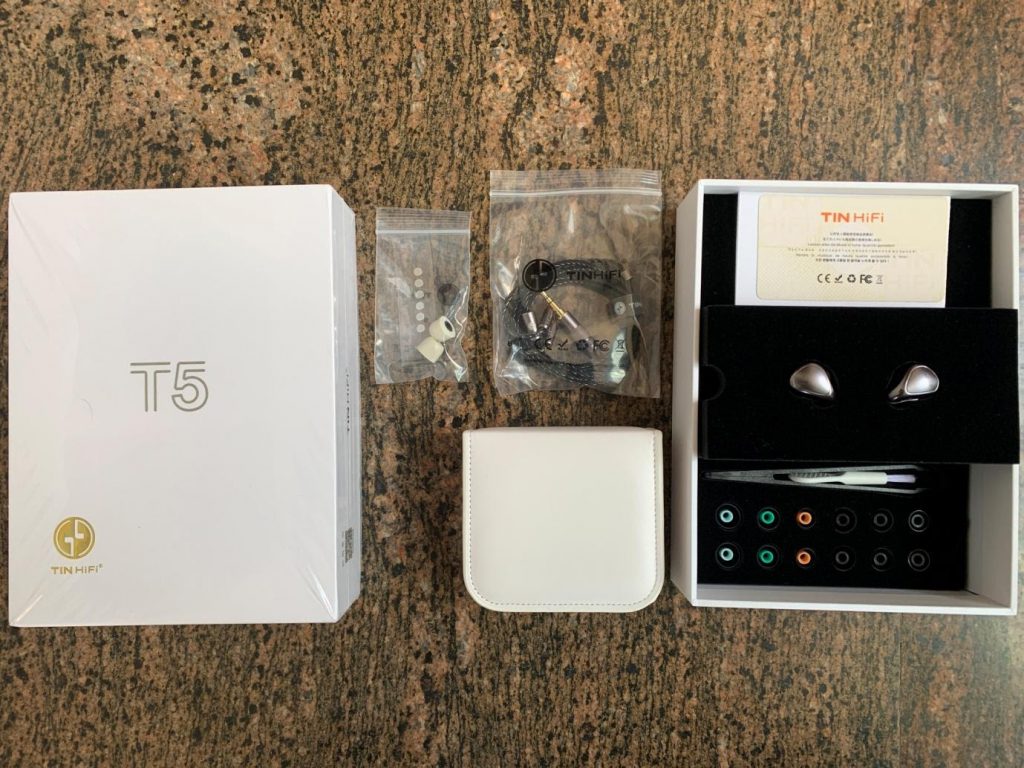 The upper compartment has the case itself which is very premium and made of leather. The white coloured case looks rich and grand. Inside the case there is the 2 pin cable with 3.5mm termination which is a welcome package since they are finally able to ditch the problematic MMCX connection which often is difficult to remove. Along with it there is a pair of foam tips and 3 pairs of replaceable nozzle filters for the earphone.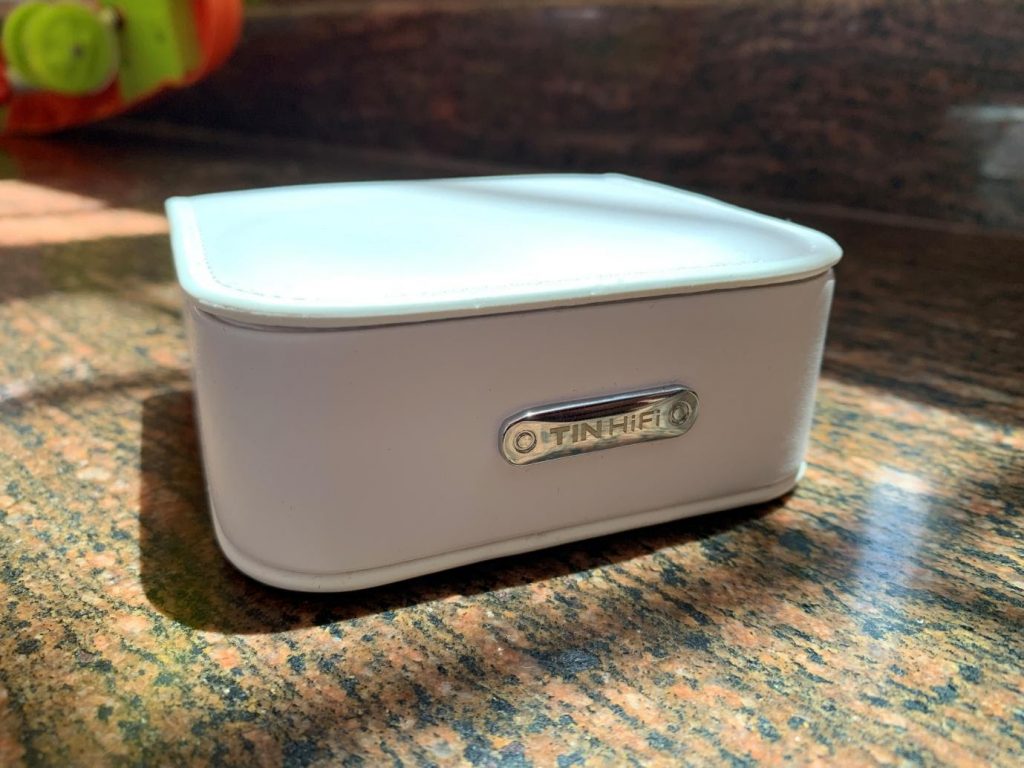 In front of the case there is a cute little metal plate with the Tin branding on it which added that extra richness to the case.
The cable is really of good quality since they are OFC cable with Kevlar coating on the outside. It's just a 4 core cable but made of high quality. Black in colour and there is a chain slider which is quite useful in managing the cable. There is a metal housing near the junction of separate wires with Tin branding on it. The connector is a straight plug and looks sturdy.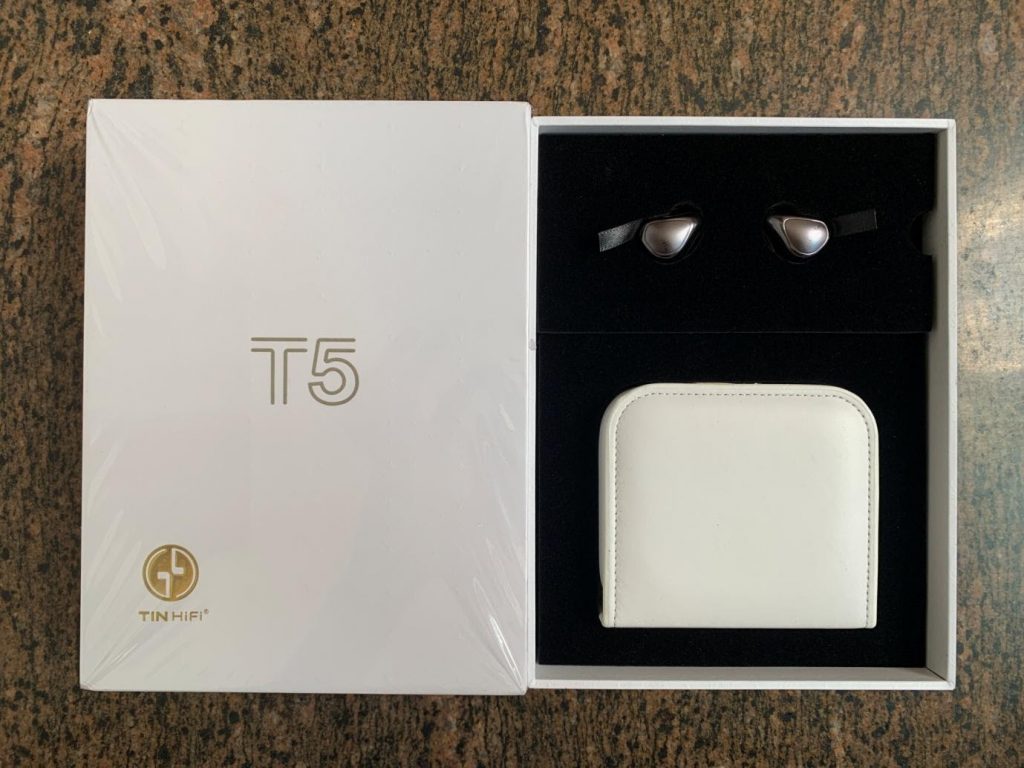 DESIGN:
Absolutely gorgeous! The shell of the earphone is made out of metal but its lightweight hence may be its aluminium same as the T2 plus which gives that real sense of premium. The body is glossy but the faceplate is a kind of brushed metal finish which doesn't attract a lot of fingerprints. The faceplate has the subtle Tin HiFi branding on it which is super cool. There are three pressure vents, one on the back, side and inside.
The ergonomics of the earpieces are stunning where it fits perfectly in the ears at least to my ears. They are like semi custom shelled but made out of titanium is wonderful. Even though they are made of metal like titanium the weight balance is really great, where after wearing they feel really light in your ears and even while holding they feel light.
The nozzle is short and has a gold accent to it which added an extra touch to the premium feel. There is a metal mesh in the nozzle region to prevent the dust from getting into it. The colour of the shell is named as Titanium empty grey which matches with the actual colour of the shell.
SPECIFICATIONS:
Driver: 10mm DOC Speaker
Sensitivity: 103Db @1KHz 0.126V
Frequency Response: 10-20KHz
Impedance: 48ohms
Interface: Gold Plated 2 pin connector
Plug: 3.5mm black glue gold plated plug.
Cable: 4 core OFC black PU cable + 200D Kevlar
Driver Speciality:
The T series in Tin lien up is known for its amazing sound quality in affordable range and to take that up a notch they have implemented a new driver named as DOC diamond diaphragm driver which is the next innovation derived from the DLC (Diamond like carbon) which have been popular for their fast responsiveness.
The new structural design allows the DOC diaphragm to be thinner, while being 60% stronger and more rigid than that of traditional DLC diaphragm.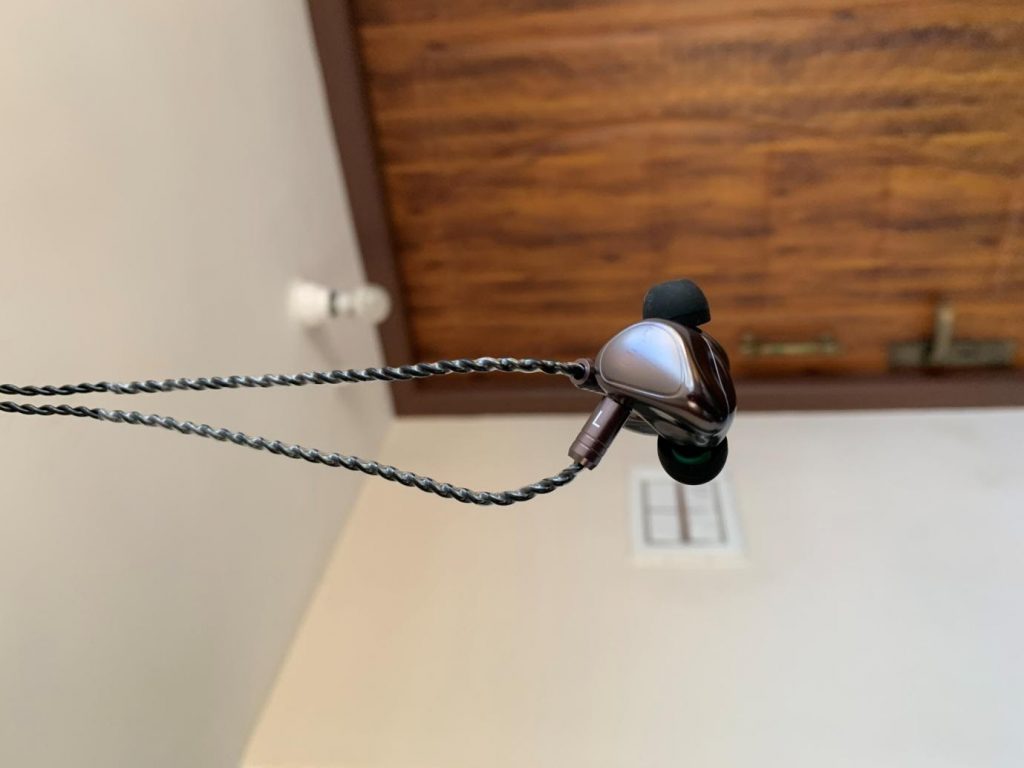 Housing Design:
The T5 uses multiple internal chambers in order to tune the sound that makes its way to your ears. This design perspective is used in the gaming headsets to give clear mids and highs without compromising the bass.
SOUND:
SETUP: iPhone XR with Apple 3.5mm lightning dongle
Being a 48ohm earphone it's slightly power hungry and it definitely gets benefited from high power sources but it runs perfectly fine with apple dongle but the volume needs to be increased slightly a bit.
I have used the coloured tips given in the package which is narrow bore and gave a good bass texture and reduced the shouty character whereas the full black tips aggravated the shouty character. The coloured ones are rigid too hence provide a good seal compared to the full black ones which are slightly mushy.
BASS:
Based on my preference and my playlist this sounds really fantastic. This earphone has nice extension in the bass but not quite as refined as what other beryllium drivers give and of course they are double the price of this. As this uses the new DOC driver I thought that it will be giving the experience of a beryllium but even though they are not equal, they are comparable. It's fast and has good depth but the defined nature is what is missing.
The texture of the bass is definitely lacking in the T5 which makes quite less worth for the price. As I said there are enough amounts of bass but the texture is what is lacking. It's definitely not a serious issue but considering the price it appears as an issue. Nevertheless the bass is fast and punchy and has a good slam effect.
NOTE: After the burn in period the texture improved a lot hence now they sound as what the DOC driver would do. So don't get disappointed after the initial listening period because burn in makes a lot of difference in this unit.
The floor drop beats and drum sounds awesome since there is enough amount of sub bass presence.
TRACKS USED:
Billie Eilish's Bad Guy
Against Me Cliché Guevara
Turn your lights down
These tracks sound nice enough and this set is really good for listening to Rock and Pop playlists since it has more thump in the bass and these tracks don't require any presence of texture in the bass.
MIDS AND HIGHS:
The T series strongest aspect is the mid section and the mid highs where every product in their line up has the best midrange performance. The T5 has sweet midrange with some presence of warmth giving the body to the music.
The vocals are presented forward with no harshness.
TRACK USED:
Angel Vivaldi's without words album
The guitar kicks in well and the vocals get blended with it thus providing a pleasant experience of listening. Usually this kick in of the guitar sounds sibilant in most of the earphones but this T5 easily takes it up.
The highs are good but not detailed enough as what other earphones at this price provide. The extension is there but when it comes to the detailing this one lacks. In comparison to the Starfield or Thieaudio legacy 3 the high department is where the T5 gets short. The Mid section is easily dominated by the T5 in this price range.
SOUNDSTAGE AND IMAGING:
The soundstage is pretty wide and it really surprised me. It's wider than the Starfield and some of the other competitors. Height, width and depth everything is massive and this might be due to the new driver in them. It has the biggest soundstage compared to all of the T series line up. Due to its big soundstage and impressive comfort this can be easily recommended for gaming sessions.
The mid highs are elevated hence the footsteps and minute detailing are easily brought out and make a perfect pair for gaming sessions.
The instrument separation is great since the soundstage is wide enough. The instruments can be easily pointed out from right to left and sweeps from left to right seamlessly.
POST BURN IN SOUND IMPRESSION:
After some burn in a period of approx 50 hours they start to sound really good. Now the texture of the bass has improved a lot and the real whoop can be felt. The bass really benefited from the burn in process. I really started to like the sound coming out of it. Maybe it's true that a special driver tends to change sound after burn in period! Now I can easily recommend this if you are a loyal Tin HiFi fan and you love that classic T series sound signature.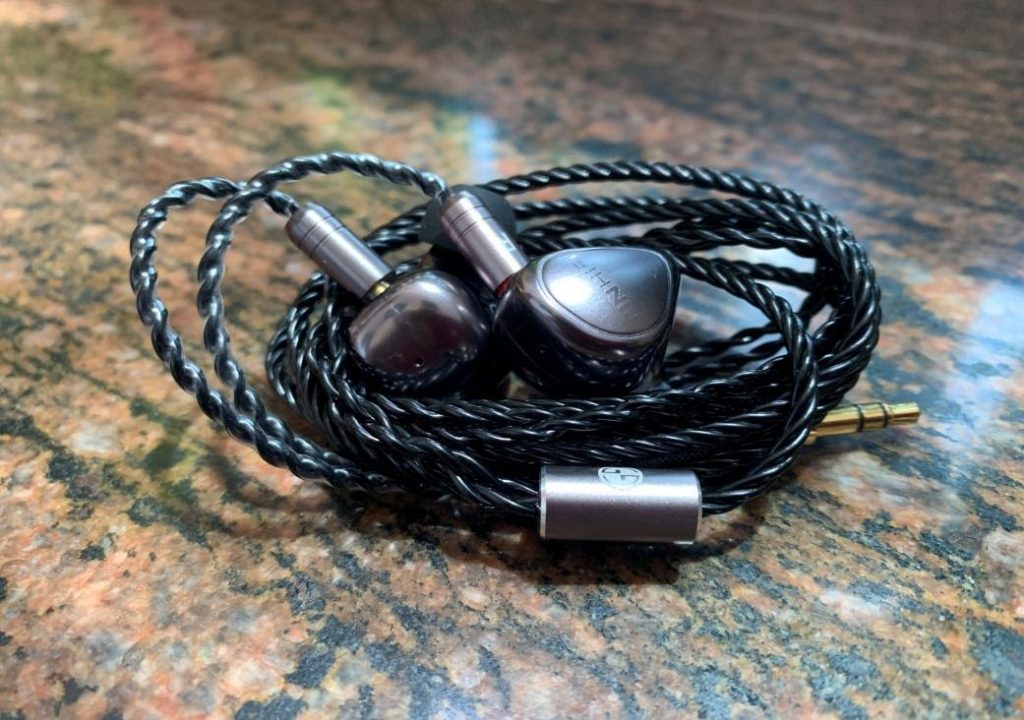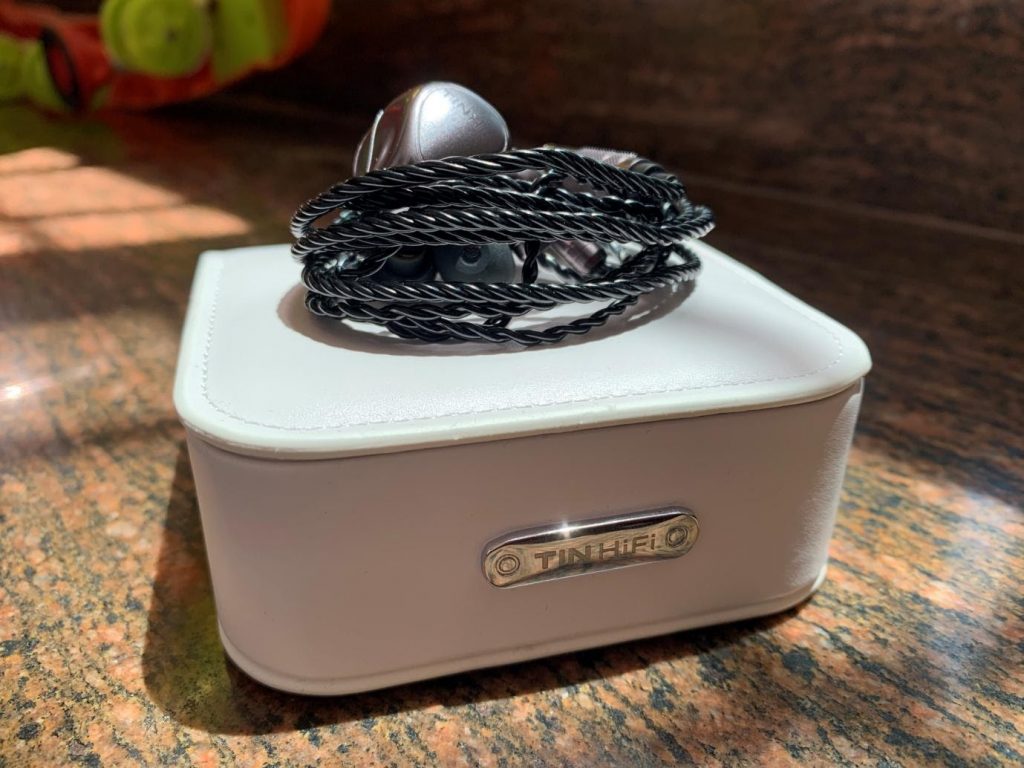 PROS AND CONS:
PROS:
Sweet midrange and mid highs with fuller bass response (quantity)
Premium build with fantastic ergonomics and heavenly fit
Exquisite packaging with adequate accessories
CONS:
Price
Lack of treble detail retrieval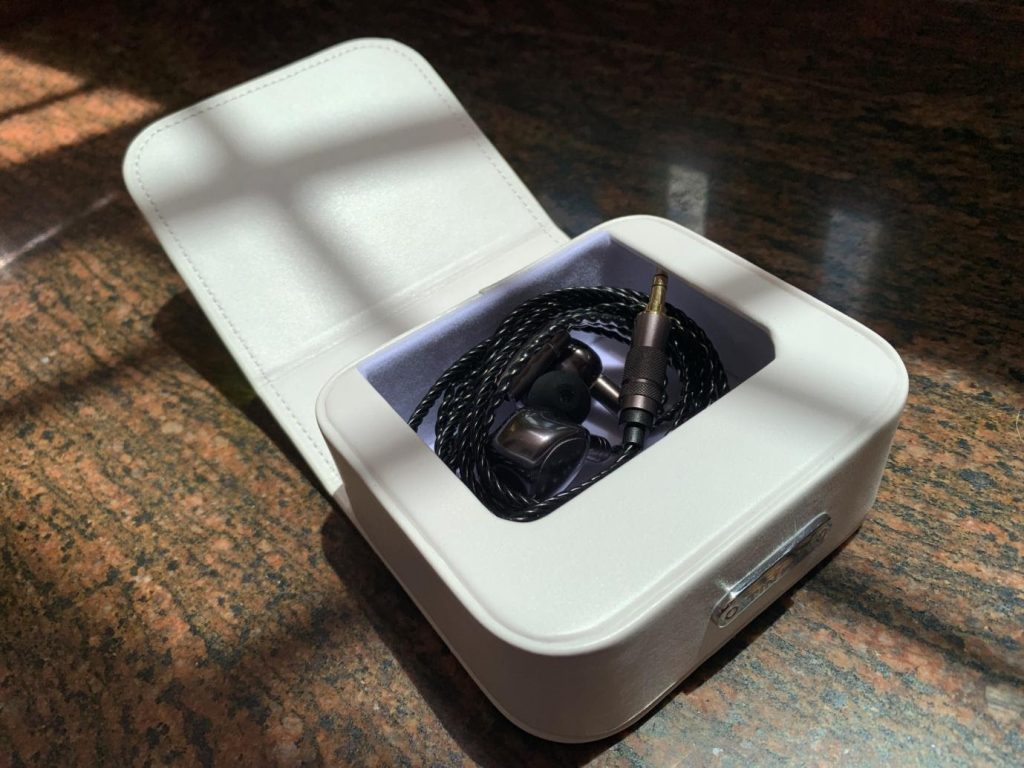 VERDICT:
The T5 is really a good sounding pair of earphones which has that deep extending bass response which has a lot of quantity and has one of the best midrange and mid high response for the price. The texture of the bass is somewhat lacking but it's not a big deal (after the burn in the texture got improved too!)
The asking price for the T5 is 129 USD and for that price it's a good buy but not a solid purchase. The premium build and the heavenly ergonomics of the earphone really justifies half of the price but the lack of detail retrieval in highs makes this as an option instead of a solid purchase against heavy competitors like Thieaudio Legacy 3. If they have priced it fewer than 100 USD then it would have been my solid recommendation.
The nice bass response, sweetest midrange and mid highs, excellent build, heavenly ergonomics, gorgeous looks, exquisite packaging makes this pair my go to recommendation for playlists like Rock and Pop genres and personally I would pick this unit myself. I hope you can get this unit for less than 100 USD in festive times and if it drops close your eyes and get them. Even for this price I would give this a solid recommendation if you love rock and pop music and also if you love the aesthetics.
This Review is Written By KATHIRAVAN.C
Follow him on – Instagram | Facebook
I'm Kathiravan from Tamilnadu. A budding audiophile here with high love towards music and audio equipment. My first experience of enjoying the hifi audio came when I started to use budget chi-fi gears and now it came all along the way of reviewing the gears with high end stuffs. I love reviewing audio products.