Are You Searching For The Best USB Car Charger in India ?
Search No More!!
With the number of smart devices in our lives increasing with no stopping, a charger becomes a must accessory to be present everywhere you go, including your home, office, and car. A normal person spends hours in his/her car while commuting to work and that time could be utilized to charge all your smart devices, be it a smartphone or tablet.
There are chances you might have forgot to plug your phone in while going to bed last night or were in a hurry in the morning leaving no time to charge your device.
In that case, having a car charger can to rescue and help you fill the juice by the time you reach your office.

Rs.

349

Rs. 1,299
1 new from Rs. 349
in stock


Rs.

699

Rs. 999
1 new from Rs. 699
in stock

Top 10 Best USB Car Charger in India
Here are some of the best budget USB car chargers that you can go for:
1. boAt Dual Port Rapid Car Charger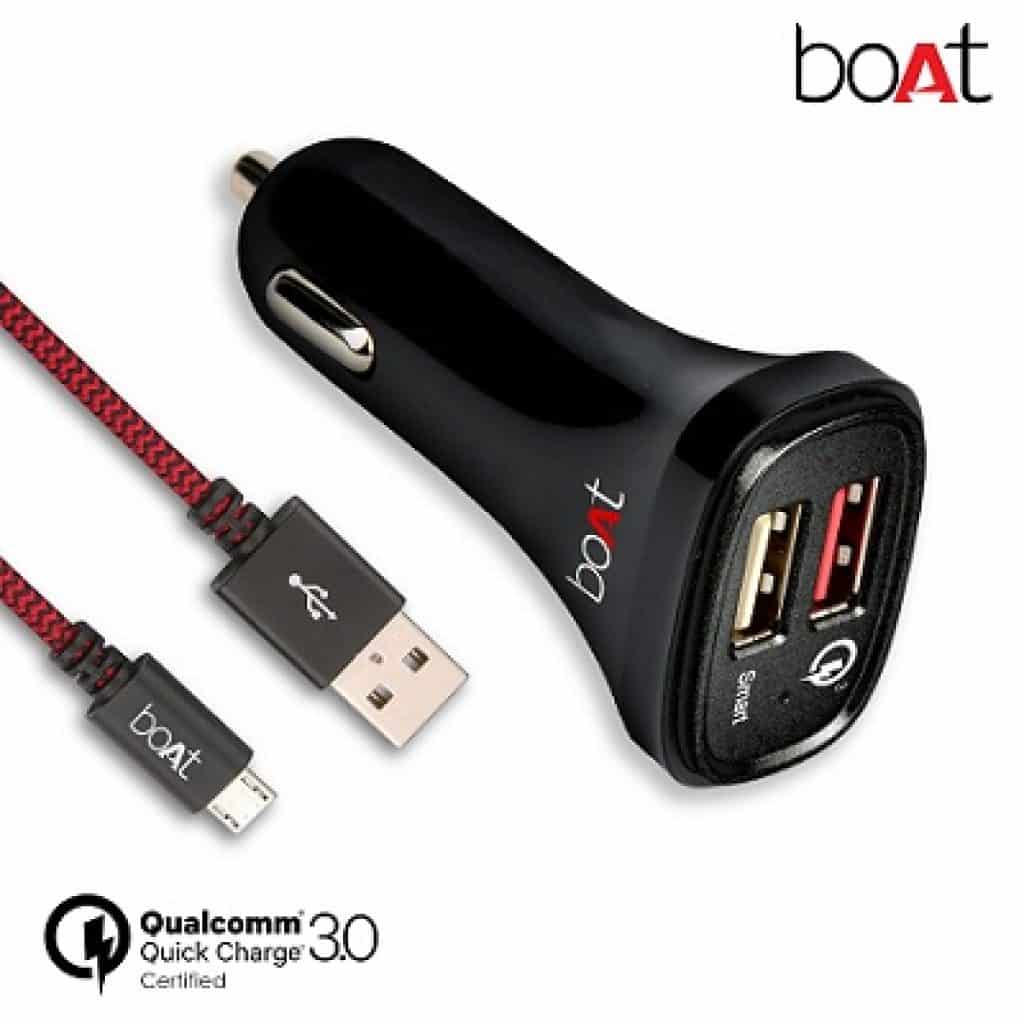 1) The best thing about this charger is Qualcomm Quick ChargeTM 3.0 Technology , which enables fast and reliable charging.
2) Second thing is the brand reputation , Boat is a brand that you can reach out to claim warranty.
3) The inbox cable is braded and sturdy , built to last long.
4) Price is also on the reasonable side , considering the fast charging tech and built quality.
5) If I were you then this would be my choice , hands down.
Check Cheapest Price : Amazon
---
Read: 10 Best Portable Car Tyre Inflator
2. CRUST Wireless FM Fast Charger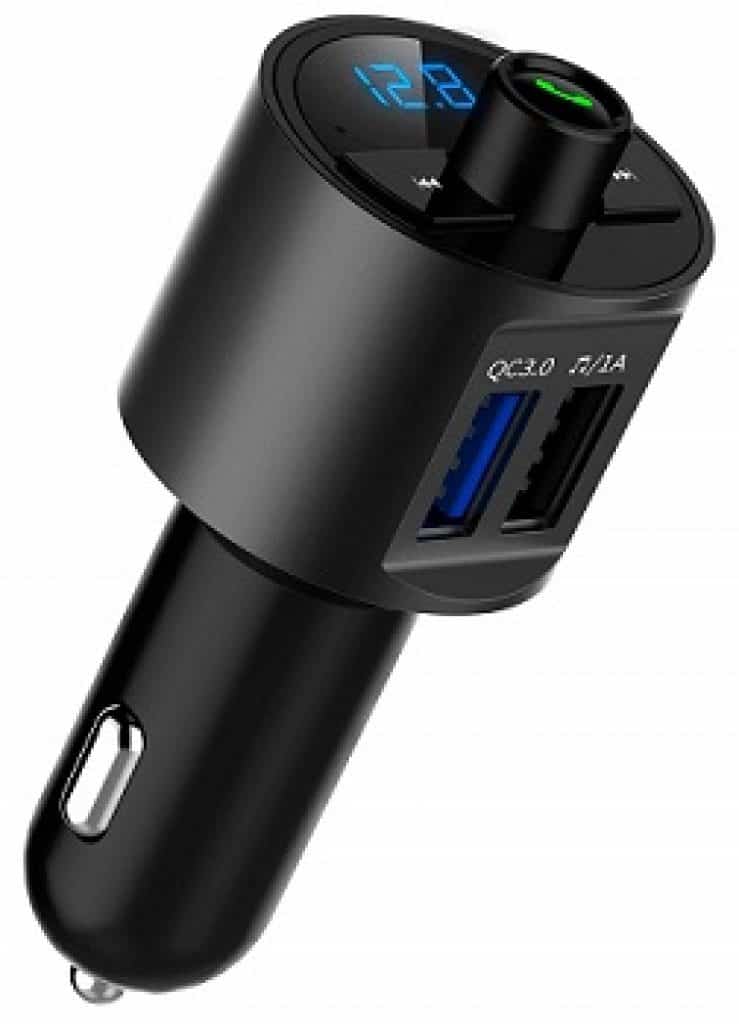 1) The product has good built quality and doesn't feel cheap at all. The best thing is that
2) Best feature is that you can stream music and calls directly from your Bluetooth device or USB Disk to your Car FM stereo system.
3) It comes with 2 USB charging ports (QC3.0 + 5V/1A) for charging 2 devices simultaneously.
4) Equipped with Qualcomm QC3.0 which is 4 times faster than normal Chargers and 38% More Efficient than QC 2.0.
5) One more awesome feature is that it displays Car Battery Voltage & alerts if voltage is abnormal.
---
3. Tewtross Dual USB Charger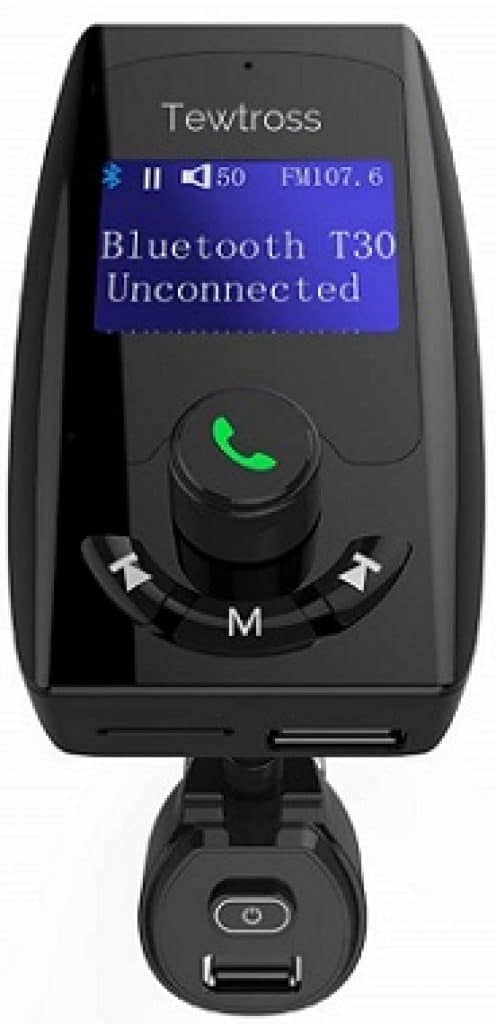 1) Good built quality and easy settings , it's a great fit especially if your car system doesn't have bluetooth option.
2) It comes with 2 USB charging ports 5V/1A and a designated fast charging port with 5V/2.1A output.
3) There are multiple connectivity options to play your music via USB, AUX-in, SD Cards and also via Bluetooth.
4) It comes with a power on\off switch plus a flexible neck extension for convenient viewing angle. A compact model which is without flexi neck is also available.
---
Read: Top 10 Best Dash Cams in India
4. Anker 5-Port USB Car Charger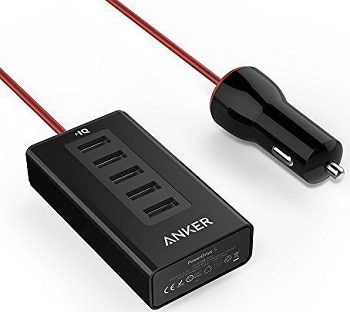 1) Sporting more of an unconventional design, this car charger from Anker, a well-known brand in this space, has a cable extending out from the main charger to house a total of five USB ports on the other end of the cable.
2) This allows all the people in the car to have their devices closer to them while they are being charged.
3) Anker uses its proprietary PowerIQ technology for fastest possible charging times while maintaining the temperature and other safety parameters.
4) A maximum of 40 watts of power is supported from these USB ports allowing you to even charge laptops that support charging via USB Type-C.
5) The company includes a warranty of 1.5 years with this product.
Compare Price : Amazon
---
5. Mivi Car Charger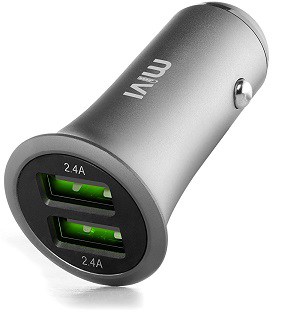 1) One of the better-known brands, Mivi, seems to have pledged to provide the highest quality for its electronics accessories.
2) This car charger includes a metal build that is not only sturdy but is also designed to last longer.
3) You can connect using any type of USB cable to charge Android and iOS devices.
4) Moreover, the company has provided two USB ports offering 2.4A of output from each port.
5) They can automatically detect the connected device to charge it with the maximum supported speed.
6) A specially designed circuit board for this car charger keeps the voltage in check in order not to damage your devices.
7) It comes included with a warranty of one year.
Compare Price : Amazon
---
Read: Top 10 Best Car Stereo To Buy Online
6. Irusu Dual USB Fast Car Charger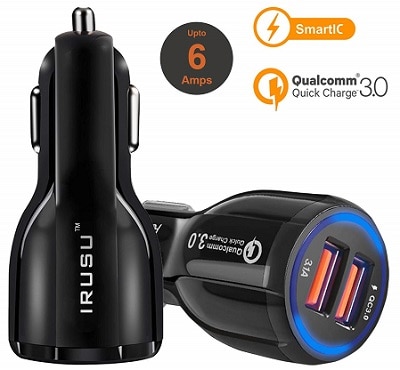 1) This car charger from Irusu comes with Qualcomm Quick Charger 3.0 technology , which can charge your device upto 40% faster as compared to other normal chargers.
2) It consist of 2 charging ports and both ports can give output of 3.1A each , totaling upto 6A.
3) It also comes with Smart IC Intelligent Adaptive Technology , which identifies your device and provides fastest charging automatically.
Also Read : 10 Best Car Coaxial Speakers
4) Built in protection features protect your device from over current and over heating.
5) This charger is low priced and provides a number of extra features as compared to other brands.
6) It comes with 1 year warranty.
Compare Price : Amazon
---
7. ZAAP Turbo USB Car charger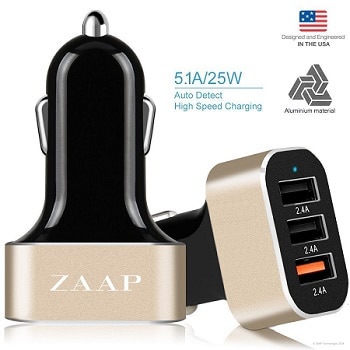 1) Taking things a notch above, ZAAP has included not one but three USB ports so that your whole family can charge their smart devices.
2) On the design front, the charger has an aluminium shell which is strong enough to last through those bumpy rides.
3) The best part is its compatibility allowing you to use any kind of device.
4) Coming back to the ports, all three of them support up to 2.4A along with fast charging tech built in.
5) The charger is itself smart enough to figure out what kind of device you've connected and choose power output based on that.
Compare Price : Amazon
---
8. Belkin Road Rockstar Car Charger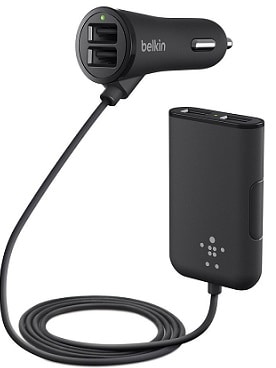 1) The world-renowned brand Belkin has a solution that is not only great for the people on the front but also for the ones at the back.
2) In this car charger, the charger unit itself has a pair of USB ports, while a cord extends to provide a couple of USB ports to the passengers in the rear seats.
3) A total of four devices can be charged at once.
4) Each of the four ports supports an output of 2.4A which is quite optimum to charge modern smartphones and tablets.
5) Being a Belkin product, you can expect it to be made with highest quality standards both internally and externally to provide you with the best in class experience.
6) A 6-foot cable comes included with the charger.
Compare Price : Amazon
---
9. Anker PowerDrive+ USB Car Charger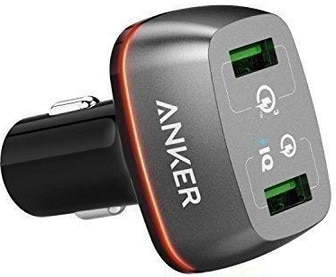 1) This could be a perfect companion for your long driving sessions to keep your numerous smart devices charged on the go.
2) Anker has this two-port car charger that has a compact outer body and is capable of charging two of your devices at once at a rapid speed.
3) It is also compatible with Qualcomm Quick Charge 3.0 tech making it compatible with most modern devices.
4) Besides this, Anker has its own proprietary tech included in this car charger called PowerDrive+ which can automatically adjust the output voltage to quickly charger devices with larger batteries like tablets.
5) And LED light surrounds the charger over its metal build and the company has incorporated a safety system to avoid mishaps of any kind.
Compare Price : Amazon
---
10. Mivi Dual Port Car Charger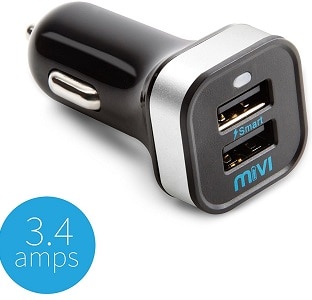 1) Offering a total of 3.4A output using both its USB ports, the car charger from Mivi has a smart feature built in to automatically adjust the current provided to each connected device.
2) Despite being a budget offering, Mivi has included all the safety features that its premium charger mentioned above comes with.
3) It controls both high voltage and temperature to keep the charger working and your devices safe.
4) Two USB ports allow you to connect any kind of device, be it Android or iOS, you just need to connect the USB cable compatible with your particular device.
5) A full 1-year warranty comes included with this product from the brand.
Compare Price : Amazon
---
11. Qbix Qualcomm Car Charger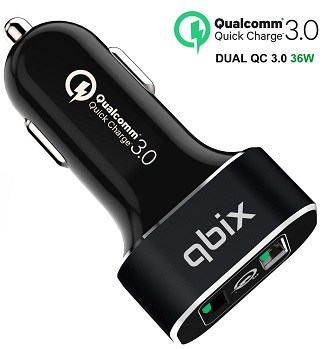 1) A really compact car charger from Qbix comes with minimum dimensions and won't take much space in your car.
2) And even with its small size, the car charger supports Quick Charge 3.0 from Qualcomm, which is capable of charging your smartphone up to 80 percent with the charging of a single hour.
3) On a conventional charger, a phone would charge not more than 20 percent in a similar time.
4) Made out of aluminium, this charger is lightweight and at the same time, it is quite sturdy to handle a couple of falls.
5) Charging speeds can be changed to suit the device requirements automatically.
6) Qbix has packed this device with a number of safety measures to keep you and your devices protected.
Compare Price : Amazon
---
12. Taslar Dual USB Car Charger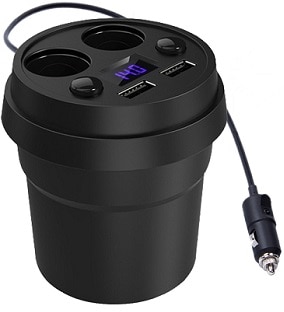 1) When looking for an unconventional product, you cannot go beyond this car charger from Taslar.
2) The first thing differentiating it from the rest is that it connects via your car's cigarette lighter and not the standard charging port.
3) It is in the size of a cup and sits perfectly in the cup holder.
4) Separate switches are provided so that you don't need to constantly plug in and out the charger.
5) A couple of USB ports have been provided to let you charge your standard smart devices like phones and tablets, while there are two more ports for connecting a vacuum cleaner and a display for the rear camera.
6) This is a unique product that serves its purpose quite well.
Compare Price : Amazon
---
13. MTT Qualcomm Car Charger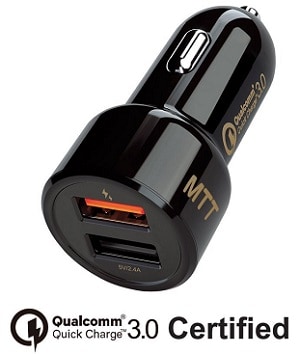 1) Sporting a standard dual-port design, this car charger from MTT can serve you quite well with what it's supposed to do.
2) The company has made it as compact as possible to accommodate two USB ports on its back without taking much space.
3) Qualcomm Quick Charge 3.0 standard is supported by this car charger but only on one port.
4) The port on the top has been marked with orange accent to show its support for Quick Charge 3.0 to rapidly charge your supported devices.
5) While the other port isn't slow at all, in fact, it can charge devices with a maximum output of 2.4A.
6) Compatible with most modern devices, this car charger comes with a warranty of 6 months from MTT.
Compare Price : Amazon
Comment below to add suggestions and which car charger you prefer for yourself.
Also Read:
1) Top 10 Best Dash Cams in India
2) 10 Best Portable Car Tyre Inflator
3) Top 10 Best Car Stereo To Buy Online